TO BE A WOMAN
TTO BE A WOMAN
Rising Over Self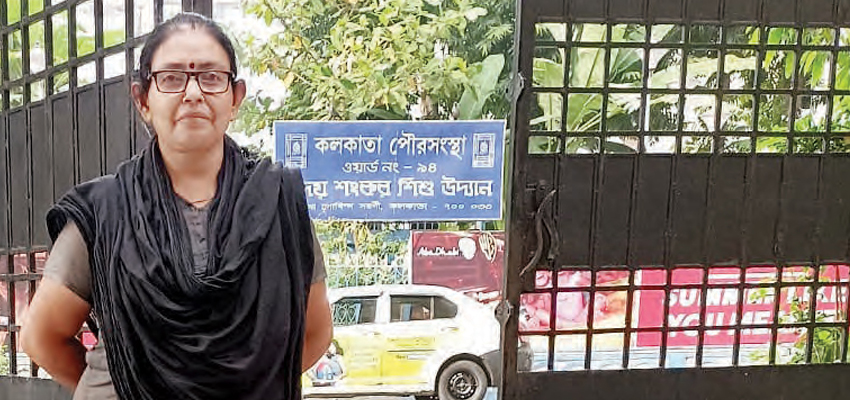 Life's trajectory often traverses the unknown, the many balancing acts that juggle life›s affairs, but staying still in the chaos governs it all. One journey can be dedicated to the receptionist-turned security guard and a reluctant entrant into the world of working individuals, Dolly Dey. She has since held the fort, like millions of other women who strive to build some semblance into domestic life, thrive, and engage in job sustainability. Her ultimate goal has been to be the perfect breadwinner, the mother, the daughter-in-law, and the wife with her special passion for stray dogs and their welfare. As we pay homage to ‹Shakti› or the divine energy, it's time to recognize the innate psychological power of women like Dolly striving hard to blend with the material world, rising over self, for the betterment of not just her family but the strays in the by-lanes of her Kolkata neighbourhood.
"The main challenge is that I am working around so many men, but I am happy to deliver my duties"
- Dolly Dey,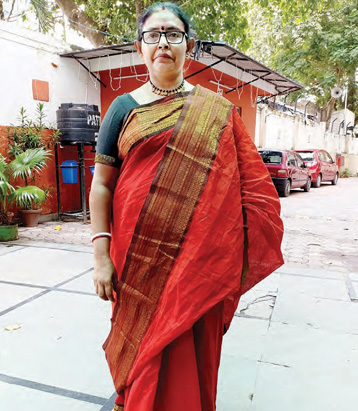 Dolly Dey
"I didn't even have the mentality or thought process to do any job. My thinking was to spend the rest of my life with my parents," said Dolly Dey, a security guard with a private security agency in one of Kolkata's residential complexes.
Dolly might not have thought of a work-life, but destiny had other plans. She eventually had to take the plunge to salvage her family and support her ailing husband, who was too ill for any form of employment. The birth of her daughter and her husband's inability to hold on to jobs due to his health prompted Dolly to step outside the cozy comforts of her household. She has since provided for her family and built a good life for her daughter. Her daughter is a successful working lady in Bangalore and Dolly's pride.
Duty Bound
Dolly found her momentum as a receptionist with one of India's leading publishing houses and had a fairly long stint from 2004-2014. She quit her receptionist's job as she was transferred to the marketing wing and into a field job that demanded extensive travel. She sought new avenues with regular working hours to help support her ailing husband and cater to her young child.
In 2019, she joined a security firm and became the only lady guard posted in the complex since. She has taken her duty very seriously and has been learning the nuances in her present job and, most importantly, shouldering challenges in a highly male-dominated scenario.
"This is my first job in any housing complex as a security guard, for the past 3 years. My duty hours are from 9 am to 7 pm, and I believe that I have a responsible role towards the safety of the residents in the housing complex." Dolly exudes pride as she clocks each car entering and exiting the gates of the complex, especially unknown visitors who need to be tabbed more seriously.
To the layperson, it might seem like an easy accounting of vehicles in the official register. But no one can account for the hours sitting under the bare skies, come rain, come shine in Kolkata's humidity, keeping a hawk's eyes for vehicles shunting in and out every day.
Thwarting Challenges
"The main challenge is that I am working around so many men, but I am happy to deliver my duties," said Dolly. After her stint as a receptionist, she had been scouting for suitable jobs to keep her home kitty running and picked up the security guard role in the first instance. She, however, acknowledges that her paycheck has enabled her to pay off several loans accrued for her husband's medical bills and has learnt to love her job too!
"The work itself is not very stressful, but other non-work related chaos or issues in the work environment sometimes pull me down. We all know that building camaraderie in an all-men work environment can often lead to other job-related complexities," she said. She, however, is not one to get bogged down, and unless it starts affecting her health, she is ready to start afresh – a new day at a time.
She highlights that most working women face workplace discrimination in some form, and in her field, strictures are often not laid down, but one has to keep learning. "I had to change myself to cope for the better as my job means a lot to me and is entirely different from my previous job profile. I have since found my own space in a male bastion and workplace behavior, sometimes unintentional but still needs coping with", she said.
The Covid pandemic posed a greater challenge as she, like many in her profession, had to report to work physically and comply with other additional covid-related protocols to help residents. Her journey to her workplace was partially by foot and relied on the services of Kolkata's quintessential cycle rickshaws (non-motored) in the absence of regular transportation modes. "I have loan commitments, and we had to sustain our regular salaries during Covid," she said.
Embracing Perks
She also acknowledges the perks of being the only woman guard, "The advantages are few, but I am not coaxed to do the heavy-duty job of opening or shutting the gates nor lug water for daily consumption needs which many of my male colleagues have to endure," said Dolly.
She believes that while the job responsibilities of male and female security guards complement each other, lady guards can impact how they are deployed. "If any woman resident is unwell or needs help, it is better to send a female security guard to help the situation. I have tried to resolve matters when my male counterparts get too boisterous. These and many other episodes can make a lady guard's contributions equally relevant," said Dolly.
Grateful Bidding
She acknowledges her mother-in-law's support throughout her journey, especially when her daughter was younger, and she had to commit to the 10 am to 7 pm receptionist's schedule. As a mother, Dolly has been instrumental in her daughter's education and was engaged with her ward's studies during the founding years. Tides have turned as her daughter is an accountant in Bangalore, and the household has been pulled off the brink of misfortunes between the three women. She hopes to continue her job for another 4-5 years or as long as her health permits.
Passion Pursuits
With music and reading books as hobbies, Dolly's ultimate life goal is to serve stray dogs. She has adopted one stray and, after work, spends considerable time with the strays in her neighbourhood. She also keeps a watch over stray dogs in and around her workplace. "I want to do something for the stray dogs; this is my main life goal. Whether I have a job or not, I should be able to do some work for stray dogs," said Dolly.