PEARLS OF WISDOM
PPEARLS OF WISDOM
The Secret to Feeling Good at All Times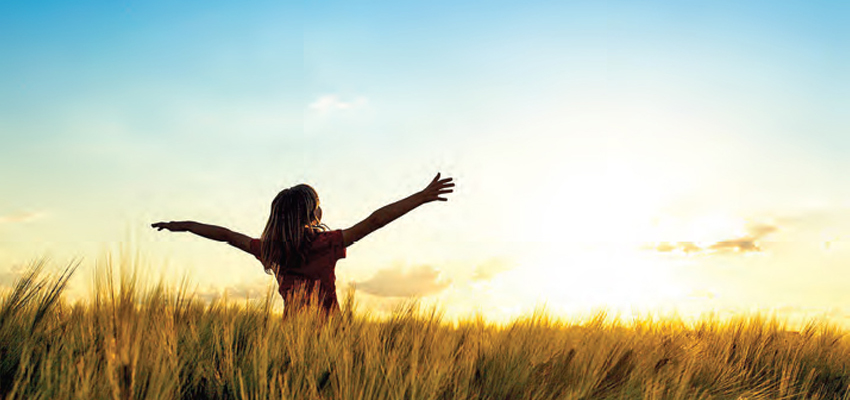 Our moods determine the way we react to circumstances. When we feel good, things are bright, when we feel low, frustrations haunt us. Read on…
People often tell me that they "feel bad"; sometimes they claim that they feel "terrible". Young people claim that they feel "low".
The reasons for the "low mood" may vary from individual to individual:
I do not have enough money.
I am too old.
No one understands me.
No one appreciates me.
I don't like my job.
Psychologists tell us that circumstances are always neutral, but our thinking and perception about them influence us a great deal. We are all apt to imagine that it is our circumstances that frustrate us. True, we often pass through phases of life when our circumstances are far from ideal. But then, our moods and feelings affect the way we look at circumstances. In a low mood, we see the dark side of everything. A housewife feels that she is trapped in her marriage and family; a working man thinks that his job is low and demeaning; a young student feels that he will never ever land a job that would suit his qualifications.
Our moods determine the way we react to circumstances. When we feel good, things are bright, when we feel low, frustrations haunt us.
Have you heard of the story of how Archimedes hit upon the theory of buoyancy? Legend tells us that he was lowering himself into a bathtub when the notion of the famous Archimedes Principle hit him in a flash – and the rest, as they say, is history.
When we feel good, solving problems is easy, and changing our circumstances is even easier.
Experts tell us that, "feeling good" is a practical and down-to-earth business.
Think of what makes you feel good-it may be a hobby; it may be an activity you enjoy; it may be something constructive, or creative that you enjoy doing. Devote your leisure to such an activity or a hobby - and you will find that your whole attitude to life is transformed.
Colonel Thomas Hart Benton loved to devote himself to constructive activities of any kind. Once, when someone asked him how old he was, he replied, "According to the calendar my age is 74. But when there is something good to be done, I am just 35 years old!"
When Pope John XXIII was the Papal Nuncio (ambassador) to France, he invited some dignitaries to dinner. The deputy prime minister of the country was the first to arrive. On seeing his guest, the Nuncio exclaimed, "Mon Dieu! I had forgotten!"
However, the oversight was quickly rectified. He produced a couple of aprons and the distinguished Father and his early guest were soon busy preparing the meal.
There are many wealthy executives who enjoy working in the kitchen, experimenting with recipes, putting together delicious, unusual concoctions for their loved ones. They claim that the tension and stress of their high-powered business life is forgotten when they busy themselves with their culinary experiments.
The President of India, Dr. Abdul Kalam, loved teaching. When he retired from his position as Chairman of the Indian Space Research Organization, he and his friend actually planned to start a school for bright children from an underprivileged background. However, the country could not do without him, and he was requested to become the scientific advisor to the Prime Minister.
Even then, he continued to take up teaching assignments, whenever he could spare the time! Dr. Abdul Kalam was also a gifted poet and writer. He loved composing poems in English and his mother tongue, Tamil.
Not only do great men find something creative to do – they do everything creatively too!
Vera Henry won a special award for women writers. When a friend called to congratulate her, her young son Kevin said to the caller, "The writer of the year is down in the basement doing the washing of the week."
When Nathaniel Hawthorne lost his government job, he went home dejected, on the brink of despair. His wife, learning the reason for his depression, did not attempt to talk him out of it. Instead, she set pen and ink on the table, lighted a bright fire in the grate, put her arm around his shoulders and simply said t ohim, "Now you will be able to write your book!"
Hawthorne took heart and what he produced from that effort was the immortal classic, The Scarlet Letter.
When we feel good, we understand life better. People and circumstances that seem harsh and insensitive are merely seen to be funny. Does it not make sense then to try to feel good - as good as we can?