LOVED & MARRIED TOO
LLOVED & MARRIED TOO
Minus 365 days plus memories forever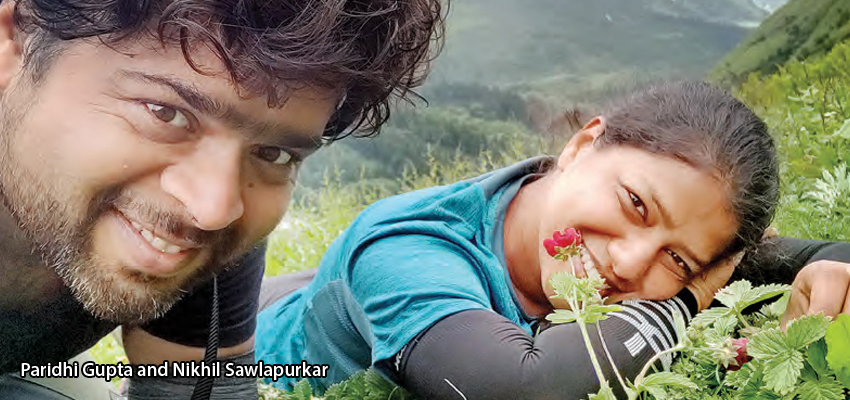 When corporate couple Paridhi Gupta (32) and Nikhil Sawlapurkar (35) quit their jobs to trek the length and breadth of Ladakh, they had little clue that their journey would not just span 3,200 miles but it would reinvent their approach towards life, strengthen their partnership and broaden their horizons beyond their wildest dreams. This is their story and this is how they tell it.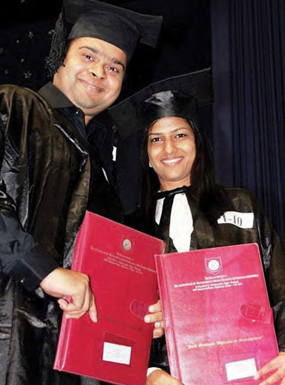 Gateway of dreams BIMHRD
A kernel of an idea that commenced with a casual whatsapp chat between husband and wife on how wonderful it would be to work from the mountains (a most delicious idea given the restrictions and sheer boredom of the Pandemic-induced lockdown two years ago) would traverse 3200 kms, 18000 feet, 142 places, 19 mountain passes and lifelong relationships with more than a 100 families. Oh and add to that a zillion magical memories.
As they say, some of life's finest decisions are made from the heart and executed with all one's soul-nothing less works.
Back to beginning
This story was first scripted on the campus of SBS' BMHRD campus when Paridhi Gupta and Nikhil Sawlapurkar first met as batch mates on the MBA-HR program of 2010. Even as they met for their classes, the conversation flowed spontaneously; the duo were naturally compatible with both their differences and similarities working perfectly well for them. (To say nothing of their common background from Madhya Pradesh.)
"It was a slow but steady transition from friendship to love. We did go through that phase wherein we wondered whether this was indeed more than just good old camaraderie between batch-mates. But the confusion soon gave way to the light. One day we bunked classes to speak our hearts out to each other-and that was it," smiles Paridhi.
Luckily for them, their parents were happy to give them their blessing-and after a brief separation post their respective campus placements, the duo wed in 2016. Post marriage, they have been based out of Pune.
The travel bug bites-and how
With MBA and labour law degrees in their kitty, both Paridhi and Nikhil were the quintessential corporate couple-traversing the tightrope between home and work. While Paridhi was working Greyamp Consulting as a business transformation consultant, Nikhil was with Wipro as HR Business Partner.
Naturally fond of food and travel, the duo was nevertheless caught up in the rough and tumble of work. And then, the lockdown happened. As it happened, Paridhi was caught up in Indonesia on the back of flights' cancellation.
It was during this difficult time that the couple had a whatsapp conversation on the sheer joy of working in picturesque surroundings like the mountains. "But then the question arose: how on earth would we manage to work in such a fabulous backdrop?" laughs Nikhil. Answer: they couldn't.
So, once things opened up, they decided to take a sabbatical for a couple of months to explore a state that had always intrigued them-the pristine and remote environs of Ladakh. "While cycling is another way to achieve an environmentally sustainable trip, nothing was quite as appealing as walking," he says.
Friends and family would alternately wonder and marvel at the couple's determination to take this offbeat path-quite literally at that-but Paridhi and Nikhil were practical enough to embark on a short fitness program before hitting ground zero.
Interestingly, Nikhil and Paridhi named their endeavour Minus 365 days. "In these 365 days, we prepared ourselves for walking on an average altitude of 12000 to 14000 feet. A combination of a rigorous core workout, climbing 100 floors with 18 kgs of backpack, walking 30 kms, Yoga and necessary breathwork, we left no stone unturned to make this a journey to remember," says Nikhil.
The couple finally headed to Manali in late June 2021. Their goal was singular: traversing the terrain of Ladakh from Manali to Srinagar on foot.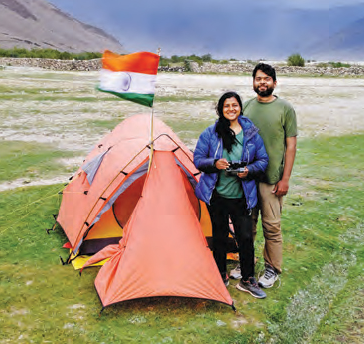 Paridhi and Nikhil's perspective
changed forever with the Ladakh journey.
Phasing in and out.
"We would walk about 9 to 10 hours a day covering anywhere between 20 to 25 kms approx. with a 25 kg backpack each. Ladakh being a safe place, the human threat was negligible, in face most people were warm and welcoming. We would pitch our tent outside people's homes; they would be kind enough to offer us food and any other emergency supplies we might need. Indeed, the human spirit is kind and giving and the entire experience was really a learning curve on so many levels," says Paridhi.
The first phase of the journey took place between 22nd July and November 19, 2021-a distance of almost 1600 km between Manali to Leh, that is the Changthang, Shyok and parts of Nubra valley, covering Rohtang La, Baralach La, Nakee La, Lachung La and Tanglang La. Then they travelled from Leh to Tso Moriri, and bit by bit to the Siachin Base Camp via Pangong range and Shyok.
Exhilarating though it was, they had to take a break for a wedding in the family. Post a hiatus of a few months, they commenced their journey again on March 22, 2022. "We restarted the journey from the very same village that we had stopped. The local families were most invested in our trip as well; in fact, they kept encouraging us to keep going further," says Paridhi. This time, they would walk from Stongset village to Srinagar, almost 1300 km.
"Combining both the phases we have completed around 3200 kms of high altitude walking/ trekking and have had the immense fortune of staying in over 150 places, of which a 100 were villages of Ladakh, Himachal Pradesh, Kashmir and offbeat places in the wild. The friendships and memories we have gathered are for a lifetime," expresses Nikhil.
Most importantly, the couple are a tightly knit team with a better understanding and acceptance of each other than ever before.
Given that their marriage has encompassed such an unusual journey, what according to both, are the pillars of a relationship? "Communication," comes the prompt reply. "Every misunderstanding, fight or argument simply boils down to a failure to communicate properly. Speak your mind to your partner-honestly and clearly, and never go to bed angry. This is something we strongly believe in," says Nikhil.
THE MANTRAS OF A MARRIAGE
Team work
Understanding that the small things are actually the big stuff
Acceptance and respect
Communication
Friendship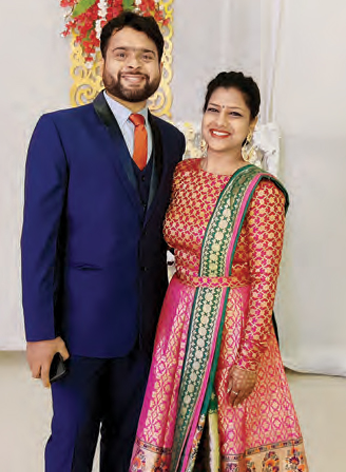 A new life with new learnings.
In so many ways, the Ladakh trip has reinvented the wheel of life for them. "We were the typical corporate couple with priorities similar to others of our generation. But our months in the mountain have taught us all about sustainability and minimalism," says Paridhi. "Out on the road, amidst the wilderness, you realize how little you actually need. For instance, one key change is that we have ditched the use of plastic as much as possible."
As Nikhil points out: "We believe that we have a choice in everything that we do, we can choose to explore the beauty of travel in its true essence, we can choose to be responsible, to give sustainable tourism a chance to grow, to ditch the wheel once in a while and trust our feet and that's the choice we have made with this journey."
Speaking of choices and journeys, both Paridhi and Nikhil wish to continue to walk the road less travelled when they restart their careers. "From offers to teach Hindi and English at a monastery run local school to helping a Ladakhi author translate his work into English, there are so many interesting projects that will keep us close to nature and this new life we adore so much," says Nikhil.
Yes, there have been murmurs of concern from loved ones on the risk they are taking in walking away from corporate jobs, but ultimately, they trust the couple and their judgement. "We are well aware of the sacrifices made by our families and will always keep our commitment to them," points out Nikhil. "But this is what we want to do with our lives."
Most importantly, says Paridhi, marriage is about working towards a common goal-in this case, a life they believe in. "And that's exactly what walking together has done."