CAMPUS PLACEMENT
CCAMPUS PLACEMENT
Hitting the Bull's Eye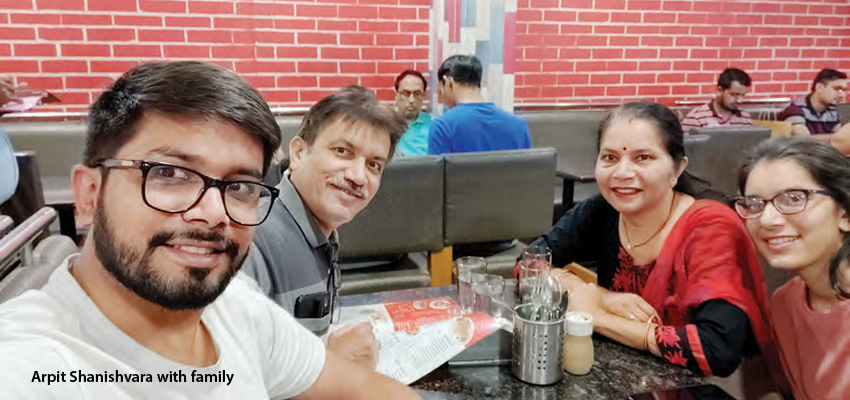 He is insightful, focused and just within a few years he got a hang of the corporate world. Skills such as relationship building, leadership, empathy and others have brought him a long way. "And that is what defines me," he said and smiled. Meet Arpit Shanishvara who is currently working with The Knowledge Academy as their Senior Inside Sales Manager. In a conversation with Corporate Citizen, Arpit spills the beans on his educational journey, his campus placement experience, and shares a few tips for his juniors on how to prep for the campus placement, and more...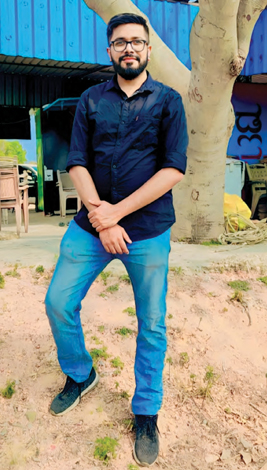 Arpit Shanishvara
Arpit was born in Gujarat and raised in a humble Shanishvara family. And the values that were inculcated in him have pushed him to become a better version of himself. Talking about his childhood days he said, "I was an average student. I wasn't much into studies, but I knew my way out. I used to score in the 70s. My parents and I were quite happy with my performance."
Holistic development
His NCC certificate is his priciest procession. At the age when kids often love hanging out with their friends with no tension, Arpit volunteered to be a part of the NCC. At 17, what pushed you to take this decision, we asked, and he was quick to respond, "To be honest, it was the uniform that attracted me. It is very difficult to describe those feelings." He further added, "NCC is a highly reputed body and being a part of it was a matter of pride. It not only strengthened my spirit, but it allowed me to travel all over our country with my head held high. This gave me a chance to understand my country better. The exposure to various types of people, different cultures, and food certainly broadened my horizon. And most importantly it has inculcated values of leadership, discipline, and others. These virtues came in handy during my post-graduation days and now in my corporate life too."
In essence, this experience changed his perception towards life. He urges that students should take part in extracurricular activities for holistic development. "Getting involved in extra-curricular activities provides students with holistic development. However, the college should back students' interest." The NCC days were the best for him. Talking about the memorable event, he informed, "During the NCC days, I was a part of the elocution competition. And I won the silver medal for putting forth my views on the way digitization has changed our country. It still gives me goosebumps thinking about this victory."
The placement saga
After completing his BCom he moved to Pune to pursue his MBA in Marketing and Finance. His post-graduation college was quite strict. But as Arpit had learnt the value of discipline and punctuality, he could easily adjust in the college. When he entered the college his aim was to, "Gather as much knowledge as possible and get a good placement. Throughout my MBA days, I kept my mind on my aim and was driven by my focused approach."
Talking about his campus placement experience, he said, "Overall, it was a great experience. I did not specifically prep for any rounds. All I did was stay updated and understand thoroughly the industry I wanted to work in. This helped me during the GD and PI rounds. During the GD round, I wrote down all the important points, waited for my turn, spoke patientlty and even raised an objection when it was required."
However, not all things go as planned. Arpit had a few backlogs, which he tried hard to get rid of. "The one thing I learnt was never to have backlogs. At times it becomes hard to overcome them. This led to depression. But with the support of my family and friends, I was able to get rid of the hurdle," he expressed. This is precisely why Arpit urges all his juniors to never have backlogs.
Arpit sat for 4-5 companies and finally got through upGrad Education Private Limited as their Senior Business Development Executive. There he spearheaded their direct sales for the India region, where he got a chance to work for New Market Development.
After working there for two years, he moved to The Knowledge Academy Pvt. Ltd as their Senior Inside Sales Manager. "The education industry has always attracted me. There are so many things to venture into. The beat has a lot to offer. Here I am able to apply the things that I have learnt and in turn, learn a lot more," he said.
Talking about his ultimate goal he said, "A few years down the line, I wish to start my restaurant."
Tips on how to prepare for campus placement
Know thy industry: It is very crucial to understand the industry that you wish to work in, more so, your desired company. Knowing the company in and out helps you in the PI round. While understanding the industry exposes you to work practices and trends, and helps you grasp the theoretical knowledge taught in class.
Never have backlogs: Study hard to pass every semester. Having a backlog bogs you down with pressures. Further, undermines your performance in campus placement. And this, in turn, might ruin your career. Owing to this, students may go through depression as well.
Keep yourself updated: All three rounds of campus placement thrive on your current affairs knowledge. For that read the newspaper daily. Download apps that allow you to understand industry trends better.
Define your approach: It is absolutely important to understand and define your approach. This step makes your goal crystal clear. The steps that define your approach will guide you in the right direction and will help you stay focused.
Maintain good relations with professors and seniors: In life, you'd always need someone to guide you and show you the right direction. Your college is your home away from home. And your professors and seniors are the ones who'd guide you when in need. Maintaining good relations is advisable.