UNSUNG HEROES
UUNSUNG HEROES
Daughter of a rickshaw puller wins a Gold Medal at Asian Games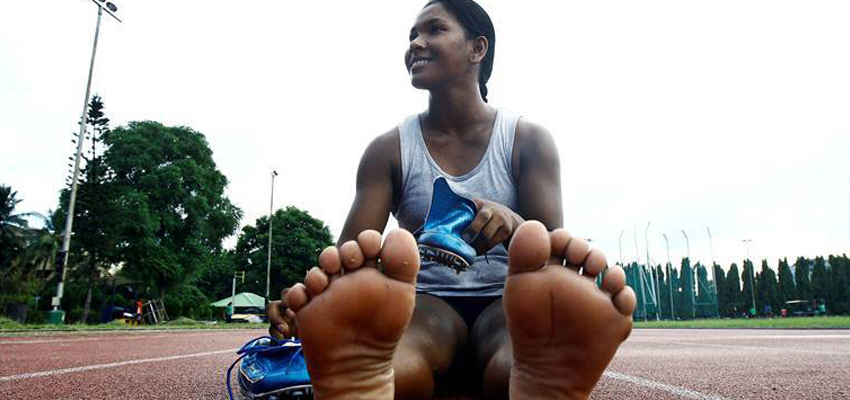 "Success is not measured by what a man accomplishes, but by the opposition he has encountered and the courage with which he has maintained the struggle against overwhelming odds."
- Charles Lindbergh,
"Right from the time I was small, I have never been able to find a pair that fits me. When I run with shoes, it hurts. When I wear spikes it hurts more"
- Swapna,
Some people have six toes in one foot, but she has six toes on each foot. She is not comfortable wearing regular shoes, and she cannot afford to wear customised shoes. Her mother works on a tea estate in Jalpaiguri, West Bengal. Her father is a rickshaw puller, who is bed-ridden after having suffered a stroke in 2013. Her brother cuts wood. Her parents live in a house without concrete walls and cemented roof. She got injuries to her knee, ankle, and fingers. There is a bulge in her back, because of which she has to gasp every time she flexes her spine. Can such a girl be expected to achieve something in life?
"Right from the time I was small, I have never been able to find a pair that fits me. When I run with shoes, it hurts. When I wear spikes it hurts more" she says. This 21-year-old girl did not let these challenges come her way. True to her name 'Swapna' - she went on to fulfill her dream. She won the Women's Heptathlon Gold Medal in Asian Games in 2018, Jakarta, Indonesia.
Swapna was interested in football and kabaddi, but her father encouraged her to divert to running so that she could get a job based on her excellent performance. When Swapna was 11 years old, he would take her in his rickshaw for a running practice to a stadium 11 km away from his home. In 2016 she won a scholarship of Rs.1, 50, 000 for leading in athletics. She used this money to get her home repaired and build a Kali temple behind it.
Swapna was doing well in high jumps at school. She excelled at a Regional sports meet. Her sports teacher took her to SAI Kolkata where she was admitted to the hostel in 2013. Initially, the officials of SAI thought that she has come for free food, as she appeared to be bulky and lazy. However, soon they changed their view as they found her mentally tough and undergoing the training with full dedication. Seeing her potential, her coach Subash Sarkar advised her to shift from high jump to Hepthalon. The Heptathlon consists of seven events-100m, High Jump, 200m, Shot Put, Javelin Throw, Long Jump, and 800m.
Soon after reaching Jakarta, she had a fever and severe pain in her jaw, because of an abscess in a molar. She did not take any painkillers or antibiotics for fear of being rejected in the anti-doping medical test. She even thought of going back as she felt that the pain would not allow her to participate. However, she remembered the promise she made to her mother before coming to Jakarta. She had promised that she would not come back home if she did not win a medal. She became the first Indian to win the women's all-around event at the Asian Games, a feat that would make her the best woman athlete in the tournament.
She underperformed in her favourite event-the high jump, but made up in the final event 800-meter run. No Indian in the history of Heptathlon had won a Gold medal before Swapna; the victory was made extra special as it came on National Sports Day, the birthday of hockey legend Major Dhyanchand. When the Asian Games were being telecast Swapna's mother was watching along with her family members. The moment it was announced that Swapna has won the gold medal, her mother broke into tears and started wailing. She went to the Devi temple behind the house which was built by Swapna and prostrated, she could not control crying for quite some time.
Her valiant effort also won appreciation from the West Bengal Government which announced a cash reward of Rs.10 lakhs and a job for the athlete. PM Narendra Modi and Sports Minister Rajyavardhan Singh Rathore tweeted congratulatory messages to the star almost immediately after she made India proud.