LOVED & MARRIED TOO
LLOVED & MARRIED TOO
JAB WE MET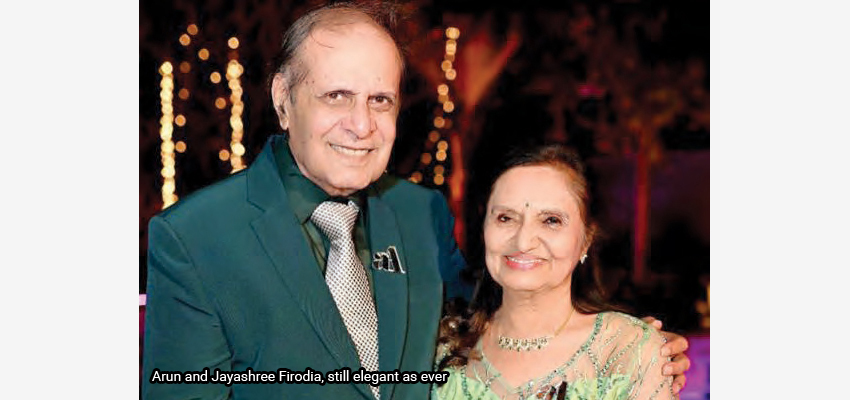 "Papa, you lucked out", say my children in unison. I, too, agree wholeheartedly to have found my life partner in Jaya. That too more than 60 years ago. I believe Jaya is god's favourite creation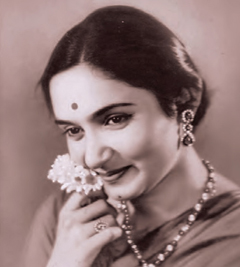 It was on the Fergusson College Notice Board where I saw the name of Miss Jaya Pathak who had scored almost as many marks as I did in SSC. This intelligent girl was good looking too. How to get closer to her? I decided to contest for elections for Student Council and requested her to please canvas for me. I won the election and got an excuse to call her for the celebration party. Then came the August 15 weekend and we decided to arrange a trip with our classmates to Khandala. Unknown even to us, our acquaintance blossomed into love. But alas, I had to leave Pune and go to IIT Bombay. We continued our friendship through letters and occasional meetings. In those five years, we must have written hundreds of letters. Her father Shri H. K. Pathak had a distinguished career in the Home Department of the Maharashtra Government. Her mother, Mrs Hemlata, was a very accomplished and conscientious person.
In 1964, near the end of my IIT course, we thought of getting married before my planned departure to the USA in August 1965. So we broached the subject with our family members although we were both a bit young, just 22 years old. We were a bit apprehensive about getting the green signal as Jaya was a Hindu and I was a Jain. But to our good fortune and pleasant surprise, both sides agreed to give us the go-ahead.
We got married in Pune on May 12, 1965, by "SarvaDharma Paddhati", where the bride and the bridegroom exchange vows in Hindi (which normally the priest recites in Sanskrit) followed by the exchange of garlands and seven circumambulations around a small fire.
"Jaya has adopted our spiritual beliefs, language and food habits and enhanced all of it. All our relatives love her and there is tremendous goodwill for her in the entire community, all of it earned by her lifetime of sweetness and helpfulness to all around"
- Arun Firodia
Those were the days of food shortages in India. Rice was not allowed to be served and only 50 guests could be served at a time. The garden at our home was the venue of the reception where we could only serve ice cream to the guests. But nothing mattered to us.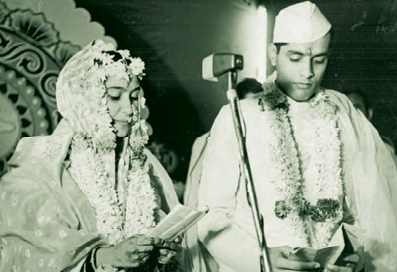 Reciting vows on their wedding day
The next morning, on the 13th May, we left Pune for Bombay by Deccan Queen for our honeymoon at Shimla. We did not notice the 28 tunnels on the way, so engrossed were we looking into each other's eyes. Then we got into Frontier Mail in a special coupe for Delhi.
A huge ice slab was placed on the floor and the overhead fan kept the coupe cool. Then we went to Shimla and Kullu-Manali. On our way back, we visited Delhi and Agra. It was very hot but we did not seem to mind the heat.
In Shimla, we stayed in Hotel Clarkes. Recently, we celebrated our 50th wedding anniversary by staying in the same hotel, in the same room and ordering the same food. We then celebrated it again later with our dear family and friends in Pune by organising a special 'Jab We Met' theme event.
I left for the USA in August 1965 a day before the 1965 Indo-Pak war. Jaya stayed in India to complete her MBBS. I joined M.I.T. and was busy with my studies. Jaya joined me in the USA in Jan 1967 with little Kimaya whose first birthday was about to be celebrated. We moved into a beautiful apartment on the seashore in Winthrop, Massachusetts. Then, we moved to Dorchester, Massachusetts where Jaya had secured an internship at the Carney Hospital.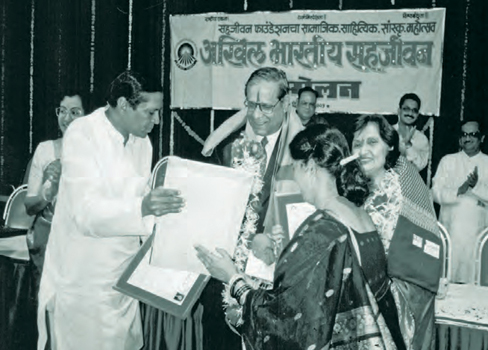 Felicitated by Couple of the Millennium Award
She had to work very hard: 104 hours a week. My mother came to stay with us to take care of Kimaya and us. Jaya impressed her hospital seniors with her intelligence and sincerity and as a result, she got a residency in the legendary Harvard Medical School's Children's Hospital Medical Centre, the world's foremost Paediatrics Institute. We could proudly say that I was in M.I.T. and Jaya was in Harvard.
On our way back to India, we stayed in London where Jaya worked in Imperial College's West Middlesex Hospital, Richmond, and I worked in Sciaky Electric Welding Machines in Slough, Buckinghamshire. She also completed her Post-Graduate Diploma there in Child Health, D.C.H.
After coming back to India, she worked for a few years with Pune's for most Paediatrician Dr. D. B. Shirole. She then started her own private practice and also many social service initiatives by working at Sane Guruji Hospital as an honorary Paediatrician. She has truly served the Pune people as a top paediatrician. Almost every week, she would be woken up in the middle of the night by distraught parents of young children in need of immediate attention. she also served poor people free of charge on the outskirts of Pune. She takes most loving care of her little patients, often calling their mothers and enquiring how they are doing.
Some of her patients would even be happy to get ill as it would mean a visit to their favourite doctor. Now many of her little patients have grown up but continue to come to visit her and bring their own little ones for check-ups or important guidance. She is justifiably proud (and I am also proud of her) that in her career, she has cured each and every case and nurtured her patients to good health.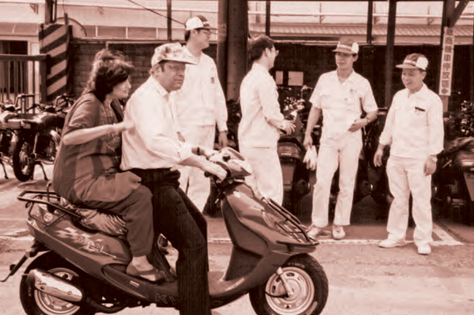 Arun and Jayashree at Kymko, Taiwan
She took to the Firodia family as fish takes to water. She has adopted our spiritual beliefs, language and food habits and enhanced all of them. All our relatives love her and there is tremendous goodwill for her in the entire community, all of it earned by her lifetime of sweetness and helpfulness all around. She still has deep friendships with her college friends and is equally adored by her own extended family. Even Jain Sadhvi Pritisudhaji Maharaj and Madhusmitaji Maharaj are very fond of her.
She has been an enthusiastic participant in many of our initiatives - the H. K. Firodia Awards function, Pankunwar Smriti Vyakhyanmala, Firodia Karandak and all our social activities. So much so that Mr Ulhas Pawar once exclaimed, "I have noticed that you two are always together." She looks after me, our children and our household very efficiently, leaving me free to pursue my business and social activities.
I believe Jaya is god's favourite creation. He has endowed her with great intelligence, stunning looks, an ever smiling face, humility and a very friendly disposition. Thanks to her, we were bestowed with the 'Couple of the Millenium Award' in the year 2000.
So, I entirely agree with my children when they say "Papa, you lucked out". In return, I say to them, "You lucked out, too."