LOVED & MARRIED TOO
lLOVED & MARRIED TOO
Travelling together for life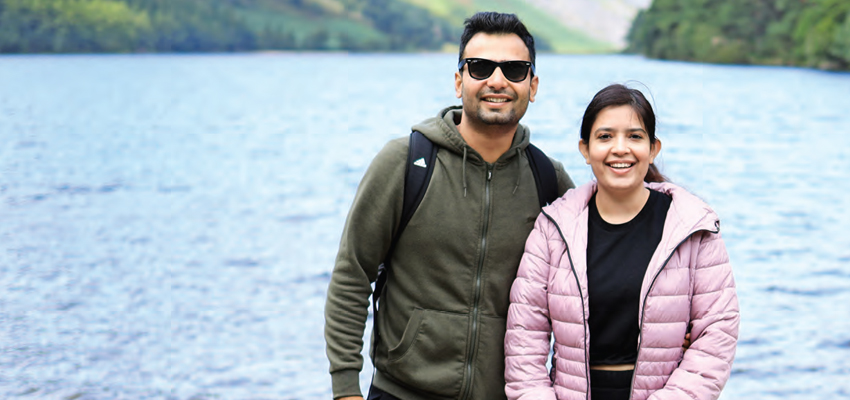 Operations analyst Anand Deshpande and his significant half Akansha, a software developer, are on the threshold of an exciting time both personally and professionally even as the newlyweds explore a whole new culture in Ireland
Though they are married only recently, Anand and Akansha joke that the exchange of personalities that usually occurs only after years of matrimony, has already happened in their case. The 12 years of friendship and romance that preceded the formalisation of their relationship has ensured that happy occurrence. "I am the impatient one but her sense of calm has permeated into my persona whereas, she has become more spontaneous," smiles Anand.
Natives of Nagpur both, pursued their engineering together followed by a shift to the bigger city of Pune for work before migrating to Ireland—all the better to pursue their dreams.
FRIENDS FIRST AND FOREVER
Growing up in Nagpur both Anand and Akansha have been through major milestones together. Despite being such different personalities there is much to bind them together. Whilst she appreciates him for his outgoing ways, honesty and spontaneity, he calls her a winsome combination of head and heart. "She is loving, caring and very committed," he says.
That said, marriage was still some time off as he had not yet found his groove professionally. Unto that end, Anand followed up his engineering degree with a management degree and a job. He also set a course to explore the opportunities offered in a foreign country—Ireland. "I wasn't happy though. I am not technically oriented and felt my true calling lay elsewhere," he shares.
By now, Akansha's traditional parents had decided to start looking for marital alliances for their daughter. "However, they still wanted to give me the space to tell them of my own choice of partner—in case, I had found someone. To that, I could only think of one answer: give me six months," she says—in order to give Anand time to settle down. Puzzled though her parents were, they agreed.
Happily enough, Anand got the job he wanted. And just three days later after Akansha's conversation with her parents, he proposed.
Nevertheless, it would still be a few months before he met her parents. They knew of him, of course, but the families were culturally different. So, everyone had to be very sure of the alliance. "We are a conservative Maratha family whereas they are Marathi brahmins. But when the families met they were happy to unite us in matrimony," she says.
The couple married on Jan 5, 2021. They also went through a court ceremony for visa purposes.
"With proper communication, you can find a solution to any conflict that may arise"
- Anand Deshpande
THE MANTRAS OF MARRIAGE
Communication
Shared dreams
Celebrating differences
Sharing responsibilities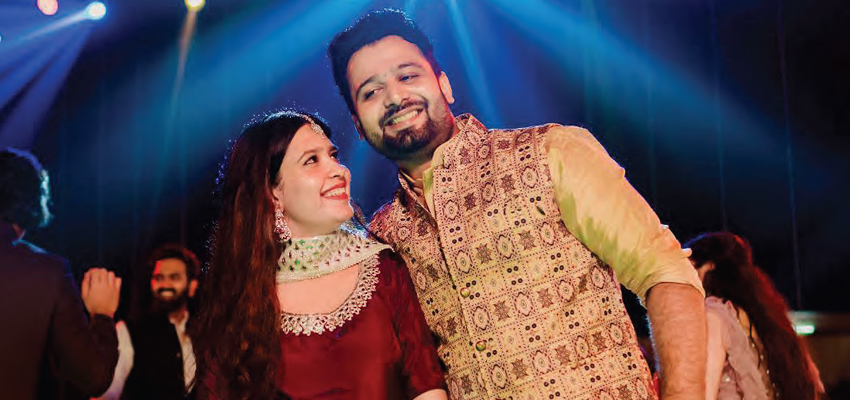 Anand and Akansha celebrate a moment
FROM STRENGTH TO STRENGTH
Post their nuptials, Anand set off for Ireland whilst Akansha waited a few months to join him. "You know, we have spent time long-distance both before and after marriage: I first went to Ireland in 2016. We were away from each other for four years, interspersed with a few visits. This was followed by the time she waited to join me post-marriage till she got her visa. People say it's hard to keep such a relationship together but in our case, it taught us a lot and brought us closer," he says. Amidst the rough and tumble of the circumstances, a particularly exciting moment was when they met for a short holiday in the beautiful environs of Spain before they were married. "It was a seminal moment. It was the first time I was meeting her in an entirely different setting, far away from what we knew and recognised, and we explored the country together. I saw a whole new side to her and that was quite enriching to our growth as a couple."
THE BUILDING BLOCKS OF A MARRIAGE
However, a marriage involves getting along with each other's loved ones. Which brings us to the question: how hard was it to adjust given the difference in their cultural backgrounds? "Oh, it was," says Akansha. "I come from a nuclear set up whilst he had grown up in a huge joint family set up. So, living with his people after marriage all by myself while I waited for my papers to join him, was a whole new experience. But they were very sweet and accommodating, mindful of my working hours, likes and dislikes. As for me, I learnt a lot about their way of life and the customs they hold dear. It's always a give and take. Relationships are like that"
As in the case of many others, the pandemic has touched their lives with tragedy too—Akansha lost her father to Covid. "It taught us a lot about the importance of not taking family or relationships for granted," they say. "At the end of the day, family is everything."
Living together in a foreign country is a challenge in more ways than one. For starters, there isn't the support of domestic helpers that one takes for granted in India. "This means we find a way to do the chores and share the responsibilities together. We work it around our schedules. Sometimes I cook and she cleans and sometimes it's the other way around," he says.
As of now, she is working as a software developer for Motif India Pvt Ltd while he's an operations analyst with the Paysafe Group.
Life is hectic but happy and fulfilling even as the duo take every opportunity to explore the gorgeous Irish countryside with long walks and treks. "I really enjoy understanding different customs and traditions. It really opens up your mind," says Anand. Quality time also consists of a new passion—gaming and coding—something they mutually enjoy.
What, according to both, are the cornerstones of a relationship? The answer is prompt and unanimous—communication. "With proper communication, you can find a solution to any conflict that may arise. It is important to share what's on your mind with your partner—be it your thoughts, emotions or plans. It keeps things on an upward keel," says Anand. "You are able to give your partner the support they deserve."
On that note, both are firm that while they would love a family at some point, right now, it's time to work hard and travel together across the world.