INDUSTRY INSIGHT
iINDUSTRY INSIGHT
Mining AI-driven healthcare data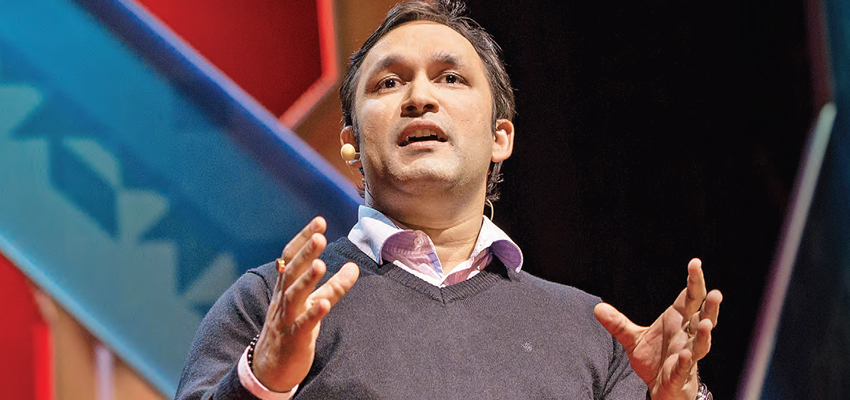 From harnessing a business of selling bean bags at 18 years, the IIT-Bombay and MIT Sloan School of Management graduate has since forged a successful entrepreneurial journey from India to Germany. Gunjan Bhardwaj, founder and CEO, Innoplexus, Germany, defines himself as a passionate entrepreneur seeking to change the future of healthcare. He has taken a step forward with Innoplexus' AI-driven app, CURIA aimed at cancer patients in managing their health trajectories. He shares his insights into AI-driven healthcare solutions, the impact of the pandemic on app-related diagnosis and in solving real-life human problems
"I had to find a business solution to fill the gap around cancer-related reliable information for patients which also sparked the idea of the CURIA app"
- Gunjan Bhardwaj
"The key to a successful entrepreneurship is in the execution. There is a tremendous need for thinking, learning and reading but the most important thing is to try until you succeed. It is this early lesson which has guided me during the building of Innoplexus and CURIA as well," said Gunjan Bhardwaj, Founder and CEO, Innoplexus, Germany. The company is headquartered in Frankfurt with offices in Pune, San Francisco and New Jersey.
Bhardwaj's credentials go beyond strategy, analytics and technology, he has authored 'Inside the Cockpit: Navigating the Complexity of Drug Development with AI and Blockchain' and is a senior editor and advisor for a prominent online innovation management journal. He has also served as an honorary representative for India, promoting socio-political and economic exchange between the State of Baden Württemberg and India. "This experience enabled me to combine the love I have for India as my birthplace and the passion I have for Germany as my new home," he said.
DRIVING SOLUTIONS
Bhardwaj's career began during his formative years doing side-businesses straight out of school to whet his curiosity and to fulfil his learning on how to do a business. His move to Germany fuelled him as a consultant, enabling his business and entrepreneurial growth.
Things took a turn when his best friend and mentor was diagnosed with cancer. The episode set the ball rolling for a solution that could fill the gap between seeking information and sourcing relevant data for cancer patient management.
The treatment journey led to questions on the treatments available, on suitable clinical trials, information on experts for the cancers stage, its type and stage. "As we searched for answers online, it became all too clear that this information is not easy to find. We realised that this is also the experience of the millions of people diagnosed with cancer around the globe. We wanted to change it."
"I had to find a business solution to fill the gap around cancer-related reliable information for patients which also sparked the idea of the CURIA app," said Bhardwaj. Likewise, Innoplexus was initiated to address the gap underlying in consulting and technology paradigms, sensing the need to differentiate their underlying standards.
Innoplexus is an AI company that drives drug discovery in collaboration with biotech and pharmaceutical companies. "Whilst the road to establishing Innoplexus and CURIA was not easy, we rose to the challenge with a world-class team of experts and the determination to bring the best outcomes for patients," he said.
In this excerpt, Gunjan Bhardwaj unfolds the trials, tribulations and growth dynamics of his journey and the key aspects of the CURIA app.
THE WONDER YEARS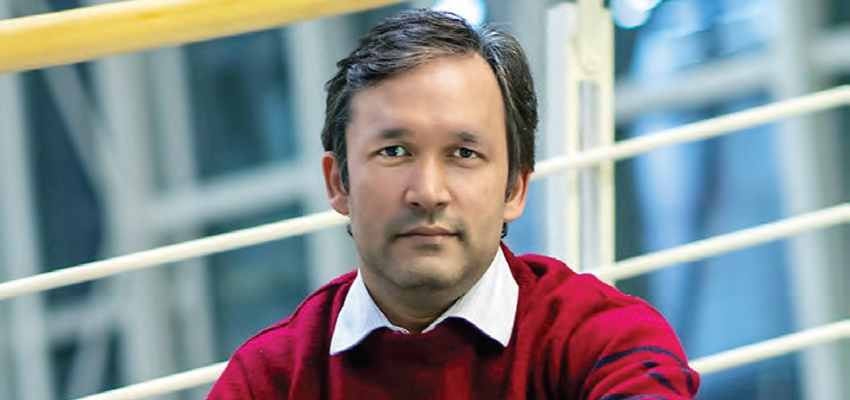 Gunjan Bhardwaj
CC: How has your academia influenced your career?
Gunjan Bhardwaj: During my undergraduate days at IIT-Bombay, I was amongst the brightest of minds in the country. My interactions with some of them with an entrepreneurial mindset inspired me to think big and instilled a sense of confidence and a fearless attitude to pursue my dreams. Institutes like the European Business School, Oestrich-Winkel, Germany, MIT Sloan School of Management, USA and Pforzheim University, Germany, pushed me towards excellence and in thinking creatively both personally and professionally. My professors too have played a significant role in guiding and shaping me up.
CC: Did your consulting experience influence your entrepreneurial growth?
At Boston Consulting Group (BCG), I got the opportunity to interact with amazing and brilliant minds from diverse backgrounds and this diversity of my teammates and colleagues gave breadth to my perspectives in doing business globally. At Ernst and Young, I learnt to relate all business activities from a shareholder's point of view as well as helped drive customer value creation. I began my consulting career with a mentor and now a close friend whose experiences inspired me to establish my business. I learnt the true meaning of being pushed out of my comfort zone and learning by doing, trying again until something works, which is the way forward in business.
THE CURIA FACTOR
"Patients on the platform are led to answer important questions and workable solutions on the treatments available for their cancer care and available clinical trials"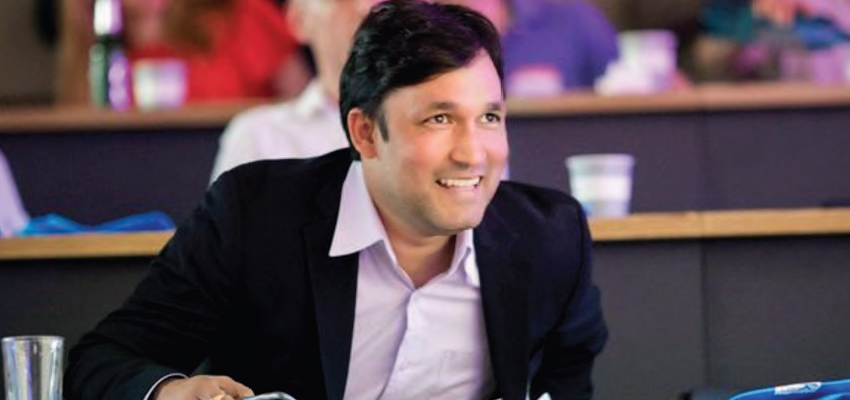 CC: What is CURIA?
It is an app specifically built to help patients in managing their cancer journeys by providing them with tailored answers to their most pressing disease-related questions. It aims to empower cancer patients and their families with reliable information in optimising the best treatment available to them.
CC: What is the USP of the app?
The CURIA app built over the OncoCoin platform creates a complete cancer treatment ecosystem. The USP is in the AI technology that enables searching 95% of publicly available online data for updates on registries, drug approval sites, and clinical trial databases. Our team of experts review these information bundles to make appropriate data available to the patients via the app. A tailor-made questionnaire ensures that patients get only the results that are relevant to their cancer profile. The app also provides a database of physicians and experts listed as per their experience, their reputation and research conducted by them. The sheer volume of information that we process helps to bring the inherent benefits to our users through economies of scale.
CC: What is the OncoCoin platform?
OncoCoin AG is an independent entity that licenses the AI technology of Innoplexus and applies it specifically to the areas of cancer to drive forward a hypothesis, solutions and cures for the deadly disease. It is the ecosystem that supports the app. The OncoCoin ecosystem will gradually become a fully integrated platform offering patients the information needed to manage their disease, also facilitate cancer research by allowing patients to participate in virtual research studies.
CC: How can patients benefit from the app?
Patients on the platform are led to answer important questions and workable solutions on the treatments available for their cancer care and available clinical trials. They can avail of a digital second opinion through the free app and find a 'Cancer Twin' with almost similar disease profiles.
CC: What is 'Cancer Twin'?
The feature provides peer-to-peer support while transforming patient engagement, empowering, and motivating them to continue with their cancer management. The app's algorithm matches patients with similar cancer profiles, enabling them to anonymously communicate through a private chat feature on their experiences and understanding of the ailment. All conversations are blockchain encrypted, offering the highest level of security in safeguarding a patient's confidential and vital health information.
CC: Does Innoplexus have a revenue-sharing model?
In some markets, we are launching a new offering for cancer patients, which gives them the prospect of participating in virtual research studies that enable researchers to get the information needed for undertaking drug discovery. These programmes are expected to mobilise revenue for OncoCoin, paid by the researchers for accessing this information. Patients will also receive monetary rewards for the information they share to ensure an equitable ecosystem.
FACTORING INDIA
CC: How has CURIA impacted the Indian market?
Currently, the app has over 90,000 users in India and aims to help patients towards more productive discussions with their doctors, their carers across multiple cancer types and stages. Currently, there are 16 cancer types supported on the app.
CC: What triggered the app's launch?
According to a study, 70% of cancer patients are dissatisfied with the information given to them despite the availability of accessible information on different websites and journals related to cancer care. The lack of data on trials and other aspects makes the situation quite frustrating.
CC: Can the app help overcome misconceptions in cancer-care management?
Cancer is somewhat of a taboo topic in India as people are uncomfortable sharing their experiences or asking for support and therefore, the app can become particularly significant. With reliable and tailored information, patients can comprehend their disease state better. Soon, the app will offer patients the opportunity to request a fully digital second opinion from oncologists around the globe.
CC: Can the app bridge India's healthcare digital divide?
The app signifies democratising accurate information for cancer patients, their families and doctors. The idea is not to restrict information with experts and oncology specialists who have the overview and resources for treatments protocols and clinical trials. We will soon release the app in local and vernacular languages to ensure equal access to information for all patients coping with this deadly disease.
CC: Can the app cater to India's rural population?
Cancer being an extremely complicated disease, we recommend patients to use the app together with their doctors. Doctors will be able to use the interface along with their patients, in helping them understand the available options while educating and empowering them to take important decisions either by themselves or assisting them in their cancer journey.
CC: What about managing excessive information overhaul?
Informed patients are better able to have productive discussions with their doctors that lead to the best treatments. A study showed that only 12-18% of patients talk to their doctors about clinical trials. The app can empower patients to have those conversations and potentially enrol in a trial that could change their cancer journey or open treatment options for similar patients. We are aiming at more holistic cancer care management.
CC: What about competitors in India?
The complex technology used to build the app and the nature of its tailored, individualised experience, currently makes it one-of-its-kind support for cancer patients in India.
CC: Do you have plans for developing other similar apps?
Innoplexus will soon be introducing a sister app to address neurodegenerative diseases.
ALIGNING WITH PRACTITIONERS
CC: What about patient-doctor disease management?
Although the tool is patient-oriented, it enables medical practitioners to review a patient's tailored-made options that can be the starting point for their research on patients. Indian physicians will be able to ascertain internationally approved therapies in real-time, which offers professional value addition. The app provides a broad perspective on available clinical trials for their patient, check inclusion and exclusion criteria. They can engage with patients in submitting a possible application for clinical trials through the app and simplify the process.
CC: Is there a revenue-sharing agreement with featured medical practitioners?
It is a completely unbiased platform, collecting information from reliable online sources as well as unpublished syndicated information. Therapies, doctors and trials are listed according to the nearest location or in alphabetical order. There is no sponsorship from the industry or medical practitioners.
BUILDING AI IN HEALTHCARE
"We are using cutting-edge AI innovations with 37 patents and over 100 patent applications to scan the massive volumes of data that is published and organised daily on our app"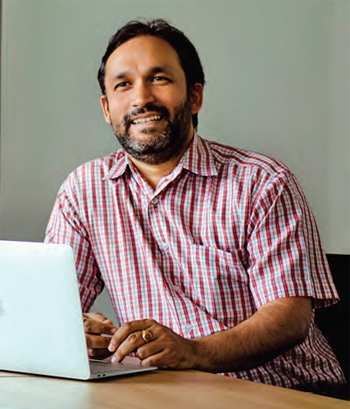 CC: How has Artificial Intelligence (AI) impacted global healthcare?
AI has grown in stature in recent years within the healthcare industry as it delivers better and faster outcomes with a lower likelihood of errors. We are using cutting-edge AI innovations with 37 patents and over 100 patent applications to scan the massive volumes of data that is published and organised daily on our app. There are similar AI integrations taking place across the spectrum in various healthcare screening, counselling and service delivery in India. The next phase is to increase access to technology with access to both elite research centres as well as patients.
CC: What is the advantage of the app viz web-generated information?
Post-Covid, people are more aware that not all the news, views and information consumed are dependable. When it comes to advocating for your health, it is important to understand where the information is coming from and its context. Therefore, apps like ours offer more authentic and long-standing information goals than trending metrics seen with 'Dr Google.'
PANDEMIC PENDING
CC: How has the pandemic impacted the app's appeal?
Following its Germany launch in June 2020, we have been launching the app in new markets. Since 'cancer does not stop for Covid', patients must get access to reliable information, despite overburdened healthcare systems and patient isolations. We believe that the app served the much-needed resource for patients who have had doctor's appointments cancelled or experienced reduced access to treatment due to the pandemic, including their mental well-being.
CC: What about data breach protocol or cybersecurity liabilities?
CURIA meets all national data security standards in the respective countries wherever launched. Patient privacy is of utmost importance for its use, however, patients can withdraw their information at any time.
CC: What has been your learnings from the pandemic?
Despite the disruptions within the healthcare industry, there is an unprecedented public interest in disease dynamics, management and drug discovery. People are becoming a part of the decision-making process which has led to information exchanges for trustworthy and audited healthcare information systems.
THE FUTURE
CC: What is Ontosight analytics?
It is an AI platform offering an integrated approach to research and discovery across pharmaceuticals and life sciences. It leverages AI and self-learning of life sciences-the concepts and categories, their properties and the relations between them. Innoplexus provides real-time insights by scanning and connecting trillions of points from structured and unstructured data. We offer this platform to pharma and biotech clients to help them understand any therapy gaps and how to build upon these for their research strategies.
CC: What is the purpose of the 'coronavirusClearinghouse'?
Coronavirusclearinghouse.com, is a partnership between Innoplexus and Berlin-based Parexel, an Institute for Clinical Pharmacology. It is a completely free tool for researchers and the public alike to access the most recent Covid-19 datasets. The information available to researchers and the public is in its original form.