HEALTH
hHEALTH
Propelling mindful fitness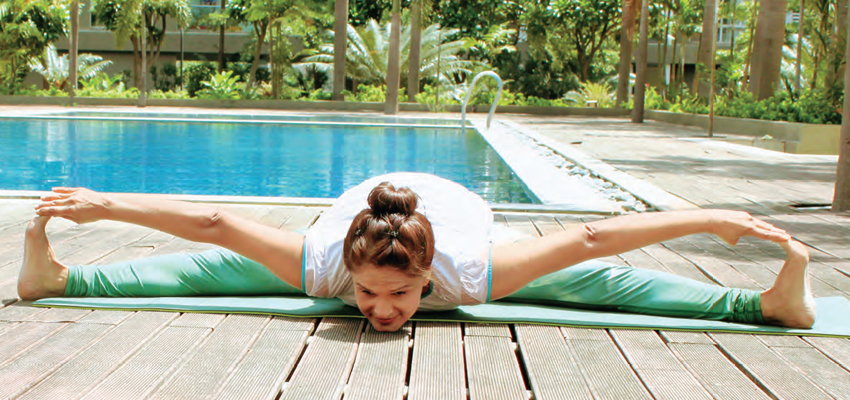 Her 'chariot of life,' is hinged on two wheels-one that influences people's lives and the other being the discovery of the 'self' itself. Pune-based Rashmi Joshi, Founder, Tatwa, a wellness and fitness service believes in discovering something new each day. She is an author, yoga instructor, corporate trainer, counsellor, and mentor. Nudged by her yoga guru to become a practitioner, she has since trained herself as per the Government of India curriculum norms and certifications. She shares her views on fitness, corporate wellness and the benefits of practising yoga
"My yoga journey has impacted me dramatically. I feel stronger in my forties than I was in my twenties-anatomically, physiologically, mentally and spiritually. I feel my brain functions are on a higher frequency. Yoga is, therefore, referred to as a system and not merely an exercise regime," said Rashmi Joshi, Founder, Tatwa, an author and a wellness consultant.
She has attempted to debunk the correlation between 'men' and 'Mars' and 'women' and 'Venus' appeal through her book -'Men-Women, Mars-Venus & All That B*** S***.' She believes in experiential traits and in the thought process that circumstances make a 'man' or a 'woman,' without succumbing to gender biases.
Yoga augmenting life
Rashmi has had an affinity for fitness since her teens, starting with aerobics as a 9th grader but the passion began after her second pregnancy. Her fitness pursuits have ranged from weight training, running, aerobics to zumba.
"But nothing has been as wholesome as yoga. There was a time when I was weight training and doing yoga at the same time but I don't feel the need to do that now. My yoga practice is intense enough to fulfil my fitness goals", said Rashmi.
As a mother of two and some 15 years on when she discovered yoga through a friend, she took to it like fish to water. When urged to become a yoga instructor by her guru, she merely had to overcome her self-doubt, picked up some high-level government certification courses and paved her chosen path to fitness.
She advocates yoga akin to vitamins to boost one's flexibility, mobility, balance, focus, strength, mental agility and spiritual development.
"I am passionate about yoga because I have felt the health benefits myself. And as a teacher, I have personally witnessed transformations where practitioners managed to stop their need for blood pressure medication, and medications related to stress, anxiety, thyroid imbalances, eczema, and other lifestyle diseases", she said.
"I have also experienced people transmogrify into enthusiastic, strong and active individuals from being lethargic and inactive," said Rashmi.
Minding the body, heart and soul
"We often fail to realise that our body inherently loves movement and our mind loves peace. But what we do is exactly the opposite-movement to the mind and peace to the body. And this attitude causes health problems," said Rashmi.

Her fitness journey was not all chartered as she too suffered injuries in the past and had to deal with conditions such as hyperacidity, insomnia, excruciating backaches, shoulder pain, nerve pinching and tingling sensation in her fingers. She has suffered severe knee injuries, an onset of sciatica, regular viral infections and so forth but she feels completely healed as per her current health status. "The operative word here is 'HAD', not a sign of it anymore, thanks to yoga. How I deal with injuries is simple-listen to my body when it asks for rest, I give it rest and enough time for recovery," said Rashmi.

She combated a broken ligament a few years ago based on her 'listen to your body' fundamentals. "It was a complete snap. I had to rest for a couple of weeks. But when I came back, I didn't rush into things. I gave myself enough time to fall in line with my routine. And to my utter surprise, my body and mind responded beautifully," she said.

A follower of 'mitahara' or moderate eating, she advocates consuming simple, body-friendly low-calorie yet high-value nutritive food categories for maintaining optimal health.

"A weight loss regime could include a high protein diet with intermittent fasting under the supervision of a wellness expert. I would appropriate that never fill your belly till it is chock a block -3/4th or half is the way to go," said Rashmi.

"We often fail to realise that our body inherently loves movement and our mind loves peace. But what we do is exactly the opposite-movement to the mind and peace to the body. And this attitude causes health problems"
Building corporate zeal
Rashmi acknowledges that life in the corporate world can have its challenges when it comes to maintaining a consistent fitness routine.
With back-to-back work schedules, tough deadlines, long working hours, and the current onset of constant screen time can leave a person exasperated. Rashmi works with corporate clients by assisting their need for a paradigm shift in how they view their fitness factor.
"Don't think of exercise as a burden or a goal that has to be accomplished-you are only piling on another deadline just as you would in your work environment. But think of it as relaxation or your 'me time, your worship even, for that matter."
She assures that once the first niggles to exercising are surpassed, it adds to a sense of achievement that is solely for self-health. "It is an investment that will go a long way in realising your health goals," said Rashmi.
She conducts corporate well-being workshops which are largely focused on the framework of corporate and collective consciousness, the idea to rewire, reboot, and regenerate and channelise spiritual redemption.
Corporate consciousness: She believes that corporate well-being is a consciousness that is directly related to the health of the organisation at large. The physical and mental health of its employees should be the top priority, which has seen many takers in recent times. Her corporate workshops incorporate yoga, mindfulness, meditation, 'pranayama', chair as well as fusion yoga. Her prominent corporate clients include Boeing, FedEx, BSE, 3M, Meredith, WTW, Qusilex, Indigo, Piramal, Amplus, GBT India amongst others.
Collective consciousness: This is a 'follow the leader technique', an orientation wherein the leadership makes genuinely righteous and transparent efforts that find automatic resonance amongst company employees. The idea is to formulate a set of shared beliefs, ideas, goals, and attitudes that becomes the fabric binding everyone together. Rashmi helps companies to take hard decisions and some dramatic changes too. "Some broken hearts could be a fallout of this process but if it is needed, then it is needed. It is as simple as that," said Rashmi.
Rewire, reboot, regenerate: Her attempt to 'reboot' involves taming the 80 billion neurons in our brain that make close to 1000 trillion synaptic connections at any given point in time. Her workshops empower clients to sift through these connections and group them as either unnecessary, redundant or wired incorrectly. Her simplest tact in sorting the muddled mind is by superimposing logical, coherent thoughts onto the existing ones. Likewise, she incorporates techniques like neuro-linguistic programming (NLP), Transcendental Meditation (TM) in her workshops.
Spiritually Connectivity: Her yogic mantra is to seek the ultimate destination of self-realisation or 'kaivalya' for all. She believes that even with individuals who are unaware of this inner potential, they inadvertently move towards their evolution. She professes spiritual growth as a part of corporate wellness efforts. She advocates a leadership mantra for practising mindfulness with regards to policies, rules, fundamentals and build equitability and integrity, as part of an organisations' spiritual needs.
"If a person is taught to look inwards, be self-aware and mindful of their actions, it will affect the performance and health of the entire organisation directly. 'Intent' travels deep and connects to the subconscious directly," said Rashmi.
Balancing the mind
The last few years have seen stress, depression, and anxiety on the rise, and with the pandemic, lives have changed drastically due to seclusion, social isolation and long hours managing a virtual life. Rashmi recommends paths to balance mental agility:
Pranayama/breathing techniques: Enables oxygen-rich blood to reach the cells of the body, including your brain, which helps to produce a greater amount of ATP (adenosine triphosphate), creating more energy and vitality.
Produce serotonin (the feel-good hormone) while reducing the production of cortisol (stress hormone).
Meditation: Reduces stress, depression and anxiety while helping to relax the brain by curtailing unnecessary neural activity. Scientific evidence supports the fact that during meditation, brain waves change from 'gamma and beta' to 'theta and delta'-enabling the brain to rest akin to resting one's physical body.
Exercise: Engaging in any form of sporting activity or exercise keeps both the mind and body under check. The activities release endorphins (hormones released by the brain) with impacts on mood elevation, blocking of pain receptors, warding off anxiety and depression.
Fit bits
Focus attention on the after-workout feeling, rather than on the impending workout.
The increase in the levels of energy, strength and mobility after a daily workout boosts general well-being.
Observe personal transformations and health benefits of working out across all the bio-physiological systems such as cardiovascular, nervous, endocrine system, digestive, respiratory, excretory system, immune and integumentary systems.
Staying on course keeps diseases in check, augments bone, muscle, and joint health.