CAMPUS PLACEMENT
CCAMPUS PLACEMENT
Everything happens for a reason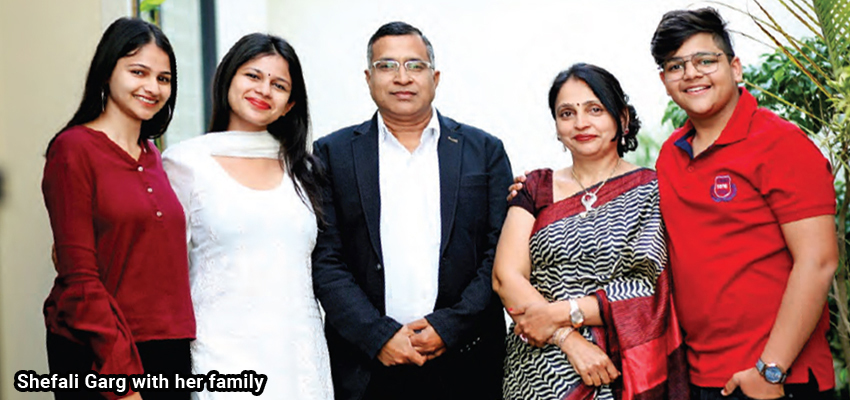 Right from picking the perfect passion for herself to choosing the commerce stream over science to realising that marketing isn't her cup of tea, Shefali Garg believes in the saying, everything happens for a reason. She embraced her true calling of taking up the HR stream, and as a result, she is working with TCS, Pune, as a Recruiter–Talent Acquisition. Although she isn't fond of working from home, she is trying her best to cope with the situation. In a conversation with Corporate Citizen, Shefali spills the beans over her journey so far and shares a few tips on how to prepare for the campus placement, and more
To become an entrepreneur, one must live a few years of their lives like most people won't so that they can spend the rest of their life like most people can't. This seems like a far-fetched thought but to reach to star one must aim for the moon. To have such a perception, Shefali had to go through a series of changes. "Growing up, I wasn't a studious child, per se. However, I scored pretty well in the exams," smiled Shefali, who was born and raised in a small of Kaithal, Haryana.
Until one day, she had a revelation about the importance of studies. "Soon after my school got over, I figured out my dream. A teen me wanted to become an entrepreneur when I grew up. Of course, the path that leads to becoming a businesswoman isn't easy. But to begin with, getting serious about studies was surely a great start." And since then, there was no stopping her.
A WHOLE NEW WORLD
A transformed Shefali's spirit was backed by her love for painting. She feels pursuing a passion clears one's mind and opens new doors of opportunities. This simple and sort of introverted child decided to come out of her comfort zone. "It was a leap of faith to move to Chandigarh for my graduation," said Shefali, while further adding, "Those four years were the best days of my life. I literally saw myself blossom into a confident person. The initial days were a little tough but I soon eased out as the city and my friends were quite welcoming."
College life isn't just about academics. University festivals and events give the students a glimpse of what the real world is. "I got over my stage fear and other inhibitions by just taking part in the college fest. College life is full of opportunities. It gives you a chance to explore yourself. Being a part of the management team of the festivals, added to my knowledge and surely prepared me for the future," she said. With this, she urges all the students to make the most of college life.
THINGS GET REAL
While completing her BBA from Chandigarh, she tried her hands on getting an Event Management degree, which added a great deal to her educational journey. Soon she moved to Pune to complete her post-graduation in HR. "Although I first got into Marketing, within a few days, I realised I wasn't meant for this field. In life, it is necessary to take quick decisions and that can happen when you take control of the situation. Since my childhood, I have had the privilege to take my decisions. This sense of responsibility stirs a feeling of pride and it allows you to grow."
What also acted as a catalyst in her growth was her internship with AMCO Batteries, Chennai. There, she got an idea of how an organisation functions, analysed the data, prepared the plan of action for the company, and several other things. "In short, this internship transformed me as a person."
"My campus placement journey made me realise that I must up my knowledge for the HR round, communication game and focus more on the managerial rounds"
- Shefali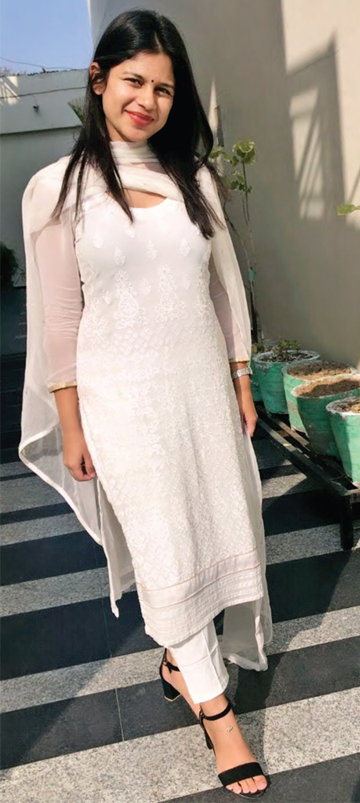 CAMPUS TO CORPORATE
Before getting placed with TCS, Shefali had to go through a fair share of difficulties. She sat for four companies until her luck shined with TCS. "My campus placement journey made me realise I must up my knowledge for the HR round, communication game and focus more on the managerial rounds," assessed Shefali. When things don't work your way, it is obvious to lose hope. Although Shefali was disappointed, she kept her spirits high. Talking about how she coped up with this situation, she said, "After inspecting my journey, I started working on the points which were crucial for placement. Going back to my passion for painting motivated me to move on in life and give my best. During these tough times, painting calmed me down and put a lot of things in perspective."
As she got her act together, her experience with TCS during the campus placement rounds was one of the best. It's been a year since she is working with TCS. Working from home bothers her a bit but the love for her work keeps her rolling. This is certainly a stepping stone that will result in achieving her dream of becoming an entrepreneur and young Shefali is making the most of it.
As Shefali Garg settles in well in the corporate world, she passes on a few tips for her juniors on how to prepare for campus placement and more…
Discuss with your friends: Your friends are the best critics. Conducting a mock group discussion with friends will add to your expertise and will prepare you for the actual round. Make it a point to have a conversation with them daily on the current affairs and trends.
Read the news: It is very important to understand the pattern of the industry trends. This knowledge comes in handy for all the rounds. Reading the news daily enhances your creativity, it keeps you informed and helps you articulate your views.
Teach others: If you don't spread the essence of what you learn, then the knowledge that you have garnered so far won't make any sense. Learn the concepts and teach them to your friends. It will help them and, in turn, strengthen your hold on that subject.
Come out of your comfort zone: I know it is easier said than done but give it a try. College is one platform that allows you to explore endlessly. Overcome your fear and you will be surprised to see what lies beyond that.
Do things that you love: Life is too short to make do with things that you don't like. Pick the stream that you love, work with your dream organisation, indulge in a passion that makes you happy. Your work and education cover a large part of your journey, hence, do things that you love the most.