LOVED & MARRIED TOO
LLOVED & MARRIED TOO
Channelling the Togetherness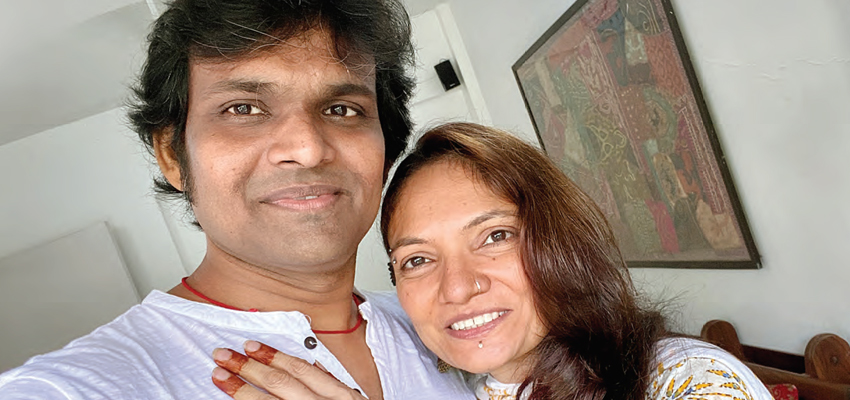 TV professionals both, Kajal Shah and Niraj Gupta, give us the lowdown on how to keep those long hours without losing out on the warmth of home and family. Married for 14 years, a daughter-Heer (9) and a son Jishan (7) complete the circle of love
Things do tend to get just a little dramatic when you're working day and night on the sets of a television serial in Mumbai. More so, if your roles are diametrically opposite. "Niraj was the director's assistant, and I, the producer's assistant on a 64-episode-serial for Zee TV," grins Kajal. Their job profiles were like a railway track that runs parallel but can never collude together. This meant that he was supposed to have things the director's way whilst she, from the production perspective.
"This meant we saw eye to eye on practically nothing," he laughs. "Whatever decision I took, she had something contrarian to say about it."
Matters came to a head when the two got into a heated argument about a particular costume to be used in a scene. "The producer had to step in to cool things down," says Kajal. "In retrospect, it is hugely funny."
THE BUILDING BLOCKS
Err, not quite the beginning one would expect for a together-forever story. But there was no way either could see the shape of things to come. Still, as destiny had it, both Niraj and Kajal would share a cab to work along with a common friend. "Of course, we pretty much stuck to talking to the common friend only," she reminisces. However, a break in schedule followed, when Niraj had to make a trip back to his home town in Patna for his brother's wedding. "I had to call him up to check on something. That's how we broke the ice and actually began to communicate," says Kajal.
This was the beginning of a whole new chapter. Distance brought the hearts closer.
Simply put, the start may have been filmy but the progression of events were all too normal. "He knew his job and he knew what he wanted. That was impressive," says Kajal. On his part, he appreciated her spontaneity, confidence and ability to learn on the job.
Matters proceeded seamlessly thereon. Mutual dislike turned to a shared respect for each other's viewpoints to friendship and in due course, love.
What's more, the differences in their personalities only helped to cement the friendship. She's talkative in your face while he's a man of a few words and long silences. She's outgoing while he's reserved. "Chalk and cheese, so to speak. But we managed to balance each other out and that works for us," says Kajal.
As they began discussing marriage, Niraj was firm that the cultural differences (she's a Gujarati girl from Mumbai whilst he's from Patna, Bihar) would not be a stumbling block. Importantly, he wanted his family to accept his bride-to-be for who she was. "When he introduced me to my father-in-law, for example, he insisted I dress as I normally do: in jeans and a top. There was no need, as per him, to turn up in a formal salwar suit," reminisces Kajal.
Her parents were fine with him too and the duo wed with both families' blessings in 2007.
"When he introduced me to my father-in-law, for example, he insisted I dress as I normally do: in jeans and a top. There was no need, as per him, to turn up in a formal salwar suit"
- Kajal Shah
THE MANTRAS OF MARRIAGE
Trust, respect, adjustment
Sharing responsibilities
Celebrating cultural differences
Understanding the nature of the partner's work
Friendship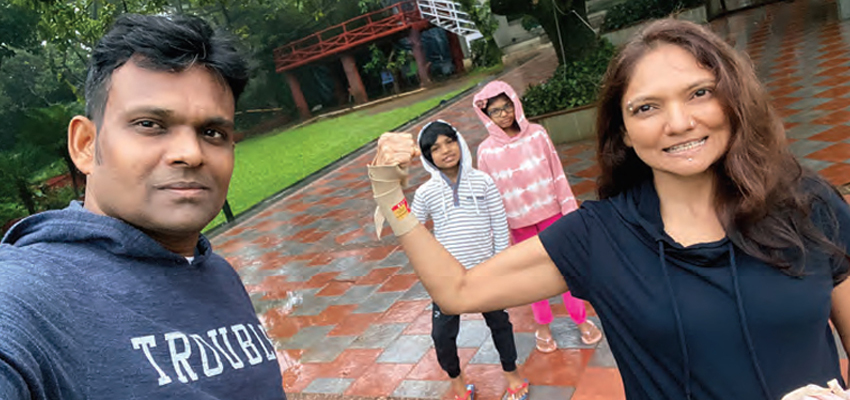 Family bonding over the monsoon magic at a hill station
FROM STRENGTH TO STRENGTH
Since then, Niraj has gone on to direct TV serials himself while production continues to be her passion. A quintessentially nuclear family from Mumbai, they handle work and hearth with dexterity, vigour and some help from Kajal's mother. "I have worked through both my pregnancies and have only taken a break recently," says Kajal. "Besides, we both share responsibilities, no chore is gender-specific and he's as hands-on about changing diapers as he is on the sets."
Considering that they've both completed 14 years of marriage, what according to them, are the cornerstones of a relationship? Both are pretty much unanimous in their answer. "Trust, adjustment and respect. When you have that everything falls into place," they say.
And how do they resolve conflicts? "Oh, we do fight quite a bit," smiles Kajal. "It's true that I am the short-tempered one while he's much calmer. But he has a typical way of letting me hear it-a practice rooted in his native culture-through indirect examples and analogies. An example of sarcasm at its best. And that makes me madder still," she laughs.
"But I am the one saying sorry," he quips. To which she retorts: "That isn't strictly true, but the fact is that neither of us can stay without the other. So, it's a good idea to patch up soon."
So, how do they keep the all-important work-life balance given the rough and tumble of the television industry? "It's doable provided you don't bring your stresses home. And it helps that we both understand the nature of the industry such as not being able to take calls at work and the hectic schedules," says Niraj.
What advise would they offer young couples working in the TV industry? "Understand the mercurial, unpredictable nature of the industry-respect the work whilst you have it and be prepared for the fact that the show you are working on may suddenly end and it may take some time for your next project to come along. Till then, stay calm and be sensible about saving up for a rainy day," says Kajal. "Neither of us, for instance, is a big or wasteful spender and that definitely works in our favour."
Quality time consists of taking weekend trips to nearby hill stations of Matheran, Mahabaleshwar and Lonavala as a family. This brings us to the couple's approach to parenting.
"While some discipline is important in life-for instance, not missing school, come what may, we believe in a balanced, chilled out and holistic approach to parenting. The children must be comfortable enough to come and speak to us. At the end of the day, we just want them to be happy and confident folks," rounds off Niraj.