HEALTH & FITNESS
HHEALTH & FITNESS
Sustainable Wellness For Mind, Body and Soul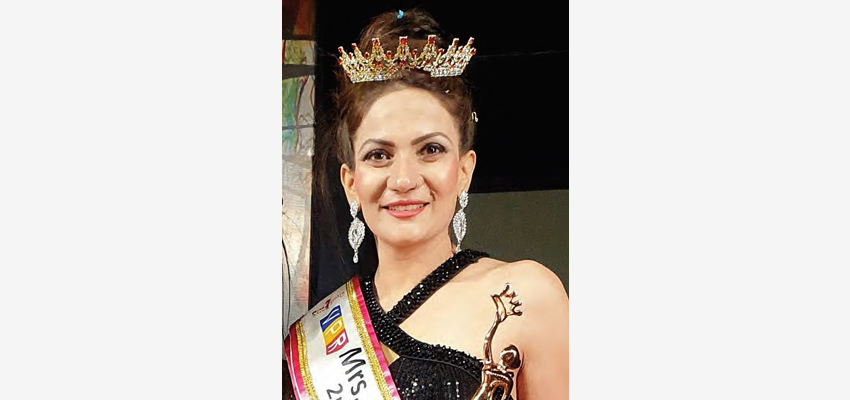 Certified nutritionist, fitness trainer, wellness coach, social media influencer, a proud Army officer's wife, Mrs India 2021 (second runner up), Timsi Bector has many jewels in her crown, that also include two beautiful daughters. The fitness enthusiast unravels her health and fitness journey in this interview with Corporate Citizen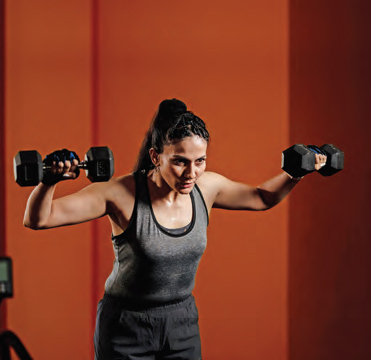 Sustainable wellness is the overall health
Corporate Citizen: When did you first develop an interest in fitness and nutrition?
Timsi Bector: I was always interested in keeping myself in good health but fitness and nutrition became my passion and profession when this interest was converted to commitment. After going through a lot of health traumas, surgeries during and after I gave birth to two beautiful fairies, my health suffered a lot. Then I realised that I am becoming dependent on others for even the smallest of tasks. I could not travel and even work without a back supporting belt, I used to fall sick frequently with infections and deteriorated even more when got hit with dengue. Regular hospital visits for having blood pressure issues, low energy levels, stress and anxiety was not only affecting me but also my family's psychological well-being. All this shook me up and I decided to break this cycle. I started with small distance walks with my pram baby, doing mild exercises and eating in a disciplined way.
I can shoulder the responsibilities of a mother and wife only if I am in a good physical and mental health. So, I had to prioritise things and work on myself. Already being a Human Geneticist, I wanted to learn more about nutrition and fitness. I enrolled myself on various courses and got international certifications as a nutritionist, fitness trainer and wellness coach. That was a new milestone in my life.
CC: How has being an Army wife influenced you to take up fitness?
Being a proud Army wife is not less than any challenge. You are the forefront lone warrior when it comes to family and social responsibilities. You have to hide your tears and bury your fears. To do justice to your role as an army wife, you have to be a strong person inside out. Understanding this at a very early stage of being married to an Olive Greens, I knew that I could not quit. This feeling only influenced me a lot to spread health and fitness, to practice what I want to preach.
CC: You are also a leading fitness influencer. Tell us about your journey to becoming one.
I was just remaining consistent with my workout regimes, enjoying it and publishing it on my social media accounts so that more and more people get inspired. The idea was to reach out and motivate people to improve their lifestyles, live disease free and achieve a healthy body, mind and soul in a sustainable, scientific manner. Educating people through my content and videos resulted in the expansion of my community. Enjoying this journey, I started getting offers from brands and companies to work for them as an influencer. Being selective and honest for genuine brands has always been my principle. Dropping off many offers, I might have lost money but I gained the trust of my community and peace of mind for myself.
Today, I am a top influencer for some companies and apps, one of the 25 top most content creators of India, NAS Academy, Singapore certified content creator and one of the crown winners of Mrs India 2021, as well as Mrs Perfectionist 2021 titleholder.
CC: Do you also have fat to fit story to share?
Yes, of course. I was not always like this. I shared a video on my social media showing my transformation journey from 85 kgs, unhealthy, unfit, obese person to 58 kgs, stronger, healthier and fitter one. It took nine months of consistent, disciplined and dedicated hard work and lifestyle as I never followed any crash diet and always focused on sustainable growth.
CC: What is sustainable wellness?
Sustainable wellness is the overall health and well-being of a person that should go a long way. I always tell my clients during counselling that they have to hit old age someday. It is entirely up to you how much you let that number affect your body, mind and soul. So, understand your body, stay active and mobile, don't fall for crash diets and overnight transformation traps. There are no shortcuts to health and fitness. Fuel your body correctly by eating healthy, exercise regularly and improve your lifestyle as on average 85-90% of a person's doctor visits are not due to actual diseases but due to lifestyle disorders. Stress is the biggest factor contributing to various problems. Our younger generation follows us, so we should be very careful about whatever we do so that the correct way of living passes on to our children.
"Vigour Transforming Lives is a government registered firm established by me. I have been assisting ladies through our NGO in the army to achieve health and fitness for 14 years till date"
- Timsi Bector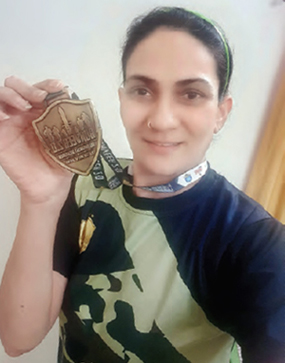 With Infantry Marathon medal
CC: Tell us about your organization VTL.
Vigour Transforming Lives (VTL) is a government registered firm established by me. I have been assisting ladies through our NGO in the army to achieve health and fitness for 14 years till date. Watching people from the army and outside transforming their lives, I received so much love and blessings. One fortunate day, my own family, especially my brother motivated me to launch my own venture so that more people can benefit from my passion. That was a turning point in my life. I am blessed for all time support of my husband, Lt. Col. Amit Bector. I remember the moment when I was looking up to him, as an officer, to help me launch my venture and he bluntly denied and asked me to go out and get all paperwork done alone. I got so upset running here and there in government offices. From collecting stamp papers to preparing a fully organised application file, I did it all being angry and anxious facing so many difficulties. But later on, I realised my husband's real intentions in training and empowering me in a true sense by putting all his trust in me. After that, there was no looking back. I got a license and was all set to fly high.
Working through VTL helped me grow manifold in all aspects of life. VTL is helping people manage various lifestyle disorders like PCOD, thyroid, diabetes, cholesterol, obesity, hypertension etc. We are assisting people in achieving health and fitness in the most scientific and sustainable manner. I myself designed all the services and plans. The personalised service at VTL is named Wellness Plan as it includes nutritional recommendations, workout regime as pre-recorded videos and lifestyle alterations. Online face to face training batches are also conducted-diet plans and lifestyle alterations are an integral part of that too. We keep our community motivated by general talk sessions and free gifts. Already assisted hundreds of people from all over the country and abroad, we are expanding our community daily.
CC: How has your husband supported you on your journey of fitness?
Now my backbone, my soldier, was always there by my side to expose me to new opportunities. He always motivated me to take up challenges. He was the one who came up with the application form to apply for the Mrs India Beauty pageant. Being a mother of two daughters, 12 years and six years old, it was never too easy to manage it all but I was having VTL community, army, my friends and family blessing and motivating me to take up the challenge. That was the best moment of my life when my daughters saw my crowning moment. They literally jumped on the stage shouting "our mom is a queen". A selfless soldier who has always been my identity and I loved to be called "Mrs Bector" was addressing the national crowd on the day and saying he was proud of me and would love to be called Timsi's husband. No words can describe that feeling.
CC: Your message to anyone looking to go from fat to fit?
To all my friends out there, you never plan to be fat but it happens due to various factors like unhealthy or busy lifestyle, traumas etc. At least, you can plan to be fit. Alter your lifestyle, remain consistent, follow a scientific approach to lose weight and don't starve yourself. Fat to fit should be a beautiful, motivating and enjoyable journey and not a stressful one. It is never too late to start. I started a career, passion and a new journey while approaching 40 years of age. When most of the people start planning about retirement, I am planning to do more and grow stronger and fitter. If I can do it, anybody can do it. Let us all contribute to building a healthier, fitter, disease-free community