COLLYWOOD PEOPLE IN THE NEWS
CCOLLYWOOD PEOPLE IN THE NEWS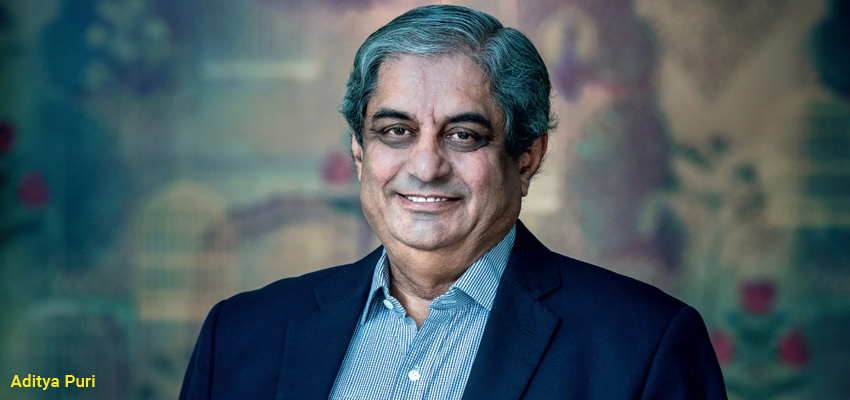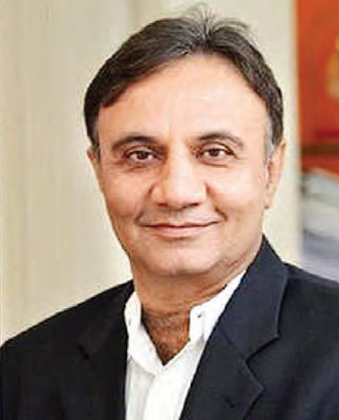 Sandeep Bakhshi
HDFC's Puri is top salary grosser
Aditya Puri, former MD, HDFC Bank has emerged as the highest-paid banker among India's top three private-sector lending firms. He reportedly grossed total emoluments of Rs.13.82 crores in his retirement year. Puri's overall payments included Rs.3.5 crore in post-retirement benefits. His successor, Sashidhar Jagdishan, CEO and MD, HDFC, earned Rs.4.77 crores for the fiscal year, which included payments as a group head till his elevation. However, Sandeep Bakhshi, MD and CEO, ICICI Bank, 'voluntarily relinquished' his fixed compensation of basic and supplementary allowances for FY21. Bakhshi, however, received allowances and perquisites amounting to Rs.38.38 lakh as per the company's annual report. He also received Rs.63.60 lakh as a performance bonus from ICICI Prudential Life Insurance Company as deferred variable pay for FY17 and FY18. Executive directors, chief financial officer and company secretary within ICICI Bank, voluntarily opted for a 10% salary reduction, given Covid impacts and its impediments. However, Vishakha V. Mulye, executive director in charge of wholesale banking at ICICI Bank grossed Rs.5.64 crores. Amitabh Chaudhry, CEO, Axis Bank, grossed Rs.6.52 crores but top management at the country's third-largest private sector lender were not given any salary increment in FY21. Referencing with the bank's median salary, the allowances taken by Jagdishan were the highest at 139 times the median salary of a bank employee while Chaudhry received 104 times the median and ICICI Bank executive directors took 96 times the median salary. Of the 'Crorepati bankers', with monthly earnings over Rs.8.5 lakh, HDFC Bank had 200 executives in this exclusive club, including key management personnel, serving officials including those who left the bank midway through the fiscal year. Comparatively, Axis Bank had 69 bankers in the category who served throughout the fiscal while 17 employees who would have been a part of the millionaire club left it midway through the year.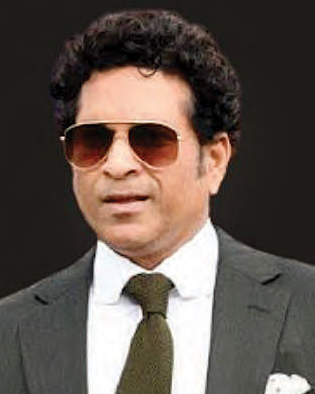 Sachin Tendulkar
Tendulkar invests $2 million in a digital startup platform
Master Blaster Sachin Tendulkar has made an equity investment of $2 million (Rs.14.87 crores) in JetSynthesys, a digital entertainment and technology startup. This further strengthens an existing joint venture called 100MB, between Tendulkar and JetSynthesys, in the form of an app that is dedicated to the batting legend. With the new investment, Tendulkar joins the tribe of JetSynthesys' celebrated shareholders the likes of Adar Poonawalla, Kris Gopalakrishnan, and the dollar family offices of the promoters of Triveni Group, Thermax, the DSP Group, and the Yohan Poonawalla Group. The legendary cricketer's association with JetSynthesys is almost five years old when they started their venture with 'Sachin Saga Cricket Champions', powering it with a unique virtual reality cricket experience. The 100MB app enabled Sachin's fans to access a platform where they could interact with him directly. "It is one of the most popular games in its category, with over 20 million downloads," said Tendulkar. Rajan Navani, vice chairman and managing director, JetSynthesys, acknowledged Sachin's onboarding the company making him an integral member of the JetSynthesys family.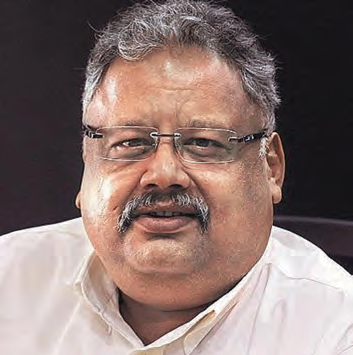 Rakesh Jhunjhunwala
Billionaire investor Jhunjhunwala proposes to launch a budget airline
Rakesh Jhunjhunwala noted as India's Warren Buffet has unveiled plans to launch a new low-cost airline with a fleet of 70 aircraft within the next four years. The billionaire investor has put his bet on the proposed airline, anticipating that more people are likely to travel by air. He is considering investing $35 million and owning 40% of the carrier. To be called Akasa Air, Jhunjhunwala is expecting to get a no-objection certificate from the Ministry of Civil Aviation in another 15 days. He is rallying around a team including an ex-senior executive of Delta Air Lines Inc. for the proposed airline and seeking aircraft with a capacity to carry 180 passengers. With the aviation sector going through turbulent times due to the Covid-19 pandemic, Jhunjhunwala's is a bold step in a market that has seen the collapse of some airlines due to the intense fare wars and high-costs of running flights. But, the 61-year-old billionaire has faith in what was the world's fastest-growing aviation market and is looking at opportunities to woo low-cost budget fliers once again. With the global downfall in the aviation sector, India is at a greater risk of delayed recovery as the threat of a third wave of Covid-19 infections looms ahead. But undeterred, Jhunjhunwala, with an estimated net worth of about $4.6 billion, according to Forbes, said, "I think some of the increment players may not recover but I've got some of the best airline people in the world as my partners."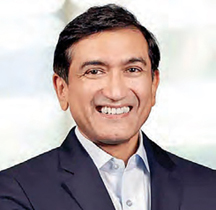 Shailesh Jejurikar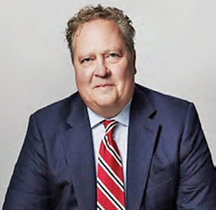 Jon R. Moeller
Shailesh Jejurikar is P&G's first Indian Global COO
Shailesh Jejurikar becomes the first Indian to be appointed as the Global COO of consumer products' giant, Procter & Gamble (P&G), effective from October 1, 2021. His promotion is in line with the company's recent global top management rejig. He will report to Jon R. Moeller who succeeds current P&G President and CEO, David Taylor. While Taylor has been promoted as the Executive Chairman of P&G, Jejurikar's successor will be announced in due course. Jejurikar will be responsible for P&G's Enterprise Markets (Latin America, India, the Middle-East, Africa, Southeast Asia and Eastern Europe). He will also steer its Global Business Services, New Business, Purchasing, Manufacturing, Distribution and Information Technology, along with sales and market operations. Currently, Jejurikar is the CEO of P&G's largest business unit–the Fabric and Home Care segment that nestles brands Tide, Ariel, Downy, Gain, Febreze, Swiffer-representing about 1/3rd of the company's total sales and net earnings. He has led the team in delivering results and in value creation through R&D, a synchronised E2E supply chain and in building the company's exclusive brands and sales. He began his career with P&G in the 1990s as an assistant brand manager in its Personal Health Care division in India. He has since risen the ranks across P&G's multiple businesses (Health and Beauty Care, P&G Professional, Home Care and Fabric Care) in both developed and developing regions (North America, Europe, Asia and Africa). He is an economics graduate from Mumbai University and an Alumnus of IIM Lucknow. P&G India is considered as a feeder of top talent to P&G globally, with approximately 350 Indian expats in roles across the company.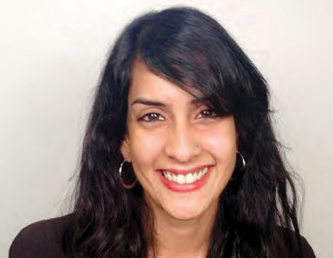 Arpita Bhattacharyya
Indian-American is Chief of Staff at US DoE
Arpita Bhattacharyya has been appointed as the Chief of Staff to the office of Deputy Secretary at the US Department of Energy (DOE). She is one among many Indian-Americans selected by the Joe Biden administration as new additional appointees at the DoE. The new appointments by the Biden-Harris administration aims to advance the US President's ambitious 'build back better' agenda in combating climate change, creating good-paying jobs and achieving clean energy future for all Americans. He has also promised to create a more diverse administration, which makes Arpita's appointment relevant. In her most recent role, Arpita led strategic projects at Impossible Foods, a food and beverage company that made meat from plants and worked on bringing low-emission food technology to the markets. She was a policy analyst for the energy and environment team at the Center for American Progress, Washington DC and worked as a special assistant to distinguished fellow Carol Browner. Arpita was promoted at the Centre thrice during her stint with American Progress. In previous stints, she has also worked with SunPower Corporation, a leading renewables firm in San Francisco, developing commercial solar projects for Fortune 500 companies and later led the channel project development and their finance team. A resident of the San Francisco Bay area, she holds an MBA from the Yale School of Management and a BA degree from Carleton College. She is also an author on environment and climate change.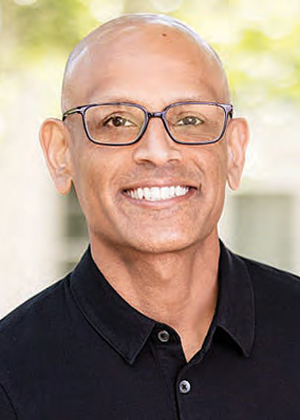 Jay Parikh
Former FB VP and engineering head joins California's Lacework
Jay Parikh, former Facebook, VP - Head of Engineering and Infrastructure has joined as Co-CEO of Lacework, the SaaS-based cloud computing security company based in Redwood City, California. A technology visionary and industry veteran, Parikh is expected to lead Lacework's technology team in steering its innovation engine comprising of the company's product, engineering and infrastructure endeavours. He will also join Lacework's Board of Directors. In his new role, Parikh is expected to lead Lacework's growing technology team and research and help scale up the ever-growing demand for Lacework's Platform. His appointment further strengthens the company's recent expansion of its executive leadership bench and advisory board encompassing some of the industry's leading technology thinkers. Parikh had joined Lacework as an advisor post his departure from Facebook, where he led a global team that built and scaled Facebook's software and hardware infrastructure and platforms. He also played a key leadership role in industry-transforming initiatives such as Open Compute Project and the Telecom Infra Project. Prior to Facebook, in his stint with Ning, he oversaw product development and management, core infrastructure, and operations for the company's social networking needs.
Sudhanshu Vats
Pidilite ropes in former boss at Essel Propack
Sudhanshu Vats joins as the Deputy Managing Director (DMD), Pidilite Industries, effective September 1, 2021. Vats moves on from his previous role as MD and CEO of EPL Ltd. (formerly known as Essel Propack), to join Pidilite. Vats brings in 30 years of his career experiences having worked with Hindustan Unilever (HUL), Viacom18, Castrol and more recently, EPL Ltd. Vats kick-started his career with Hindustan Unilever Ltd. as a management trainee in 1991 and spent close to two decades with the company playing various roles in sales and marketing and general management. An alumnus of NIT-Kurukshetra and the Indian Institute of Management-Ahmedabad, Vats was engaged in HULs' varied divisions across home and personal care, and the foods categories in India and abroad. In his earlier stints as the MD and Group CEO at Viacom18 Media, he steered the company for eight years transforming the broadcast company with six channels to a full-fledged media organisation across multiple platforms. He was also the Chairman of the national media and entertainment committee of the Confederation of Indian Industries (CII) from April 2014 to March 2020 and as the Director and Vice President of the Indian Broadcasting Foundation (IBF) from September 2012 to April 2020.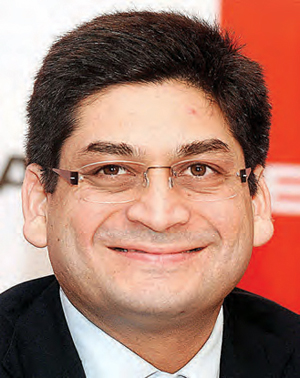 Prashant Ruia
Essar Oil (UK) forms first Advisory Council to mobilise 'green economy'
Essar Oil (UK) Limited (EOUK), has announced the formation of the company's first Advisory Council, a milestone step taken to bring in corporate governance and strategic leadership framework when most oil majors are seeking to accelerate growth. Prashant Ruia, Chairman, Essar Oil UK, said that the company has committed to build an industry-led corporate governance and executive advisory regime. The idea is to match the company's ambitions and continue with its transformation into a 'Low Carbon Energy Provider' as well as work towards building UK's green economy. Top-notch lawyers, diplomats and corporate honchos have been roped in to form the group that will be responsible for advising the EOUK board on strategy with particular emphasis on commercial risk management and corporate finance. The Council will comprise of Sue Preverzer, QC, John Grant, former president of BHP Billiton, Europe, Richard Heald, OBE, a corporate financier, and Sanjay Mehta, ex-MD, Essar Capital. EOUK owns and operates the Stanlow Manufacturing Complex in Ellesmere Port. The site is a key strategic national asset, annually producing over 16 per cent of the UK's road transport fuel. In other moves, the EOUK has also appointed Andrew Wright, a qualified solicitor of England and Wales as Non-Executive Director. He is an expert in legal and commercial experience in international oil, gas, renewables and infrastructure sectors.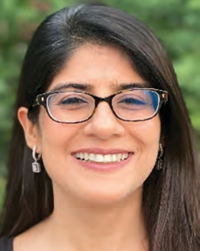 Saakshi V. Menon
Kimberly-Clark India appoints Saakshi V. Menon
Saakshi V. Menon joins Kimberly-Clark India as the Marketing Director and will oversee the brand's marketing and brand-building strategies. With 18 years of experience under her sleeves, Saakshi will spearhead the branding, its digital, research, analytics and product innovation teams. She will also be a part of the company's senior leadership in accelerating its transformational journey. She has worked with global brands like Coca-Cola, Colgate, Palmolive and Uber, and is expected to bring forth her knowledge and experience to Kimberly's business by way of their current portfolio and future expansion plans. With Kimberly-Clark raring to introduce the potential of its brands in India, Sakshi is expected to take India to its next phase of growth by creating a world-class brand and building an organisation that can sustain in a 'digital-first' world.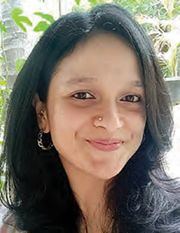 Ruchira Bhattacharya
Coca-Cola ropes in Ruchira Bhattacharya from Tata Consumer Products
Ruchira Bhattacharya joins the Coca-Cola Company as the Director of Marketing - Emerging Categories. A former Tata Consumer Products executive, she relinquishes her 11-year long old inning with Tata Consumer Products to join Coca-Cola. Her most recent stint was as the Director Innovation of Packaged Beverages with Tata Consumer Products for around two years. She joined the company in 2010 and has worked across multiple portfolios. An experienced marketeer, Bhattacharya is a veteran industry leader with over 13 years of experience in the consumer goods industry. She has also had a two-year stint with Hindustan Unilever Ltd. for more than two years and as an Analyst with KPMG for over a year.