CLAPS & SLAPS
CCLAPS & SLAPS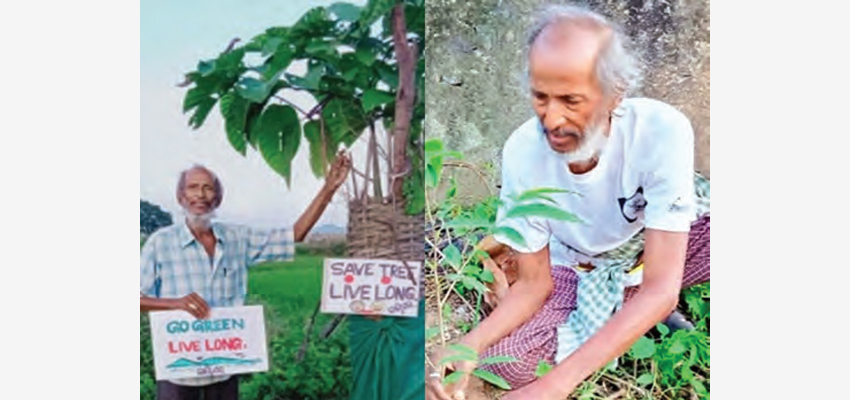 CORPORATE CITIZEN CLAPS FOR THE SEPTUAGENARIAN FROM ODISHA, ANTARYAMI SAHOO, FONDLY KNOWN AS 'GACCHA SIR' OR 'TREE TEACHER', IN ODIYA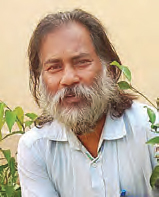 Antaryami Sahoo
rekindling biodiversity
He has planted 30,000 trees and more since he took up his mission of afforestation subconsciously in his childhood. At 75 years, he works with the same grit and passion that he began as an 11-year-old when he planted a banyan sapling in his school premises, a gesture born out of his love for the environment. The lad from the Kantilo village in Odisha has since ignited and sustained his passion for biodiversity conservation in the region. Starting off as a school teacher in Siletpada, Odisha, in 1973, he encouraged his students to plant trees. With no social media or other alternate awareness platforms, he armed his campaign with handmade posters of his drawings of animals and trees. He has identified and hand-drawn some 40 local species in his interactive posters and wrote in bullet points to highlight the negative impacts as well as benefits of a particular tree, animal or biodiversity. He has since carried out plantation drives across six schools. By 2004, he had individually planted some 10,000 trees, and another 20,000 or more with his students. He continues to plant trees, which have now been documented area-wise. He also sourced saplings from the forest department to create a nursery from the seedlings. His efforts have also significantly reduced forest fires between 2001 and 2008 when he accompanied forest department officials to help identify forest-fire hot spots. In recent years, he has helped create four biodiversity parks across the district with the support of the government and the forest department, Lumbini Udyan, which has about 300 varieties of fruit trees, Lalitadebi Udyan, Biswabasu Udyam, and Madhab Udyan. He is a recipient of the Ashok Smruti Award and Prakruti Mitra Puraskar, and many other state-level accolades, including Prakruti Bandhu Puraskar by Nayagarh, Boudh and Phulbani districts. He has recently taken on to Facebook to mobilise his movement, his posters are shared, liked and tweeted, indicating a noteworthy transformation of self and surroundings.
CORPORATE CITIZEN SLAPS THE SUDDEN SURGE IN THE LUCRATIVE TRADING OF AMBERGRIS-AN ABDOMINAL EXTRACT OF THE SPERM WHALE WHICH CAN FETCH AN ESTIMATED PRICE OF Rs.1 CRORE PER KG OF THIS 'PROTECTED' SUBSTANCE-DEPENDING ON ITS AVAILABILITY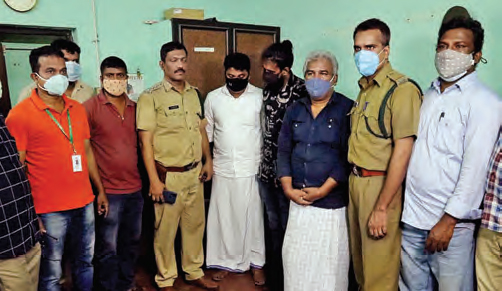 Seizure of ambergris of sperm whale vomit worth Rs.30 crores in Kerala
It is a brownish substance coined as 'floating gold', that forms in the abdomen of the sperm whales and they vomit it. It is highly valued as a fixative by perfume-makers and is an important ingredient in some aphrodisiac products in Japan and China. "Buying and selling ambergris is against the law in India as it is a product of the sperm whale, a protected species under Schedule-I of the Wildlife Protection Act of 1972." However, six recent seizures of ambergris in Mumbai and Thane have highlighted the spike in this dodgy trade in recent months nationwide. The Kerala Forest department recently seized 19 kg of ambergris, estimated at Rs.30 crore in the international market; likewise, the Guntur Forest department arrested a gang illegally possessing eight kg of ambergris or ambergrease worth Rs.12 crores. Such raids were rare and accounted for just twice between 2018-2019. But a greater awareness among the coastal communities about its value through social media, a slowdown in the international trade due to Covid-led flight restrictions and the breakdown of traditional smuggling routes in recent times has seen a spurt in ambergris seizures. The country's coastline across Maharashtra, Gujarat, Kerala, Tamil Nadu and Karnataka are at threats as the six seizures in the last two months across Mumbai and Thane were reportedly from the fishing communities in Virar and Alibaug while others were from Gujarat and Karnataka. The Wildlife Crime Control Bureau, Chennai, has reported a Facebook transaction on ambergris, being sold online at a cost of Rs.35 lakh per kg. Reportedly, ambergris was dumped in India earlier in the year by alleged smugglers and portions of this large quantity are now being sold off through different groups of people nationwide. An inspector from the Mumbai crime branch (Unit III) said, "Due to media publicity, especially of stories of fishermen whose lives are said to have changed overnight on finding ambergris, coastal communities are well aware of the possibility of such a material floating around and actively seek it." Yet another sign of human greed challenging nature to unleash its fury-only time will tell.