CAMPUS PLACEMENT
CCAMPUS PLACEMENT
THERE IS ALWAYS A WAY OUT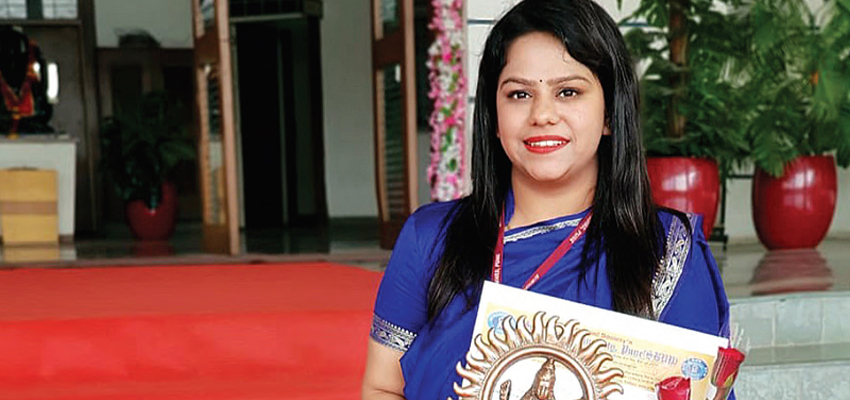 Be it the thought of moving out of Rishikesh for her further studies or planning to drop the idea of pursuing marketing and finance to make a career in human resources, Apoorva Dhamija believes in the theory-the magic begins once you step out of your comfort zone. A soft-spoken and ambitious Apoorva has a purpose to her life, "those who wish to sing always find a song." In essence, there is always a way out. This has guided her to find her place in the corporate world. Currently, she is working with Cognizant, Pune, as their Junior Executive, HR. In conversation with Apoorva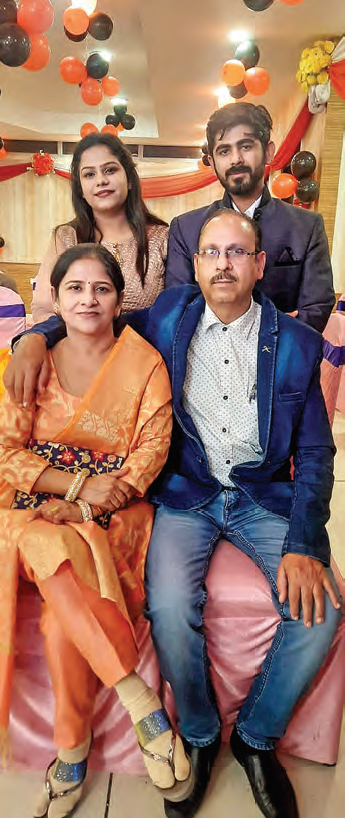 Apoorva Dhamija with her family
Nestled in Rishikesh, Uttarakhand, a town amidst the mighty mountains covered with fog and where the river Ganga flows to here fullest-Apoorva finds solace. Her hometown provides her with a passion for life and most importantly her studies and later her profession. "This place is an epitome of patience. It exudes the importance of knowledge and devotion. The serene environment guides you for a better future. This place is the comfort zone that always pushes me to up my game in studies and work," Apoorva spoke highly of her hometown. While she further added, "I have been working from home for a year now. To work where the sun peaks out from the mountain ranges and where the murmur to the rive Ganga keeps me company, I cannot ask for me. Yes, I am getting used to the work from situation but I surely feel it is working in my favour,"
PASSION AND STUDIES
Her late grandfather inspired her to take up singing. The tunes and melodies that she picked up as a child still stay in her heart. Her passion for singing is what helps her lead a balanced life. "I aimed to perform well in studies to carry forward my love for singing. Little did I know as a child that singing tunes provided me with the strength and determination to shine in my studies. This just did not stop there. Even now when I have started to work, this passion of mine pushes me to give my best and excel at the undertaken projects" she said. At the crux, what Apoorva feels is pursuing a hobby or passion is a must. These extracurricular activities provide one with an opportunity to enhance one's life, increase productivity at work whist giving mental stability. "I feel students or for that matter, everyone, should encash on their hobbies. It gives them a chance to express themselves. And, in turn, provides them with a path to score well in the exams or do wonders in their life," added Apoorva.
PUSHING HER LIMITS
Only when you get out of your comfort zone, you can find your real self. Apoorva truly believes in this. Taking a small step, she moved to Dehradun to complete her graduation in Marketing and Finance. But later, things did not work as she planned. "I wanted to make my father proud by becoming a CA. I tried my best, but once I realised that this was not my cup of tea, I changed my education stream," she said.
To broaden her horizons and explore new opportunities, Apoorva interned at her uncle's firm. And what happened after that put a smile on her face. "Your teens and 20s are to explore, to see what works for you, and then to settle with a course that feels like home. For me, that was HR. The shift from marketing and finance to HR might sound not drastic but that is where I discovered myself and realised that I could have a future in this industry," said a proud Apoorva. Pushing herself further, she picked a college in Pune to understand the ethos of human resources.
"I feel students or for that matter, everyone, should encash on their hobbies. It gives them a chance to express themselves. And, in turn, provides them with a path to score well in the exams or do wonders in their life"
- Apoorva Dhamija
HER CAMPUS PLACEMENT TALE
Good friends and the right guidance of her professors showed her the path to success. With that, opting to be a part of the Central Project Study Team and Corporate Relations Team changed her life for the better. "The move to Pune was difficult to handle in the beginning. However, the friends that I made supported me through thick and thin. And to top it, the stream of human resources was great to explore," she said.
Soon came the season of campus placement, talking about her experience, she said, "I must have sat for around 6-7 to companies before getting placed. When things were not working my way, I decided to change my approach. I gave more importance to the research part. Studying the company before the personal interview made a great difference. During GD rounds, I used a tactic to be calm and spoke to the point," she said. While adding, "I had narrowed down to two companies as my go-to organisation. But as luck had it, I wasn't able to get through Delloite. Of course, I took it hard. But I wasn't ready to give up. Then I saw a ray of hope. All these small yet impactful changes that I made, got me placed with my second dream company where I am having the time of my life." She signed off!
As Apoorva Dhamija settles in well in the corporate world, she passes on a few tips for her juniors on how to prepare for campus placement and much more…
Keep calm, speak sense: It might seem that bellowing or speaking for a long time might fetch you good grades in the group discussion. On the contrary, one can easily put forth their point by speaking calmly speaking and talking to the point.
Be comfortable: Don't be under the impression that you have to go out of the way and dress up for the personal interview round. Keep it simple, don an attire that you are comfortable in. Your comfort is what matters the most. It will help you ease up during the interview.
Research, research and more research: The interviewer can ask you the simplest question, for instance, who is the CEO of their company? Such an easy question might stun you and leave you speechless if you don't do thorough research about the company that is visiting your campus.
Never give up: Things don't always work your way. Campus placement is a tough process and sometimes it takes time to get placed. Don't lose hope if you can't get through your desired company. Be firm on your approach and keep working hard. Trust me, things will fall in place.
Pursue your passion: Continuous studies and work can take a toll on a person. Having a passion helps you rejuvenate. It is sort of your 'me time'. Take some time off and indulge in a passion or a hobby.