THE LAST WORD
TTHE LAST WORD
The Great Resignation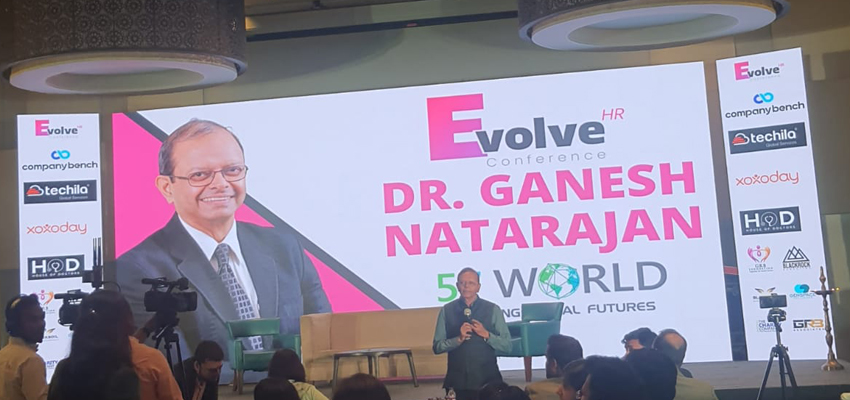 Revisiting the fundamentals of good people management, which is now being sacrificed at the altar of just giving more money throughout the life cycle of recruitment and retention...
Interviewing candidates for a consulting role in March, we were pleasantly surprised by a large number of candidates from big-name companies who seemed to be keen on working for an entrepreneurial setup. And we were delighted to make an offer to a candidate who had a twelve lakh salary and wanted the usual thirty per cent hike and gladly accepted our sixteen lakh offer.
Promising to join in two months, he called up a month later and asked if we could make his offer of eighteen lakhs and we said reluctantly we would. Came the day he was supposed to join and it was a no show with a mail that came in three days later that he had accepted a twenty-two lakhs offer from a startup that allowed him to work from home and come to the office once a fortnight.
Listening to the horror stories of human resource managers at a packed EVOLVE-HR Conference in Pune at the end of April, one would consider that the experience we had at 5F World was not the exception but almost the rule these days particularly in the technology and consulting business. The malaise is at every level. Employees seek huge salary jumps and promotions even for mediocre performance and resignations are peaking, the "Offer to Joining Attrition" has jumped to nearly thirty per cent and infant mortality of people and joining and quitting within three months is high across the board-from startups to medium and large organisations.
Three things stand out for this problem which is threatening to stall the double-digit growth of many industries, post Covid-19. The first, of course, is the Work from Home habit, which has made many people including freshers, comfortable with no commutes and "ghar ka khana"; and in spite of the hassles caused to many members of the family, has become the norm in many industries, particularly IT.
The second is the boom in startup funding and with no eye on profitability required or even desirable in the early days, which has resulted in crazy financial offers to good people who are happy to sacrifice the stability of large firms for the jump in joining offers.
Last but not least is a new perspective on work ethic which has led to moonlighting (handling two jobs at the same time surreptitiously and not to be confused with GIG working) and casually being on holiday with friends while claiming to be working from home. All this is creating headaches galore for supervisors as well as HR heads everywhere in the world and very much more in large Indian employment cities.
The conference itself was appropriately intended to revisit the fundamentals of good people management, which is now being sacrificed at the altar of just giving more money throughout the life cycle of recruitment and retention. We chose the theme of "Attract, Enable and Retain", and a galaxy of experienced practitioners-Founders & CEOs like Ashish Gaikwad of Honeywell, Anand Deshpande of Persistent, Chitiz Agarwal of Techila, Consultants and senior HR Heads shared perspectives with an interactive and appreciative audience. As an industry veteran, Anand rightly said, it is important to stop lamenting about old values and culture and look at what young people really want in these times and align policies and practices to meet the needs of the Gen Z without compromising on the core values and beliefs of an organisation.
Having run and built two large organisations, APTECH and then Zensar from little acorns to mighty oaks with very low attrition of talent, particularly critical talent. I can vouch for the practice of shared vision communities and mutual love in engaging people of all ages and backgrounds and unleashing the "jugnu" in each individual, towards a collective rising of fireflies resulting in high organisation capabilities and a glow of success.
A lovely case study written and taught by Professor David Garvin of Harvard Business School about Vision Communities at Zensar explores this and the role of Human Resource folks working as associate relationship managers not just as personnel administrators or HR business partners. The basic difference in approach is that the engagement starts with the aspirations of the individual and slowly integrates that with the goals of the business unit and the organisation. The "virtue of selfishness" that author Ayn Rand writes about is replaced by an understanding of the common cause and the willingness to collaborate and play individual roles in a successful team.
There are many ways of building and scaling a love culture and we were all delighted that every speaker at the conference could build and discuss new models that will serve us all well in the future. Hiring for attitude and not just skills, engaging deeply through connectedness, frequent feedback and a joint development action plan, extensive use of technology to understand individual career aspirations and enabling adaptive learning and the use of analytics to track existing and potential distraction and alienation from the organisation are all areas which could be the subject of individual articles or a full book. Maybe that's the next book that I will write! Any practitioner willing to be a co-author?