SESSION
SSESSION
"Make a hard choice, take responsibility and live with it"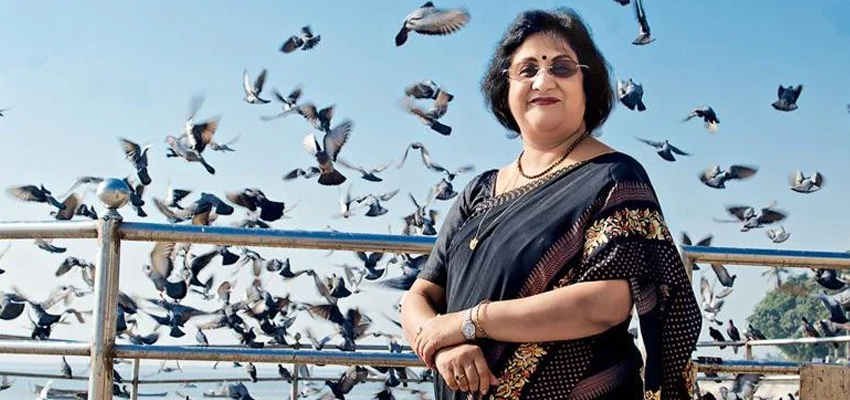 Arundhati Bhattacharya, a revered and renowned leader from the world of banking, is Chairperson and CEO, Salesforce India and Former Chairperson, State Bank of India. Her autobiography, 'Indomitable' is an inspiring story of her journey as a banker, a story full of grit and determination that motivates all to embrace challenges, break barriers, push forward and attain greater heights. The book is a celebration of every woman's life who is straddling work, home and career; a working woman's notes on life, work, and leadership. Sharing candid insights into her life at the Tata Literature Live! Business Shastras session, Arundhati Bhattacharya was in conversation with Shinjini Kumar, Co-founder, SALT - mysaltapp
Shinjini Kumar: How does it feel to be an author on top of everything else that you are?
Arundhati Bhattacharya (AB): My background was in English Literature and I was a bookworm, even as a child. My mother used to keep asking me you've been reading enough-how about getting something written? It has been at the back of my mind for a very long time, and to ultimately have got a book published, and be acknowledged as an author, is something precious to me.
There are many books in this book-your motherhood experiences, your marriage and you going to the US, straddling different homes and relationships, your childhood, and your career. You have a writer's mind, your attention to detail is evident even when you talk about your branch being flooded or a robbery happening. Are there more books in you?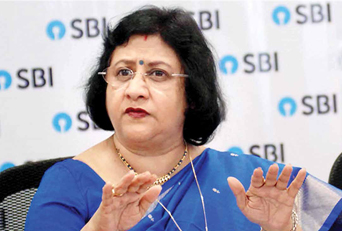 AB: One reviewer pointed out that the first three chapters should have been left out, and that the book should have been more about my journey in SBI. But I don't think so because it was my childhood that shaped me and I didn't want to leave out those influences. Going forward, there are things I passionately believe in that I would like to write about. In fact, I tell my colleagues that I'm going to write about busting the private and public sector myths, having seen both from close quarters. Most of all, I would like to write a work of fiction and be successful at it. Writing something that is entirely creative, from your own mind, would be extremely satisfying.
Living to the label versus breaking the label...
AB: Some friends who have read the book felt that I shouldn't have shared personal details, as a public persona. But I wanted to bring forth the character, not as Arundhati Bhattacharya, but as any woman would go through in her journey. I just happened to be a little luckier than some and got a few more labels, but there are loads of women who are living these journeys-and they get no voice. I have always been a very strong proponent of the fact that I may have a voice that people listen to because of the position that I have been able to attain. But for every one of us who has a voice, there are ten thousand others whose stories remain untold. It's important to ensure that the people around us, the ecosystem, starts empathising with what we go through in life, and various milestones. That will never happen unless these stories get told. While I was sharing, I was trying to be as honest as possible.
It's basically a woman's story in an emerging India, with very few opportunities and a lot of beliefs about what women should be like, what their roles are, and several biases. I wonder, when my Principal suggested to my father that I should pursue Literature, did he do it because I was a woman or because he believed I could write. I was actually good in the sciences and had a seat in medical college which I couldn't take up due to different reasons. When you look at your life in retrospect, you begin to wonder whether the choices you made were right. One such choice that haunts me is sending my daughter back when I was abroad-I'll never know if it was a right or wrong choice. But once you've made a hard choice, you have to take responsibility for it and live with it. I would say, it's been a cathartic experience for me.
"There are things I passionately believe in and I would like to write about them. In fact, I tell my colleagues that I'm going to write about busting the private and public sector myths, having seen both from close quarters. Most of all, I would like to write a work of fiction and be successful at it. Writing something that is entirely creative, from your own mind, would be extremely satisfying"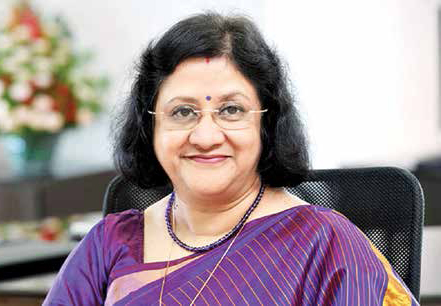 Dealing with uncomfortable choices...
AB: When life hands you a lemon, make lemonade-that's something I truly believe in. When I was posted into the New Business department, I was just one month away from a CGM's interview. I thought I was doing well in Lucknow, and I didn't know why I was getting moved out. It was the general opinion that it was the end of my career. My husband told me that nothing prevented me from preparing for it; if I didn't prepare for it and I didn't get it, I would always question whether it was because I didn't do something right. Well, I did get that promotion; I became the CGM of New Businesses and instead of one business, I set up four. Though that department was considered to be the burial ground of many, it was one of the most productive times of my life. Within a public sector bank, setting up four new businesses is not easy, and there was no given playbook-each had to be dealt with separately. I met with many regulators, learned to handle law firms, and joint venture partners, did three joint venture agreements, and launched two IT platforms. Probably my reputation was made at that point in time, as a person who could be relied on to do many things, new things. Therefore, it is wrong to take something that comes your way, and trash it. Instead, if you try and make the best out of a situation, it's the best that you can do. Some may work, some may not.
When I had my child, for instance, it took a long time for me to accept that she had challenges. I still don't know if I have completely internalised that. But the fact of the matter is, these are things which are handed over by fate to you. There is nothing much you can do about it. You can only try and make the best of the situation and ensure that you're doing the right thing by everybody. Don't get disheartened because there seems to be a roadblock; the roadblock is there in order to test you, to make you stronger and more productive. Take it in that spirit, and then move on with it because that's what life is all about. Whether you like it or not, life will move on without you, so just go along with it instead of resisting. I've also felt that you should be like a river-if you find a cliff coming in between and you can't burrow under it nor break through it, flow around it.
Belief in a higher power...
AB: There have been so many occasions wherein problems I've been facing get resolved. I've been on the verge of a cliff many, many times and I've often felt somebody pulling me back. I'm not a very religious person, still don't know how to do a proper puja, nor do I fast. But I have a very strong belief that there is a power that looks out for us. It does what it needs to do to keep you safe. Especially if you mean no harm to anybody, if you try and help others whenever you can, there is this power that guides your steps and pulls you back when you are in an emergency, even a small one.
Your husband Pritimoy, comes across as a guardian angel, gives you wise counsel, and takes on roles that are complementary to you…
AB: He's been very supportive. When we just got married I told him, one thing you should never expect from me is bed tea-I can't function until I've had my shot in the morning. So, he cut the whole process down and made me drink black coffee instead. Having said that, what he brought to the partnership was sheer common sense. He knows that I obsess about things, for instance, in Kharagpur, I was in charge of the cash and lockers. I had seven bunches of keys and at the end of the day, I would deposit them in my hand-safe, close it securely, and carry that key back home. And there was this day when I felt that I had not closed the hand-safe properly, which meant all the keys were available to whoever. When you do things regularly, you forget if you have done it; when you do it deliberately or you're mindful about what you're doing, you remember. I was getting so hyper, and over dinner I started ventilating about it, and then in the middle of the night, I woke him and said you've got to take me to the branch. He said, 'That's the last thing I'm going to do', and he turned over and fell asleep again. I felt he didn't support me, didn't understand my worries, and I literally saw the dawn come on in front of my eyes. In the morning, when he gave me my coffee I asked him why he was being so mean to me. He said, 'Look, it's very simple, if something has gone wrong, you need someone on the outside to bail you out. If I had taken you in the middle of the night, both of us would be behind bars. Go and check what has happened and we'll take it from there.'
Being a public sector banker, I don't drive a very expensive car but now, being in the IT sector, I can afford to drive expensive cars. But when I was thinking of replacing one of them with a high-end car, he just smiled and said, 'Remember, if you are getting out of such a car, you must also have equivalent shoes and bags'. Because he knows I love wearing old shoes as they are so comfy. I also don't like changing bags, because I invariably forget something in the old one. He has a way of grounding me very quickly and I appreciate that because I think he brings a sense of balance and it gives me a lot of comfort because support is very essential.
"In respect of the private sector, there is far better understanding and appreciation of its employees because they are there on account of choice and they have other"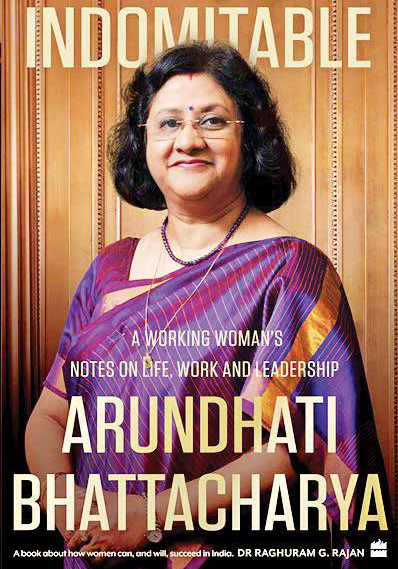 Public sector versus private sector...
AB: There is this myth that public sector people don't work-a 100% myth. I worked in the public sector for 40 long years and, at least in the last four years, I never went to bed before 1 am and sometimes I'd be up till 3 in the morning. Even in my earlier days, when I first went to Kharagpur as an accountant and I was also managing the household, I used to feel like a labourer in Siberia because I was working all the time. The fact is, all of us work extremely hard. Now again, 'all of us' doesn't mean all. Yes, it is true that even if you don't work very hard in the public sector banks, you can't be thrown out-but you won't make a success of your career either. Then you are accepting a life of mediocrity. Success comes only with hard work. And hard work-whether it is the public or the private, doesn't make a difference. People who have worked in the public sector have worked really hard in order to get where they want.
The second myth is I used to believe private sector people are only interested in money; not so much about promotion and career. Absolutely untrue. No matter how much money you give in the private sector, promotion is still very much part of what they want. The difference is the agility with which people respond in the private sector, where the process is very important. If you just look at SBI, the number of people we have to answer RTI queries, it would be enough to staff a small bank! The private sector is not bothered about these things-they can do as they like. So, these are small but very material differences that come across.
In respect of the private sector, there is a far better understanding and appreciation of its employees because they are there on account of choice and they have other opportunities. You have to be very careful of how you partner them, so as to bring the personal and the organisational roles together. In the public sector, we don't really bother so much because the appreciation levels are low, people who have come in there have made a choice of being safe rather than having to face the difficulties you would have to face because your job is always on the line. In the public sector, unless you do something wrong, unless you have your hand in the till, you are not going to get thrown out. So, the incentives are less, the disincentives are also less.
There is a difference in the level of work but you can't paint everybody with the same brush-there are some very hard workers in the public sector who set their own goals, and motivations. Also, in the public sector we know we can't throw out a person just because that person is not achieving. So, we try and find a position in which the person can achieve, we try and hit the buttons beyond monetary incentivisation to get them to work. In the private sector, if someone is not doing well, you put them on a performance improvement plan (PIP), if that doesn't work, you can ask them to leave. There are things you can learn from both sectors-both have their strengths and their weaknesses.
"Children today are becoming far more conscious and they are creating consciousness in us about our unconscious biases such as that crying is a girl's job and boys don't cry-that's not correct because it's healthy to express your emotions; gender doesn't matter"
Have the challenges faced by women changed in the past decade?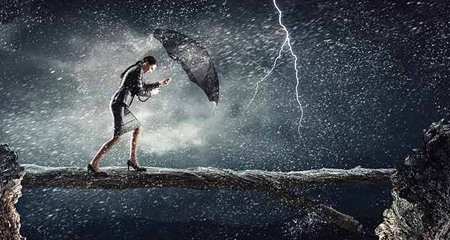 AB: The challenges have changed because society has learnt to accept that women will be in unconventional roles. For instance, the other day I saw a lift-woman. Now, women are operating trucks and tractors. Where society has not changed is the concept that the woman is still the primary caregiver. In India, I'm hoping that with the new generations it will change because I see a lot of our young employees actually enjoying paternity leave, supporting their spouses much more in their difficult times. Even children today are becoming far more conscious and they are creating consciousness in us about our unconscious biases such as that crying is a girl's job and boys don't cry-that's not correct because it's healthy to express your emotions; gender doesn't matter. These are stereotypes which we are breaking but I feel we still have a long way to go.
As for the younger people, they are going to face a far more uncertain world in many ways. Therefore, they have to be far more nimble on their feet than we were. For them, learning is going to be life-long; they can't stop learning. Learning might not always happen through your technical courses or formal channels; learning has to be from the environment, from friends, colleagues, spouses and families. Basically, you should try and absorb life lessons as you go along, so that you are prepared for the future. It is something that needs to be cultivated as a way of life; that is, unlearning what you already knew, changing your attitudes, and reinventing yourself so that you fit into the new roles that are required for the changing environment.
What is the image of women bosses today. Tell us as a person from within an organisation...
AB: When women bosses come in, there is scepticism about whether she will be able to do it. When I became Chairman of SBI, a lot of people said, 'Abhi thoda danda dikhao'! I told them that's something I'd never be able to do, and that I would continue in my own way and hope to convince people. I think it's a question of how seriously you take yourself. Being a boss doesn't mean you have to boss people around. It means you enable others to succeed-you can't succeed all on your own. That means you have an open mind and are willing to be convinced by others. When you are leading a team, you give them a fair opportunity to convince you. If they manage to convince you, you change the course; if they don't, they toe the line that you have decided, and then there is no dissension, and we all pull as a team.
I have actually changed direction at various times. Try to ensure that everybody has a voice because if you're shutting off some voices by snapping at them or by being a 'boss', then you are actually shutting off that brain power, which actually will come in very handy to you. You have one brain and two hands and 24 hours - how much can you achieve? You have got to rely on people to achieve far more than your narrow ambit will allow you. And frankly speaking, anybody's success ultimately reflects on your success, just as their failure also reflects on you. With this attitude, you don't allow others to fail.
In a male-dominated industry, do you need to be more like men?
AB: It's not a question of trying to act manly, it's about acting like a true leader would. And that is genderless. You don't have to conform to any of those stereotypes. As long as there is delivery, nobody really bothers. Just ensure that whatever you are doing, you are being supportive, a team-player, and not trying to put people down at the expense of trying to make yourself look bigger.
A sure-shot stress-buster...
AB: For me, diving into a book is the easiest way to deal with stress. Or then find an insane serial on TV; you'll be like, who are these people and where are they coming from? Getting together with your girlfriends and doing a bit of 'gossiping' is also a great stress-buster.