LOVED & MARRIED TOO
LLOVED & MARRIED TOO
Unconventionally, unconditionally yours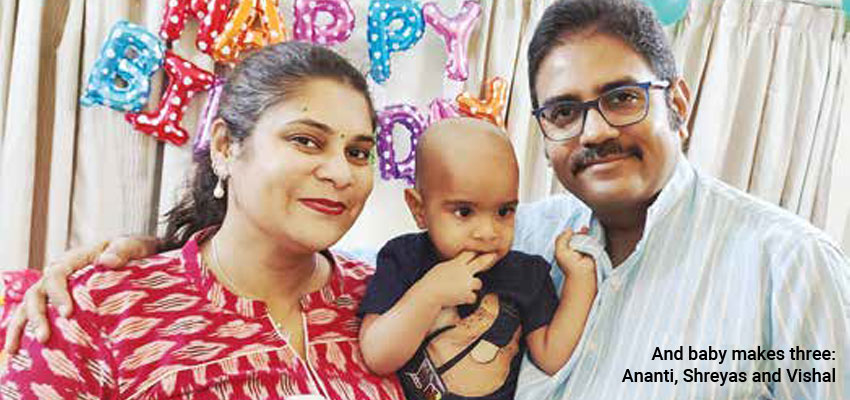 The Goa-based entrepreneurial couple, Vishal Data and Ananti Saboo, on the importance of comfort over convention, choice over compulsion and a rock-solid partnership to make both personal and professional dreams come true
A typical day for this couple would be Ananti being at work taking care of the ever-growing demands of their arts and craft supplies business-The Craft Megastore, even as Vishal stays back at home, lending backend support through careful auditing of their accounts and looking after their two-year-old boy Shreyash.
In doing so, both are playing to their strengths and interests. "As a hard-core marketing professional, I totally enjoy the vibe of understanding and catering to the ever-growing needs of this niche but demanding market. After all, this is what I have always done-this is my passion," smiles Ananti.
This is not to say that Vishal does not know or understand business. The younger son of the family that makes the famous Laxminarayan Chiwda brand, business and enterprise are in his very DNA. But ever the maverick, he chose early on to step away from the family business and run his own serial enterprises. "Thanks to this background, I am able to handle the books and accounts for Ananti so she can concentrate on her market research, networking, sourcing and supplies. Besides, if one of us can be home to look after the needs of our toddler, why not? I love handling him, cooking for the family and tending to our home," he shares.
Ananti agrees that a more meticulous and well-planned housekeeper would be hard to find. "He keeps everything running ship-ship and gives me all the convenience and facilities I need to grow our business. Plus, he is also an investor and keeps his eye firmly on the bigger picture," she says.
And to think both come from fairly traditional homes. "It doesn't matter," she says. "What does is that we are both of a progressive mindset and have similar priorities in life. We love our long car drives, exploring new avenues in life, good food, great conversations and sharing a good drink together."
"He will go out of his way to think of the other person's comfort. He invests a lot of thought and effort into taking care of his partner's needs"
- Ananti Saboo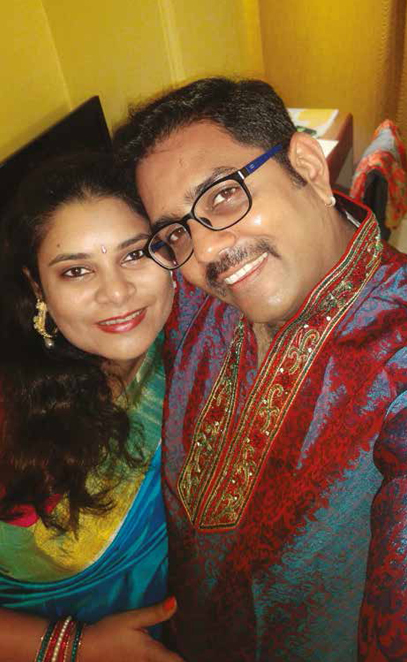 BACK TO THE BEGINNING
This love story was first scripted in 2010 even as Vishal and Ananti were looking out for potential mates. Both 30 and fairly well-settled, they were now ready for the responsibilities of a steady relationship. To that end, both logged onto shaadi.com. But it was far from love at first sight-at least as far as photos were concerned. "Honestly, I didn't much care for his photo at all when I saw it," she chortles. "It didn't do him any favours."
To her surprise, though, Vishal was a fairly persistent and interested admirer. "I was touched by his attempts to strike up a meaningful conversation, every now and then," she says. "That's how we decided to meet up even though I was based in Kolkata, working with the Reliance Group while he was a Pune-based entrepreneur."
From the outset, despite the seemingly different personalities, the conversation flowed seamlessly. Both appreciated what the other brought to the table. "He is a very caring and considerate man, in matters big and small. He will go out of his way to think of the other person's comfort. He invests a lot of thought and effort into taking care of his partner's needs. That is a huge quality to have," she expresses.
On his part, Vishal appreciates Ananti for her honesty and spontaneity. "I admire how outspoken and upfront she is. She is not the one to say one thing and mean another. Besides this, she is a very independent woman," says Vishal.
Even so, they took their time getting to know each other and understanding each other's outlook on life. "This long courtship we had helped us understand each other and our families. It really laid the foundation of our relationship," says Ananti.
It helps that both are romantic, act on the spur of the moment and are ready for an adventure. A fine instance of this spirit would be the time that they both decided to surprise each other. As it happened, it was Ananti's birthday. "So, I decided to fly to Kolkata and surprise her. But as soon as I reached the airport, I got a call from her asking me where I was as she was outside my flat in Pune," he laughs. "It's moments like this that make your life together memorable."
The duo finally wed in 2014 and typical of their credo, decided to do things their own way. "My roots are in Rajasthan. Back home, a wedding ceremony is for the girl's parents to plan and execute on a lavish, elaborate scale," explains Ananti. "But to everyone's surprise, it was Vishal who took charge of the wedding preparations from the word go," she says. The result was a simple but traditional, intimate yet fun and memorable day that was greatly enjoyed by one and all.
Post-marriage Ananti shifted to Pune, but this was not where they were meant to be. "I was just chilling out at home having recently given up work. One fine day, Vishal came up to me and asked me if I was interested in shifting to Goa," she grins.
She jumped at the idea. Goa was a place where the couple had spent many beautiful moments together. It is ensconced in the very lap of nature and just the place where they would love to raise a family.
Initially, they set up a restaurant to sell snacks but gave it up when the pandemic struck.
THE MANTRAS OF A MARRIAGE
Supporting each other's dream
Sharing responsibilities
Caring for each other's needs
Time and patience
A PANDEMIC, PREGNANCY AND PARTNERSHIP
Like countless others across the world, the pandemic and the ensuing lockdown caught the couple unawares. To compound matters, Ananti was in the last stages of her pregnancy but it was impossible for either set of parents to reach them. This left Vishal alone to care for her. "So whether it was cooking nutritious meals for her, or helping care for the baby I did it all," he says with quiet pride.
Since Ananti had had a C-Section, she was advised bed rest. "To add to our challenges, we had zero idea how to bathe or massage a baby. So scared were we of hurting little Shreyash that we stuck to a simple sponge bath in the early days," she says.
In the absence of a legion of people to help care for the baby, both Ananti and Vishal grew into their roles pretty quickly. "And this hands on-parenting has benefitted him greatly," she says. "What's more, it has taught us that we can handle pretty much any situation together."
Like every couple, both have devised their very own way of handling conflict. "I am the hot-tempered one while he is the calmer one. Even so, when arguments and differences occur, it is hugely important to give the other person time and space. Time and experience have taught us that when matters escalate, every other aspect of life goes awry. So, it is fairly important not to let conflict fester," she says.
Quality time at the moment consists of spending time together whenever possible and watching Shreyash grow. "Hopefully, as he grows up a bit and the pandemic eases, we will be able to do a long road trip," says Vishal.
BRINGING UP BABY
Having become parents a little late in life, both have a fairly chilled out attitude towards their role. Significantly, they believe in letting little Shreyash grow up at his own pace. "While Vishal is the stricter parent when it comes to day-to-day discipline, he is on the same page as me as far as developing his individuality goes. We don't believe in forcing him in any particular direction. Let him do what he loves and enjoys. After all, both of us have done the same, haven't we? she rounds off.