HEALTH
HHEALTH
Fitness Frenzy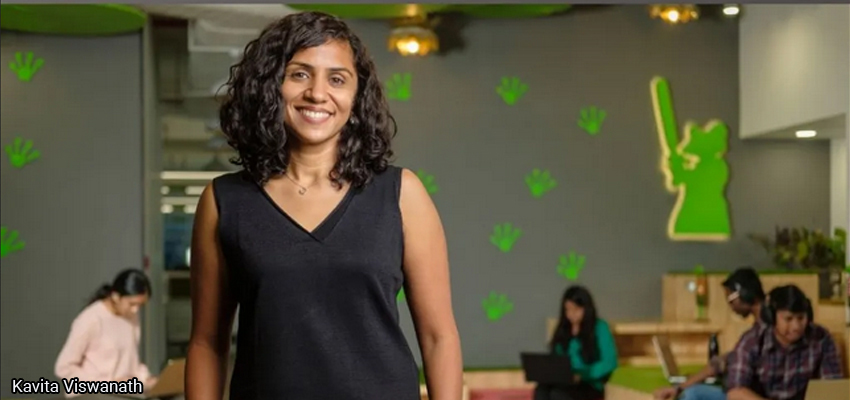 Technology and sports enthusiast Kavita Viswanath, General Manager, JFrog India, believes in solving problems and delivering impactful solutions. With a panache for sports and fitness inculcated since her school days, she has managed to align her fitness activities despite life's various transitions. She has re-invented her sporting encounters as she graduated from school to engineering college, juggling a corporate career and motherhood. Venturing into Himalayan treks, scaling the Everest base camp and the Italian Dolomites range, tennis and marathons, Kavita is also a trained Thai boxer and jazz pianist. She shares her fitness frenzies that have kept her agile in a highly-charged work environment
""When you imbibe a sport as a part of who you are, it gets ingrained as a default lifestyle within you," said Kavita Viswanath, General Manager, JFrog India. The California-based JFrog is an end-to-end universal DevOps software solutions provider and Kavita heads the India team across R&D Support and Sales functions. "We have other smaller teams, and my job is to make sure I provide site leadership to JFrog in India and grow its India business," said Kavita.
Kavita acknowledged her school for the sporting opportunities gained in basketball, handball, and athletics. Around 1990-1994, during her early teens, sports became a good ground for her to compete in outdoor sports. "I was very passionate about my engagement with sports which has helped develop my leadership skills and taught me the necessary behaviour required to succeed in a dynamic, global workplace," she said.
Fitness re-assigned
Her love for sports which began as a school-goer has matured into activities that fuel her passion and keeps her grounded and environmentally rooted. Despite her hectic engineering college days, she diligently pursued and added new dimensions to her sporting stints. "I became an avid trekker because you cannot play a sport constantly, due to time constraints, especially when you are doing engineering", she said. So, her weekends were dedicated to climbing mountains and hills in and around Maharashtra, triggering her love for trekking as a fitness and lifestyle statement.
The demands of a working life added to time pressures, but she drew inspiration from her early sporting encounters. "I draw a lot of inspiration and energy from outdoor activities. With work-life growth, your lifestyle changes, and your time ratio at home, at work, and yourself, keeps changing every couple of years; you need to figure out what needs to work," said Kavita.
Kavita's constant reassessment of her fitness helps pace her work-life schedules. She has tweaked and added new sports to suit her changing lifestyles. With her intrinsic sporting spirit, she firmly believes that a true enthusiast would make room for fitness despite the odds in life. She practices regularly and has added more diverse sports syncing in with her career growth, marriage, and motherhood. Along the way, she also picked up tennis and kickboxing. A chance availability of a good master encouraged Kavita to train as a Thai kickboxer, and she engaged with the sport for six years.
"Practicing a fitness activity is also a form of meditation; it brings a lot of clarity and helps to focus better all day"
Reviewing choices
Kavita's love for Thai kickboxing continued for almost four to four-and-a-half years, and she considered it a great energy booster. Kickboxing became integral and enthralled her so much that she continued with it even after motherhood. "I resumed kickboxing after a two-year break following my daughter's birth," said Kavita.
However, her second inning was fraught with injuries as she broke some bones, and that is when she had to realign her fitness regime. The broken bone in the arm/wrist had to be remedied with metal plates and eight screws, a torn ligament on her left knee, and a few other torn muscles made her re-access fitness with the changing phases of her life. "When I broke my hand around 2013, my daughter was two just years, but I continued with kickboxing. However, I tore a ligament again in 2015 and decided to stop the sport and pick up something else," she said.
A relocation to Bengaluru allowed her to re-wind back to trekking with friends and like-minded enthusiasts. Since 2014, she picked up a new fitness ritual with her annual Himalayan trek and has been active, even after discontinuing kickboxing. "Every year, I take two weeks off to the Himalayas, disconnect myself from everything because most of these treks do not have network coverage, and I try to maintain it that way," said Kavita. A supportive family unit further mobilises her to undertake this annual wellness trek.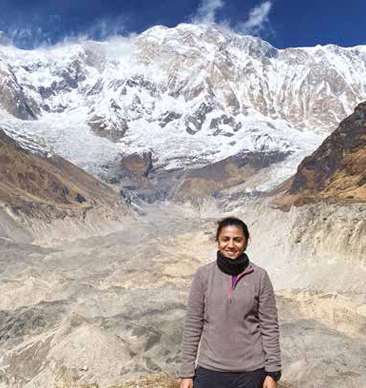 Kavita Viswanath trekking in the Himalayas
Run and rejuvenate
While Kavita has renounced any form of competitive sports, she participates in half-marathons and has embraced running as a regular aspect of her fitness schedule. "I like to run, and it is my graduation from doing all these high intense fitness activities, which is settling into something more comfortable, and I can pick my own pace and time," she said.
The Auroville (Pondicherry), the Goa River and the Kaveri Trail marathons are some of her favourite running events, and she consciously avoids city-based marathons. While 2019 was her last marathon before the pandemic, she cherishes these runs and said, "They (Pondicherry and Goa) might not be the most popular marathons, but they offer me many other things besides fitness. I like to pick events for an environment cause or from the scenery perspective. I try to avoid city marathons which I find drab-running amidst hundreds of onlookers," said Kavita.
With her day breaking at 5:30 am, she spends at least 45 mins doing some form of exercise. "Every alternate day, I try to run 5 or 7 km depending on how much time I have. The days I skip a run, I compensate it with a staircase run of 12 floors lapse, which helps to start my working day," she said.
No goal posts
Despite her daily fitness momentum, Kavita does not believe in setting up stringent goals as she enjoys her fitness regime and does not want to succumb to the pressures of goal schedules. "I enjoy fitness, and don't want to put a goal to it and ruin it by making it something serious," she said. Her only aspiration has been to accomplish a full marathon, which she hopes to achieve in 2022-23.
She has had a super-hectic work schedule in the past 6-8 months, coordinating with teams across different time zones, especially the Israel market. But her hour-long daily dedicated fitness routine gives her enough energy to unwind at the end of the day and spend valuable time with her family. "Practicing a fitness activity is also a form of meditation; it brings a lot of clarity and helps to focus better all day," said Kavita.
Kavita is not a stickler for rigid diet patterns or food groups and enjoys a good spread with friends over the weekends. However, she is conscious of when she eats as her work schedule prompts her to skip lunch, but she has stuck a good balance. She makes sure to finish dinner by 7:30 pm. "I eat rice only once a week, so it's just vegetables and roti for dinner and is probably working for me. I am not a stickler for what I eat, how I eat, the food preparation or calories," she said.
"My entire team knows my craze for fitness activities; I speak about it in internal company events and forums and talk about how it inspires me and helps me work better," said Kavita. Their global team meetings are often converted into inspirational sessions. Whether on Zoom or at internal forums in the office, they identify colleagues to talk about what inspires them.
There are bad days when Kavita has to pick herself up and go beyond her stress points. "My job is to solve problems for the team and the organisation, so I have to gear myself for it. I try to focus on the cause of stress to tide over it," said Kavita.
Quick tips
Select an activity you enjoy and don't follow others just because they have benefitted.
Understand your fitness needs and listen to your own body.
Understand your fitness needs and listen to your own body.
Keep your fitness regime free-flowing to avoid getting demotivated or quitting.