CAMPUS PLACEMENT
CCAMPUS PLACEMENT
Achieve the Unachievable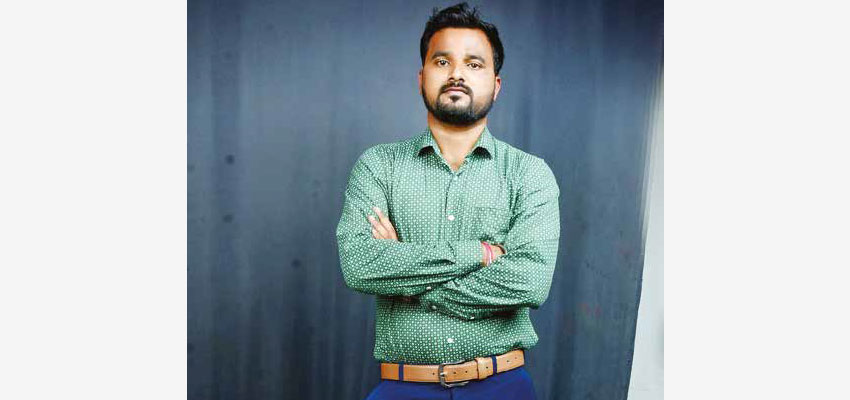 He learns through what he goes through. He has overcome several obstacles, and he is what he is today because of the challenges he faced. Meet Sidheshwar Solanke, someone whose dream is more practical than the rest. "To survive in the corporate world or to grow in my personal life, I believe staying content and happy will drive me through hurdles," he said. Currently working with ICICI Bank, Pimpri, as their Deputy Manager, Sidheshwar talks about how he overcame his anxiety, his educational journey, a few tips for his juniors on how to prepare for campus placement, and more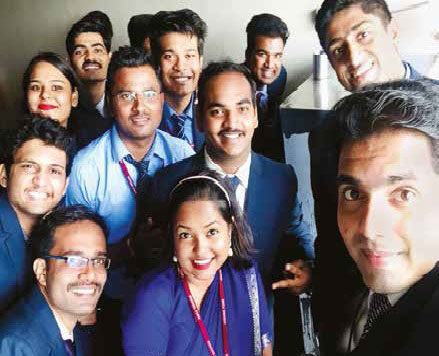 Sidheshwar Solanke with this college buddies
Although he belongs to the small town of Latur, Maharashtra, the city rather than pulling him down pushed him to be independent and achieve the unachievable. "I am quite proud of where I belong. I finished my schooling in my hometown. This city and my family added value to my life and prepared me to face the world," said Sidheshwar.
Quick thinking
A smart kid Sidheshwar, had a back plan in case he wasn't able to get into an engineering college. Talking about his plan B, he said, "While I was preparing for my engineering entrance, I decided to enrol myself in the Army as well. I knew it was a tad bit difficult to get through, but I gave it my best shot. Fortunately, I got through the selection process. However, I realised, there was no point going ahead as my family's financial condition wasn't stable," he reminisced.
While he further added, "Nonetheless, my plan A worked. I got through an engineering college. This whole experience showcased the importance of having a backup plan and that no dreams are small. Backup plans are a key to success, as one way or the other, you will attain what you've envisioned. It gives you a chance to taste what the world has to offer. And similarly, it prepares you to think quickly when one of your plans fails. Hence, I advise all my juniors to keep their backup plans ready." Sidheshwar completed his graduation in mechanical engineering from Ambajogai, a town located in the Marathwada region.
"Speaking in English was another thing that I caught hold of. I read newspapers and made it a point to think in English. This is what gave me the confidence"
- Sidheshwar Solanke,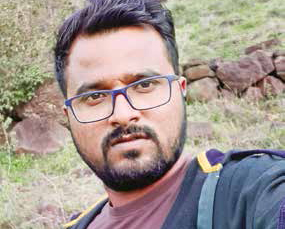 Sidheshwar Solanke
Overcoming challenges
A person's character develops when he/she overcomes challenges and obstacles. Sidheshwar was put through a few challenges during his college days. "The obstacles I faced might sound naïve to others, but it definitely transformed me into a better person," he smiled. He continued, "Be it conquering my anxiety or learning how to converse in English, I noticed that challenges are what makes life interesting and overcoming them makes life meaningful. I was gripped with what you can say anxiety or some kind of negative energy that constantly kept me at bay. I had become such a closed person that I wasn't able to express what I was going through."
Just like how the sun shines after the storm, Sidheshwar was sure that he'd conquer all the obstacles. "I got into reading. Reading a lot of books helped me get over my anxiety. Depression and anxiety sure takes a toll on one's mental and physical health. Today's generation should learn to communicate and speak their heart out. If they so do, problems like these never arise."
Placement ready
Sidheshwar was focused since day one when he moved to Pune to pursue his post graduation in Marketing and Technology. His goal was to learn as much as possible and get a good job. "Moving from a small town to a city like Pune was a great shift. However, I had changed a lot during my graduation. Hence, the shift wasn't a hassle. Speaking in English was another thing that I caught hold of. I read newspapers and made it a point to think in English. This is what gave me the confidence," he said.
Talking about this placement experience, he said, "Being placement-ready is a journey which cannot be achieved overnight. I kept myself updated, read magazines and newspapers, and conducted mock-up interviews and group discussions with my friends. I had to go through 4-5 interviews. After every rejection, I assessed my journey and worked on my weakness. And finally, I got placed with HDFC Bank." After working with HDFC, Sidheshwar got a call from ICICI Bank, where he is working for a few months. He is learning each day and loving the corporate experience. Talking about his future goals, he said, "I wish to be happy as that is what would drive me to achieve my dreams."
Tips to prepare for campus placement and more
Keep yourself updated: Firstly, keeping yourself updated surely gives a purpose to your life. Secondly, as trends keep changing, the kind of questions that are asked during the group discussion and personal interview rounds, change as well. To stay abreast with this, you have to continuously learn.
Be calm and composed: Agreed, GD and PI rounds can be full of tension. But one should take a step back and realise what brings them here. Once you are calm and composed, you project an air of confidence. And this is something the interviewer is always looking for. And when you are confident, the answers that you give seem more appealing. Breathe in, breathe out, and stay calm.
Avoid negativity: To overcome all the odds, students ought to be positive. As their minds are young, it becomes difficult to control their emotions when you are surrounded by negativity. Once you are gripped with the negative energy, your goal will go for a toss. Hence, be wise enough when you converse with anyone and stay away from negativity.
GD with friends: Your friends are your well-wishers. They know your pain points and guide you on exactly what you should work on. Conducting mock interviews and group discussion stirs a wind of change. You are exposed to different perceptions which surely will broaden your horizon.
Meditation is the key: Studies, assignments, and other tension can take a toll on the student's mind and health. Regular mediation soothes the mind, body, and soul. It provides you with the clarity you are looking for. Most importantly, it helps one concentrate on studies.