UNSUNG HEROES
UUNSUNG HEROES
World's youngest CEO at 17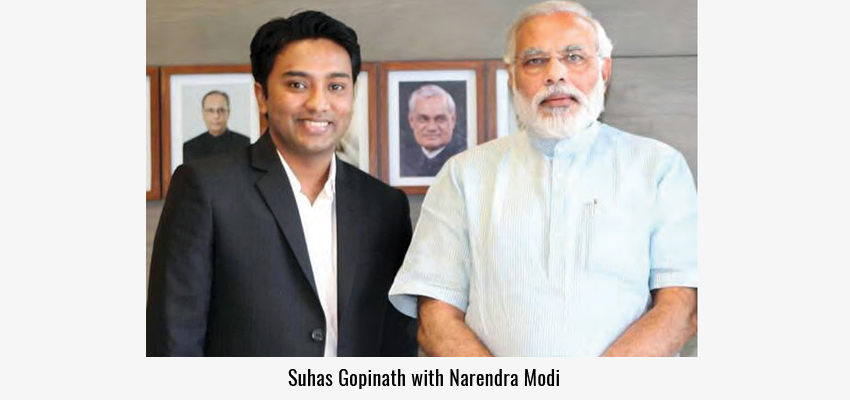 "The young do not know enough to be prudent, & therefore, they attempt the impossible – and achieve it, generation after generation."
- Pearl S. Buck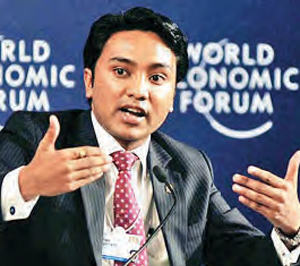 Suhas Gopinath
At a seminar on "Education System in India" at the Indian Institute of Science, Bengaluru, a boy dressed in casuals stepped out of his car and entered the gate. He was stopped by the security personnel: "This event is only for the CEOs, you are a college boy." The boy smiled, picked up his cell phone and soon a whole swarm of organisers arrived at the entrance to usher him in.
But then we really can't blame the security. Even the wisest of men probably won't guess that the 17-year-old Suhas Gopinath can be the CEO and President of a Bengaluru-based IT solutions company, Globals Inc. Suhas had been invited as one of the speakers at the seminar.
"Because of my age and looks, I often land in embarrassing situations and do not know how to handle the confusion," says a candid Suhas. He owns a car bought out of his earnings but for quite some time, he didn't have a license to drive it around the city, as he was too young to get a license. As a CEO, he wraps up mega deals but cannot sign on the dotted line as legally he is not yet an adult.
His is a story of a pastime turning into obsession. As a student at Air Force School in Mathikere, he frequented a cyber cafe near his home. "I was overwhelmed by the world of the Internet. It became my passion. Though my parents were completely against it, I would spend hours before the computer. My elder brother Shreyas, encouraged me a lot. I learnt HTML, ASP and every possible software at the cyber cafe," recalls Gopinath.
Suhas comes from a middle-class family. His father worked as a scientist for the Indian Army. He had his schooling in the Air Force School in Bengaluru. As a child, he was more interested in animals and veterinary science. But when he saw his friends who had home computers, he also wanted to have one, although he could not afford it. So, what I did was I located an Internet café near my house. With my modest monthly pocket money of Rs.15, I couldn't afford to surf the net every day. I noticed that the shop was closed in the afternoon from 1 PM to 4 PM. So, I offered to open the shop for him after my school hours and take care of the customers. In the bargain, he let me browse the net for free. That was the first business deal of my life and it turned out to be a successful one," recalls Suhas.
His first income was $100 when he was 13, for building another website but he didn't have a bank account. He was not excited to get the money because money was not a factor that drew him to it. It was the passion for technology that attracted him. When he was in the 9th Std. itself, he had made enough money to buy a computer. When Suhas was 14, Network Solutions offered him a part-time job in the US and they said they would sponsor his education in the US. He rejected the offer because he had a dream to start his own company. "I decided then that when I started a company, I would recruit only youngsters and I would not ask for their academic qualifications. Soon after my 9th Standard summer vacation, I started my own company, Globals Inc. with a team of four. I registered my company in the US. I became the owner and CEO of the company. My friend, an American, who was a university student, became a board member. I started dreaming of making my company as big as Microsoft," said Suhas with pride.
As he got more involved in the company, his studies went for a toss. He scored 80 per cent in his Class X exam but in PUC, he could barely get 65 per cent. In the pre-board CBSE exam, Suhas failed in Mathematics. The school headmistress was shocked because that was the first time he had failed in any subject. She called his mother and said she was horrified by his performance. At home, like any typical South Indian mother, his mother made him swear on her head that he would focus on academics. He asked to his mother, "The world's richest man, Bill Gates, had not completed his education. Why do you force me then?" She then said, "I am sure his horoscope and yours are not the same!"
"I met Dr Abdul Kalam when he was the President of India. I was 17 or 18 then. My meeting was scheduled for 15 minutes but we had such an intense conversation that it went on for one-and-a-half hours"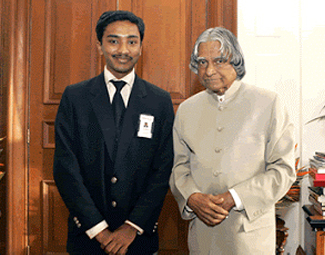 Suhas Gopinath with Dr A PJ Kalam
When asked about the attitude of his family, Suhas said, "I come from a family where entrepreneurship is considered a sin. My mother was quite upset. She wanted me to do engineering, then an MBA and work in a good company. As per my mother's wishes, I took a four-month sabbatical from my company and studied for my board exams. I passed with a first-class."
On May 14, 2000, along with friends Clifford Leslie and Vinay M.N., he floated his own website www.coolhindustani.com. "I did not have the money to start. My parents refused to give me a penny saying it was not worth it. So, I wrote to Network Solutions Inc. in the US and they readily agreed," he says. The website was focused on NRIs. It was a portal where he wanted to showcase his skills.
Till he was 16 or 17, Suhas didn't tell his parents that he had started a company because he thought they would object to it. Initially, he offered the services for free. Today, Globals Inc. is a multi-million-dollar company with offices in the United States, India, Canada, Germany, Italy, the United Kingdom, Spain, Australia, Singapore and the Middle East and has 100 employees in India and 56 abroad. In the first year, the turnover of Globals Inc. was Rs.1 lakh. The second year, the turnover went up to Rs.5 lakh.
At the Bengaluru office, there are more than 15 full-time software engineers. How does he deal with employees elder to him by many years? "Most of the people who work with me are between the age-group of 17-19 years. I treat them as friends first, then act like a Boss. So, the job becomes much easier," adds Gopinath.
Gopinath was announced as a 'Young Global Leader' for 2008-09 by the World Economic Forum, Davos. Among the several honours that have been bestowed upon this young man, the most prestigious is the invitation to be a member of the Board of the ICT Advisory Council of the World Bank. In 2007, the European Parliament and International Association for Human Values conferred 'Young Achiever Award' on him. He was also invited to address the European Parliament and other business dignitaries assembled in the EU Parliament.
Describing his forays in the international arena, Suhas said, "When I contacted a Spanish company, it rejected my offer saying Indians do not know Spanish. As an entrepreneur, you can't accept rejection, especially, when you are young. I hired five student interns from some Spanish universities and told them they would be paid based on their successful sales. They were the people who met the companies and bagged the projects for us. By now, we decided to have a home-office in Spain. I replicated the same model in Italy. I contacted some Italian university students."
When he was 18, he set up an office in Bonn, followed by Switzerland and Vienna. The day he turned 18, he registered his company in India as Globals, opened an office and recruited four people. He opened the office next to the Internet café, where he started his career. By then, he had closed the shop and joined a factory as an employee. Suhas got the unique opportunity to meet the President of India. He recalls, "I met Dr Abdul Kalam when he was the President of India. I was 17 or 18 then. My meeting was scheduled for 15 minutes but we had such an intense conversation that it went on for one-and-a-half hours. I didn't feel that I was talking to the President of India. We talked like two friends. He was sitting in his chair across the table but after some time, he came and sat next to me. He is such a modest person that it was a learning experience for me."
Talking about his journey to the World Bank, Suhas said, "As per the wishes of my parents, I joined engineering but didn't complete it, as I was short of attendance. When I was in the fifth semester, the World Bank invited me to attend their board meeting. I am the only Indian on the board of the World Bank. The objective was to explore how ICT can improve the quality of education in the emerging economies, by bringing in accountability and transparency in their financial deeds. I am helping the World Bank set policies on ICT in university education so that employability can be enhanced."