MILITARY TO MANAGEMENT
MMILITARY TO MANAGEMENT
Desire to Excel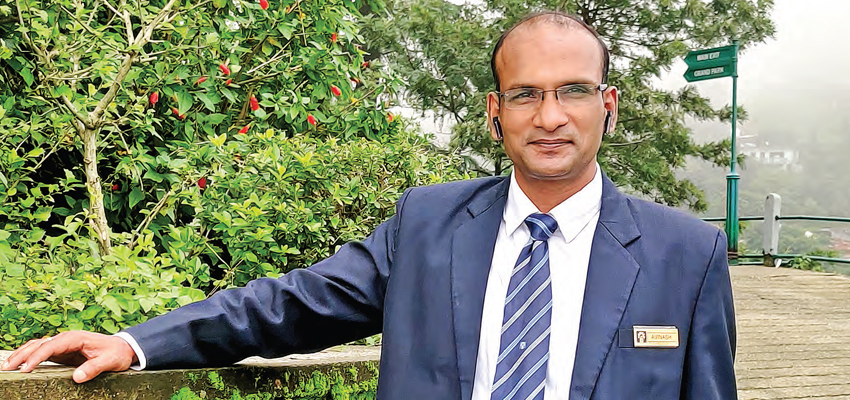 A former CRPF Officer (Central Reserve Police Force) who worked tirelessly for two decades to prove his mettle in the paramilitary, Avinash Aggarwal is currently doing very much the same in the hospitality industry as the Chief Security Officer (CSO), Jaypee Residency Manor, Musoorie, Uttarakhand. In this interview, the officer with his feet firmly on the ground, shells out some practical advice to the military personnel looking to etch out a corporate career for themselves while also sharing his journey in the two worlds that are as different as chalk and cheese
Corporate Citizen: When did you first join the CRPF?
Avinash Aggarwal: As I belong to the hill state of Uttarakhand, which is known for Indian Military Academy (IMA), Rashtriya Indian Military College (RIMC), ITBP Academy, like so many youngsters, I also dreamed of joining the Forces. I attempted to join the Army but could not make the cut. Eventually, I got through SSC and joined CRPF, which is the largest paramilitary in the world.
I joined the CRPF in May 1998. As I was the first person in my family to join any kind of Forces, I was thrilled. After the basic training of 48-52 weeks, I passed out with flying colours and got my first posting in Assam. I served almost all the quarters of the country, especially the North East and Left Wing Extremism area. I had undergone many interservice courses like All India Police Unarmed Combat Course (third position), Weapon and Tactics Course (medal for best endurance), Counter Insurgency and Anti-terrorism Course (first position) Tear Smoke Munitions Course in BSF Academy, IED Management Course at the College of Military Engineering, Pune (first position among eight foreign officers). Due to so many courses and good grades, I got posted in two training centres for six years as an instructor.
CC: What qualities did you imbibe as an Officer with the CRPF?
When you join the Forces, it makes you a man out of a boy by toughening you both mentally and physically. Once you get through basic training, your mind and body start working in autopilot mode. The CRPF taught me discipline, a never say die attitude and value for time. The skills which I inculcated are leadership, man management, crisis management, welfare management, camaraderie, liaison, decision-making abilities and thinking out of the box.
CC: When did you first decide to make the big switch from the paramilitary to the corporate? Considering it was a big decision, did you have any reservations about it?
When I was about to complete 20 years of my service and become eligible for a pension, I thought of giving it a switch over. Yes, I was apprehensive many a time and consulted many other veterans who had joined the corporate sector. After much discussion with family, friends and colleagues, I decided to take the plunge. I started looking for an appropriate opportunity. I was also apprehensive about the organised life that it entails and whether I will be able to keep my dignity and respect of the Forces intact.
CC: What are some major differences between the paramilitary and corporate milieu?
It's a big change, making the switch from the CRPF to the corporate world. First is that you have to shed your uniform which is a mark of identity in itself. In the corporate, you meet people who question your perks without grinding in the corporate world. Lastly, it is difficult to imply your leadership and management skills which need some strictness.
CC: How do the two worlds of paramilitary and corporate differ in terms of remuneration, hierarchy, work cultures, work-life balance, growth prospects and social life?
The corporate world or the Forces for that matter are at par in terms of remuneration but if you count the perks and luxury that come with the uniform like free accommodation, transport, canteen facilities, officer's club etc, it has no match. Hierarchy is also a bit different as in the Forces, even a day senior to you can command you whereas in the corporate world, it's more like brotherhood and cameraderie. Work culture is also different. In the Forces, we have set deadlines and have logistics to meet them, whereas in the corporate world, you have the deadline and you have to arrange the logistics too.
"There is no replacement for the uniform in the Forces, no matter how expensive your business suit is, the uniform will remain priceless. Wearing the uniform always gives goosebumps and an adrenaline rush which is unparallel and beyond compare"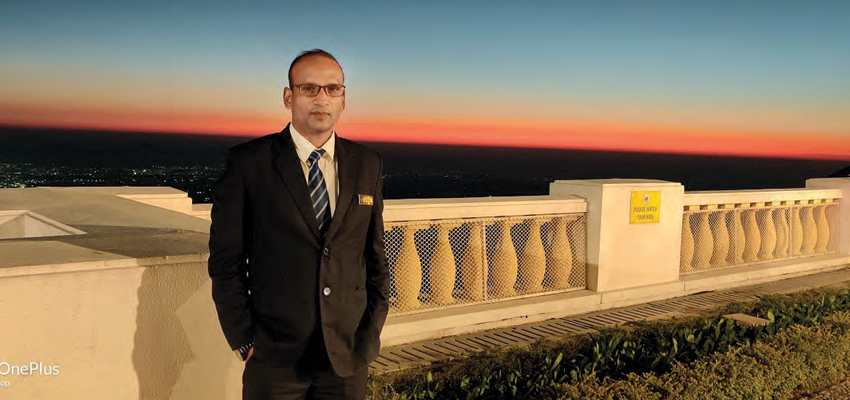 Avinash Aggarwal enjoying the skyline at Jaypee Hotel, Mussoorie
CC: Do you miss donning the uniform at times?
There is no replacement for the uniform in the Forces, no matter how expensive your business suit is, the uniform will remain priceless. Wearing the uniform always gives goosebumps and an adrenaline rush which is unparallel and beyond compare.
CC: Do you miss the thrill and adventure, the uncertainty that life in the CRPF offered you?
Yes, I do miss the adventure my earlier job in Paramilitary used to offer. I miss the postings at different places, interactions with different people, learning about their culture and languages, and that's what makes us, the officers, all-rounders, who are suitable for a corporate job because of the vast experience we bring to the table.
CC: What are some of the lessons about management, values and success that the Paramilitary can learn from the corporate world and the Paramilitary can imbibe from the corporate culture?
The Paramilitary can learn how to always be cheerful and negotiate, wear a smile on your face, be courteous, always, and be grateful for even a little help from the corporate world.
The corporate culture can look towards the paramilitary/military personnel for their commitment, leadership, never-say-die attitude, endurance to work for long hours against all odds, travel at a drop of hat, decision-making, firmness, man management, crisis management. Leadership is the role where military personnel can play to the tee.
CC: Please shed some light on your organisation, Jaypee Associates.
Jaypee Associates Limited is one of the diversified groups mainly in power, cement, highways, realty estate, sports complexes, hospitals and hotel division. The hotel division also boasts of some five-star hotels.
CC: Tell us about your role and responsibilities as the CSO of Jaypee Associates.
My role as the CSO of the organisation is to take care of security management which involves safety and security of life as well as property, access control, crisis management, man management, transport management, liaison with police and civil authorities, investigation and compliance of guests complaints, preparation of the budget for the fiscal year, etc.
CC: What are some officer like qualities that you have because of your experience in the Paramilitary that is helping you prosper in the corporate world?
To run an organisation you need to be disciplined and systematic, well-organised and have the virtue of foresightedness. I, as an officer of a paramilitary organisation, am well-trained in all these traits. Hence, it enables me to put the system into a roll and it also provides a motivating working environment for the staff. My accessibility to the grievances of troops helps me to have a compassionate and humanly touch in the corporate too.
"The most important lessons that I impart to students is that whatever you do, do it with passion and honesty and remain focused. Secondly, there is no age for learning and it is a never-ending process"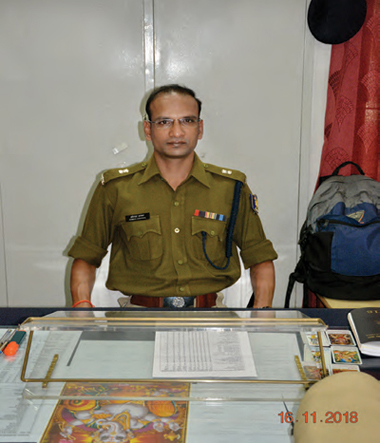 Serving as Adjutant in Bhopal
CC: You also have a degree in management. When did you pursue that?
After joining the CRPF and posting in the training centres, after a few years, I thought of pursuing a master's degree in management to strengthen my knowledge and applying my practices of Forces effectively. I completed my PGDM in HR and PM from the Balaji Institute of Modern Management in 2007.
CC: How did a degree in management enable you to take on the world of corporate?
As in the CRPF, we are leaders as well as managers with limited resources and against odd conditions but with a degree, we can corroborate our practical knowledge and put it into force in an effective manner.
CC: You are a renowned motivational speaker. Tell us about your journey as one.
When I joined the CRPF, I was a 22-year-old boy with a medium built. After rigorous training, I developed into a more mature and tough person. Every day was tough but the fire in my belly kept burning and I had an intense desire to excel in my training and serve the nation in the best possible way. Subsequently, I got posted in training centres where I trained thousands of new recruits, sub-officers and officers. I learnt to play table tennis in the CRPF and played up to the state level. It turned into my passion. I was invited to various schools where I shared my experiences of my life in CRPF, anecdotes and achievements. This motivates the children to do well in their life and be someone to serve the country in the best possible way.
CC: What are some of the most important lessons that you give to students about success?
The most important lessons that I impart to students is that whatever you do, do it with passion and honesty and remain focused. Secondly, there is no age for learning and it is a never-ending process. Thirdly, keep yourself fit and always have the fire in your belly. Fourthly, not everyone can join the Armed Forces but everyone can serve the nation by being a support arm to the soldiers who are standing for their safety and security.
CC: You have been an excellent officer with a list of achievements under your belt. What is your one achievement in the corporate world that you look at with pride?
When I joined the hospitality sector, I had very little knowledge of it. Soon, I learnt from my mentors that there is always a book of standard operating procedures in every hotel. But it was not made in my hotel ever since its inception as many as 26 years ago. I apprised my boss and he entrusted me with this task. Following immense hard work, I made it single-handedly and published it too. It is appreciated by the MD of the organisation too. Moreover, during my corporate journey, I have made many SOPs that are abided religiously and help in day to day operations.
CC: Do the people in your current organisation look at you differently because of your background in the Paramilitary?
Yes, the people in my organisation as well as local authorities, whenever they visit, they look at me in high regard and oblige for the services rendered to the nation. It's a proud feeling. To add, when I meet anyone who comes from the Armed Forces, we have a lot of experiences of the corporate world to share. My organisation has a lot of veterans.
CC: What are some of the most common reasons that personnel from the paramilitary / military are moving into the corporate? What are the reasons for dissatisfaction?
The most common reason for the paramilitary/military person to move to corporate is to have a stable life with family. It remains disturbed due to postings in far-flung and remote areas where you cannot keep the family. Moreover, you have to move again with all furniture and fixtures when you get transferred after every 2-3 years. Also, after putting in substantial years of service, one gets eligible for a pension like me, and can easily switch over to the corporate sector with a stable life. Last but not the least, the abolishing of pension schemes from the paramilitary and other forces except Army, Navy and Air Force, are compelling the young officers to leave the Forces after 5-6 years when they become eligible for PSUs and banks.
CC: Looking back on your journey, both in the paramilitary as well as your role as the CSO at your current organisation, which gives you more contentment and why?
Of course, my first love was and is the uniform. Obviously, the life in the paramilitary was more content but I joined the corporate for personal reasons on the domestic front.
"Keep the doors of learning open as it is a fast-moving world. Also, remember one thing, your identity and dignity in the corporate world is by your services in the Force and it must not be let down at any cost"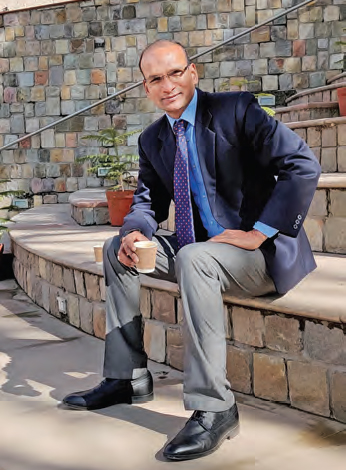 Avinash Aggarwal at Lal Bahadur Shastri
National Academy of Administration, Uttarakhand
CC: Vis-à-vis life in the paramilitary, what does your everyday routine look like currently?
Currently, I get up at 6:30 am and do my workout, read a few pages of a book and then go to the office by 10 am. I remain in the office till late around 8 pm. As the residence is close by, so I save the time spent in commutation. I come back home, I read again, have dinner and then sleep. Life in the CRPF was perturbed though disciplined but unpredictable all the time. Life in the military/paramilitary has its own charm and enthusiasm as we used to stick to the timetable and activities which were by order. One thing that I still continue to do is my workout which keeps me fit and motivated.
CC: Tell us about your family and their reaction to your decision about the big switch.
I have two elder brothers and a sister. They supported me when I took the decision of leaving CRPF. All the family members congratulated me for the successful completion of two decades in the prestigious organisation and the fact that I came out with flying colours. In fact, they are happy that I live nearby and visit them more often, attend important occasions that I sacrificed in the two decades as it was always service before self in the CRPF.
CC: What are some things you like to do in your spare time?
In my free time, I like to read books, Nowadays, I am spending my time writing my memoirs and also penning my thoughts about general issues. I make it a point to read at least 25 books in a year. It not only adds to your knowledge but also helps to learn many life lessons which help living a better and contented life.
CC: What's next on the horizon for you? What are some management skills you're looking to further polish in future?
My next plan is to grow in the corporate field, learn more about the nuances, evolve with the new practices and implement my experience to do better in my field of expertise. I also want to add administration to my CV.
CC: What are the three most essential pieces of advice you'd like to give an officer looking for corporate avenues?
The most essential piece of advice is to leave the job only if you think you can cope up with a cut-throat competition that is part and parcel of the corporate world. Also, they must remember to calculate the risk factors like job security, perks and emoluments in comparison to their present job. Last but not the least, get a management degree before getting into this field since it will give you different a perspective and understanding of the corporate practices.
In my opinion, there will always be a relation between the corporate world and veteran from forces for their good grooming in man management, and handling tough situations effectively and empathetically. Also, more and more Forces personnel will look for opportunities outside their organisation for a better and stable life. The most important factor in terms of Paramilitary and other forces (except Armed Forces i.e. Army, Navy and Air Force) is the abolishment of pension schemes for those who joined after Jan 2004.
Officers who want to aspire to join the corporate sector must prepare themselves beforehand as there is much difference in the atmosphere and working environment and the ethos of the corporate world as compared to forces. Though one is mentally and physically fit in Forces and can withstand long working hours but the knowledge of IT and other office procedures will be an add on in a long career in the corporate sector. One must look up to his former allies who have joined before them and get valuable insights, count their pros and cons before leaving forces and joining the corporate world. Leave no chance of getting a management degree and such other courses as they come very handy. Keep the doors of learning open as it is a fast-moving world. Also, remember one thing, your identity and dignity in the corporate world is by your services in the Force and it must not be let down at any cost. That was the qualification for the next level.