LOVED & MARRIED TOO
LLOVED & MARRIED TOO
Making Memories & music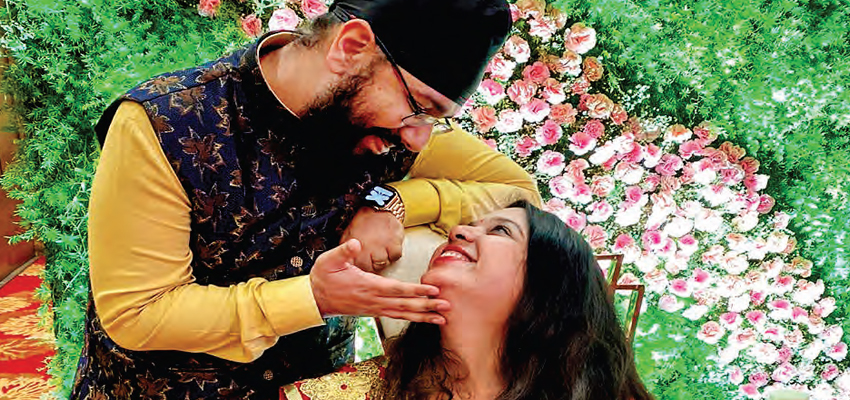 Disc Jockey and vlogger Sukhvinder Gujral and Neeta, his PR professional cum singer wife, on the face of it are the quintessential millennial couple: upbeat, focused, energetic and ambitious. Probe a little deeper and you get to a heartwarming core that values family, home and relationships above all else. Baby girl Sukhneet, all of two-and-a-half years old, is their bundle of joy. This is their story and this is how they tell it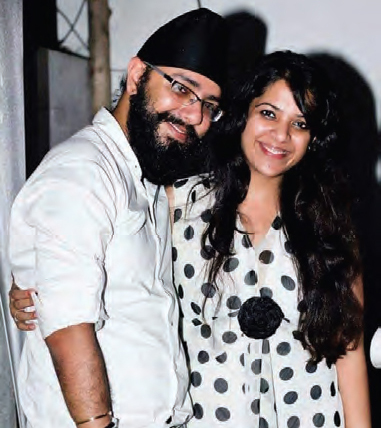 Journeying together is so much fun! Neeta and
Sukhvinder share a smile
Disc jockey Sukhvinder Gujral is a busy man—revving up the beat at Pune's happening places by night and vlogging by day. While he's been a disc jockey for several years now, the lockdown has seen him diversify into new terrain such as vlogging—thereby combining his love for travel and interest in technology. "The vlog I have built is called Noise Factory Official along with my partner DJ Vicky (Veerin Hundlani) has garnered quite a bit of attention as it's on a very niche topic: driving around in my electric vehicle, The Tata Nexon and the range challenges I face amidst travelling to far-fetched places across the country. You see, I don't get charging facilities everywhere. But electric vehicles are the future and my viewership agrees," he shares.
And whilst the rough and tumble of handling two vastly different gigs is a challenge, 'Sukhi' as he is affectionately called, absolutely loves every moment of it. As he does spending time with his significant other Neeta, who is getting back to work after a break for baby, home and hearth. "It isn't easy handling baby and work but Sukhi is 200 per cent supportive of my aspirations. In fact, he wants me to get back on stage and sing as well," she laughs.
The high-octane energy is typical of this young and fun-loving couple who are passionate about life, work and everything else in between. While both are extroverted and friendly in their own way, their personalities are distinctive and complementary of each other's strengths.
BACK TO THE BEGINNING
This story was first scripted when Neeta and Sukhi were DJ and PR person at a famous party place in Pune. From the outset, there was much to talk about: they were work mates, and they shared an abiding passion for music with Neeta upping the beat with her exuberant singing. As the conversations progressed seamlessly, both realised they enjoyed spending quality time together. They had common friends and similar values. "What is amazing about him is that despite being a people's person all the way, he is subtle. Not quite what one would envisage a Sikh guy to be," says Neeta. "While I am loud and noisy, he is understated. In fact, looking at his overall personality and taste in music, all his loved ones joke that he has the personality of an Englishman."
On his part, Sukhi loved the fact that she went all out to sing, network and build a serious career in public relations that capitalised on her core strengths and qualifications (she has an MBA degree in Marketing). "Neeta has what you call star quality. Plus, she has a lovely, positive vibe," he says.
It helped that Neeta's parents had enjoyed an intercultural relationship themselves. (Her mom's an Anglo Indian while her dad is a Hindu Kayastha). It helped even more that her mom absolutely adored Sukhi. "She trusted him implicitly and felt absolutely sure that I was in safe hands with him" says Neeta.
So who proposed to whom? "No one," she chortles. "In fact, we were so comfortable being pals that it seemed quite unnecessary and formal. Where was the need to say stuff when it was so clear that we felt deeply for each other?"
And thus, it was left to Sukhi's mom and sister to do the honours and formally reach out to the bride to be. With both families on the same page as each other, the duo was wed in 2015.
MANTRAS OF A MARRIAGE
Trust
Acceptance
Shared passions, common values
Respecting each other's aspirations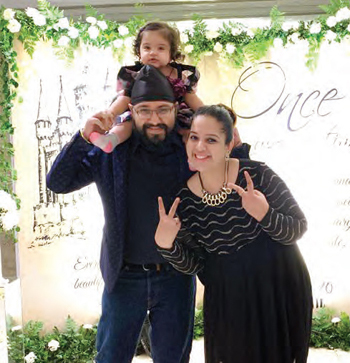 Say cheese! Sukhvinder and Neeta with
baby Sukhneet
FROM STRENGTH TO STRENGTH
The couple has lived with Sukhi's sister and mother from the outset and swears by their love and support. "This is more important than people realise, especially in a young marriage," says Neeta. "There's a lot to be said for the affection of a family and support from elders. For instance, my mom-in-law was such a pillar when both my parents passed on, in quick succession. My sister-in-law is wonderful with our baby girl. Sukhneet is blessed to have both her dadi and bua by her side."
Given that they have been married for six years and have dated for two years prior to that, what according to both, are the pillars of a relationship? "Trust and respect," says Sukvindeer. "When you have those everything falls in place."
For instance, says Neeta, she just can't understand why on earth people would want to check their partner's phones? "It's rude, unhealthy and disrespectful. Please give your spouse their space."
Also, respect for one's spouse means accepting who they are in toto. "I love Sukhi's distinctive personality and wouldn't change it for anything in the world," she says. "He is a proud Sardar, very culturally rooted and closely bonded with his family. But he has taken on the most modern of professions with aplomb."
Given their busy schedules, quality time consists of Netflix, cooking up a storm and travelling. While the last bit hasn't been possible on the backdrop of the pandemic, both Sukhi and Neeta are looking forward to the time when they may set off to distant shores again. "For us, romance means sharing an experience together," says Sukhi. "I would rather give her a forever memory over roses any day." (Precisely why their European honeymoon, a few years back was spent at a music festival called Tomorrowland.)
However, as in the case of every other young couple, the pandemic has brought home serious lessons in its wake. "We learnt the importance of family, of not taking each other for granted and helping each other out in tough moments," says Neeta. All this, apart from the need to reinvent, diversify and explore new terrain. "That's how I began to do virtual concerts and vlog," says Sukhi. "Tough times have a way of pushing your creative boundaries."
BRINGING UP BABY
Little Sukhneet is quite a happy and social toddler-much like her parents. True to her personality, she loves long drives, bear hugs and masti. "She is too young right now for strict rules but we are determined for her to be an all-rounder and explore new avenues in life rather than just focusing on grades," says Neeta.
All that can wait, though. For the moment, Sukhneet is just too thrilled to bits listening to the little song that her dad wrote and composed for his precious little girl when she was born. "That was an absolute surprise," says Neeta. "Both Sukhneet and I love the song more than anything else," she rounds off.