CAMPUS PLACEMENT
CCAMPUS PLACEMENT
Make hay while the sun shines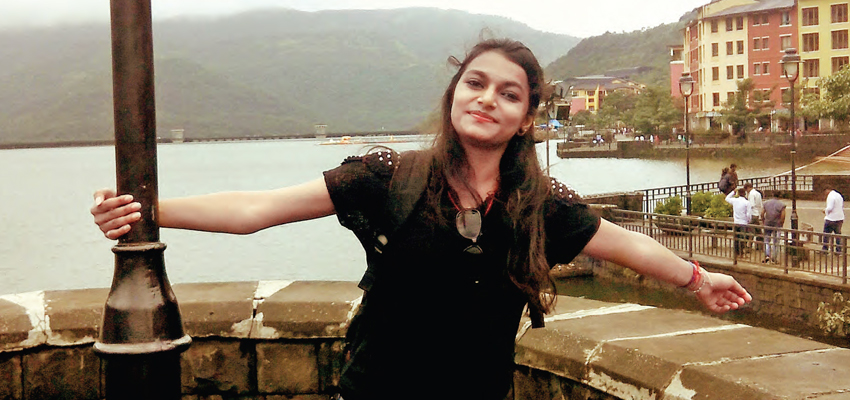 To make the most of what came her way has added great value to Anjali Sharma's life. A go-getter, Anjali feels that her 'stubborn' nature or we might say her never give up attitude, gave her the upper hand during her exams-further giving her the good fortune of working with her favoured company Kotak Mahindra Bank, as their relationship manager. In conversation with the Corporate Citizen, Anjali talks about her educational journey, her campus placement saga and more
The realisation that getting an education is a priceless gift acted as a driving force for Anjali. Owing to this, she has topped all her exams so far. "Even now, not many get an opportunity to learn or get an education. I feel, I am one of those lucky ones who has been given the gift of education. I welcomed it with open arms and always made the most of it. Simply put, I made hay while the sun shone," smiled Anjali, who was born and raised in Kota, Rajasthan. After completing her graduation in Commerce from her hometown, she moved to Pune to pursue her MBA in Marketing and Finance.
Be studious, they say. But unlike that, Anjali believes in leading a steady path that ensures the best of both worlds. Being a bookworm and a bag of sunshine or more sort of mischievous child gave her the chance to enjoy her school and college life. "Studies are important, I agree. But it's rightly said-all work and no play makes us a dull person. Even as a child, I believed in leading a balanced life. Be it pursuing a passion or taking up a hobby or even just going on the ground to play games, combining these with your studies can improve your personality and increase your grades as well," she said.
Riveting experience
For students, internships not only amplify their skills but they also gives them an idea of what the corporate world has in the offing. Anjali took a cue from this and fully capitalised on the opportunity. Her internship with Parag Milk Foods expanded her range of interest and knowledge. She was also a part of the Company Project Study Team. "Overlooking the internship opportunities for my team allowed me to understand several aspects of this industry. I learnt the skills of managing time and people. And I was sure that these traits will come in handy when I enter the corporate world," informed Anjali, a gold medallist during her post-graduation.
Talking more about her internship experience, she said, "Internship acts as a stepping stone in a student's life. It is a golden opportunity where one can figure out likes and dislikes. I am glad that I made the most of my internship. Those few months changed my life and my perspective too. It was mostly a field job where we visited various companies for sales. My job was to understand their product requirements and convert them into our clients. This not only allowed me to apply my knowledge but I got a lot more in return as well. I learnt how to pitch during the sale, the art of negotiation and how to talk with confidence."
Always striving for more
During the placement session, Anjali took a long time to decide on the company that she hoped to work with. "I can be stubborn. I rejected several choices before settling in for a company. Being choosy has its pros and cons. A fresher's first job can make or break his/her career. I took my time knowing it was a decision of a lifetime," she said.
"Internship acts as a stepping stone in a student's life. It is a golden opportunity one can figure out likes and dislikes"
- Anjali Sharma
Anjali Sharma with her parents
Anjali sat for a series of interviews before getting placed with Kotak Mahindra Bank. "Being rejected does not feel good. It shows you your worth and capabilities. Even though my grades made me eligible for placement, it took me a long time to get placed. I did not lose hope. I was patient and knew that something was good in store for me. After analysing my placement experience, I used to get nervous before the group discussion and personal interview rounds, which hampered my performance. To put forth your views during the GD round in front of hundreds of people is a task. It so happens that you know the answer but at the moment's spur you blurt something else," she said.
Working on her drawbacks was a sign of growth. She fell seven times but the eighth time she fought back harder. And when Kotak Mahindra visited her campus, the new Anjali was destined to get placed. "This time I decided to just relax and enjoy all the rounds for campus placement. I wasn't nervous and nor did I crumble under pressure. This helped me give my best and within no time I was placed," she smiled.
It's been over two years that she has been with Kotak Mahindra and the dynamic nature of the company is helping her flourish. Continuing with her love for learning and studying, she hopes to pursue her PhD. But for now, she wishes to make the most of what this organisation offers her.
As Anjali Sharma settles in well in the corporate world, she passes on a few tips for her juniors on how to prepare for campus placement and much more…
Be real: Prepare your answers for the personal interview but don't memorise them. Add a personal touch by supporting your answers with real-life experiences. Your unique responses will make you stand out from the crowd and will surely make an impact on the interviewer.
One word a day: A robust vocabulary makes a great impression during the group discussion. You don't have to be out there and use fancy words. Using a handful of impactful words showcases your expertise. Learning an unfamiliar word each day improves all the areas of communication.
Do your research: Doing thorough research about the company before campus placement does wonders. Understand the industry that the company represents and its vision and mission statements.
Study and enjoy as well: Education and studies are important too. But that does not mean that you focus only on studying. Try to relax and enjoy college life as well. Preparing a timetable will help you manage your life during college.
Be patient: Don't be dejected if you fail to get placed in the first few attempts. It is not the end of the world. Keep working hard and your day will come too.