MILITARY TO MANAGEMENT
mMILITARY TO MANAGEMENT
LEADING WITH HONOUR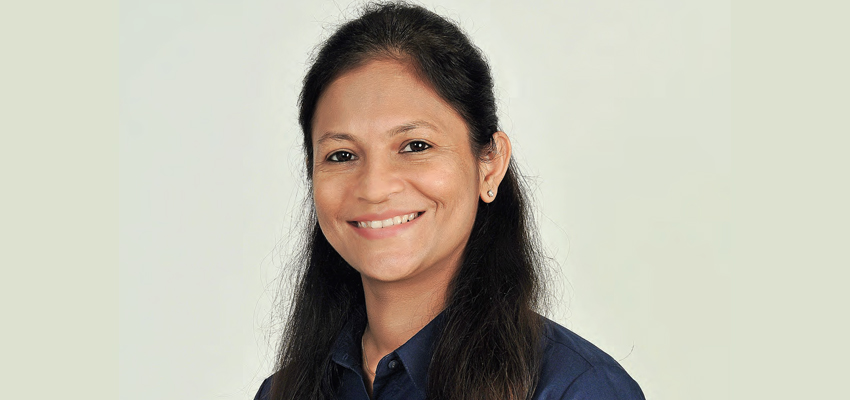 Leaving behind a flourishing career in uniform that offers stability and comfort, choosing a highly competitive corporate journey is daunting for many, but not for Namrata Dhasmana who chose to dive straight into the diversified and globalised world of business management by upgrading her skills independently. She catapulted herself to success in the world of corporate by arming herself with coveted management degrees and making business strategic management her forte. A design thinker, practitioner, a master trainer and facilitator, the former army officer chalked out an enviable career path for herself that includes working in managerial positions with organisations such as Vedanta and Wells Fargo. Currently, as a Senior HR Leader, she is busy adding value to an American ITES MNC. A dynamic thought leader and a woman of intellect with substance and grace who wears multiple hats with ease, Major Dhasmana is a Global Gallup Coach, and an Honorary Telangana State President of Women's Indian Chamber of Commerce and Industry (WICCI) and leading the CSR Council on her able shoulders. Speaking to Corporate Citizen, Dhasmana takes us through her career in uniform and her transition to a highly competitive corporate world
"The corporate still needs to be ready to understand the diversity within veterans and improve the inclusivity else it will just become a metric game and damage in the industry"
Corporate Citizen: Tell us about your military journey. What challenges and adventures have you encountered on the path?
Major Namrata Dhasmana: You're taking me back 17 and a half years and it's a great feeling to go back in time. It was 2003 when the cupid of the Armed Forces hit me.
I belong to the hills of Uttarakhand and almost every young girl or a boy of Garhwal, the first dream and first love is to join the armed forces. So, I was not carried away with glittering stars or the idea of a decorated uniform, what took my heart away were all the challenges that my life could have unfolded for me and my service to the nation at a higheer level as a leader.
My family was pretty convinced as I am super blessed to be in a liberal family with a modern and progressive outlook. My upbringing by my parents has been focused on discipline, good education as well as having values of honesty and integrity. With such grooming, taking on the challenges of life becomes smoother as we know what we want out of life.
I was selected for SSB and got a call letter and the plethora of challenges began soon-right from the commando walk to leadership tasks of leading the teams. All these tasks exhibit courage, mental alertness and resilience. I remember, my skin from my palm was scrapped with bruises seen during my SSB interview. In all these tasks, I was being assessed for the competencies of the Army to be selected as an officer.
The selection process of the Army is considered to be the world's toughest interview process. After psychological, physical and cognitive tests, I got recommended for a medical examination. Post this, the merit list was prepared consisting of all the selected candidates and finally, I got a call letter after clearing this challenging and rigorous process of selection.
So, to rephrase your question we don't join the armed forces, we get selected only when we meet the highest benchmarks of this elite organisation, the Indian Army. The selection is extremely competitive and challenging as it involves the assessment of cognitive skills to strategise, execute plans and psychological assessments for our mental resilience and passion and reason to join forces.
CC: What inspired you to join the Armed Forces in the first place?
Inspiration comes from within, what you want to do, and achieve. For me, to be in the Forces was much more than just wearing the uniform, which is unlikely for many. I got inspired by the responsibility that the officer comes up with to create that larger impact. See, it takes immense courage to take up that kind of responsibility and I always wanted to be courageous to take on life. Also, to discern the flavours of varied cultures of our country like an explorer, I find that quite challenging and inspirational. Our culture changes after every 100 km and to take on such role as an officer with that diversity is in itself a challenge and at that tender age of life, the awareness about the armed forces was limited to this much only.
CC: When did you decide the transition from the military to corporate? How did your family react to this life-changing decision? What were your musings during this time?
I being a Short Service Commission woman officer, knew that I had to quit the armed forces after 14 years. Hence, my preparation started much early. It was a conscious decision and I started upskilling myself by interacting with my friends in the corporate, reading about case studies of industry, the industrial revolution and preparing myself to be aligned with the corporate. My family was pretty good with my decision regarding the transition, except my nephew. More than I did, he would take and continues to take pride of his aunt being in the armed forces. Albeit, my family was a little worried about the change but then they left everything to me. You see, there is only one thing that's constant and that's change and you just need to be flexible and adaptable to take it on.
To me, there were thoughts about my career, financial independence, medical etc. The predominant factor was of career growth and personal growth, which I felt was getting saturated and I just wanted to take that leap of faith. There is a moment of time where some risks are required to be taken to change your life and I took that risk by moving out from my comfort zone of an Army Officer.
CC: How did the Army fraternity respond to your decision of moving into the corporate world from the military world?
My Commanding Officer knew me, my strengths and my growth mindset and the limited opportunities for a woman in the armed forces. He encouraged me to go ahead and take on bigger responsibilities. Few people told me to take the leap and some also suggested to wait for the decision from the court.
A journey of a thousand miles begins with a single step, so I took that step. Rest, Army is a family. You leave the Army, but the Army does not leave you. The bond of coursemates, fellow officers and unit types, place types never ever fades out. And that is difficult to comprehend and to explain, as they are the people with whom you have grown from a young adult to a matured adult. So, even if I was leaving the Army, I knew I am always attached with my community.
"You leave the Army, but the Army does not leave you. The bond of coursemates, fellow officers and unit types, place types never ever fades out"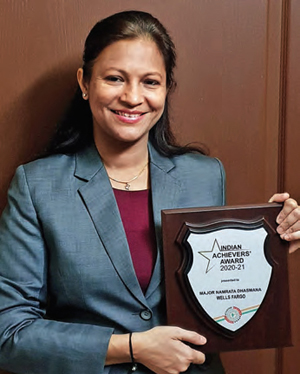 Indian Achievers' Award
CC: How did you gear up for a role in the world of corporate?
Gearing up for the transition was a rollercoaster. See, the transition is just not a change of job or industry. When we say transition, it is preparing for your emotional, psychological and financial change. Coming back to your question, for an Army officer, it's a change of ecosystem and is a life-changing decision for an unprotected veteran.
Talking about my experience, for me, in all these changes what remained constant is my pillar of 'S' and that's spirituality. That kept me going in the transition and even in my Personal Development. Along with my work and challenging postings & pressures of my job, I picked up studies and completed my strategic management from the Indian Institute of Management - Lucknow. There, I got the opportunity to interact with some of the finest minds of the industry. Extremely grateful for their time that they use to invest in me in explaining me so many dynamics of business strategies. I picked up projects, which enabled me to do industry research. It's the second inning of my career, after 15 years of serving the armed forces and the success of the second inning depends on varied factors. I remember I was a big time cinephile, but while being in the transition and doing certifications, I remember I didn't watch any movie in any amphitheatre for good about two years.
I believe, Success depends on 2 Cs - Creativity and Curiosity. To curb both, you have to keep learning and studying. I enjoyed my studies and learning, except sitting for exams. See, taking these kinds of pressure at this age after leading a tough life in the Army takes a lot of mental strength, resilience, determination and will power. I have that in me. So, kept pushing my boundaries to keep myself abreast with the new learnings of the industry. Integration of my leadership experience from the armed forces and my studies about the industry kept me moving and taking on extra projects and not merely restricting to my classical job or role in any organisation.
CC: How essential is it to have a degree to step into the corporate world?
Degree is a stepping stone, as it gives a framework of a disciplined studies. Personally, I don't think it's important to be degree-oriented, but yes, you should know the macro-environment and the external perception. For example, there is an external perception of counting your experience as a number of years. Very few get into the details that what kind of work the other person was doing in all these years. Same is the case with a degree. A degree gives an insight of your aspirations to the other person as when you go as a candidate and also reflects the credentials of an individual. Moreover, attaining new learnings opens up your horizon of understanding and thus your wisdom. But personally, after a certain level, when I interview candidates, I just see the attitude and not merely restricting to traditional thoughts and ways of getting people to my team.
CC: Looking back, do you regret or rejoice in the decision of transitioning from military to corporate?
No regrets at all. I am loving my corporate journey. There is so much in-store to keep exploring every single day. And then I am connected with my community and we keep having frequent connects.
"Leadership from the armed forces can create so much difference in the corporate, provided it is aligned to the expectations of our civil counterparts. Flexibility and digitisation from the corporate sector can be looked upon by the Army"
CC: How are the two worlds of corporate and military different? How would you compare the two in the terms of discipline, leadership, remuneration, work-life balance, growth prospects?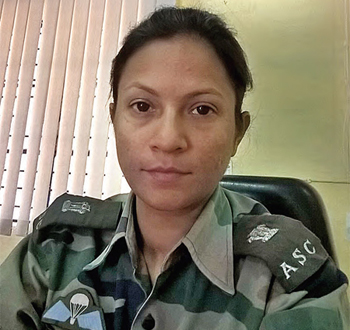 Both Corporate and Army are different. The role of an Army officer is very exacting. The elements of motivation, leadership disciplines remains same in the Army and corporate but the application of all these varies. The environment, the humanist expectations, the technology is different. The career graph varies. Remuneration varies too because of variables like CSD, medical, HRA etc. in the Army. In corporate, the remuneration of a Army personnel is never similar with their civil counterparts.
Work-life balance is manageable in both places. I look forward to Saturdays and Sundays now that I am in the corporate sector, whereas in the Army, it is a 24x7 job for the officers. The day used to start at 0500 in the morning with physical and mental endurance training with my troops and the team and used to end at 8 or 9 in the evening with a versatile job of strategic operations and human capital management.
Personally, as a leader, I keep my values of TTR-Trust, Transparency and Respect constant with all of my stakeholders. I very strongly believe that in the corporate, the sky is the limit if you have passion and will.
CC: If you could borrow one aspect from the military culture and incorporate it into the corporate culture, what would it be? Also, if you could borrow one aspect from the corporate sector and incorporate it into the military culture, what would it be?
Leadership from the armed forces can create so much difference in the corporate, provided it is aligned to the expectations of our civil counterparts. It is possible when we are able to understand the finer difference in their motivational factors. Flexibility and digitisation from the corporate sector can be looked upon by the Army.
CC: How have you evolved as a person in the corporate sector? How difficult or easy was it to adjust to the corporate milieu?
Interestingly, I enjoyed this transition and process from the military to the world of corporate. I remember people telling me and scaring me with all questions that had fear written all over them, but I had one thing in mind-now, I have to earn salute as Namrata, the person, as my individuality. I am doing all that I wanted to do in life. As an already highly evolved person, I don't let my inner self bias affect me. I know them well as a self-aware person. I have enjoyed every opportunity to collaborate with people of different cultures, ages and aspirations. It was easy to adapt in the corporate. My core value of open mindedness enabled me to navigate during this transition and my rock-solid support and blessings of God and my family always kept me moving. Yet, the journey of my career has just started, I am yet to fly.
CC: Do you miss donning the uniform at times? Do you miss the uncertainty and adventurous life that the Army offers?
I do miss the Army and then connect with my coursemates quite often. Donning the uniform is something I don't miss. It will always remain closest to my heart and anything that is closest to my heart is not meant to be missed.
Speaking of uncertainty, we have witnessed live VUCA (Volatility, uncertainty, complexity and ambiguity) of the corporate in 2020 and it has opened all new opportunities and innovative collaborations, so I am not missing the adventures of the Army. I lived every moment-did skydiving, led river rafting expedition, commanded my troops in the toughest of places, done staff appointments. So, I have gathered all my leadership experience and moved ahead to apply it for larger impact in the organisations and business. Moreover, we live life in phases, the adventures of every phase should be different. I am enjoying this phase and embracing life as it is unfolding to me.
"The Army develops a woman as a leader. The selection process is, therefore, extremely arduous. It develops your attitude and then further shapes your outlook towards life"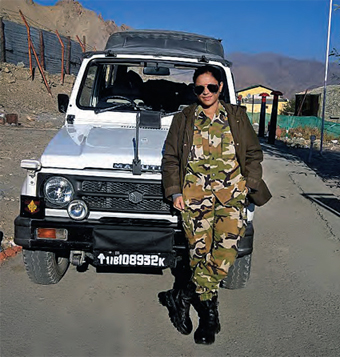 CC: Please compare and contrast the role of women in the corporate and the armed forces today. Which one promises a better career graph to women?
The Army develops a woman as a leader. The selection process is, therefore, extremely arduous. It develops your attitude and then further shapes your outlook towards life. Being in the Army is a once in a lifetime chance. Since it was not a Permanent Commission for women when I was there, the graph of career and personal development stagnated. In the civil or in the corporate, there are innumerable opportunities for women. The corporate should consider women with talents to give them career growth and should offer more flexible opportunities.
At the end of the day, I would say that it is you who define your own career and life, be it in the Army or the corporate whether you are a woman or a man.
CC: How does the corporate sector react to military personnel? Would you say they are preferred in the corporate sector in major roles, given their leadership skills and discipline?
I remember when I was doing my studies with Gallups India in 2019, I was discussing the Perception of Army Officers in corporate with one of their Coach cum Sr. Consultant, he amusingly said, "What is the difference! You are just like all of us so what is the stop in getting the opportunities!" and I jokingly replied to him, - Of course, I do belong to the same planet!"
Coming to the second part of the question, the corporate is hiring veterans big time. The need is to be mindful of where and how are they positioning veterans to be effective and efficient. Their approach should be extremely holistic. An army officer will never speak much about what they have achieved. They are already accomplished people, maturity and sensitivity is expected by them, be it in any role. They are sensitive to all the services that they offer to serve the nation.
The corporate still needs to be ready to understand the diversity within veterans and improve the inclusivity else it will just become a metric game and damage in the industry. It is about how much an officer has upscaled herself or himself and how well the opportunities have unfolded to them and they have grabbed them. Corporates need to be a little more open minded and aware in their approach and outlook, much in keeping with what I just said, that is, that there is a lot of diversity among the veterans also. Veterans cannot be boxed in one single word. The diversity within them have loads to offer as a seasoned professional. The corporates need to dive deeper and be all the more ready to hire them!
CC: While in the Army, you undertook several adrenalin rushes inducing activities. How do you satiate this urge while in the corporate?
You see, apart from my organised job, I write, and have been invited to many external forums as a speaker. I have also been interviewed by many in the form of an influencer. I coach and hold an Honorary appointment as an office Bearer in WICCI. So, what say, is that enough to satiate my urge! Mostly, yes. But there is more to come.
"In the civil or in the corporate, there are innumerable opportunities for women. The corporate should consider women with talents to give them career growth and should offer more flexible opportunities"
CC: Tell us about your role as a Global Gallup Coach.
That's something that I am very passionate about. I am an Executive Coach and as a coach there are various tools used and using the innate strengths of people really empowers people and improves their life. See, no matter what age you are or where you are in your career, if you want most from life and from coach, you have to be willing to be a novice in some areas. There is a clarity required in people's life to see within themselves and others too. Hence, it is imperative to know new ways to respond and leverage your existing strengths so that the patterns are not repeated in life.
While using strength as a tool with a blend of grow model, I help my coaches to discover their innate talents which are raw. Once they are assessed, I coach them, them they are developed in Matured Talents, I tell them about their blind spots and how to navigate through their weakness to develop a better version of themselves. I coach to discover a behavioural pattern, EQ and EI of people. As a coach, I make them dive deep into their lives by asking questions about their achievements, which everyone achieves with their innate strengths. It's just an unconscious bias and doubts, which prevents them to move ahead in life. There, I do a hand-holding to lead them in their lives.
As a life coach, I use different tools based on the requirements of my clients and customise them accordingly. I allow and empower people to take their personal space and develop them to excel in their life.
CC: You play a vital role in an NGO associated with WICCI and also leading the CSR Council. Please tell us about that.
Yes, I am leading the Telangana State Council of CSR of WICCI as Honorary State President. We encourage women entrepreneurs to improve SHEeconomy and collaborate with government organisations and corporates to empower woman entrepreneurs. We recently had a virtual inaugural function which was graced by the presence of the Secretary and Commissioner of WCD, Government of Telangana as a chief guest.
CC: How do you encourage workplace diversity and inclusion? How does the military and corporate encourage such practices and a mindset?
As a passionate advocate of diversity and inclusion, I know it's a daunting and elusive undertaking. Diversity is a fact and inclusion is a choice. Again the organisations need to be ready, the team needs to be ready to take on diversity and inclusion. When it comes to diversity and inclusion every employee has a stake in it. A diverse resource comes with diverse requirements and talents and we should be ready to address our own unconscious bias and give them the culture of inclusivity and a career graph. Diversity and inclusion should be addressed beyond just increasing the metrics. And that's why it is DEI, the equality in remuneration and opportunities should also to be looked into. With diversity and inclusion, the organisations grow faster as the entire human capital together brings innovations and one should be a champion to thrive business with diverse talents. The organisations should be smarter and agile to welcome diversity to bring that social impact. I personally ensure an understanding of their requirements well and give them adequate flexibility without making it obvious and increasing their vulnerability. As a leader, one should know the root cause of the challenges and what kind of life one led as a diverse resource in the community. Then the organisations will be able to give the culture of inclusion.
Being a strength-based leader, to maximise people success and organisation productivity, I create a collaborative culture within my team. With every one being aware with their talents, they feel empowered and then they don't get into comparison and bring their best to the table. I am a believer of what is advocated by Sundar Pichai-A diverse mix of voices leads to better discussions, decisions, and outcomes for everyone. Moreover, create inclusivity and reduces their vulnerability. As an inclusive leader, I build interpersonal trust, integrates diverse perspective, optimises talent, applies an adaptive mindset and this helps in achieving transformation. Keep my knowledge updated for many things like maternity acts so that voice can be raised during their performance appraisals and their absence should not affect their career growth and can reward them suitably for their good work.
As I say, everyone is diverse, in the Army my team was comprised of individuals with disabilities, from diverse cultures, aspirations, qualifications, etc. So, I have developed such a mindset and I am extremely mindful and apply my conversational intelligence while dealing with such sensitive aspects in my workplace.
"The discipline and adaptability instilled in me during my childhood grooming and further by the Army training enabled me to get aligned with the new normal"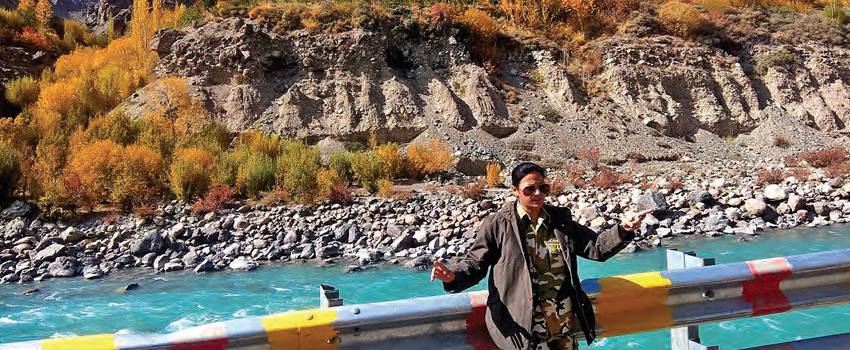 CC: You are a passionate writer and speaker. How did you cultivate an interest to purse them?
Being authentic is the key to pursue your passion. Stay what you are-that empowers you and develops you in your better version. If your heart lies in something, you do not have to create interest, you just do it with your passion.
I consider myself to be fortunate that I have a passion for so many things and I have integrated passion to my life. Life changes once we integrate our passion in our lives and we see a much-evolved version of ourselves. Writing and speaking are an integral part of me, as to me, these are aspects that make my heart flow with joy, naturally. So, I pour out what is in my heart. Being a leader, it's another way that I feel I can create an indelible impact. There is a famous quote by T. Alan Armstrong, "If there is no passion in your life, then have you really lived?" and I do resonate with this.
CC: How are you aligning to the new normal?
Very normally embracing it. The pandemic has done disruptions, which has led to transitions and transformations in the industry further stimulating growth. The business has globalised and the leaders are having a mindset shift. To be aligned, quick adaptability and acceptance is the key that I learnt from the armed forces. I have been a resilient leader. Remembering my first unit in Pattan, I was leading teams which were all remotely located and there used to be one Army phone for communication. In that scenario also, I have worked with my core values of trust and respect. The discipline and adaptability instilled in me during my childhood grooming and further by the Army training enabled me to get aligned with the new normal.
CC: What are some learnings you have imbibed during your stint as an Army Officer and now in the corporate sector?
Army taught me to push all mental barriers. Where I was hesitant to jump from five metres ramp in a swimming pool, as a cadet. As an officer, I did my skydives from 14,000 feet from an aircraft. The corporate made me an explorer and to have infinite energy to reach my destination and lead my life.
CC: Your advice who wants to shift from the military to management?
Well, don't be a destructor. You don't have to lay minefields here. Be a value addition to your corporate friends. The corporate has a great life and a great space to function. Finally, sell your destiny, not your history.