INTERVIEW
IINTERVIEW
We are wired for connections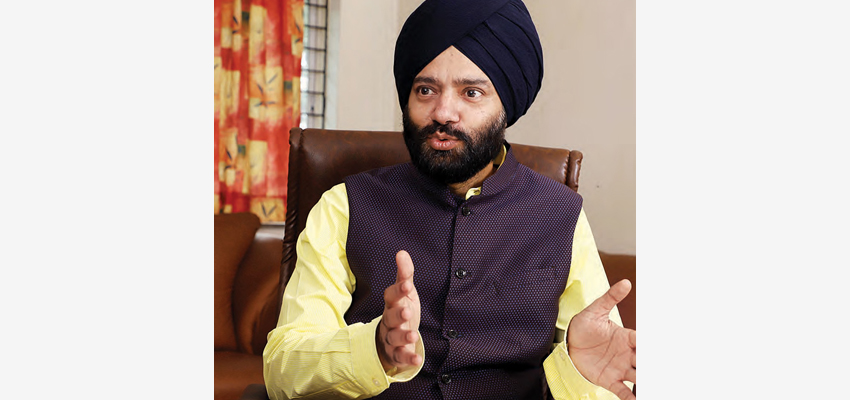 Harjeet Khanduja is an international speaker, author, poet, influencer, inventor and an HR leader. He has set multiple green field projects and has handled human resources for large multinational organisations in various geographies like India, The United States and Canada. He is currently working as the Vice President HR at Reliance Jio. He has two published patents and his book "Nothing about Business" is an Amazon bestseller. In an interview with Corporate Citizen, he talks about how technology will aid organisations in future and more
"AI is going to make our lives better and it will create more jobs. The transition brings some anxiety because of ambiguity. We should not worry about that, we should convert each and every stumbling block into a stepping stone"
Corporate Citizen: Tell us about your career journey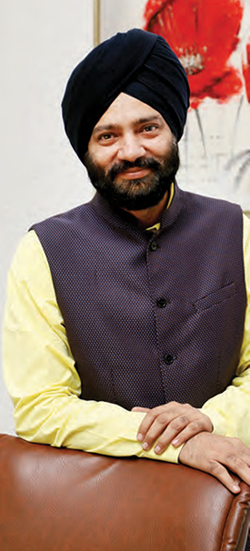 Harjeet Khanduja: Throughout my career journey, I worked with small and large startups. My first job was with Tata Motors Lucknow. Even though Tata Motors is a huge brand, its Lucknow plant was a startup at the time. Then I was with Nicholas Pirmal for two years, which is now a part of Abott. Post that, I worked on the setup of Reliance Retail for three years which has now become the largest retail brand in India. Then I moved on to a startup called Conjoin Group, which was later rechristened as Atos. We started from scratch there as well and made it a $250 million company. After this, I joined Reliance Jio, which was also a startup in 2012. It was called Infotel Broadband Services Limited (IBSL) back then. I have been working with Reliance Jio for the last eight years.
CC: How did you land into HR from Industrial Engineering?
I passed out from IIT-Roorkee as an Industrial Engineer. I was selected by Tata Motors on campus. During my training on the Sumo assembly line, I asked my supervisor what I should do to prove myself. He told me that if I could enhance the capacity of the assembly line by one vehicle, that will prove your mettle. I applied a few industrial engineering principles and I was able to shorten the line by a few stations and I was able to enhance the capacity of the line by 30%. That created a huge hubbub around the plant and Mr Ratan Tata himself came and patted my back.
Consequently, I was assigned to the industrial engineering department to do the same across various assembly lines. The Industrial Engineering department reported to the Head of HR. As I grew in my career, I got more responsibilities in the HR domain and became a full-fledged HR person.
CC: What is your take on the gig economy, how will it grow?
The gig economy is going to grow in the future. Platform-based companies are bringing the unorganised sectors onto an organised platform and are giving them a professional makeover, be it Uber, UrbanCompany or Swiggy. And just because they are getting a professional appearance, people are saying the gig economy is booming. Interestingly, the gig economy is not new for India. Film Industry, LIC and Multilevel marketing companies like Amway, formalised the 'gig' long ago in India
Holistically, out of 120 crore people in India, around 48 crore people work. Organised workforce only accounts for four crore people. Majority of the remaining people are engaged in providing services in the unorganised sector. One good thing that happened for India is that the stigma attached to some professions is going away. People are being empowered to work on their own terms and at their own time. That's the baseline for the gig economy
In a nutshell, gig economies already exist and they're only going to be more prominent and lucratively packaged as unorganised jobs move to the organised sector. Technology is helping that, giving it a shape, glamour, which people look for.
Why do people work for a company? It is not only for making money. People do it to get respect in society. That is why this movement from the unorganised sector to an organised one will make the gig economy much stronger.
CC: Will the future workforce be generalists or specialists?
The future workforce will be a mix of both generalists and specialists. This is like asking whether you need your right hand or left hand. You need both the hands to tie your shoelaces.
CC: With the advent of Artificial Intelligence (AI), will it replace HR, in terms of hiring?
Have motorcycles replaced human beings? Yes, they have. All the hand rickshaws and horse-powered carts have gone. Life has become faster. Do we fear motorcycles? We don't, because they make us faster. Similarly, AI will bring change in our workplace, be it hiring or anything else. As we mature, AI is going to make our lives better and it will create more jobs. The transition brings some anxiety because of ambiguity. We should not worry about that, we should convert each and every stumbling block into a stepping stone.
CC: How does being a poet help you in your work as an HR?
I was not sure how my love for writing poems will help me with my profession. But it has surely helped me. Poetry requires you to be observant. When you have to write a poem, you have to observe a lot. Poetry improved my observation. Now it comes naturally to me. Secondly, I got early an exposure to recite my poetry in front of people. This improved my public speaking skills. Observation and public speaking helped me a lot in my professional life.
CC: What kind of challenges do you face with millennials and how you handle them?
Millennials are not a challenge. They are the future. I believe this word is coined to teach the existing leaders that millennials are a majority of the population. If you want to make the workforce effective you need to change your ways of working. Millennials are tech-savvy and hence they have an advantage over the earlier generation in terms of problem-solving capabilities. Organisations are problem-solving machines. Organisations who use a blend of experience and a tech-savvy millennial workforce to solve problems do better at the marketplace.
CC: Is there any gap between what industries require and what the students are getting groomed at colleges?
Yes, there is a gap. The fundamental reason is the students study in the colleges in order to get a job. Many students don't study what they actually want to study. The passion is missing.
If your goal in life is to study psychology and be a good psychologist, your parents will tell you that doing an MBA will fetch you a higher chance at a job. You will eventually do an MBA, but you will complain about wanting to study psychology. Your half-hearted attempt on doing an MBA is going to reflect somewhere.
Organisations expect basics, they don't expect students to be experts, they look for basics and passion. For example, in order to compete in a MasterChef competition what is required is cooking skills. During their interviews, they ask whether you can differentiate between fruit and vegetable. Similarly, organisations look for basics during recruitment. Students who understand the basics of their stream are valued more as the nature of the job keeps changing.
"Gig economies already exist and they're only going to be more prominent and lucratively packaged as unorganised jobs move to the organised sector"
CC: How did the HR Department adapt to the initial lockdown phase?
HR Departments of most of the organisations were focused on people safety when lockdown started. It was a period of anxiety and ambiguity, which was handled by connecting and communicating
Next phase was business continuity. HR people were in the process of defining the new workplace. Some opted for work from home, some had to make the workplace safer.
CC: What learnings did you get from the work-from-home situation, as an HR?
Most of the things we consider as impossible are actually not impossible. It is because of our unknown fears, we do not realise our capabilities and full potential.
CC: In the near future, work-from-home might be the way forward, how will HR department adapt to the rise in demand for work-from-home while making sure that the show goes on?
The industries and companies who have seen opportunity have already moved on to a workfrom-home model. Most of them will continue to work from home. The lockdown has been long enough for HR people to discover and build culture according to the work-from-home model.
CC: What is the philosophy of your life?
If you don't worry about where life takes you, life will take you places.
King of Comedy
Harjeet Khanduja had a keen interest in performing at Hasya Kavi Sammelans and radio shows from an early age. Harjeet performed on television for the first time in 1997 on Doordarshan, under the moniker of Sardar Tuktuk. In 1997, he also won the poetry reality game show, Hansgola, hosted by Arun Gemini. In his early years, he also contributed to various Hindi poetry books, such as Hungama Express, Hansta Khilkhilata Hasya Kavi Sammelan, and Hasya Kaviyon ki vyangya bauchhar. He has also been a long-time contributing writer for Anubhuti, a Hindi poetry website.
He was a part of multiple episodes of the famous Hasya Kavi Sammelan show 'Wah Wah', that first aired on SAB TV in 1998. The subsequent reboot of the show, 'Wah Wah, Kya Baat Hai!' aired in 2012, with multiple episodes featuring Harjeet over the course of the year. He was one of the most popular poets on the show.
Harjeet has also been a contributing writer for Anubhuti, a Hindi poetry website. He has been awarded a title of 'Hasya Samrat' (King of Comedy) in the year 2001. In 2016, he was invited to perform in a series of television, radio and stage shows in the United States where he was felicitated by the World Hindi Foundation.
(source: https://www.harjeetkhanduja.com/)