Tête-À-Tête
TTête-À-Tête
HR: HelpIng Leaders manage people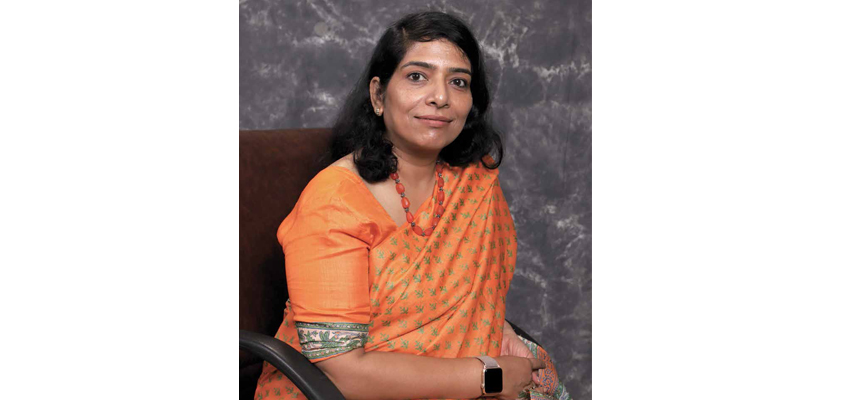 "In terms of technology adoption, I think India is ahead of the curve. There are two reasons for this. Firstly, we have a younger workforce who grew up with technology and secondly, we have a large number of companies that are developing these technologies and are based out of India"
Latha Gupta, Board Member, METRO Services has over two decades of experience with MNCs and has previously held HR leadership roles at Royal Bank of Scotland, American Express India and NIIT. She is a certified leadership coach and designs programmes for leaders across levels. Latha is also a practitioner and teacher of Yoga and Meditation. In an interview with Corporate Citizen, Latha talks about her career in the field of HR, how HRs are enablers, the future of Human Resource Management with the advent of AI and Data Analytics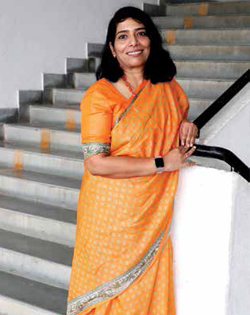 Take us through your education and career journey.
I grew up in Ranchi. I am an alumna of Loreto Convent, Ranchi. My bachelor's degree is in English Language and Literature. I then completed my Masters in Human Resources from XISS, Ranchi in 1993.
I started my career with Headhunters. As a Recruiter and Account Executive, the work experience I had at Headhunters was valuable. We were doing a lot of leadership hiring back then. I had an opportunity to observe those interviews from close quarters. The Account Management roles helped me learn how to solicit business. I had to close positions and meet the billing targets. There I understood business cycles and backend operations. At the same time, I was inspired by the very senior leaders from the industry. It was a good learning ground. Fast forward, I got married and moved to Delhi. I worked with NIIT for about eight years and that was a turning point in my career. I did Business Partnering as well as specialist roles. In my last role there, I was heading HR for the education business.
NIIT is an Indian MNC, I got a chance to work with the top leaders and founders, which helped me to shape my career. Later in 2004, I started to work with American Express India, followed by Royal Bank of Scotland (RBS) (that was also the time when the merger of Royal Bank of Scotland and ABN Amro happened). At RBS, I managed to scale and in my last role I was an HR leader for over 10,000 employees.
In 2011, I moved to Pune as founder Director for METRO Services, a service company for the German wholesaler, METRO AG. METRO has operations in 30 countries, largely in Europe. My main role was to deliver their Shared Service Centre strategy for finance and technology. I was the first person to join the Indian service company. Starting a shared service centre was the true test of everything I knew as an HR professional and being a whole time director gave me tremendous exposure to business aspects and corporate governance. I got to see the full cycle starting from identifying office space, building the brand, attracting talent, defining business frameworks and guidelines, bringing in work, managing performance and learning, incentivisation, pay strategy and more. I helped also set up the Accounting centre in Szczecin, Poland as well as helped to integrate the German Shared Services Centre.
Tell us about the role of a Director from an HR perspective.
Firstly, the role of the Director is to take care of all the corporate governances, all aspects of the company as a board member and ensuring we meet all the stakeholder expectations. Next, from an HR perspective, the role is to make sure that we attract talent and we make it a great place to work.
This year METRO has been certified a great place to work. It is the first time we had gone for external certification, which is a good validation of our practices.
Over the years there have been drastic changes in the field of HR. The role of a modern HR is no longer similar as compared to the earlier times where IR was in play, wherein, one would look at account management, payroll, report keeping and so on.
Yes, there have been various changes in the field of HR and it has come a long way. Human Resource Management is no longer about making policies and managing people, it is more about helping leaders manage their people. It is also about how you can do predictive data analytics whether it is attrition, employee engagement or talent management. The patterns you see there, and how you take action to drive the strategy are some key elements. HR's role is to support the business, to drive strategy and align practices to business drivers and goals.
"Millennials are a lot more practical and realistic than some of the previous generations. They are open and direct. They value transparency and are respectful to everyone regardless of hierarchy"
There are various organisations where modern HR policies are not taken into consideration as it is done in large organisations. Your thoughts on this.
I would say that different businesses are in different stages of growth and change. We now know for a fact that if we don't change with time, we will be left behind. One should look out and adapt to what is happening externally. Any large scale change or transformation programme should have people at the heart of it, if leaders take people along, strategic changes can deliver significant success and value. I was reading a McKenzie report where they said that almost 95% of the content of current jobs are going to change because of robotics and AI.
Many people believe that AI will reduce the human connect in Human Resource Management (HRM), would you agree on that?
Like other functions, in HR also, the bots are going to do significant amounts of work. Bots can onboard employees and make sure that a lot of employee information capture and updates can happen automatically. As a result, paper use is now almost negligible in most organisations and that is a very positive change, making accessibility and accuracy a lot better. In learning and development, there are big changes happening. People no longer have the patience for day long classroom training programmes. Learning programmes are becoming like Netflix. Binge learning is catching up where employees learn at their own pace and style from the convenience of their electronic gadgets. There is a lot of online content that is available which is replacing traditional methods of learning content delivery.
In recruitment also, technology enabled interviewing such as recorded video interviews are common. The candidate's first round is an automated video interview which gets recorded and the recruiter checks it when they have the time. Once the recruiter has reviewed the video recordings, then the recruiter shortlists them for interviews with hiring leaders which saves the company and candidate a lot time. All of these reduce human interaction in a mundane day to day sense, but on the brighter side, it creates space and time for authentic conversations on topics that matter most to people.
The employment rate in India now is very low. What are the main issues of concern in the recruitment field?
I think the disconnect between industry and academia is a significant contributor. The curriculum needs to be in sync with the requirements of the industry so that what is taught in the classroom is relevant to job requirements.
In the current form, employment will shrink in the short term. We have seen this from the industrial age that cycles of automation impact job significantly. There will be a lot of new roles that will be created which will be a much better use of our intellectual capability. Instead of filling up forms and entering data, people will analyse data, recognise the patterns and create insights which is much more meaningful. I don't see automation as a threat, it just frees our hands and heads for more meaningful work. Future will be about reskilling and upscaling.
What kind of challenges do you face while dealing with millennials?
I am of the opinion that millennials are just people with hearts and minds like any other generation. They are a lot more practical and realistic than some of the previous generations. They are open and direct. They value transparency and are respectful to everyone regardless of hierarchy; they are sensitive and care about the planet. They come from a well connected wired world and bring strengths and would be a pity if leaders did not learn from them. Millennials mentor me on technical and social media topics where I am not so savvy and that has been immensely helpful. So they may be different in their ways of interactions and thinking but I have not faced challenges in dealing with them. They are very cool to hangout with.
How are women represented in METRO Services?
We have a pretty good representation of women. We have 48% of women in the workforce across levels. We have an interest group called Women's Interest Network, wherein I played a crucial role in shaping the team. In that Network, we talk about women specific issues. We don't want to create a gender divide. It is just about how we use our strength and be more flexible, use our resources well so that we are equally successful in the workplace just like home.
"Bots can onboard employees and make sure that a lot of employee information capture and updates can happen automatically making paper use almost negligible"
Do you find any difference in the adoption of HR policies in India as compared to companies overseas?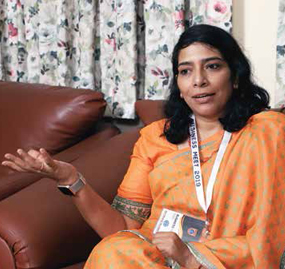 I think India is a lot more advanced than some of the MNCs where I have worked. Adoption of new HR practices is related to demographics. An older workforce, who are not so technology friendly could take more time to conduct business. For example, a few years ago there were people who were printing emails and reading them on paper and drafting responses on paper. We tend to think that it is modern everywhere outside India. But in terms of technology adoption, I think India is ahead of the curve. There are two reasons for this. Firstly, we have a younger workforce who grew up with technology and secondly, we have a large number of companies that are developing these technologies and are based out of India. Most of the key players in software development are from India, so we have an inherent strength. Similarly, on the telecom front, we have skipped a few things and got ahead such as getting on to cellular phones faster than we had landlines.
As an HR how do you make HR appealing to the new generation?
The new generation makes informed personal choices and hence they are more interested than others who may have accidentally landed in HR. What I often do as a coach, is to show people their potential and make them recognise the impact that they can create. The role of HR today is more about enabling and equipping the business leaders to excel in running the business. This is what makes HR meaningful and attractive.
You did BA in Language and Literature and then moved to Human Resource Management, what was the reason behind this transition?
I have a love for poetry and Literature and loved public speaking, which is why I chose a bachelors in languages. Communication is a powerful bridge between people and I make use of my language skills in HR be it charming people to the employer brand, communicating roles attractively and impactfully, negotiating pay discussions with candidates, listening, sharing ideas, shaping strategy or coaching leaders. Language and words have magic and impact.
How should the future workforce prepare themselves who will be stepping in the Human Resources sector?
Stay connected to the industry through networks, internships, books, talks, professional bodies, social media etc. Have a mentor in college who can guide you. Network and be seen. Never be shy to display your strengths and build them as you go. HR is evolving rapidly and is about partnering with business and developing people. Stay connected and stay relevant.
What does it take to foster a multi generational workforce, wherein each generation has a different mindset?
HR plays a crucial role in spotting talents and strengths of each generation and managing the interfaces well through helping each generation play to their strength and appreciate each other. If HR can foster a culture that is non hierarchical and inclusive, they can make it work beautifully for all generations at work.
What is the philosophy of life that you live by?
Live in the present and make the most of every day
What is your idea of relaxation?
I am a practitioner of Yoga and Meditation. One of the things that I make sure is to take care of myself. On most days, I get up at 4:30 am and follow a schedule of yoga asanas and meditation which keeps my mind calm and sharp. I also listen to soothing music and go for long walks. Pranayama is a great relaxation tool too. Simplest of all relaxation techniques is to just sit and be rather than do anything for at least 10 minutes every day.
Tell us a bit about your family.
I live in Pune with my husband Shishir and two teenaged children. My son is pursuing a Liberal Arts Bachelor's degree and my daughter is in school. We are a family of readers and we love our food and music. My mother and sister live in the United States.