Startup Story
SStartup Story
Powering disruptive businesses with intelligent technology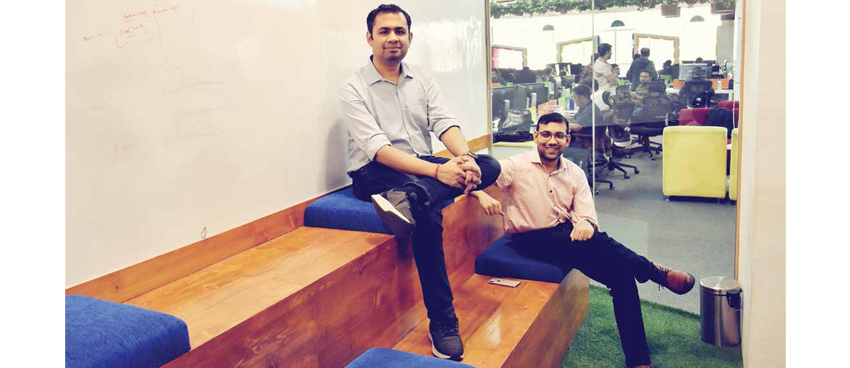 Founded by IIT Roorkee graduates Shashank Kumar and Harshil Mathur, Razorpay is a popular payment gateway in India because of their excellent support for many forms of payment such as credit card, net banking, UPI and more. In 2019, Razorpay is one of the three Indian startups in Y Combinator's list of top 100 companies, with most being valued at USD 150 million and above. This is what dreams are made of, say Harshil Mathur and Shashank Kumar, the young co-founders of Razorpay, who have been featured in Fortune India 40 Under 40 List as well as Forbes 30 Under 30.
To be recognised by the renowned American startup accelerator, Y Combinator, in its mega list of top 100 companies for 2019 was a dream come true for co-founders, Harshil Mathur and Shashank Kumar of Razorpay. "We never thought we will get there," says Mathur, who is also the CEO of the payments platform for companies who want to run their business online.
The top 100 companies have a combined valuation of over USD 155 billion with most being valued at USD 150 million and above. Razorpay was part of Y Combinator's winter 2015 batch and is among the three Indian startups to be featured in this year's list, along with Meesho and Cleartax.
"Y Combinator is the accelerator behind groundbreaking and innovative startups. We were the second Indian company to be a part of YC and that's how our journey began since 2015. To be ranked in this prestigious list for the second time in a row is a reassurance that we are headed in the right direction, doing the right thing in the right way. We started off with a hope to make some difference in India's financial ecosystem, but today, the dent we've created by powering disruptive businesses with intelligent technology only excites us to reach newer heights," says Mathur, who has been featured in LinkedIn's Power Profiles List in India.
Kumar adds, "Razorpay hopes to dominate the online payments market by focusing on merchants and business to business (B2B) entities, as compared to digital wallets, which are more consumer-focused."
How it all began
Founded by IIT Roorkee graduates, Kumar and Mathur, who quit their jobs at Microsoft and Schlumberger respectively, RazorPay was based out of Jaipur in its earlier days before moving its headquarter to Bengaluru. Kumar, who was hired by Microsoft as a software developer, where he worked on user management and authentication, believes that his experience at the tech giant gave him an edge while building Razorpay later.
After discovering the "dismal state of online payments in India", Mathur quit his full-time job as a Wireline Field Engineer at Schlumberger tostart Razorpay with Kumar. "Our company's mission is to simplify payments. We started in early 2014 and are one of the fastest-growing payment companies," asserts Mathur.
From the beginning, both the founders were very clear that they wanted to build something that will benefit the masses. Their mantra is: Always focus on solving a core problem that a lot of people around you are facing. In 2013, they started building a crowd funding portal only to realise soon enough about the poor state of the online payment industry in India, especially for startups and SMEs. After facing many unpleasant experiences, they decided to shift focus to solve the problems around payments and provide a simple, affordable and secure way for startups, SMEs and organisations like schools, colleges and training centres to accept online payments. And thus Razorpay was born in 2014.
Overcoming challenges
In the initial days of founding Razorpay, when their fees payments system along with payment gateway designed for schools to be able to accept fee payments digitally did not work, they began to wonder if they should even continue the startup or shut it. It was only when a few startups from Startup Oasis, a Jaipur based incubation centre, started using Razorpay's payment gateway solution for their companies that Kumar and Mehta knew their idea had clicked.
What does Razorpay do?
Offering businesses comprehensive and innovative solutions built on robust technology to address the entire length and breadth of their payment journey, Kumar, who is also the CTO at Razorpay, explains, "We allow online businesses to accept, process and disburse digital payments through several payment modes like debit cards, credit cards, net banking, UPI and prepaid digital wallets." Mathur adds, "While our partner businesses disrupt the Indian economy with new ideas, products, experiences and new jobs, we want to power their financial systems."
Startup teams the greatest differentiator
Team dynamics are central to the success of a fast-paced startup. According to the co-founders, the team at Razorpay is more eager than ever and brimming with passion to bring to everyone the future of payments. "We are known for our transparent work culture and enthusiastic team members. These are our greatest differentiators and give us a clear edge," adds Mehta.
Knowledge sharing is an area that Razorpay is heavily focussed on, the desire to know more never ends, they add. Their willingness to learn and ability to execute quickly has helped the startup overcome well entrenched competitors in some of India's largest business sectors.
"Attracting talent from some of the best institutions and organisations in India and the world, our focus on technology has led to innovation in our product stack and also enhanced our ability to cater to the technical buyer in prospective customers," said the co-founders.
Unprecedented growth
Razorpay has been charting an exponential growth since our inception. With a team size of 500+ they grew by 500 per cent in the last one year. They currently power digital payments for over 600,000 businesses like IRCTC, Airtel, BookMyShow, Zomato, Swiggy, Yatra and Zerodha, among others and plan to increase this to 1,000,000 by 2020. They expect a 5x growth in its revenue by the end of the next fiscal year.
"The differentiation that Razorpay wants to build is in the technology and they will be happier if the guidelines, regulations and compliance are the same for all, which will help in differentiating their product"
Prized catch
This year Razorpay made its first acquisition after taking over Gurgaon based Thirdwatch, a company that specialises in big data and machine learning for real-time fraud prevention.
Thirdwatch applies AI to fight fraud by utilising data science, which will now be used to boost Razorpay's fraud detection mechanism. The acquisition will allow Razorpay to prevent 30-40% of online frauds among its merchant base by next year, say the co-founders.
According to Razorpay's estimates, by 2022, the Indian e-commerce industry is expected to reach $150 billion with around 4-5% transactions being fraudulent. Indian e-commerce players might lose over $5 billion to fraudulent transactions by 2020 if plausible fraud detection methods aren't employed in advance. "This acquisition is a perfect fit. Our war is against cash, hence we want to address all problems surrounding it through new integrated data science technologies," states Mathur.
Marquee investors back Razorpay
Tiger Global, Matrix Partners, Y Combinator, SequoiaIndia, Ribbit Capital and MasterCard have invested a total of $106.5 million through Series A, B and C funding. Razorpay raised $75 million in Series-C, co-led by Sequoia India and Ribbit Capital; and raised a total of $31.5 million in Series A (2016) and Series B (2018) rounds, along with 33 angel investors and a strategic investment by MasterCard.
Razorpay's association with RBI
Until now, the payment gateways have not had a direct regulation and Razorpay were not part of RBI's discussion on how payment gatewaysare operated. Currently, payment gateways are regulated by a few banks and not directly by the RBI. This was creating a lot of opaqueness in the system; different banks make decisions in different ways. With this regulation coming into play, it's all becoming crystal clear.
The differentiation that Razorpay wants to build is in the technology and they will be happier if the guidelines, regulations and compliance are the same for all, which will help in differentiating their product. This step by RBI will give clear guidelines on security, KYC, account operation and other requirements of payment gateways.
Future plans
Razorpay plan is to use a significant share of their funds to develop new technologies and scale up their recently expanded product suite, Razorpay X (neo-banking platform) and Razorpay Capital(lending arm). They are also looking at doubling their headcount by 2020.