Session
SSession
Leading with Purpose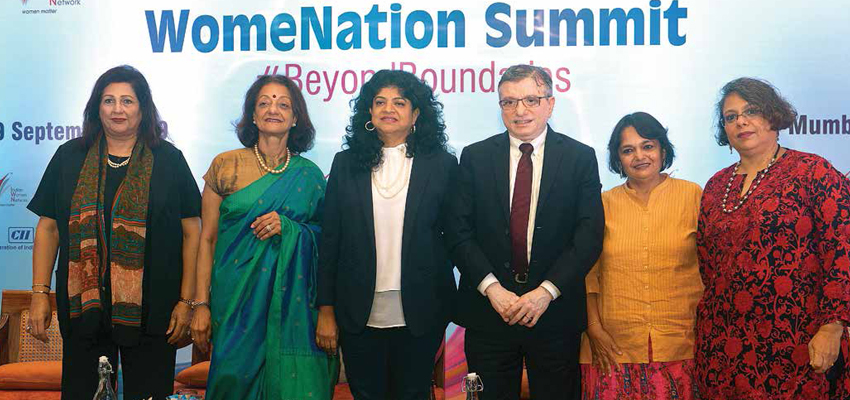 Most of the time when we talk about leading with or for purpose, what comes to our mind is we have a business. The world of business is actually changing this whole issue with purpose. We learnt that the businesses are done to maximise shareholder value and enhance the return of investment for the owners. This concept of maximising shareholder value has now become maximising stakeholder value. Stakeholder doesn't mean the owners, it also includes the customer, vendors, the government and most important the employees. Secondly, in businesses, we talk about Health, Safety and Environment (HSE). Today, the world of business has changed from HSE to Environment, Social and Governance (ESG), which means that we have to run our businesses sustainably and ethically. In a panel discussion at the recently held CII WomeNation Summit, in Mumbai, panellist talked about how the world of business is already changing to making all of us work with purpose and for purpose. Corporate Citizen brings excerpts of the riveting session
"For Vedanta, the larger purpose is to create import free economy for India and to make sure that we are not dependent globally, because we are very rich in natural resources"
-Roma Balwani
Robin Banerjee: You (Roma) have run a large organisation. What is that you have seen in Vedanta Corp, a commodity company? How do you see the purpose is changing and tell us about some learnings from there.
Roma Balwani: Environment, Social and Governance (ESG) is the most important part of any natural resources company because ESG is the bed rock for the purpose the organisation wishes to drive. For Vedanta Resources Company, it has been seen that mining is sometimes viewed differently. We forget that everything that is below the earth actually brings prosperity above the earth. Every product and everything that you touch is mined.
So, to create a larger purpose, we have recently launched a brand campaign. We need to be aware that every organisation has a larger purpose for Vedanta, the larger purpose is to create import free economy for India and to make sure that we are not dependent globally, because we are very rich in natural resources. The purpose is larger and the social impact that we have on the communities is very important. So, for the social license to operate and as you had mentioned for the ESG factor, safety still remains the prime importance because its employees, it is a community and they all need to feel safe. For Vedanta, it is high on the agenda and at the same time, they want to be seen as a caring organisation.
Today, what we see at Vedanta is that they look at women and child development because the kind of horrifying data we received from Barmer and other such places. You see the conditions of women there, the way they are being treated, there is a socio economic issue and we want to address that in a more humane way. The way we are doing it is, we are looking at from a community level. We are getting the Anganwadis to be the pivot, the place where the community comes together. We want to instil a place of pride for women as well as look after their health because most of them have issues with childbirth, they are anaemic. So, now we have created a modern Anganwadi and they are called Nandhghars. Recently, we inaugurated the 1000 Nandhghars in Varanasi, Uttar Pradesh.
Seeing the larger purpose of the organisation, business is very relevant. You need to look at the stakeholder value, and that is what we address. The stakeholder value is no longer the shareholder value. Business with key responsibility is key to any organisation not only ours but I can see the movement happening with many organisations. I think Vedanta is also in the lead to look at the economy contribute very significantly but with social impact.
"I think when women are empowered, we would like to empower the others, who are socio-economically well off or not even able to access healthcare"
-Duru Shah
I would like Dr Duru Shah to speak the way she is managing her purpose and how she must be hard pressed for time. If you can tell what is that you are doing?
Duru Shah: What I believe in is that we have been fortunate enough, as women, to be educated and living a life which is comfortable, which is secure where we can sustain ourselves financially to look after ourselves. At the same time, we need to address the needs of society and I think when we are empowered, we would like to empower the others, who are socio-economically well off or not even able to access healthcare. Being in the world of OB GYN(obstetrician gynecologist), I have always believed that we have to reach out to people who need our help.
I think there are many doctors in the country who conduct various health camps and they are always there to help society in different ways. But as a leader in the organisation, I always felt that if I am heading an organisation, I will be in a position to reach out to those who make the decisions for women. The health decisions made by the government, the people who make the decisions are mainly sitting in the offices and coming on to a conclusion by the statistics that they receive. But not many of them go out into the field to see what is happening. I have visited smaller towns, villages, and areas which are not visited by many, and we know what the facts are. In short, we believe in talking to the government and taking the healthcare needs of women and trying to influence the policies so that they are more favourable.
For example, in the adolescent sector, we looked at making adolescent reproductive health as part of the school curriculum, which was never existing before 2008. After a lot of efforts, a lot of information was brought to the government and we told them this is important because these adolescent girls are mothers of tomorrow. If we educate them right, give them all the information they need…as a matter of fact, 80 per cent of these are girls around 13 15 years of age. The idea is to educate young girls because they are the mothers of tomorrow; then at that time we were to manage the policy of the government, it got implemented in the school curriculum. But keeping in mind, we still, at this point in time, come up with a digital app for it. We created an app called "Too shy to ask" which reaches out to young people. We have come out with five languages wherein we are giving them all the information they need. We also conduct, skill based programmes for them which help them financially.
The second sector was to include maternal health. Women in villages deliver in their homes, and by the time they reach the hospital, a large percentage are dead. Because the daais who deliver them, they believe that it is below their dignity to transfer them to the hospital, because then their importance in the village will reduce and show their incapability. The maternal mortality was very high before and by introducing the help of all the doctors, along with the government creating accreditation criteria for private nursing homes to be involved in the government sector, now the private sector is helping the government in training MBBS doctors to even do C sections in the villages. In short, we upgraded the skills of MBBS doctors to be able to do a C section safely.
We also work with the infertility population. We know that infertility has been brought in as a disease by the WHO in 2009 not covered by the insurance, not covered by the government there are hardly any fertility centres in villages. Women go through a lot of mental turmoil and domestic violence when they don't bear a child. We approached the government last year, and we told them to include it in health insurance and we were lucky to influence the government that this needs to be part of the insurance healthcare. And now it has been included as one of the areas which the insurance companies will cover, provided, we take it up with them.
"To me, a CEO position is somebody who can create things and people listen to. At the junior level, I would do things and yet nobody would listen to me necessarily"
-Nandani Dias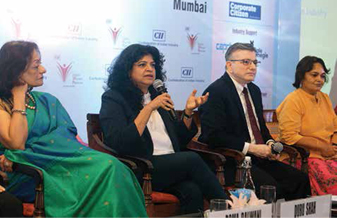 Nandani, Sumitra, and Vijaya, please share your stories.
Nandani Dias: I head an advertising and media concern, Lodester UM, where I became a CEO seven years ago. I hear a lot of women in their conversations on how to break the glass ceiling. I wanted to be in a senior post so that I could make the difference. To me, a CEO position is somebody who can create things and people listen to. At the junior level, I would do things and yet nobody would listen to me necessarily. The day I became a CEO, the business happens and that is part of the job, but I think the galvanising that I started doing is of getting women to feel that they are natural nurturers and not to only think of their job, their salary and gender diversity and other aspects like that.
I started an initiative called work to live to work. I started this two years back, this is Mumbai based initiative as of now. Forty per cent (7.5 million) of Mumbaikars travel by train every day. Our current train capacity is roughly about 2000 3000 if your nose and butt are touching each other. Currently, 6000 people travel per train and we don't have gates to shut. Inevitably 10 people die every day, this is happening every day of the month, every month of the year, for many years together. There are more people who have died in a local train than in Kashmir that is the intensity of the problem and I think everybody has stopped mentioning it and they just feel that this happens every day.
Sumitra Senapaty: It was 15 summers ago I started WOW because I believed there should be an alternate social platform for women. After some time you make friends in your workspace. You would like to have more friends and this was a dream I had, this was a dream that I thought I shared with all the women. Why women? Because particularly I felt that time they are over with kitty parties, they are over with their mundane things in life and they wanted to do something challenging, they want their dreams to turn into reality. I thought why not have a community of women who are united by their passion for travel they want to have different things in life, have friends. I had no idea that I would succeed.
In the year 2015, I had an excellent idea that I want women to travel. But how? You may have a nice idea to market, but the point is your customers should agree to it and that's the hardest thing that I have found at that time. Nine out of 10 women told me that WOW is really a nice idea, we would love to join you. But nine of 10 women never ever came back, they said they would discuss it over the weekend with their families and I couldn't very well imagine what family discussion would have been. The husband might have told her, why you don't travel with me rather than the WOW club; you can come along and we can have a family holiday. But today, so many years later, I don't have the same conversation anymore. Instead of saying that let me check with my friends and family they say let me check if I can manage things if I can get leave from my work or I just want to juggle with who is going to take care of the house.
I see a total shift in what women are thinking today. Fifteen years ago, I don't think women wanted to travel and have fun. A lot of companies wanted their staff to take a holiday, rejuvenate. I gave this opportunity to women and I am so grateful to them that they have taken it. I do 150 trips a year, to over 50 destinations all over the world, and we go as far as Antarctica; we even go to Getiya, a village near Nanital. This is just to give an idea that I gave an opportunity to women from all walks of life. It is an amazing type of friendship and bonding we share and I think that it is my greatest joy that I have been able to make women unite, make bond together and I also tell them, dream just a little bit to make your WOW happen. Making your WOW happen doesn't necessarily mean travel, it can be anything. Every woman should be bold, should think that I should make my WOW, and it does happen.
"Today, we have women beekeepers who train other beekeepers. By working they are empowered and their social status has gone up"
-Vijaya Pastala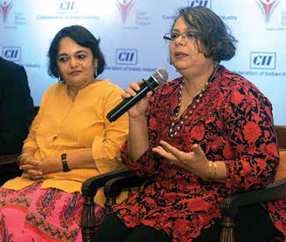 Vijaya Pastala: I work with two types of females I work with honeybees. The reason I say two types of females because in hives you have 99.9% of female bees and I work with women in agriculture who are women beekeepers. Most of us when we look at honeybees, we always think of honey. But, without honeybees you would not have daal, fruits, vegetables, you would not have oil seeds, and so on. I started working with honeybees primarily to address the decline in the agricultural productivity happening in India. We currently work with about 1000 women beekeepers and we have many more men beekeepers as well.
We started working with women beekeepers because we realised that we are keeping boxes on their farms and at their houses. We were first talking to farmers, and whenever we started talking with farmers, you would have men come in and not the women. Men would migrate, and then nobody was there to look after the hive.
So the women said to us that why don't you train us and so then we started training them as beekeepers as well. Today we have women beekeepers who train other beekeepers. By working they are empowered and their social status has gone up not just economic status, but also the social status. We brought few of the women to Mumbai, a couple of years ago that was the first time they ever sat on a train, first ever time they got out of their village. It is something that is critical and that's what we have done. We also have a honey brand in a market we collect honey from the farmers and put it in the market. We are a socially conscious company, we are aware of the impact that we make and the lives that we are changing and helping.