Loved & Married too
LLoved & Married too
Love, listen, learn & grow together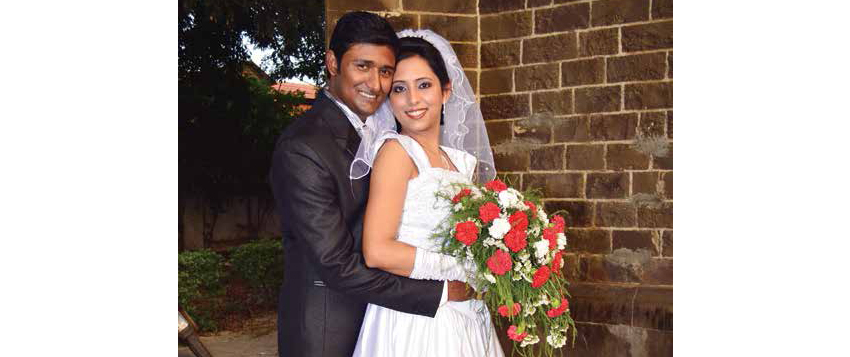 It is not often these days that a college romance fructifies into wedlock. Corporate Citizen unlocks the story of love that has culminated into marriage, for we believe in the stability of a relationship and family unit. We bring to you real-life romances that got sealed in marriage
She's a Bengali; he's a Malayalee Catholic. But that's not why this is such a sweet love story. The crux of the matter is that both had the courage to recognise and acknowledge each other as soul mates in the face of stiff opposition. Married for seven years and courted for 11, Dalia Datta and Lijo Varghese are currently based in Pune. Their three-and-a-half year old boy, Ronil and a rescue cat Momo completes the circle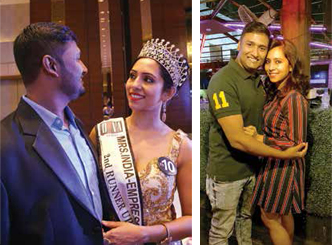 Most love stories are about opposite poles attracting each other. This one, however, is about two kindred spirits finding each other. After all, in Dalia's own words, her husband Lijo is "quite simply a male version of myself." Simply put, they cherish pretty much the same things in life, are both warm, social and outgoing, equally moved by music and dance and value kindness over all else.
A little probing and they realised that despite having met in a faraway city like Pune through a common friend they were both natives of Madhya Pradesh and lived not very far from each other. The conversation flowed seamlessly, and love wasn't too long in the offing. All was well, except for their disparate socio-cultural and religious backgrounds. After all, Dalia is a Bengali and he a Keralite; she's Hindu and he's Catholic and the twain are not usually supposed to meet. When the families were told, all hell did break loose.
Overcoming the obstacles, one at a time
The duo took their time trying to convince the families that they were in love and perfect for one another. "It was far from easy, though. Both sets of parents were very concerned as to how things would pan out, more so, his folks. Being the quintessential obedient son of the family, his relatives just couldn't believe that he would do his own thing when it came to a big decision like marriage," shares Dalia.
But he did just that. "One fine day, in 2012,I told my parents that we were getting married and that was that," reminisces Lijo.
Ever respectful of each other's faith they married thrice: in a Hindu, Catholic and civil ceremony. "Neither of us have converted, there was no need for such a thing," they say.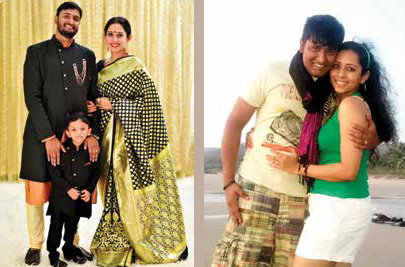 The building blocks of home
As a result, seven years unto their nuptials, theirs is a home that celebrates throughout the year three anniversaries, not to forget both Hindu and Christian festivals, from the Bengali New Year and Durga Poojo to Easter and Christmas. "Our little boy is growing up in an accepting and loving environment; that matters over all else," says Lijo.
While Dalia currently works as a Key Account Manager with e-Zest Solutions Ltd., a multi-national IT company in Pune and was recently crowned 2nd Runner Up at Mrs India Empress of the Nation pageant conducted by Diva pageants, Lijo is senior project manager at Cybage.
Explaining her decision to enter the pageant, Dalia says that she felt they were a wonderful platform for women to make their dreams come true. What's more, she was given the confidence to do so by Lijo. "He supported me all the way, even though it was far from easy, juggling preparations along with a fulltime job and a young child. Plus we are a nuclear set-up with our parents not living in the same town as us. Still, we managed," says Dalia.
And when she won, it was a beautiful surprise and a combined victory as "I couldn't have done it without him," she says.
So what does she hope to do from here on? "See, the pageant victory provides me with a wonderful platform to do humanitarian work and speak to women about the importance of following their dreams and that's exactly what I wish to do," says Dalia. "Modeling offers are wonderful, but my heart lies in making a difference to those around me."
Even as they get set to celebrate one of their three annual anniversaries, what according, to the couple are the pillars of a marriage? "Trust, respect and support," comes the answer. "Fights happen and they are healthy as well, but the important thing is to listen to what the other person is trying to communicate," says Lijo. "When you listen, you learn much more than what you would if you were merely speaking. That's an important aspect of growing together."
My company allows me to work from home at times, and that's very helpful in spending time with him. Similarly, Lijo is particular about giving us both quality time on weekends
- Dalia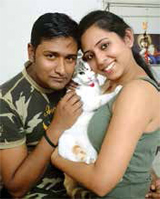 The Mantras of Marriage
Trusting each other's judgment
Respecting each other's faith
Sharing common goals and hobbies
Cherishing both big and small moments
Supporting each other's dream
Bringing up baby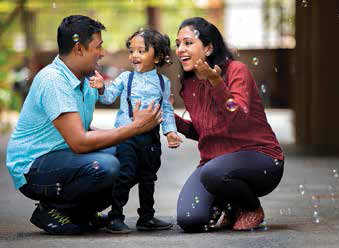 Circles of love: Lijo and Dalia with their
little boy Ronil
Despite being dedicated careerists, both Dalia and Lijo are particular about weaving their work schedules around their little boy Ronil. "My company allows me to work from home at times, and that's very helpful in spending time with him. Similarly, Lijo is particular about giving us both quality time on weekends," says Dalia.
While the couple relies on the "good cop, bad cop" model when it comes to bringing up Ronil with a sense of balance in life, they are unequivocal that his overall development is more important to them than academic achievement. "Most important of all, we want him to grow up into a considerate and respectful human being," expresses Lijo. "For instance, I'd like to share this instance wherein I was walking back with him from the grocery store. I had bought him some chocolate, which is a pretty important acquisition for such a young child," he recounts. "But just as we entered our society gates, we saw the guard with his little daughter. I asked Ronil if he would give her his chocolate and to my great joy, he did so, without a fuss! It's these little milestones that matter to us and assure us that our boy is growing up well."
Undoubtedly though, an important member of their family is Momo, a little cat they rescued off the streets. "We are ardent animal lovers, and believe it is important to have a pet at home all the better to teach compassion and patience," says Lijo.
Though their schedules are hectic and demanding, music and dance work as wonderful stress-busters for both of them. "Even when I was heavily pregnant, I chose to dance at our company's annual event. Lijo squired me around beautifully and took care not to jerk my movements at any point. The people in the audience couldn't believe it, but I was absolutely comfortable," smiles Dalia. "Honestly, isn't marriage supposed to work just like that?"