Future Trend
FFuture Trend
"Economy's Electric Future"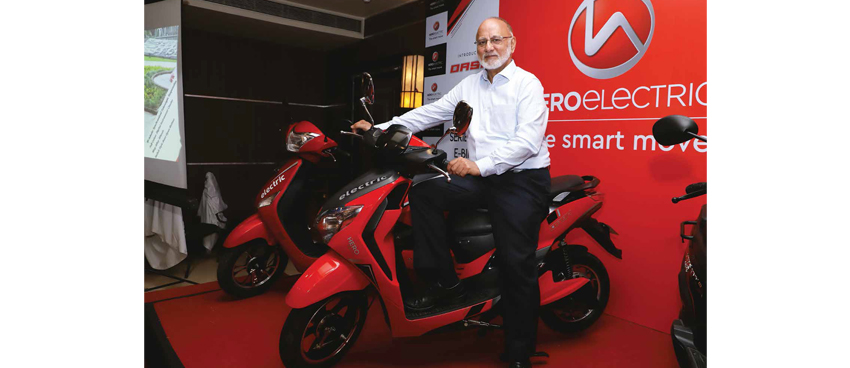 If the government can start a campaign like Swacch Bharat, realising the need of the hour they can also start an electric mobility campaign, says Sohinder Gill, CEO, Hero Electric, speaking at a recent launch event in Pune, of 'Hero Dash' an electric scooter. He stressed on the point that the advantages and contributions that one can make to the country and its environment by using e-vehicles. Corporate Citizen brings you the excerpts of his talk wherein he enlightened on the recent research and development done to meet customer expectations and how electric mobility is the nation's need of the hour
"The government is promoting electric vehicles which is the future of India. The government has dropped the price by Rs 18,000 for every scooter as they are promoting electric mobility. It is a direct customer subsidy by the government"
When Sohinder Gill was travelling from Pune airport to the venue of the launch event, he reminisced the pristine city of Pune and conveyed his emotions. He said, "Back in the 1980s when Kinetic Honda started in Pune, I was their first employee when it was headed by Arun Firodia. In those days, Pune was very different. Now I see the city decaying, as it is for any other city in India. I thought of sensitising the natives to retain the old glory considering the environment and congestion, which is why electric vehicles make sense to me."
The decision about the design and development of the e-scooter was concluded after studied research. Hero Electric studied and educated various types of public, using a great amount of budget over a period of three weeks. We touched areas where citizens needed to be sensitised. The population was from the areas of retail, institutions, schools, resident welfare associations (RWA), nursing homes, and factories. Customers used the product and got know to the electric scooters after taking a whole experience and using the product. The response was massive with more than a thousand people experiencing the e-vehicle in a span of three months. "The city of Pune was at the top in terms of sensitising people and their realisation towards electric mobility when they got to know the answers to their needs. Further on, the plan was to use this information to accordingly to address the concerns and requirements of the customers of 20 cities across India. The learning was very clear in terms of the customer's expectation," said Gill. Further excerpts of talk:
Role of the government
When you need an electric product which is almost like a petrol scooter, it is a 'Sticker Shock'. Government has helped us largely to bring down the price and in various other ways. The government is promoting electric vehicles which is the future of India. The government has dropped the price by 18,000 INR for every scooter as they are promoting simelectric mobility. It is a direct customer subsidy by the government.
Research and development
"One needs to understand that other than the running and capital expenditure, electric mobility takes care of the running cost and is maintained depending upon how one uses it"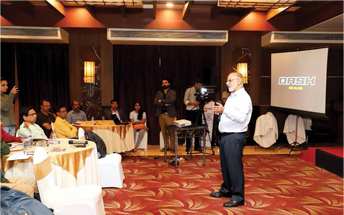 Value for money
Hero Electric's research found out that customers ride one brand of scooter for a very long time and want a product which replaces their current product with a different brand giving similar results. It is not possible to replace features of a petrol vehicle in an electric scooter unless one would consider paying around Rs.1.5 lakhs for it. Paying such a huge amount at once is not feasible for the general public. One needs to understand that other than the running and capital expenditure, electric mobility takes care of the running cost and is maintained depending upon how one uses it. If only the upfront cost of an electric vehicle is considered, such products are going to be expensive, although you get the returns and value for money in three years.
A major handicap
There are mainly three types of customers, in the suburbs, in the main city and satellite cities, each having a different need. The ones on the entry side move short distances, in the cheapest possible means, at an average distance of 10 to 15 kilometres per day. The second type needs a higher speed as they want to move faster at a city speed of 40 kilometres on a total cost of ownership. Hero Electric had the product needed for these two categories of customers. The third category of customer which resided in institutional and domestic segments did not buy the product as this category was fearful about the range anxiety factor which continues to be a big question in the minds of customers. This is a major handicap. As cities have also started going vertical, there is no place to park and charge the scooter or charging points in the parking. A big chunk of customers who wanted the product could not buy it.
Addressing the charging problem
We worked on finding answers to the electric vehicle customers, made the battery portable and the result is 'Dash' brand. The batteries have been split into two parts which weigh seven kilograms each in the size of a lunchbox. Having two batteries adds to one's confidence in having a backup as they ride. These portable batteries can be easily picked up and charged while you or sip on your coffee, addressing the charging problem. By opting for electric mobility you do two things, one for your country and other for your society, health and environment after you have thought of taking care of your pockets. There are very rare cases of customers who want to run the scooter at more than 80 kilometres per day they would not be our customers as there won't be facilities of charging stations as of now.
Replacing lead batteries with lithium
Around five years back, 99 per cent of vehicles had lead batteries which were as heavy as 32 kilograms comparing to the now seven-kilogram batteries. Due to the weight, previously there would be a lot of disturbance in the riding experience with a high centre of gravity. We withdrew all lead batteries and replaced them with lithium. Dash is a one-battery product whereas ER range are two-battery products. These have lithium batteries which do not deteriorate its performance on a day to day or even a yearly basis. This lithium battery can also be dismantled and rebuilt if one does not want to buy a new battery at the time of replacing the old battery. With this, the cost for the battery drops.
Motor structure, cost, features, battery
Electric vehicles do not have any rubbing parts as there is no gear or clutch in its system but have an electric motor which is built into the wheel and runs on a ball bearing, just like a ceiling fan motor. A ceiling fan can easily run for 15 years, similarly, an electric motor lasts for a long duration with almost zero maintenance and no presence of a chain to drive the motor. Due to the rubbing parts in a vehicle on fossil fuel, there is constant wear and tear of the engine. People should understand that the initial cost is always going to be higher than the running cost which is very low. Vehicles in a city usually run at an average speed of 25 to 30 kilometres per hour. The speed of the launched vehicles is updated to 40 kilometres as city speed products. The speed can be upgraded further but Hero Electric would not do that as the economy will go through the window.
"Electric cars will not come very soon to this market as cars require inter-city long-distance travel. The commercial fleet will carry on. The efforts have to be from all the sides"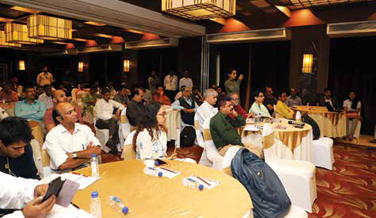 Effects over the environment
One wonders today why a country is pushing for electric mobility on a huge scale. India's crude oil consumption is getting higher every day. The foreign exchange rate is already very high and is becoming higher. Ten years from now on, it is going to be very difficult for the nation to pay the crude oil bills. How will India sustain? India wants to be independent and eradicate the dependability over the crude oil. The first priority of Hero Electric, a customer or any businessman, is the convenience of the customer's pocket after which comes the convenience and comfort. People today pollute the environment using crores of vehicles and are not even bothered to start thinking of electric mobility which can save the situation. That is where the major point lies. Once the customer has bought the product, the experience will convince himself and be an example for the citizens. One has to collectively replace the choices according to the circumstantial effects it is creating on the world.
Technology regenerates the kinetic energy
All of the electric bikes have regenerative braking. When one accelerates, there is no kinetic energy gained, but when the bike is running on a slope and the rider lets it free on a downhill he has to use the brakes. When you are trying to stop the vehicle, it generates regenerative energy called as the electromotive force (EMF). These vehicles capture the regenerative energy and put it into the battery. The ratio of this process in an electric scooter is very less, as the regenerative braking comes into picture when you are at a very high speed of 100 kilometres per hour. Metros and huge cars have a lot of regenerative force as the mass is huge. Scooters are lightweight lowspeed vehicles. Nevertheless, these vehicles add to the battery life and battery juice drop by drop, regaining five to seven per cent of the energy.
Precautions regarding batteries
One should never charge a lithium battery after a long-distance ride because of high temperature of the battery. When you are riding a scooter especially at high temperatures of 45 degrees ambient, the interior metal body of the scooter becomes 55 degrees and so does the battery. If you come home and charge the battery in such a condition, it will start boiling. There is obviously protection, which stops the charging of the battery but during that process, it will definitely boil up to a certain extent. Secondly, if a customer is going for a vacation for more than 30 days especially in the winters, he should make sure that someone charges the battery midway and not keep it locked for a long period of time. As these are portable batteries, it is very convenient to charge them.
Effects of electric vehicles over the Indian Economy
The two-wheeler industry is very sceptical about the future. Electric vehicles are giving jitters to the non-electric vehicle business owners and manufacturers. These owners were forced to invest huge amounts into their business and now suddenly are shaken, clueless about what role they need to play next, as the future is changing. The investors' money is at stake. They are fearful of what the government is saying. Due to the current situation, the current demands for the growth of electric mobility are for it to happen at its own sweet pace. It entirely depends on customer acceptance, cost of ownership, visibility and word of mouth. Word of mouth will not happen until the first few million do not experience the product and vice a versa. No one gives a loan to the electric bikes whereas fuel bikes are sold at a rate of 60 per cent loan. Banks play a very active role. Electric mobility as our future is fixed.
Future of electric mobility
Within India there are good as well as bad things happening. One example is of the electric rickshaws they were introduced in India in a very shabby way. The e-ricks consist of lead batteries which are polluting the soil. Electric mobility has already got a bad name in India due to this. When electric mobility was a regulated sector, it was a great chance to improve mobility, at least commercially but that did not happen. Government has to wake up and see that such sectors which are otherwise very good as a business have to be cleaned and certified properly as also the regulations need to be settled. Someone coming from China cannot introduce ideas and dump those in India. Electric cars will not come very soon to this market as cars require inter-city long-distance travel. The commercial fleet will carry on. The efforts have to be from all the sides. If the government can start a campaign like 'Swacch Bharat', they can also start an electric mobility campaign. The second necessity is to create the first million pot in the metropolitan cities and let the customer experience electric vehicles after which, I assure you that he himself will talk. Let the customer talk.