Book Review
BBook Review
Flip side of Flipkart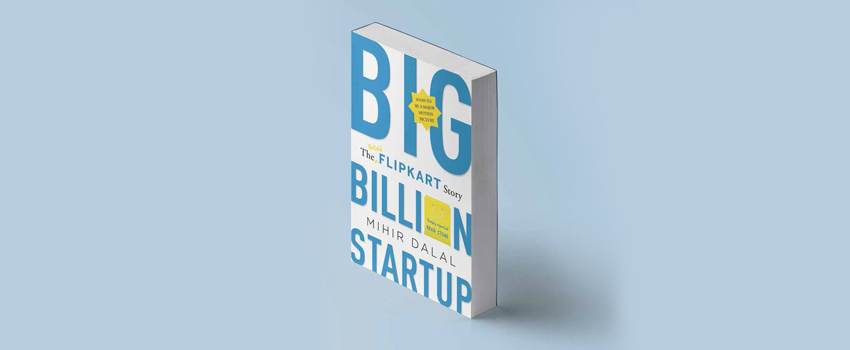 A must for every entrepreneur's library any seeker of success in business, whether grounded in the ethos of entrepreneurship or weary of its conventional practices, should read this remarkable book, that reveals the untold and much about the Flipkart story, in a voice that is bold and fresh. Both inspirational and practical, this is a pure book on the high road to entrepreneurial success, the straight and the narrows
Can a book that is a testimony to the strength of what the Bansals had forged, be relevant to those who dream of being e-commerce entrepreneurs or have that burning desire? Yes, you are picking a book that you need to read if you want hours of mentoring time with these uber successful entrepreneurs that India can ever have. If you want to get into the brains of built and born entrepreneurs, this book guarantees you insights and a roller coaster thrill exactly what the title says, "Big Billion Startup The Untold Flipkart Story". In author, Mihir Dalal's own words, the later part of the book can be likened to Game of Thrones, with unending tensions, power struggle and shocking turns.
The writing style is what you can get from an investigative reporter, a reminiscence from Dalal's years of extensive research on the topic. While reading the book, more than it being the history of the company, you see that it is about the cofounders business acumen, their passion to succeed and their sense of reality. Investigative journalist, Dalal recounts the astounding Flipkart story, tracing the journey from its inception to its acquisition.
The initial chapters start with discovering the course of development of the wider startup ecosystem in India, the e commerce industry and mostly the internet companies that served shoppers. It is followed by the campus life of Flipkart founders and their efforts to bring together their IIT Delhi batch mates, to work for their dream project. The author devotes rest of the first half chapters to the Bansal's struggle in building Flipkart and how their grit and determination played an important role in the growth of e commerce into a giant beast. The second half of the book is a thrill read of what was happening undercover the power struggle, the ups and downs.
How it all began
The Flipkart story, as we know, begins with Sachin Bansal and Binny Bansal, both IIT Delhi graduates, starting an e commerce startup from a Bangalore apartment, initially as an online bookstore. Surprisingly the Bansal duo, who once worked with Amazon, left their jobs there to create their own e commerce startup, with a dream of emulating the dominant giant, Walmart. Established with a humble beginning in October 2007, Flipkart growth was certain due to its founders' bold ambition, customer obsession and the virtues of technology. Very soon with the growth of its reputation and value in the market, venture capitalists started lining up to invest in the company. In a span of few years and the big boost of investments coming in, Flipkart metamorphosed into a multi billion dollar powerhouse a brand that got etched in every customer's mind as India's largest internet company redefining e commerce, entrepreneurship and the way customers shop and live. However, with the concentration of big money and power, came the overbearing pride that somewhat weakened the cofounders to control their own creation. At the end, was it their high handedness or interpersonal complexities that forced the founders to sell out to Walmart? The whole ring of truth is in this book.
While reading through the book, one can gauge the author's perseverance in reaching out individually to all the major characters at Flipkart who appear in the book it is truly a deeply reported telling of the Flipkart story. Though the author has interviewed Flipkart co founders Sachin Bansal and Binny Bansal several times in the past, they declined to speak to him for the purpose of the book Flipkart did not participate either. The author himself acknowledges that this book is based on more than two hundred and fifty interviews, emails, regulatory documents, news reports, and video interviews of Flipkart executives available online a culmination of his experience of covering the Flipkart subject while working at Mint.
In the book, the quote from Ajay Bhutani, who had worked with Sachin at Amazon India, rightly explains the born with entrepreneurial capabilities of the Bansal duo. "Conditioning does play a role. The basics of running a dhanda don't come to just about anyone. Those who've seen how it's done do seem to have an advantage over others," he says.
Dalal has explained in the book how Bansals were radicalised by Amazon's dogma of customer obsession and corporate culture thinking big, hiring young people and letting them loose, creating a combative work environment, treating engineers like gods, which the author says were later adopted at Flipkart by Bansals. The confidence of Sachin Bansal reflects in one of his quotes in the book, "Yaar, we will make an Amazon in India. Why should we work for them when we can run our own business? If they can do it, so can we".
These were uncommon, dedicated entrepreneurs, on to something big, says the author. The book covers every facet of the Bansals, as great business thinkers and effective leaders, introducing you to their business ethics, ideas, strategies and alternative business models. How, Sachin defined Flipkart's vision and ambition while Binny designed the blueprint to realize it all. But, the book also daringly and openly mentions how Flipkart was ultimately a Darwinian workplace run by capitalists, with a sole purpose to expand its business as fast as it could and get a higher valuation. Though Flipkart had set innovative rules of the game, the author brings their team's and their founders' inability to build a strong human resources function, which lead to constant struggle to control and direct the ever growing company.
The book touches the various stages and shades of the Flipkart journey, from its innovative sweet start to a bitter ending of the e-commerce giant's acquisition by Walmart, an American multinational retail corporation.
"The confidence of sachin Bansal reflects in one of his quotes in the book, "Yaar, we will make an amazon in india. Why should we work for them when we can run our own business? if they can do it, so can we"
Highlights
Language: English
Hardcover : 320 pages
Publisher: Pan Macmillan India
Genre: Business, Investing and Management
ISBN: 978-9389109146
Edition: 2019

About the author
Mihir Dalal is a journalist with Mint. He has covered Flipkart and other internet businesses for the financial daily for more than five years. He previously worked at Reuters and CNBC TV18. He was born and brought up in Mumbai and currently lives in Bangalore, where he has spent most of his professional life. Big Billion Startup is his first book.
The Bittersweet Flipkart saga
The success story of Flipkart is without a doubt India's biggest corporate accomplishment. Investigative journalist, Mihir Dalal in his new book, "Big Billion Startup-The Untold Flipkart Story", delves deep into dualism and dichotomies of the company's two founders, their entrepreneurial mindset and their creation. The author speaks to Corporate Citizen, on what Flipkart and its founders got right and wrong, and what inspired him to tell the untold story about India's homegrown e-commerce giant.
What would you say served as a stepping stone for the huge leap of Flipkart's success? I mean what altered the course of Flipkart in shaping what it has become?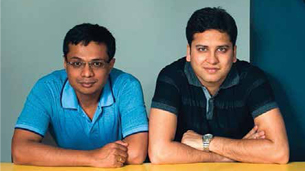 Mihir Dalal: There were many such stepping stones but two were more important than others in the early years. The first was when Flipkart received $9 10 million from Tiger Global in early 2010. This investment was a game changer for Flipkart and for the e commerce market in India. Flipkart had already started building a cult brand by then, but after the Tiger Global funding round the Bansals became very ambitious. Growth at all costs became the company's motto. The second important event would have to be the kids advertising campaign in 2011. Through this ad campaign, Flipkart introduced millions of new users in urban areas to e commerce. This campaign also enabled Flipkart to also successfully position itself as an all round retailer and not just a books seller.
What obligated investors to keep on investing in Flipkart?
One thing: insane growth. Until 2015 Flipkart grew at an unbelievable pace. Its sales were doubling or tripling every six months for much of 2009 2014. In the startup internet world growth is the most important metric. The more you grow the more your valuation increases. To give you a sense of Flipkart's growth its GMV increased from $10 million in 2011 to $1 billion in less than three years. That's an increase of 100 times. So for its investors, Flipkart was the dream investment. It seemed foolish to them to not continue investing.
What are the things that Flipkart did a bit differently that became the right way forward for the e commerce giant?
The most important thing that Flipkart did differently from other companies was that it was obsessed with delivering excellent customer service. Its entire business in the early years was geared to deliver great service. Great service meant discounted prices, fast and consistent delivery, access to a wide range of products and making product returns easy. No other e-commerce firm came close to offering the kind of service Flipkart had. For instance, if a customer ordered a book and did not receive it on time, Flipkart would just gift the book to them and refund their money. They gave away thousands of books in this manner. Every innovation at Flipkart cash on delivery, starting its own logistics service, launching new product features all these were done to provide great service to customers. It was an idea that the Bansals had picked up from Amazon, where they worked before starting Flipkart.
Much is already told and retold about Flipkart, what inspired you to write a book on Flipkart story? What is it that you are telling will interest the readers?
It does seem like there was much told and retold about Flipkart but, in fact, there was a lot that wasn't known. That's why we added 'untold' in the subtitle. The book actually covers substantially new ground and uncovers completely new details, especially about the early years of the company. It also brings out just how grand and historic Flipkart's accomplishments and blunders were.
The company's idea of 'The Big Billion Day' had technical glitches and was considered a failure. What can you say about that?
The Big Billion Day sale of 2014 was a mixed event from Flipkart's perspective. On the one hand, it was the biggest ever sale for the company and for the Indian e-commerce market. In a single day, nearly twenty million people had converged onto Flipkart. It was truly unprecedented for that time. So the sale had revealed the true potential of e commerce. On the other hand, a majority of the shoppers that had come to Flipkart had left empty handed because of the glitches. It definitely did some damage to Flipkart's brand.
Over the years it has become clear that the Big Billion Day event has ensured that Flipkart becomes the default choice of many online shoppers during the key Diwali shopping season. But critics are also pointing out that Flipkart is perhaps over dependent on this sale. So again, a mixed legacy, I suppose.
How will the Flipkart story motivate budding entrepreneurs?
Everyone in the startup ecosystem aspires to greatness. In India, the Bansals have come closest to achieving it. Until Flipkart's rise, internet entrepreneurship was considered a waste of time. The Bansals made internet entrepreneurship seem exciting. And they accomplished it by dint of their skill, their seriousness, self confidence, and of course, lots of luck. They had a lot of help but eventually, much of the credit (and wealth) would have to go to them. I imagine that's quite inspirational for budding entrepreneurs.
"Flipkart's growth its GMV increased from $10 million in 2011 to $1 billion in less than three years. that's an increase of 100 times. so for its investors, Flipkart was the dream investment"
The Flipkart journey started beautifully but the destination was altered irrevocably by US retailer Walmart's acquisition of Flipkart, followed by the exit of the founders. What's your opinion?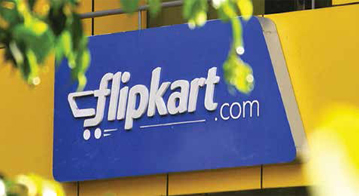 One way to analyse Flipkart's journey would be to look at it through the lens of the company's founders and investors. Flipkart started as an underdog, then became the establishment. In 2014, Sachin had declared that Flipkart would become a $100 billion company (in sales) in five to ten years. He was completely serious; it wasn't a casual remark. At the time everyone at Flipkart believed that even if it didn't become a $100 billion firm it would at least get to $50 billion. And it seemed a reasonable belief. The Bansals were absolutely convinced that Flipkart was India's answer to Amazon and Alibaba. So, after considering all this, and the fact that Sachin and Binny had to make way for an investor representative as CEO someone they didn't particularly like and then leave the company altogether… it becomes clear that the Flipkart saga has a bittersweet aspect despite the record breaking $21 billion exit.
Interestingly, Snapdeal co-founder Rohit Bansal is also Binny Bansal's batchmate. How will you compare Flipkart with Snapdeal, talking about their strategy and success?
Yeah, Rohit and Binny were also very good friends in their first year at IIT Delhi, thought they drifted apart later. But Flipkart and Snapdeal were totally different companies. Flipkart followed the inventory model of a typical retailer where it bought goods from brands and distributors and sold them to customers through its website. Snapdeal was a bazaar, where it hosted thousands of sellers who sold goods to customers. Flipkart was built around offering the best service to customers. Snapdeal was built around ensuring that its sellers were satisfied. For the longest time, Snapdeal had no physical infrastructure of logistics and warehousing they outsourced that to external service providers. Because Flipkart wanted to control every aspect of the order, it had built a substantial network of warehouses and logistics. It wasn't surprising that Flipkart was always considered the superior firm by customers. It was also far bigger than Snapdeal. Both companies, of course, relied on deep discounts to grow but that was one of the few similarities that they had
Flipkart also tried to match with Myntra, which they finally took over in 2014 for $280 Mn.
From a strategic point of view buying Myntra made a lot of sense for Flipkart because they could accomplish dominance in fashion. Fashion was a category they had to win because it has very high gross margins and it is a massive category. It is also where Amazon is the weakest. Plus, Flipkart and Myntra had common investors. So it was a bit of a no brainer.
Some of Flipkart's core principles that became the key to its success?
Making excellent customer service was the supreme mission of the company. Hiring very smart and driven people and not telling them what to do. Being very generous in rewarding high performers. Being very audacious about their goals. Trying to solve problems in a very diligent and thoughtful manner. These would be some.
What would you say was the great combination of cofounders that complimented each other in paving their way towards the success of Flipkart?
They were both very introverted. Neither was a natural leader. But they had complementary skills, and they were almost always in sync about where they wanted to take Flipkart. Sachin defined Flipkart's vision and ambition while Binny designed the blueprint to realise it all. Sachin took bold decisions, while Binny was more thoughtful about how to implement them. It wasn't as if Binny was less ambitious; he completely backed his business partner's largerthan life vision and was just as demanding. But he was the calmer of the two. So where Sachin was given to grandiosity, Binny was grounded.
But by 2016 there were major issues between them. And these differences became absolutely apparent during the time the Walmart sale was being finalized. What was interesting about their fallout at the end was that they were finally out of sync not only about where they wanted to take Flipkart but also about their own importance to the company. Binny had for a long time believed that despite Sachin's lack of interpersonal skills he was indispensable. But this view changed dramatically in the final two to three years.