TÊTE-À-TÊTE
TTÊTE-À-TÊTE
Simplifying Rail Journeys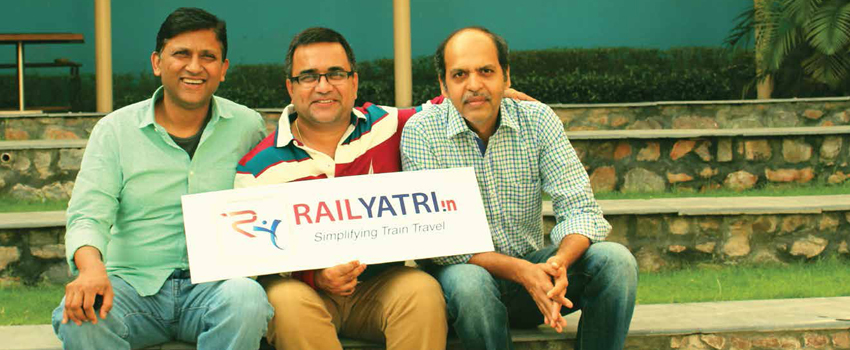 For many of us, the idea of travelling by train is inherently romantic. That romance, however, quickly disappears when you are struggling to plan your journey with the Indian Railways. RailYatri. in helps to reduce the stress of arranging train journeys by providing its users with inclusive and comprehensive information that makes their travel search, planning and experience hassle-free. Users get live updates for Indian Railways trains, including useful information like where your train currently is and which platform it will arrive on. Co-founder and CEO, RailYatri.in, Manish Rathi, talks to Corporate Citizen, about their entrepreneurial journey
"We, at RailYatri, do not just stop at presenting the dry numbers but provide insights behind them. We offer analytics-based information that makes us standout alone of the other sources of information. This is why our users' base has been growing with every passing day"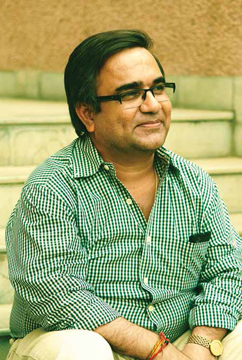 What inspired you to found RailYatri?
Indian Railways is the preferred transportation mode for a vast majority of the Indian population and we all have our own direct and indirect experiences with the system. Though we as a country have done a fabulous job managing the complex and overloaded network of trains, there were obvious gaps. Pertinent information was not readily available and the information rather available was scattered. The experience of travelling with the Indian Railways was not very exciting.
Till a few years ago, it was an underserved market. Travellers were often left in the dark regarding information about the exact train arrival time, coach positions, last-minute platform changes and so on. Even getting hygienic food on trains was a problem. Airlines were and are still unaffordable to the masses. Also, flights don't connect the remotest corners of the country so well. Buses lacked reliability and standardisation because they were run in a very fragmented fashion by individual sate or private operators. That is when we stepped in with the purpose of becoming a real-time guide for train travellers. We began as a crowdsourcing platform for train-related information, and have now evolved into a full-fledged services platform for everything related to rail travel.
We, at RailYatri, do not just stop at presenting the dry numbers but provide insights behind them. We offer analytics-based information that makes us standout alone of the other sources of information. This is why our users' base has been growing with every passing day.
We are now broadening our outlook to solve the long-distance/intercity travel by trying to standardise the bus travel experience. To that end, we have a fleet of close to 50 buses on over 20 of the busiest routes across nine states.
Tell us about the e-ticketing website and app, RailYatri.
RailYatri.in-the consumer-facing app or website- is a medium that simplifies the process for millions of travellers by providing detailed information of all running trains. By bringing everything together in one place, our platform helps users make effective travelling decisions. Users receive all the information through app notifications or personalised text alerts. We, in fact, look at ourselves as an intelligent decision- making engine, driven by deep tech and big data, for the passenger. We provide information that entails giving schedules of all trains plying between point A and B. We provide intelligence wherein we tell people which of the trains ply on time, and in which train your waitlisted ticket stands the highest chance of being confirmed. In terms of traffic, we are in the league of top portals like the IRCTC and the Indian Railways.
How long has your startup been in the making, and who is the team behind the business?
We are about six years old now and there are two co-founders besides me-Kapil Raizada and Sachin Saxena. Both of them have wonderful academic backgrounds in addition to immense experience in the consumer internet domain. Beyond that, we have very talented individuals in the areas of tech, business development, marketing, strategy, finance and operations. So we have a very solid team with us.
Could you tell us a bit about your background?
I have a Masters in Computer Science from Western Michigan University and have more than 20 years of industry experience including Bell Labs, July Systems, and GlobalLogic. My area of expertise lies with designing and engineering scalable consumer products/services which utilises networked information models.
What has helped RailYatri achieve leadership in this segment?
I would say our focus on understanding the user, his pain points and the ability to leverage technology and make it easy for the masses to adopt have been the key reasons. We are where we are today because of the team that has a passion for technology, data and consumer satisfaction.
What services do you offer?
We are primarily a platform to enable intercity long-distance travel using trains and buses. These are obviously two very different ecosystems and so what we do in these two areas varies a lot. Ticketing or online booking is an obvious starting point. But we like to think about end to end-from planning to completion of the journey. We provide intelligent planning tools, alerts, reminders, recommendations and so on. In trains, we deliver meals of your choice right at your seat. In bus travel, we have gone a lot deeper where we own the entire experience including, planning, booking, pre-boarding and the actual journey.
We are projecting the IntrCity SmartBus model as a powerful substitute for trains and a convenient mode of transport for the modern-day budget traveller. There are many problem areas in bus travel such as delayed departure, unplanned stoppages, lack of lavatories on board, driver and crew behaviour, road safety and so on. Given that we are the first to look at this as an ecosystem. We are very hopeful of solving most, if not all of the problems. IntrCity promises to deliver on its four core virtues – timeliness, trained professional drivers, safety and hassle-free boarding assistance.
"We are primarily a platform to enable intercity longdistance travel using trains and buses. These are obviously two very different ecosystems and so what we do in these two areas varies a lot"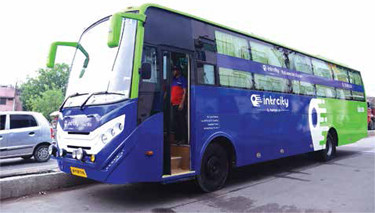 Smart bus
Tell us more about the IntrCity SmartBus to 12 cities across North and South.
As I briefly touched upon earlier, with IntrCity SmartBus we are looking at improving as many things as possible in the end to end experience. Talking about the physical attributes, we have an on-board toilet. This comes in very handy for women passengers, senior citizens and passengers with kids. This also reduces the number of pit-stops a bus needs to make. Besides, our smart buses are equipped with CCTV monitoring and GPS for real-time tracking keeping safety in mind. On the softer experience-we have what we call an on-time departure promise to ensure the bus leaves on time and reaches ontime. We have also launched air-conditioned waiting lounges to give a good pre-boarding / layover experience to the passengers with facilities like drinking water, coffee, toilets, booking counters, Wi-Fi, charging points and so on. Such lounges are already operational and being widely used in Lucknow and Bengaluru and we are coming up with more across cities.
Has the partnership with IRCTC helped the platform improve its services?
Yes, of course. It has greatly helped in terms of information, reaching out to a larger user base, gaining users' trust, amongst others. Their experience and insights are very helpful to us.
Give us a brief snapshot of the technology infrastructure at RailYatri.
There is a wide range of technology that we use here. We use a couple of the modern cloud infrastructure from leading providers in the industry. We are heavily focussed on LBS or Location Based Services. This we do in a combination of mobile tower triangulation and user's mobile location. There is also a lot of big data analysis and machine learning that we do in predicting the estimated time of arrival or ETA of the train or a confirmation probability of a waitlisted ticket. We also use pattern matching and other sophisticated data-driven methodologies to identify a user's travel habits, spending pattern, etc.
How many bookings do you get each day and how has it grown over the last year?
This information being confidential in nature, it would not be appropriate for me to quote the exact number on a per-day basis. However, we have seen tremendous growth in the past year. To put things in perspective, we have almost doubled in terms of user growth and tripled in terms of transactions.
How does RailYatri stand out against its competitors?
While there are quite a few companies that have done a lot of good work in this area, I think what sets us apart is our depth and breadth in this area. We have a very data-driven approach to problem-solving. Be it recommending a train with the highest chance of confirmation or an alternative mode like a smart bus. We leverage powerful data insights to ease the planning phase and increase the productivity of the user during the journey. Our attention to the last mile details and operational execution are also things that set us apart. We've gone beyond merely being an aggregator of services.
What has been your biggest challenge so far as a startup owner?
Firstly, I have never thought of myself as an owner. At best, I can be called the captain of the ship. Every startup has its own set of challenges but then I also have a wonderful team to help us sail through every challenge. For a startup of our size, every day or week comes with newer challenges but once it's behind you it seems smaller. All you got to do is prepare for the next big challenge.
What is it that RailYatri is currently working on? What are the major initiatives for the next three years?
We are never shy of rethinking about things that we have been doing for years in a totally new light and consider it as a new initiative. So, from predicting the train's arrival, to improving the quality of meals served, packaging and improving the app and website experience remains an ongoing activity. We are always deeply engaged in data looking for newer insights.
One of the major initiatives we have taken up is to improve the pre-boarding experience in bus travel, which is the smart lounges that we are launching across the country and the onboard experience. We recently introduced bus captains, who play a role which is similar to that of a TTE or an attendant on a train. This initiative has been received very well. In fact, in less than two months, the smart bus services on a number of routes have gained the highest ratings. We are also very keen to improve the driver's lifestyle by providing them with better health benefits and introducing incentive plans for safe driving and good behaviour. We are aiming to combine hospitality, convenience and safety in bus travel in India.
We are well placed to become India's largest IntrCity travel enabler and we hope to achieve that in a few years' time.
In the coming year, what would you like to achieve with your business?
Like any growing organisation, we are looking to sustain and even improve the user growth and overall growth in transactions. Besides, we aim to greatly improve the last mile experience in bus travel. We are aiming to have a fleet of over 300 buses in the coming year across several new routes. We see a tremendous potential and excitement from all sectors around the smart bus concept.
How has been RailYatri's journey in e-ticketing as you have seen the industry grow from scratch?
Indian train and bus travel are very different and yet so similar, wherein the passenger is looking to make a much more informed decision about the booking one is about to make. Wallet and payment companies are trying to woo users by providing him/her with a host of benefits including cashback. An average traveller is willing to pay more for comfort. That is how you see the number of 3rd AC coaches going up year on year in trains and buses becoming more luxurious. Hassle-free ticket booking, live tracking and getting automatic alerts about any disruptions and delays are things that the traveller wants to experience and know of.
Advice to someone thinking about starting a business, what would it be?
Think big, break it down small and then give it your all.