Startup Story
SStartup Story
Shaping the Solar Revolution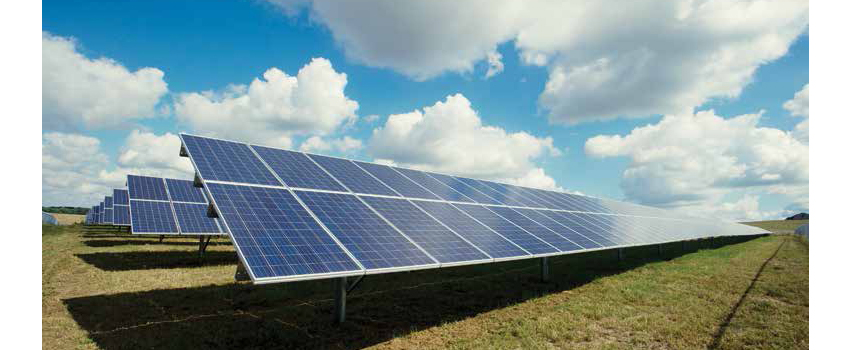 In 2006, when Vikram Solar was founded, the solar energy sector was at a nascent stage in India. But, the firm's MD and CEO, Gyanesh Chaudhary, decided to take the plunge since he believed solar power could light up lives. It was his way of giving back to society and the environment. So the young and focused entrepreneur went on to build an enterprise that would spearhead India's solar revolution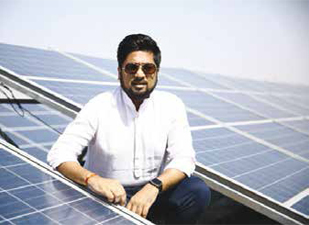 The beginnings
After graduating in Business Administration from the University of Wales, UK, Gyanesh Chaudhary joined the board of Vikram Group of Industries as its director. The privately-owned corporation with 45 years of manufacturing experience was launched by his father in 1974 in Kolkata. Chaudhary, who also has a diploma in Marketing and International Trade from the University of Boston and International Business from Harvard Business School, USA, says his international education not only enhanced his academic experience but also exposed him to different business practices.
Power of Solar
When Vikram Solar was created in 2006 by the Vikram Group, the solar energy sector was at a nascent stage in India. There were barely any opportunities or government support and incentives for the sector. But, considering the economic, environmental and social implications of business and understanding the value of sustainability for business growth and continuity, Chaudhary knew solar is the core strategy and an answer to various environmental issues affecting the world. Moreover, it was his father's vision to start a solar energy development company, so the young and focused entrepreneur was determined to impact and help people, society and the environment on a large scale by adopting the latest solar technologies.
Scripting a success story
Driven by stark warnings of the impact of climate change, the Government set itself ambitious targets for the production of solar energy. With increased awareness about solar energy, Vikram Solar was primed to take advantage of the country's new solar plans. Today, the company is one of the leading solar energy solutions provider, specialising in high-efficiency PV module manufacturing and comprehensive EPC solutions. It is the second-largest solar energy company in India in terms of revenue.
"With an international presence across six continents, the company is an active contributor in shaping the solar revolution," says Chaudhary. Vikram Solar has a track record of installing and commissioning more than 1040 MW of solar projects across India. The company currently has a rooftop portfolio of 70 MW (commissioned and under execution) and has delivered green energy solutions to Government entities such as the Indian Space Research Organisation, Indian Oil Corporation Limited, State Bank of India, West Bengal State Electricity Distribution Company Limited, and Airports Authority of India. The client list in the private sector includes: SL Group, Century Ply, KBL, and Anmol Biscuits, among others.
The company has to its credit the commissioning of India's first floating solar power plant at Rajarhat, Kolkata and other innovative projects like installing solar power facility at the Calicut, Kochi and Kolkata airports.
"Vikram Solar promotes new, clean and cost-effective power. We develop world-class technology to design, install and commission benchmark solar projects worldwide," states the solar champion who has been acknowledged as a "Promising Entrepreneur" by The Economic Times and received the Bengal Entrepreneurship Award 2016 by the Bengal Chamber of Commerce and Industry.
Innovations and technology
As a Tier 1 PV module manufacturer, as rated by Bloomberg New Energy Finance, the company's products are designed to the highest standards of quality, reliability and performance. The reliability of its modules is backed up by industry-leading linear power warranties of 27 to 30 years. Vikram Solar was named a top performer in PVEL's 2019 Reliability Scorecard earlier this year on the damp heat, dynamic mechanical load sequence and potential induced degradation (PID) tests.
"Our in-house research and development efforts help us in being ahead of the curve in the ever-evolving solar technology space. Vikram Solar also conducts research study programmes with leading laboratories across the globe," adds Chaudhary. The company's annual PV module manufacturing capacity was upgraded to 1 GW mark in 2017. "In line with our company's focus on adopting pioneering and innovative technologies, our manufacturing facility has the finest machinery and equipment imported from the United States, Switzerland, Germany and Japan," he adds further.
"Vikram Solar promotes new, clean and cost-effective power. We develop worldclass technology to design, install and commission benchmark solar projects worldwide"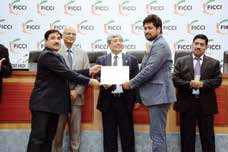 Solar power for the masses
Considering that more than 68% of people in India live in rural parts of the country, according to Chaudhary, the Centre's household electrification scheme also known as Pradhan Mantri Sahaj Bijli Har Ghar Yojana (PM Saubhagya) was a decisive action and the journey from the drawing board to success has given India a very realistic idea of how to lead the country towards wholesome growth.
"Unfortunately, there is still a major gap between electrification and receiving reliable power supply in major states like-Odisha, Bihar, Jharkhand, Madhya Pradesh, Uttar Pradesh and West Bengal. Therefore, in order to consider 24×7 power for all a reality in the near future, we need to identify hurdles and find solutions," he observes. "Since solar is more viable, affordable, and a widely accepted green energy source that can save consumers and the Government money on electricity bills in the long run, the Government needs to focus on encouraging rural India to adopt solar," he points out.
Fostering teamwork for growth
Headquartered in Kolkata, India, Vikram Solar employs more than 2,500 people in offices in 11 countries. U.S. facilities include a business office in Framingham, Massachusetts, and warehouses on the East and West coasts. Spearheaded by agile leaders, the team is united by the aim of actively revolutionising energy needs everywhere on earth. "A balance of young and experienced, dynamic and traditional, international and local, our team has a breadth of experience in global as well as the Indian solar energy sector," he says, while crediting his team for Vikram Solar's success.
On a philosophical note, Chaudhary emphasises that each business enterprise is as complex as a living organism: growing, changing, learning and prospering. "Success in business always depends on the mutual efforts of the team behind the business, and a leader's capability to understand his/her teammates," he explains, adding that the right path would be to inspire the team. His mantra for success is to share his business vision with the team and inspire them to excel as this presents the chance of self-growth for each of the team members. This makes inspiration a better tool at building a better team and business future, than assigning jobs to your teams, he states.
Family an inspiration
Chaudhary says that his father and brother inspired him to become the successful person he is today. Their support throughout his entrepreneurial journey is unmatched. His wife, Meenakshi Chaudhary, who heads the Business Intelligence and CSR portfolios at Vikram Solar, too, gave her unconditional support.
Managing work-life balance
He reciprocates that support by spending time with his family during weekends despite his demanding business and hectic work schedule. To maintain work-life balance, Chaudhary travels to his favorite holiday destinations and indulges in adventure sports. He is also a fitness freak who exercises every day. He even practices meditation something he was introduced to at the beginning of his challenging entrepreneurial career-for peace of mind. He explains that meditation helps him calm his mind.