Loved & Married too
LLoved & Married too
Togetherness is a forever trek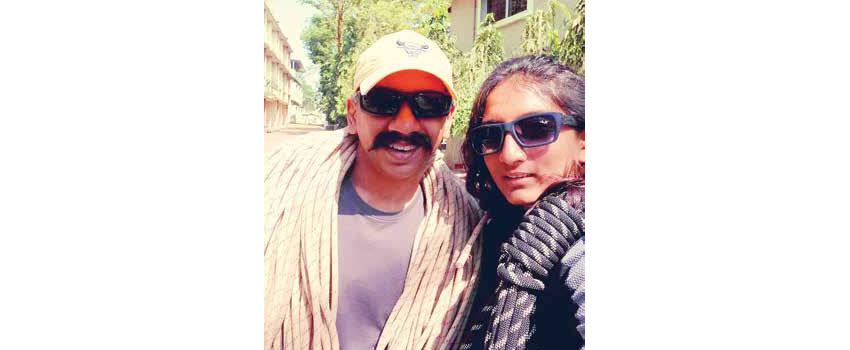 It is not often these days that a college romance fructifies into wedlock. Corporate Citizen unlocks the story of love that has culminated into marriage, for we believe in the stability of a relationship and family unit. We bring to you real-life romances that got sealed in marriage
Entrepreneurs Udrula Jagtap Malpani and Amit Malpani are also adventure enthusiasts with an abiding love of nature and the wilderness. Little wonder then that this long-standing friendship took a turn towards love and marriage. Opposites may attract but it is the common factor that is usually the glue that holds a relationship together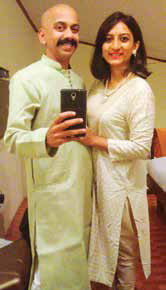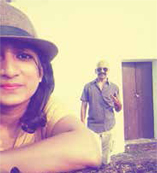 Good friends for many years, Amit Malpani and Udrula Jagtap shared an enviable bond over all the things they enjoyed: long conversations at their favourite kattas (read: hangout), treks, camps, adventure and a love of all things technical, given that she's an interior designer by training, while he's a mechanical engineer.
Fun-loving and individualistic, they also happened to share an off-beat vision of how they wished to lead their lives: a marriage high on comfort and low on formality; a relationship that followed the wishes of the heart instead of one dictated by typical social pressures.
As it happened, both their parents happened to be looking out a suitable match for them at around the same time. "It made absolute sense for me, therefore, to discuss the possibility of the two of us getting married. After all, a known devil is way better than an unknown one," grins Udrula. "He was taken aback initially but as he mulled over it, marriage between the two of us made perfect sense."
"Mentally, we are usually on the same page and tend to prioritise the same things in life. The age gap, frankly, has not mattered much," says Amit.
Though the relationship progressed to the next level, it wasn't a typical courtship. Far from it. "Our idea of romance isn't candlelight dinners and flowers. It's all things casual and comfortable, unpretentious and spontaneous," they say.

The Mantras of Marriage
Giving each other space
Shared interests
Respecting each other's dreams
Friendship
Back to the beginning
This love story was first scripted at a much loved Puneri katta where both Amit and Udrula hung out with their friends. Given their mutual social circle and love of the outdoors, it was natural that they would share many happy moments over treks, camps and other outings. What's more, the conversation would flow easily too, as they are both interested in the making and quick fixing of things themselves. "As an interior designer, I deeply appreciate how handy he is with the understanding and execution of different tasks on the site: be it plumbing, quick-fixing a paint job or carpentry, fixing a tyre or making a gadget work. His technical mindset extends to other aspects of life as well, and I liked the rationality that came with it," expresses Udrula.
On his part, Amit respected the straight talking, clear-eyed Udrula, who also happened to be self-reliant in every way. "When we went out for excursions together, I noticed how she was one young woman who could look after herself sans any assistance. There wasn't any fuss about her. Being a practical man, I value such qualities in another person," says Amit.
This is not to say that their respective families were pleased-for starters, they were concerned over the nine-year age gap between the two. But the couple had made up their minds, and slowly but surely, convinced their parents to look at their intended spouse differently. "And I am glad we took the trouble. It was important for me to me have a marriage steeped in friendship and ease and that's exactly how things panned out," says Udrula.
Honestly, I don't believe a husband-wife role needs to be demarcated in terms of roles and responsibilities. When the child comes, both need to pitch in
- Amit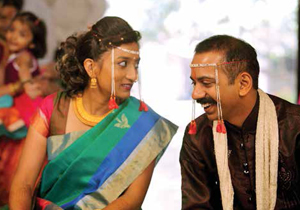 The forever wows: Urdula and mAmit on
their wedding day
The building blocks of a marriage
In the last five years, the marriage has gained from strength to strength. The learning curve, they would both agree, has been steepas well as rewarding.
The duo is happy to live in a joint family as it has taught them the importance of balancing relationships and ear-marking time wisely between work and life. "We are not the sort of people to run after money. We value it to the extent that it affords us our independence but doing good work, utilising our core strengths, as well as being self-employed are important to us," says Amit. Hailing as he did from business background (his family is in the business of Central AC maintenance for theatres, hospitals, malls and multiplexes in Pune and around) Amit understood the rough and tumble of the turf but was ready to take on the pros and cons and urged Udrula to do the same. As for Udrula, she has always been encouraged by her enterprising parents to set up her practice. That's how her interior design firm, Studio Insite, took seed. "We have been lucky enough to find good work from the outset. Amit pitches in with his expertise as well," she says.
Meanwhile, Amit has struck out as an outdoors planning expert who has gained appreciation from corporate professionals for the field trips he plans. "Trips and treks help teams bond, apart from teaching folks to fend for themselves. The outdoors test you in a way that an indoors environment never would. Hence the interest and positive feedback from participants, who look forward to these events," says Amit.
Keeping in mind the demands of work and family, the duo makes it a point to indulge in their favourite things: long-distance bike rides, camps and nature walks, which leaves them refreshed to manage home and work with renewed zeal.
So what would they say is their understanding of marriage after five years? "Of course, marriage is a different ball-game altogether from one's courtship dates. But, space, understanding and respecting each other, are the key to a harmonious relationship. That, and not letting conflicts fester for too long," says Udrula. "Of course, we have had our share of fights, especially in the initial years, but now we know what the triggers are and how to avoid them. For instance, he will tell me to stop at a particular point lest it goes downhill from there."
"When one person is annoyed, it's usually a good idea for the other to be quiet," adds Amit.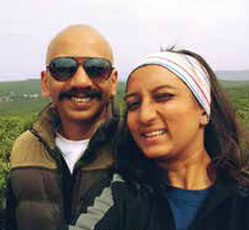 Adventure ahoy: Bike riding trip
to Amboli and Goa
Bringing up a business and the (future) babies
It's a busy and challenging time for the couple as Amit's father is unwell at the moment. "We are also seriously giving parenthood a thought, though the timing, considering my father-inlaw's health is a matter of concern," says Udrula. "What I plan now is to bring the business up to a level where Amit can manage for the most part, and I will be able to take a sabbatical for baby, if need be, at least in the early years."
Amit is completely supportive of her needs. "Honestly, I don't believe a husband-wife role needs to be demarcated in terms of roles and responsibilities. Whatever she chooses to do, in terms of bringing up baby and managing work, I will back her up in every way I can," he says.