Cover Story
CCover Story
Corporate Stalwart — 12 / Deep Into Data Dynamics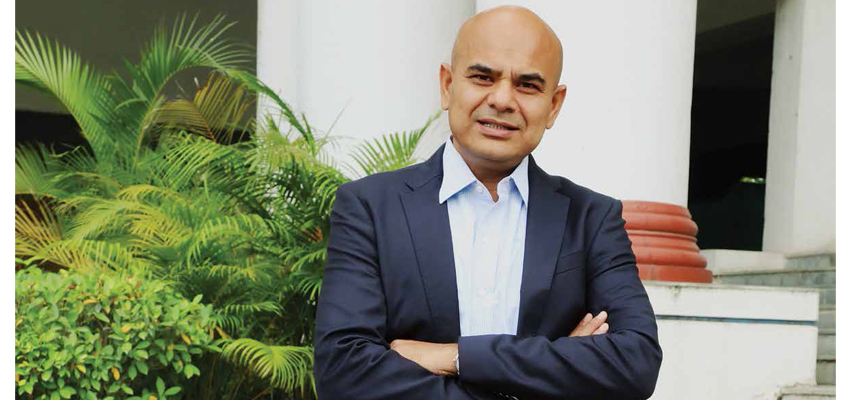 The wave of AI (Artificial Intelligence) and ML (Machine Learning) in the entire gamut of data management has driven businesses to formulate their growth strategies on digital transformations. Enterprise data has become an integral facet of most conglomerates for smart business decisions and outcomes. However, for companies to align all stakeholders and steer them towards this digital movement is not an easy task.
Showing mettle in this direction is Deep Thomas, Chief Data and Analytics Officer at Aditya Birla Group. Responsible for the groups' cement to mobile telephony divisions, Deep's tryst with data began some 25 years ago; gaining initial momentum during his stint with American Express in APAC (Asia Pacific) in a 'data-driven' environment. He has since charted a career in previous roles as CEO of Tata Insights and Quants, as Head-Citi Global Decision Management Centre of Excellence, HSBC and American Express.
"I have not achieved much!" said Deep Thomas in a one-on-one talk, Corporate Citizen attempts to unfold Deep's vast experiences in his chosen field, on his early days and a few tips for youngsters too. Deep completed his B.E. (Computer Science) in Mumbai, pursued an MBA in International Marketing from Arizona State University, and an M.S. in Computer Science and Information Systems (University of Phoenix). Excerpts from talk with Corporate Citizen
"I believe that the world moves through collaboration and not through individual brilliance. so, the relationships and network that you build today are the ones that will be really helpful to you, going forward"
What is your current scope of work with the Aditya Birla Group?
I represent the Aditya Birla Group (ABG), one of the leading conglomerates in the country with an overall value of over $48 billion. ABG is spread across some 18+ sectors spanning both B2B and B2C businesses entailing aluminium, cement, copper, chemicals, carbon black, textiles and fibres. Likewise, in B2C; we are present in the telecom, financial services, and fashion sectors. Each of these businesses is large and global in nature and generate numerous amounts of data; be-it transactions and interactions with our consumers and customers in offline and the digital world, interactions between machines and/or machines and humans in our plants, back-end facilities and so on. My role is to help leverage the power of this data through digital and analytics to enable better decision-making, improve business performance, and pave the way for innovation.
Data Crunch
How simple is it to understand 'Data'?
As I said earlier, Data, can be anything-interactions between man and machines, which is our workers and machines. It is also the interactions between machines, captured through sensors, the social interactions that people have with our brand websites; the (inbound) calls that our consumers make to our customer service; the interactions that our consumer has in the stores when they walk in and the millions of transactions when our consumers buy our products and services. All of these are voluminous-come in different shape and forms, generated at various frequency.
In order to make sense of this data, it is important to first understand the context, especially the business domain, process, decisions, or the key performance indicator (KPI) to ensure the right data is captured and organised before it can be mined effectively to draw meaningful and actionable insights for its' right application.
How do you handle this enormous set of data for the desired outcomes?
It is a very large charter and an exciting area. A legacy in itself, ABG brings to the table the many businesses where it is leading not just in India but also globally and therefore, it gives us the opportunity to stay competitive and/ or transform the organisation to the next level. This is not something that can be done overnight but has to be done in a concerted and methodical manner and requires a culture of learning, experimentation and innovation.
We start with understanding the business challenges and opportunities and then identifying the opportunities where we can get the biggest benefit (value) and the associated effort required to enable it. The opportunities are in various areas-be it manufacturing-related to procurement, quality, asset maintenance, yield, workforce effectiveness or front-end related to the demand, customer life-cycle management, loyalty, channel interactions and product pricing etc. We then apply the effort and impact filter to execute these pilots, which eventually is scaled up for that business or multiple businesses depending on its applicability.
How important is it to manage pilot projects?
Any large transformation needs to follow a process and the pilot projects are an integral part of it. The pilots are defined with a clear scope, timelines (usually 8-12 weeks), and joint accountability with an aim to test the efficacy of a solution and value realisation by leveraging the best of technology, AI, process changes, and eco-system partnership without disrupting business- as-usual. This continuous process of experimentation is imbibed in our DNA and it's only when the pilot is successful that we look at scale-up.
How sophisticated is the entire system of 'Data' management?
Data is the core that fuels all our innovation and we follow a systemic approach towards responsible data management entailing its storage, coverage, usage, accuracy, timeliness and governance. That said, this field is getting more and more complex and sophisticated given the increasing complexity in volume and forms of data and the need to have decisions to be made more holistically and with speed.
Changing Data tracks
How long have you been professing in this sector?
My tryst with data started nearly 25 years ago. Although, I initiated my career with L&T, which was primarily into programming. I then moved to the U.S. for higher studies, following which I got an opportunity to work with American Express. It was here that I experienced the defining moment of my career. As part of the organisation, they were looking at a more data-driven approach to improve the marketing effectiveness of American Express in APAC (Asia Pacific). Through this, I found the area extremely fascinating-to look at ROI based trade-offs in direct marketing investments; such as "where should I put the money?" or "what type of campaigns?" and "what offer?", "what products?" and "what services?" should be served across the different markets in the Asia Pacific region. Later, I got into roles, which were more around statistical modeling to improve direct marketing effectiveness. A few years later, I moved from AmEx International to its U.S. business, where I got an opportunity to work across some cutting- edge areas in applications of 'Decisions Science'. I then moved back to India in 2008 to help scale up the global analytics centre for HSBC.
What triggered the switch over to HSBC Holdings?
I moved to HSBC from AMEX having worked there for nearly 12 years overseeing international and their U.S. businesses in the 'Decision Science' capabilities team. On the personal front, it was also time when my family and I felt that it was appropriate to move back to India. Our parents were ageing and warranted support and care and we wanted our two young kids to get exposure to our culture. The timing was opportune and the role from HSBC was exciting. HSBC presented an opportunity to strengthen my understanding of the Global Retail and Commercial Banking business whilst also understanding, building, and nurturing the growing data science talent in India and China.
When did you move to HSBC and India? Did you miss the U.S.?
It was in 2008. I did not miss the U.S. much other than my bagels and coffee. On the contrary, given my charter and HSBCs' Global presence, the role gave me a unique platform to work across markets beyond the U.S. such as Europe, Latin America, and Asia, which was truly an enriching, and rewarding experience.
What was your role with the Citi group?
With Citigroup (post-HSBC), the role was to scale up its Global Decision Management Centre of Excellence beyond the U.S. across 25+ markets and transform the Centre of Excellence (COE) from not only generating efficiency through standardisation and centralisation but also to add value and effectiveness through innovation and steering the global agenda. Post-Citi, and after completing nearly 20 years in financial services, I got a call from the Tatas to set up its big data company; which was a huge privilege and another defining professional experience.
What experiences do you hold close from your days as Founder CEO of Tata Insights and Tata iQ?
It was one of the most fascinating opportunities. The challenge to set up and scale a new company from grounds-up, build the capabilities and proposition to serve a Group like Tatas across its multi-sectors such as Steel, Power, Auto, Fashion, E-commerce, FMCG, Beverages, Agriculture, Financial Services and above all to learn and be guided by some of the brightest individuals and leaders in the nation made the Tata stint one of the most fulfilling and gratifying stages of my career. I was with the Tata's for nearly three years and more recently in 2017, got an opportunity to serve another legacy and pride of the nation, the Aditya Birla group.
"I have always believed in is that you should not stop learning. in our case, regarding 'Data science and ai', it's still in its infancy and we feel like a twoyear old in a toy store just as how a child feels elated surrounded by toys, is how we feel with so much Data around us!"
Learning & Development
Your understanding of 'Learning Curves'?
What motivates me is the quest to continuously learn, improve, and drive change for innovation. The day you think that you know it all – is the day you perish! Especially ours is an industry, which is changing so rapidly that if you are not abreast of it – you are not interacting with industry and interacting with your peers, you would lose your touch with what could be another possibility! Personally, I have many people to thank. I have learnt immensely from my leaders, my peers and my team.
What are your views on education?
I think while education builds the right foundation of learning and discipline in an individual; it just gives you an entry ticket in your career—it is actually, what you do once you get there; past the entry, that defines you as an individual. While I do have reasons to thank my Alma mater for the corporate breaks, I am more indebted to my leaders and the hundreds of my peers and team members; each from diverse backgrounds, culture, per perspectives, best of schools, and have years and years of rich experience. The one thing that I have always believed in is that you should not stop learning.
In our case, regarding 'Data Science and AI', it's still in its infancy and we feel like a two-year-old in a toy store-just as how a child feels elated surrounded by toys; is how we feel with so much data around us!
What do you think about MBA students in India and your advice to them?
I will reiterate that MBA programmes definitely lend an understanding of the theory and learning through the various business cases and their application. However, I think, there are two things which are very important in addition to the theoretical exposure. Primarily, it is the connection that you make with your friends who are most likely, to become future CXOs of another organisation tomorrow. I also believe that the world moves through collaboration and not through individual brilliance. Therefore, the relationships and network that you build today are the ones that will be helpful to you, going forward.
The second aspect is the exposure that you get with institutions and leaders coming in and sharing their experiences, success/failures, or internships- each act as very strong catalysts, even today.
What do you see in fresh candidates?
It is more about their passion, their yearning for learning. It is normal to yearn for money or success but I would say that yearning for learning is more important than yearning for earning. Especially in our industry, things are moving so rapidly such that if you do not learn, you will become extinct. While passion is important, it is equally important to pursue what you really enjoy because then it is not an eight-hour job but you are thinking about it all the time. I also think attitude is equally important. Unarguably, hard work, focus and commitment are indispensable qualities for all of us. Other essential traits are one's sense of integrity and value system.
Data, The New Currency
Artificial Intelligence and Data Science are key to any organisation's success, extols Deep Thomas, at this session on Turbo charging innovation with the Power of Data Analytics, giving examples of how successful companies are using them to their advantage

For each one of you as you are pursuing a career, either as an entrepreneur or someone who is going to draw an agenda for an organisation, the power that the AI and data science are capable of bringing to the table is critical.
There is a device called Digioxide. It is an innovation made by an individual called Dimitry Morozov. What it has are sensors which capture the air from the surrounding, converts this air which has numerous kinds of pollutants and converts it into a numerical formula, then calculates the degree of pollution in each of these pollutants, whether it is carbon monoxide, nitrates or others. After calculating, it converts it in a representative form through visualisation so that any individual can take this equipment and get a sense of pollution that is out there. What you have here is someone who has got an innovative mindset, this Russian media artist, Dimitry Morozov who came with a technological process, the Digioxide, which provides insight into the quality of air that you breathe in. AI is everywhere, it is also used to understand the level of pollutants that are present amongst and around us. This is just to highlight the point that even if you are in the business of running businesses or even if you are in the business of breathing air, there is a role that AI can play for you.
I will give you some examples to understand why Data Analytics and AI are important for each of you who are having business degrees.
We are living in an ever-changing world-what used to happen ten years ago ceases to exist today. The New York taxi, the yellow cabs are bankrupt, Toys R Us is bankrupt. The largest hotel chain is Airbnb which doesn't own any of the assets, the largest logistics company is now Uber, which doesn't hold any assets when it comes to cars. The world is changing and a lot of digital products are coming into the picture. What we are seeing is, as a part of digital disruption, there are various aspects that surround us.
Simplicity
We all know that one of the most potent and strongest algorithms that are running today is the search queries or the search engines that Google runs. But Google continues to have one of the simplest user interfaces, all you see is a simple bar. What happens behind the screen is millions and millions of algorithms that understand your intent and bring back the right search results. What you essentially see is a very simple search engine.
Proactiveness
Before you start typing a word, you already know what that word is, whether you do it on your app, powered by C or whether you are on your machine. In most cases when we are watching a movie, there is always a recommendation engine which is proactively telling you what it is. Proactive support is essentially important as organisations are looking at understanding the intent, they are trying to understand the habits, and they want to give them a personalised curated experience. Therefore, they have to be proactive.
Convenience is a new loyalty, people want everything on their fingertips, whether it is the music that they listen, the books they want to read, the rice that they want to take… everything is on convenience. People are willing to pay for convenience.
Downtime Can take you downhill
Imagine if there a downtime on a Black Friday, the billion-day sales that Amazon has-a one minute or a five-minute downtime could cost these companies billions and billions of dollars of lost revenue. So it is not only important that the world is simple, the world is proactive, the world is intuitive but it is also important that the world is up-time. Whatever digital businesses you are doing, has to be up-time.
Cloud is the new normal
Traditionally, businesses that were looking at competing in this new age had to set up a large infrastructure and had to pump in a lot of money, they had to provide the necessary scalability, provide the necessary up-time and all that. Today with cloud, which is pay per use, you have the entire infrastructure, the gamut of databases, the software, the tools; regardless of whether you are a large institution or small institution, anybody can start and operate a fairly large ecosystem using the cloud.
"Ai is everywhere, it is also used to understand the level of pollutants that are present amongst and around us. so if you are in the business of running businesses or even in the business of breathing air, there is a role that ai can play for you"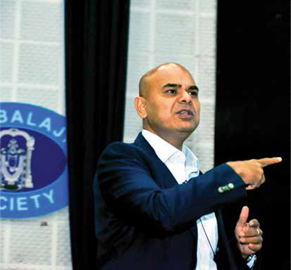 Mobile is the new first screen
According to a recent study by the INA, the amount of time that we spend on a mobile is more than we do with print media. Even more, than we do with family, at times.
Social is the new local
Whether it is Twitter, whether it is Facebook, or LinkedIn, the amount of time that an individual is spending on social networking channels defies human logic, people are spending more time through social media platforms as opposed to actually interacting amongst themselves.
Digital is the new standard
Essentially, what we are saying is everything around us is becoming digital. Whether it is the way we interact, the way we transact, the way we consume services, the way we place orders or whether we run our businesses, it is becoming a new standard.
Technology is the common denominator
And in order to power your business, technology gives you the necessary brute force in order to run your business.
Data is the new currency
And the most important part, because everything is digital, everything is technology, everything is digitised. That means everything which is 0 and 1, is data, and data that has 0 and 1, is a number, and a number which can be quantified can be converted into logic. Anything which can be converted into logic will have a science around it. That is how everything is connected. Why is data the new currency? Because everything is becoming digital, everything is generating bytes of information, those bytes of information are getting converted into numbers, these numbers are helping us identify patterns, determine the logic and use that logic to make smart decisions.
What Netflix has is a subscription model, you subscribe to it and you get your access to various media content. LinkedIn has a premium model, some of their services are paid and some of their services are free. Google search, Facebook is a free model. Uber, Airbnb are app-based models. The most interesting part is, at the heart of these business models, there is data. Whether it is LinkedIn, which uses data to suggest jobs to you, Uber, which uses recommendation engines, pricing algorithms, and brute optimisations, whether it is Google, which uses semantics search methods, data is used everywhere.
The four main reasons for data being the paramount aspect of driving these innovations are:
HARDWARE COSTS – Twenty years back, storing 100 GB of data cost thousands of dollars, today it is less than 10 dollars to store a terabyte of data. For less than 5000 rupees you can store terabytes of information. As organisations deal with lots and lots of data, whether it is machine information, whether it is social media interactions, whether it is telephonic calls, field visits, whether it is a transaction in Point of Sale machines, all of this data doesn't have a limitation of storage. Because storage is cheap, companies are just storing it.
ADvAnCED SOFTWARE – You now have the ability to access various types of open-source software which can process and mine information as strong as legacy software which used to cost companies millions and millions of dollars.
COnnECTIvITY IS PROLIFERATInG – Whether it is the IoT or the variables that are connected to my mobile phone or whether it is connecting machines, whether we are connected to social media platforms, everything is around us -- man, machine, materials. As they are getting connected, there is digital data, and all of this data is generating a massive amount of information.
CLOUD – It offers you scale, it offers you flexibility, it offers you industrial strength and it offers you every single tool that is required.
What is interesting is that due to these four factors, organisations are storing more information, they are mining more information, they are trying to stitch holistic views of interactions, transactions and various aspects of interconnectivity between man, machines and materials, and using pay-peruse models to try and test out the solutions through a cloud-based strategy. And that essentially is what Big Data is, what you see is data, everything is getting digitised, everything that is getting digitised is getting programmable, and everything that is getting programmable is now helping build digital businesses.
What is big Data?
There are essentially 3 V's-Volume, Variety and Velocity.
VOLUME - Talks about the globs and globs of volumes of information that is available out there. Whether it is billions of billions of records that are generated by a machine which runs through an hour through a sensor or it could be thousands of calls that a company gets, all of this is large volume.
VARIETY – This information comes in different forms, it could be CCTV feed which is video, it could be an image captured on a machine which is processing through a production which is unstructured. All this is in various shapes and forms.
VELOCITY – This data is generated at various speeds, for example, if you are swiping your credit card, it is probably a transaction once a day, if it is your spouse it is every once an hour. The velocity with which the data is generated also varies.
There is a huge amount of data, volumes that run into zettabytes and so on, there is a variety of information which is available to organisations, images, videos, texts, sound, and transactions. This information is available at different frequencies of time. But ultimately the one V, which is most important is the V, which uses all three V's together to generate value. Big data analytics or decision science is essentially about generating value using different aspects of big data. It is important because it is seen that organisations that use big data are expected to make decisions five times better. Clearly, organisations have people, people have egos and when they have egos, they don't make the right decisions. But when it is data, data has no family, they are unrelated to people. When we make decisions based on data, it is without bias, it is essentially speaking the truth when you are making the decisions based on imperative evidence you are likely to make better decisions. If you are making better decisions aligned to everybody in the organisation right up to the person sitting in the factory or the person sitting in the shop floor, there is alignment across everybody in the decisions they are making. So you are not only making the right decisions, you are making decisions where everybody is aligned.
"Why is Data the new currency? because everything is becoming digital, everything is generating bytes of information, those bytes of information are getting converted into numbers, these numbers are helping us identify patterns, determine logic and use that logic to make smart decisions"
Where can big Data be used?
When I did my B-School degree 25 years back, what mattered to a CEO was to grow revenues, reduce costs, mitigate your risk, and improve customer experience, identify new revenue streams and identify new business models. Data analytics or data science is actually used in all of these six areas, in fact, this is the ammunition that is required by every single CXO. Data, infrastructure, talent, recipe, all four things, is what I mean when I say data analytics.
Let us look at the six examples where big Data can be used
1. InCREASInG REvEnUES: Walmart is the largest retailer in the world. It has 10,000 retail chains. They have brand promise, every day low prices. In the day and age where you have digital players who can offer you discounted products at any place in the world, imagine the level of sophistication that is required for Walmart to fulfil the promise of every day low prices. It requires a lot of boot strength to process a lot of information and sophisticated AI to determine what should be the price we should offer for a particular product so we can commit to our everyday low prices. They have sensors in shelves which monitor what item is picked and what item of the shelf has to be replenished. Walmart uses Machine Learning, AI, IoT and Big Data to boost retail performance – IoT analytics.
2. REDUCInG COST: UPS is the largest logistics company in the world, their job is to dispatch a particular item from point A to point B in the best possible SNA-if I have to reach in four hours, I should reach in four hours. But the important metric for them is also, not only to deliver this in four hours but at the lowest cost. When you are talking hundred million miles a year with over 300,000 drivers across 250 countries and millions of streets, every single turn that you take can have a big impact on the logistic cost. The largest cost of an asset is the cost of the fuel. What they use is called a route optimisation engine to identify the most optimal route, the kind of drivers that should be assigned, the kind of trucks that should be used. All of this is done through a combination of an optimisation recommendation engine for them to be able to save their cost.
3. IMPROvInG CUSTOMER ExPERIEnCE: Disneyland is the happiest place in the world and it is also using data analytics for improving customer experience. If you can make a child happy, you can make anyone happy. How does Walt Disney do it? It does it through magic bands, it has an RFID which tracks your movement in the theme park, it also looks at you and the time that you spent in the theme park. It is also integrated with cameras that are capturing your sentiments after a ride, the magic band captures your taste, looking at the type of food that we eat… all of this is done in a manner where it is personalised to each and every individual. So when you walk into Universal Studios, it is curating the personalised experience for you. Here are five rides that you will enjoy, how to reduce your waiting time, all of that is part of AI. It is a power of technology -- beacon RFID to track and create an integrated view and analytics for your recommendation.
4. MITIGATInG RISkS: Banks do that extensively, ICBC uses data analytics for fraud protection. It essentially looks at the transaction happening at a credit card and looking at anomalies. For somebody who has not travelled to Vietnam and they have a transaction in their card which seems suspicious, it will track it. Banking and financial services were one of the pioneers in using data analytics in the 1970s with the credit score for underwriting, the usage of various algorithms for fraud detection, etc.
5. IDEnTIFYInG nEW REvEnUE STREAMS: US Cellular was large but it was relegated to the suburbs in the USA. It was never in the big cities, it was in suburban parts of the country. It was performing miserably, to an extent that people said, this is going to the doldrums and it will eventually become bankrupt. And then they started using AI. Since they were present in the suburban parts of the country, they realised that they had access to those industries which only exist in the suburban part, agriculture and livestock. They partnered with animal husbandry and they created wearable devices on livestock and they started giving them recommendations on how to improve the longevity of livestock, how they could decrease health hazards to livestock. This new revenue line became so significantly large that it created multi-digit billion-dollar value evaluation for US Cellular. For a telecom company which was going extinct, they used the power of digital and AI in order to create new revenue lines.
6 . nEW BUSInESS MODELS: Beam is a company which is into insurance through toothbrushes. In India dental insurance is not big, in large parts of developed markets, US, UK, Australia, it is a fairly large business. In the US itself, the dental insurance sector itself is close to $40 Billion. What Beam did was they started producing toothbrushes with sensors, those sensors emit information to cloud, they knew what is the average amount of time people spend in brushing? It was done essentially to underwrite the types of dental hazards people would face. And they started monetising this information to insurance players.