Loved & Married too:
Supportively
yours:
Love's like that
It is not often these days that a college romance fructifies into a wedlock. Corporate Citizen unlocks the story of love that has culminated into marriage, for we believe in the stability of a relationship and family unit. We bring to you real-life romances that got sealed in marriage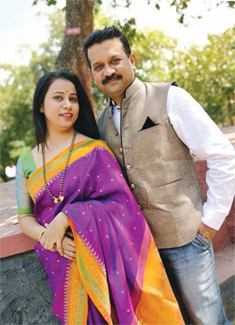 She's General Manager in Pune's Ravetkar Group, a real estate development firm. He runs his own financial consultancy 'One stop solution' for all queries related to real estate. She's a corporate, he an entrepreneur. The last few years have undoubtedly been challenging for Rupa and Ajinkya Dantale but rewarding as well. After all, they are both doing what they love, on their terms.
"It wasn't easy quitting a full-time job of 11 years with ICICI in their Housing and loans department, but deep down, I was pretty sure this is what I wanted to do. Luckily, my wife not only supported my quest for entrepreneurship and self-employment but also made it as easy as it could possibly be," he says.
On her part, she shrugs that it wasn't that difficult—"because there was no conflict in what we wanted to do."
At the heart of this mutual respect for each other is a marriage founded on years of friendship and understanding.
As individuals though, they couldn't be more different. She's the social one, he on the other hand, takes his time opening up to people. She loves reading, music and plays.
The very notion is boring to him—he's more an outdoors person with a love of travel and trekking.
He's patient and mature, she's spontaneous and bubbly. Obviously, a shared value system helps in cementing bonds on a deeper level.
Rupa and Ajinkya Dantale are deeply invested in each other's dreams. A simple but effective way to live, work and grow together—not only as individuals but also as a couple and parents to 13-year-old Ria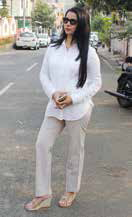 Back to the beginning
This love story pre-dates even the college years and is therefore not the typical campus romance. The families lived next to each other in Pune's peth areas and both saw each other grow up. "In fact, we were regulars at each other's homes. My mother-in-law especially was very close to me, my parents and my other two sisters," recounts Rupa.
It was sometime during undergraduate college that love entered the picture. "The families knew each other well and there were no objections really, and after completing my graduation and taking up my first job, I married him," she says. This was in 2004.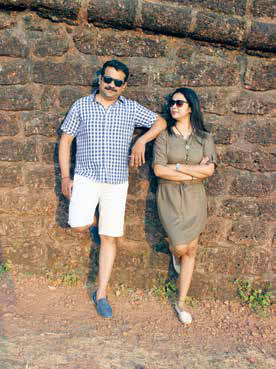 A year later little Ria entered the picture. "Looking back, I can only marvel at how quickly our relationship transited from one level to the next. First we were boyfriend- girlfriend, then husband and wife, and in swift succession, parents. Yes, the pace was hectic and demanding, and sometimes I wish it had been more relaxed, but the situation required us to pull together as a team, understand each other and be equal to the multiple demands of career, home and baby," she recollects. What's more, living as a nuclear family, albeit in the same building as his parents, helped them evolve as an independent unit despite the fact that they were both only 22 and 27 respectively.
Fourteen years later, they look back in quiet satisfaction at having made it from scratch on their own.
Rupa quit her job in the initial days to concentrate on baby, firm about the fact that one day she would return to work. "He has always encouraged me to follow my heart and helps out in ways big and small," she says.
As of today, when her work entails frequent travel and out of station stints, all he wants to know is that she is safe. "He is very patient with my erratic schedules and since his timings are more flexible, is a very hands on dad to our girl," she expresses
Similarly, she makes it a point to extend her understanding to him when it comes to dealing with the vicissitudes that self-employment usually brings in its wake. "It's a competitive and demanding space, but he is good at what he does," she says.
The mantras of a marriage
Respecting each other's dreams
Understanding and patience Trust
Not letting fights fester
Appreciation and respect for one's significant half
"Looking back, I can only marvel at how quickly our relationship transited from one level to the next. First we were boyfriendgirlfriend, then husband and wife, and in swift succession, parents"
—Rupa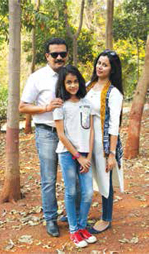 Bringing up baby
Like every young family, their world is centered around Ria, but they have been particular to encourage her to be independent.
While Rupa is the stricter parent, Ria is deeply attached to her father who is more like a friend. "Picking her up and dropping her to school, taking her to classes and various treats are my forte. But her studies and diet are largely Rupa's focus," he says. "At the end of the day, all we want is for our girl is to learn and observe from our experiences and struggles and grow up to be a well-rounded human being. "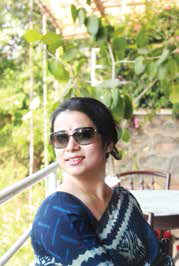 Adds Rupa, "Yes, studies are indeed important but even more so are the skills required to deal with day-to-day issues and sort them out amicably."
Quality time as a family consists of treks and long weekends to the Konkan coast which they love from the bottom of their hearts. "There is something so deeply refreshing and rejuvenating about the Konkan and its assorted spots that we have to plan a visit every few months," says Ajinkya.
The building blocks of a marriage
"Honestly, I don't remember the last time we fought," says Ajinkya. It wasn't always this way, the duo went through their moments of intense strife like every couple. "Yeah, we have done the yelling and screaming at each other... been here... done that," grins Rupa. "But gradually maturity sets in. When you let the conflict overrule the peace of the house, both lose." Appreciating each other comes easy. "I really wonder at her hard work and ability to multitask," says Ajinkya. Even as Rupa says his patience and maturity are his finest qualities.
So, what according to her, makes a marriage tick ? "Understanding, patience and acceptance," says Rupa. Whereas Ajinkya's take is even simpler. "Trust each other, and it all works out in the end."
By Kalyani Sardesai