Hollywood biz:
The Winners from
Big Oscars 2018
The Academy Awards is the biggest event in world cinema, and each year, the best movies from around the globe are bestowed with the highest honor in cinema—the coveted Oscar. Without further ado, Corporate Citizen brings you the winners from 90th Academy Awards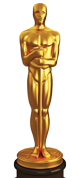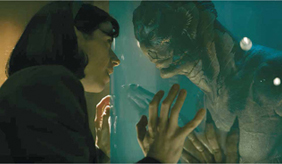 A still from The Shape Of Water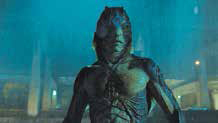 Best Picture
The Shape of Water
The winner of Best Picture is an unconventional love story which follows a mute custodian at a high-security government laboratory who falls in love with a captured human-like amphibian creature. Guillermo del Toro's The Shape of Water is a period science fiction film, which is a throwback to previous Oscar winners like ET, which walk the tightrope between appealing to sci-fi fans and as well as mainstream fans. The interesting part is that the film boasts of no major stars. It's the story that is the king here.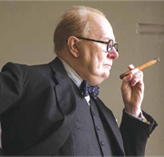 Gary Oldman as Winston Churchill in Darkest Hour

Actor in a Leading Role
Gary Oldman
Movie: Darkest Hour
Darkest Hour is a war drama, and is an account of his early days as England's Prime Minister Winston Churchill. Churchill is one of the most enigmatic historic personalities in the world, and it was always going to be a challenge to portray him. Gary Oldman, however, does a fantastic job, and makes the character his own. Despite being hailed as one of the greatest actors of his generation, he had never won an Oscar till this year. In a lot of ways, he is one of the most deserving people, along with Leonardo DiCaprio, who had been denied this great honor for far too long.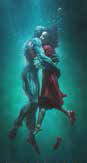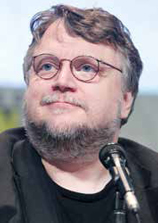 Best Director
Guillermo del Toro
Movie: The Shape of Water
Guillermo Del Toro has been a critic's favourite for a long time now. The Mexican director has always been acclaimed for his dark fantasy-themed movies like The Devil's Backbone and Pan's Labyrinth, but an Oscar had always eluded him till now. In a lot of ways, this award seems to be a culmination in spirit for a lot of his earlier films. The Shape of Water is a difficult film to direct as emoting with a CGI creature can be hard for the audience to relate. Del Toro does an excellent job however, and expectations will be sky high from him going forward.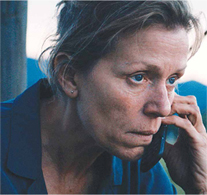 Frances McDormand in Three Billboards Outside Ebbing, Missouri
Actress in a Leading Role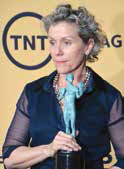 Frances McDormand,
Movie: Three Billboards Outside Ebbing, Missouri
Three Billboards Outside Ebbing, Missouri is a drama film starring Frances McDormand as a mother who rents three billboards to call attention to her daughter's unsolved murder. Her performance as the heartbroken mother who will stop at nothing to ensure justice for her daughter will move you to tears. There are movies which rest on spectacle and those which rest purely on performance. Three Billboards is such a movie which rests squarely on the impressive shoulders of McDormand and she carries the weight with ease. She has been nominated for five Oscars so far, and this win makes it the second Oscar for her, after winning Best Actress for Fargo in 1996.
By Neeraj Varty