Health:

Blending Fitness and Dance 'Classically

That dance movements bring in fitness is not new but, staying fit to endure the journey of 'being' a classical dancer, definitely is. Kolkata-based Ritwika Ghosh, a Bharatnatyam dancer, is a 'chip' off the acclaimed Chennaibased Rukmini Devi Arundale's Kalakshetra Foundation. A staunch believer in the martial art form from Kerala–Kalaripayattu, she's had her opportunities to run corporate workshops that help de-stress employees through dance therapy; also having performed at many corporate events. A recital performer since the age of 14, she migrated from Chennai and currently runs her own dance school in Kolkata, whilst shuttling between cities for workshops and performances. Ritwika shares her dance and fitness 'mantra' for all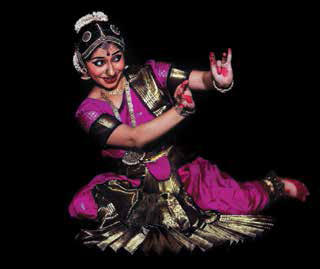 "If fitness be the goal, then the aim is already within you. If we listen to what everyone has to say (for late beginners of dance), then we automatically get deprived..." said Ritwika Ghosh, Bharatnatyam dancer and Kalaripayattu artist. "One has to be a bit self-centred here and there is no age-bar on when to start learning to dance."
A recipient of the 'Yuva Kala Bharathi' award from Bharat Kalachar, Chennai, Sanjukta Panigrahi Smriti Puraskar from Aurovinda Ashram, and the 'Adwitiya'award from Anandabazar Shalimar, Kolkata; she was bestowed the title - 'NruthyoJyothi' and also the 'Padmavati Pratibha Puraskar' from Devdasi Nrutya Mandir Bhubaneshwar, Odisha; NrityaVilasini from Bhilai, Chattisgarh, 'Singarmani' from Sursingar Samsad, Mumbai et.al. She is an empanelled artist for Doordarshan and SPIC MACAY (Society for the Promotion of Indian Classical Music and Culture).
For dancers, stretching of the body is an important component and many a time, dancers too fail to practise other parallel exercise routine. "With regular dance and its rigours, dancers are often subjected to bodily discomforts such as knee pain and other aches in the back and hip. This is especially true for regular and lifelong practitioners of Bharatnatyam and could lead to muscle pulls and other injuries."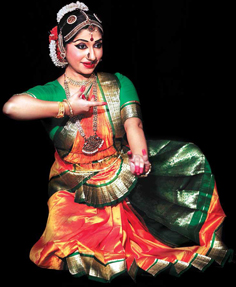 "Some dancers therefore resort to fitness training during, before and after their dance practices or recitals. Personally, I chose Kalaripayattu, a martial art form that enables flexibility and leg strengthening, by keeping the muscles in elastic working conditions and imparts a sense of 'balance' during performances, which is very critical for a clean start and a smooth finish to any recital..." She owes her fitness training to Dr Kannan Pugazhenndi in Chennai, who imparted the benefits of stretch-based exercises.
"The 'Aramandi' (starting position) in Bharatnatyam demands the torso to be in that 'state of bend' for close to two hours at times; which could be injury prone and is considered an abnormal position to keep by most orthopaedics," she said. Pre and post-exercises following dance is the ideal way to stave off any form of injuries and this method is "true not just for those pursuing classical dance but also for all in our regular daily lives. We all need a little bit of cardio, yoga, walks and stretching and we can all strive to be fit. I strongly advocate the time-tested yoga positions as part of 'Suryanamaskar'; even if you do the 12 postures; a minimum of 6 repeats once each on the left and then the right, it not only covers the entire gamut of cardio and stretching exercises but enables blood purification too..."
"Regular dance practice for half hour daily or Suryanamaskar combined with meditation can help bring in focus to relieve stress, especially for women to relax and help nurture internal happiness."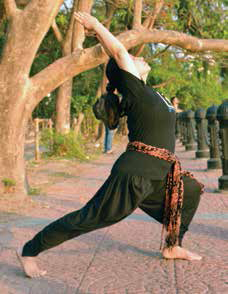 Dance, a therapy
Dance as a therapy is gaining ground in companies but, very slowly and is more prevalent across Mumbai, Chennai or Bengaluru. "... I have been a part of lecture demonstrations run as 1-2 day workshops in the IT sector..." she said. The focus here is to provide an alternate exercise routine to employees who either do not have time or the inclination for any forms of workouts.
"The expectations here are not to bring out ace classical performers but to provide an outlet through dance and music for employees who are too tired to hit the gym... In the past 10 years, there has been about 20-30% uptake in corporate music or dance-based workshops..."
"Everyone is not a dancer, I often incorporate movements which are possible by almost all. In Bharatnatyam, there are about 75-odd dance steps and I introduce a few basic 10-15 steps over a 1-1.5 hours per day workshop lasting a day or two. I help beginners to acquaint with and then choreograph an impromptu dance composition to help the learner achieve something besides a 'feel good factor' to relieve stress," she said.
"These packages are run for an hour with intermittent gaps keeping in mind the non-dancers. But, if companies were to increase the frequency of such workshops then the whole idea reaches a second level where these dancers would be more familiar and experienced to try more moves..."
"For those in the 45-50 age group, the Western or contemporary style other than hip-hop might be a bit easier than the classical format. However, if you have the need to aspire and perform – regular practice and dedication is sure to pave the way and who knows the person would turn out to be a good performer too..."
"If not a performer, be a teacher or choreographer, the avenues are aplenty!" Ritwika signs off.
'Corporate' dancers
Mamitha Prasad
Schneider Electric
Ritwika's efforts have offered her disciple Mamitha Prasad, Marketing Manager at Schneider Electric, Kolkata to follow her passion in dance. Mamitha has been dabbling in dance since she was 22 but finally re-started her passion more ardently at 30 years in 2016 in Bengaluru. Mamitha, having moved cities finally found her Guru Ritwika last year. "With a new job, new place, marriage and kids, passions can slip off your hands, so when you have time even if you are 30 or 50 years, the idea is to start. It is not about the profession but I dance for myself... I know that I am not fit enough for dancing but, this is something which you can train your body to do to an extent. I don't aspire to be a professional dancer. All I care for is that my body should be able to accommodate...."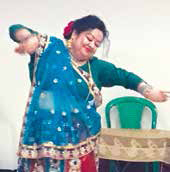 Kasturika Dasgupta
IBM India Pvt. Ltd.
Kasturika Dasgupta, Manager, IT Software Testing at IBM India Pvt. Ltd., Kolkata; is also a trained Kathak dancer. She began dancing at the tender age of 2.5 and currently also represents her company in organising shows, designing, choreographing and performing too. While considering dance as a stress reliever she said, "Personally it is a flow of emotions for me, a way out from depression or other mood swings; it defines my identity while offering breathing space and enjoyment. Sometimes coming from office I would like to dance which offers a good balance between my mental and emotional health while making me physically fitter..."
By Sangeeta Ghosh Dastidar