Editor-in-Chief's Choice: Dr Manoj S. Kamat - Just lip service to higher education?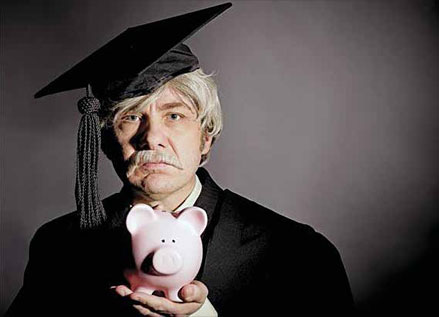 The word 'education' was used 43 times by the Finance Minister in his Budget speech - 2018 compared to the cumulative total of 53 times in last four budgets from 2014- 2017. However, the irony is that, in 2018, the relative percentage of financial allocation to education in the next year has been brought down to 3.48 per cent from 3.69 per cent of total budgetary expenditure in the current year. Moreover, the share of higher education in the total budgetary allocation to the education sector in the current budget increased by merely one per cent from 41 per cent in the last budget. The gross allocation of Rs.35.10 thousand crore to higher education in 2018-19 is less than half per cent higher compared to the revised estimates of 2017-18 given that the size of the current budget is around 10 per cent larger than the last one. The figures in the economic survey published last month hinted of a fiscal slip this year and thus it wasn't any surprise when the FM used the word 'tax' at a maximum of 116 times in his Budget speech, the highest ever in the last 4 years!
The government aims at a growth rate of around seven per cent in the current fiscal while job creation is at the lowest level in past three years. Fitch Ratings puts India's potential growth rate at 6.7 per cent for the next five years and adds that access to education is one factor holding back growth in productivity. Highly educated and skilled people will be crucial to such growth. The programmes like Digital India, Skill India, Startup India and Make in India are being pushed to the core but for its success, it is imperative that the public funding in higher education is spiked up to fulfil the educational aspirations of youth and expectations of the industry. The budgetary allocations to higher education, unfortunately, failed to reflect the seriousness of the government on this front.
DRASTIC CUT IN SUPPORT
Higher educational institutions in India experience a huge financial and infrastructural divide with a dichotomy in opportunity for learners. The increased funding, autonomy in administration and higher research grant have always been the prerogatives of the Centrally-sponsored institutions like that of the AIIMSs, IITs, IIMs, NITs and Central universities, while state-funded universities and the university-affiliated colleges in many parts of the country still languish for basic funds, manage with most paltry or no non-salary grants and with regular teaching positions not filled up for years. It was thus expected that the budget would make some attempts to create a level- playing field between the Centrally-funded and state-funded institutions by providing a cushion to state-run institutions. There also exists a wide gap in infrastructural facilities existing in the rural and urban higher education sphere. Most importantly, the figures released by National Sample Survey Key Indicators of Household Consumer Expenditure reveal that monthly spending on education for the top 5 per cent of urban Indians is Rs.908.12 and for the bottom 5 per cent of our rural countrymen, it is merely Rs.7.54. There is an ardent need to bridge this gap. Looking at the pathetic budgetary allocations for the coming year it is expected that the Centre-funded and the state-funded higher education institutions will both choke simultaneously.
The state-funded institutions cater to maximum students in the higher education segment and are largely dependent on plan-based grants from the UGC and more recently for infrastructure grants from the Rashtriya Ucchatar Shiksha Abhiyaan (RUSA). You may find it intriguing to note that the fund allocation to the UGC has been cut by around Rs.200 crore while the fully Central- sponsored flagship scheme of RUSA, which was expected to massively increase its outreach in 2018-19 managed to get a mere increase from Rs.100 crore to Rs.1,400 crore.
Collectively, Central-funded institutions of eminence like IITs, IISc, IIMs and NITs significantly contribute to applied research and usually receive a higher share in total higher education spending. These institutions will significantly suffer in the ensuing year as the budgetary support to all IITs is drastically cut by 24 per cent, for Central universities and NITs by 13 per cent respectively, the allocations for IISER is reduced by Rs.26 crore, all IIMs by Rs.32 crore and to IISc by Rs.65 crore in 2018-19 compared to 2017-18 revised estimates.
Given the high push towards 'Digital India,' the corresponding budget allocation for digital initiatives is also demoralising. The massive open online courses (MOOCs), the part of the overall e-learning segment and the national digital library project have been allocated the same as last year. The budget is also silent on any allocation for the proposed National Testing Agency and the Innovation Fund and has cut fund allocation for e-learning from Rs.518 crore in last year to Rs.456 crore in 2018-19.
VIABILITY OF NEW FUNDING MECHANISM
The suggested reasoning for massive support cut for Central-funded institutions of eminence is that all infrastructure financing will now be moved to the 'Higher Education Funding Agency' (HEFA) instead of, from budgetary grants. HEFA was granted a budgetary allocation of Rs.250 crore last year but is proposed an allocation of Rs.2,750 crore for the ensuing year.
Thus the additional allocation to HEFA of Rs.2,500 crore comes at the cost of cutting cumulative budgetary allocations to all such institutions to the tune of Rs.3,500 crore. Moreover, since it is envisaged that HEFA will put in place a system where educational institutions will now borrow instead of depending on grants for each of their expenses, this money needs to be repaid in over 10 years. The budget announced a new scheme called 'Revitalising Infrastructure and Systems in Education' (RISE) and planned to step up investments in research-related infrastructure in premier educational institutions.
The RISE scheme will be financed via HEFA established as a non-banking financial company jointly by the Ministry of Human Resource Development and Canara Bank and aims to lend low-cost funds to government higher educational institutions. Currently, HEFA is looking to raise Rs.20 lakh crore and budget announcement hikes this number to Rs.1 trillion in next four years. Further details about RISE are still awaited but in the light of lofty plans, it may be noted that HEFA has given loans only worth over `Rs.2,066 crore to 27 projects of six engineering institutions until December last year.
"The budgetary support to all IITs is drastically cut by 24 per cent, for Central universities and NITs by 13 per cent respectively, the allocations for IISER is reduced by Rs.26 crore, all IIMs by Rs.32 crore and to IISc by Rs.65 crore in 2018-19 compared to 2017-18 revised estimates"
UNFULFILLED EXPECTATIONS
To support the educational technology related startups and given the renewed interest of new-technology- oriented firms looking at e-education as a business model, the existing GST on education services could have been reduced. Further, it was expected that the private sector participation would get greater incentives through liberal tax and regulatory enablers for allowing foreign universities to collaborate and operate in India. Considering the looming costs of higher education, some relaxations in terms of educational loans were also expected. Presently, Section 80E of Income Tax Act has a provision to claim the interest paid on an education loan as a tax deduction for eight financial years. Given the higher burden of interest rates on such loans, a more widened the tax deduction window was least expected. The buffer period for repayment could also have been extended. Further as an incentive to pursue job-oriented courses such loans could have covered any vocational course irrespective of government recognition or not to enable borrowers take up self-employment. No such respite came through. Sadly, the budget also lost an opportunity in the establishment and strengthening 'Skills University' and 'National Board for Skills Assessment and Certification' by not making any financial provision.
In his centenary address at the University of Patna, the Prime Minister remarked that offering higher education institutions financial support and unshackling them from restrictions will help them develop own roadmaps and pursue their ideas of excellence. In the light of the allocation for higher education in the current Union Budget, it is easier said than done!
(This article was orginally published in Sakal Times. This is the link to the article http://www.sakaltimes.com/opinion/just-lip-service-higher-education-14493)
Dr (Col.) A. Balasubramanian