Cover Story: DYNAMIC DUO: 68 / Daulat and lt gen vijay oberoi -

Wise

&

Wonderful
In those days, it used to take a very long time to make an artificial leg. Vijay's friend, Major D. N. Singh, another battle casualty from Kumaon Regiment, was on the next bed. He was married with one child at that time. So we all became very good friends. When their wounds healed, both Vijay and Singh came out of the hospital. They used to walk on crutches, get into a taxi, come to our house at the Rajendra Sinhji Institute (RSI) and have food. My mother loved having them over
-Daulat
In a world where it's getting harder and harder for couples to stay together, the golden jubilee couple—Lt General Vijay and Daulat Oberoi—show how to live a life of pure joy, wit and togetherness.
They prove the point that you don't have to be physically perfect to be loved because the best and most beautiful things in this world cannot be seen or even heard but are felt in the heart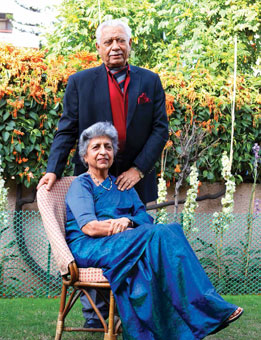 The story of Daulat and Lt General Vijay Oberoi looks straight out of a Bollywood film. In 1961, when Daulat first met Vijay, he was a young army officer of the 'Jangi Paltan' which had come to Pune for their peace tenure. At that time, Vijay was a very close friend of her brother Deelip (a senior executive with Mahindra & Mahindra who unfortunately passed away in 2006) but there was nothing between them which could even remotely indicate that six years later, she would be tying the knot with him.
However, fate clearly had some other plans. During the 1965 Indo-Pak War, when Vijay got severely wounded in a skirmish with Pakistani soldiers in Kashmir and was evacuated to the Command Hospital at Pune, seeds of 'love' in the times of war seem to have already been sown.
Sitting in the lush green lawns of their beautiful bungalow 'Daulat' in Panchkula and 51 wedding anniversaries later, when this extraordinary couple fondly recall how they fell in love which blossomed in the corridors of Pune's military hospital, the warmth of their affection is palpable.
Born in Kolhapur (Maharashtra) when the Second World had ended, the early life of Daulat was unaffected by the violence and turmoil that Vijay's early life had witnessed. Her father the late Major General D. A. Surve, a Maratha, was the younger brother of the Dewan (Prime Minister) of the erstwhile Kolhapur State. Her mother, the late Najmunissa, was the daughter of the Officer-in-Charge of all the Maharaja's horses at the palace. Spread over a couple of acres, her father's bungalow was close to the Maharaja's Palace.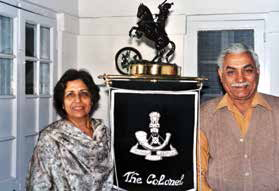 Daulat and Vijay with the "Colonel's Banner" of the Regiment
Surve was a much respected King's Commission Indian Officer (KCIO) who had his military training at Sandhurst in the UK and was the first Indian Commanding Officer of 1st Battalion, the Maratha Light Infantry (Jangi Paltan), in 1946, when it was serving in Japan as part of the British Commonwealth Occupation Forces.
Due to the exposure of nuclear radiation while in Japan, Daulat lost her father Gen Surve, who died of leukaemia in 1951, she was just six. Although, then, she still has vivid memories of her father. Her mother brought up her and her brother with the meagre pension she used to receive from England. Educated at St. Mary's School and Wadia College in Pune, Daulat was the principal of a primary Army school at Secunderabad from 1977-79 and later, during 1991-93, she was the principal of the Army School Hisar.
An outdoor person, she used to play tennis and loved swimming and cycling in her younger days. She is fond of gardening, bird-watching and wild life and has always had pet dogs in her house. Currently she has a black Labrador— Pasha.
Love & War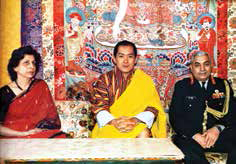 Daulat and Vijay with the erstwhile King of Bhutan Jigme Singye Wangchuck
So how did their love blossom? Narrates Daulat, "During War time, as is the custom among Army ladies, my mother, a typical Army wife, would visit the army hospitals to look after patients and give moral support to all war casualties and sometimes I used to accompany her. We of course knew Vijay because he was from the same Maratha Battalion, which was once commanded by my late father Maj Gen Surve. So that bit of familiarity was there. But whether it was Vijay or anybody else from the Maratha Regiment or the other forces, we met them all. Sometimes I would also go to meet him with lots of my school friends. We used to cycle up to the hospital and meet Vijay. But how it developed into friendship is a long story because he had a pretty long stay in Pune."
She continues, "In those days, it used to take a very long time to make an artificial leg. Vijay's friend, Major D. N. Singh, another battle casualty from Kumaon Regiment, was on the next bed. He was married with one child at that time. So we all became very good friends. When their wounds healed, both Vijay and Singh came out of the hospital. They used to walk on crutches, get into a taxi, come to our house at the Rajendra Sinhji Institute (RSI) and have food. My mother loved having them over. We would go to movies. Everybody in Pune saw army patients moving around on crutches, wheelchairs, watching a movie, going to restaurants because they all had a tough time as they were badly wounded during the War and needed limbs urgently."
Does disability distract?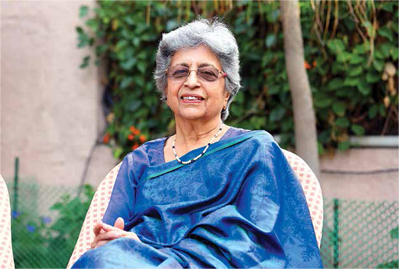 Didn't she worry about the fact that Vijay was a disabled soldier? Pat comes her reply, "No. To me, he was a person. I didn't think on the lines that he is minus anything. Looks didn't matter much to me—the person mattered.''
What was it that she liked about him? Adds she, "Maybe the fact that he was always very cheerful and used to enjoy going out. He used to come to our place quite often and was very fond of my mother. Whenever he would come, we would go to movies, restaurants, have Chinese food. Even before he had lost his leg, he was my brother's very good friend. So that connection was already there and my brother was very fond of him as well and was very happy that our friendship had turned into a liking for each other. So the reaction of my family was also very positive."
So nobody objected to the two of you getting married? "No, some of my mother's friends would ask as to how could she allow me to marry a boy who has lost his leg and she would turn around and say that "My daughter has chosen him and wants to marry him. So, I won't come in the way". Daulat adds, "she was a very brave lady".
I'm heading an NGO which works for underprivileged children. We've three chapters running—two in Chandigarh and one in Panchkula. We're teaching about 100 children and they're doing well. My members are the teachers
—Vijay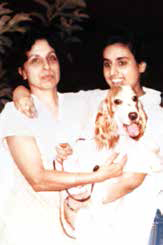 Progressive parents
And what was the reaction of Vijay's parents? "I think his parents were more worried about who'll marry Vijay because in those days lots of engagements used to break when officers got wounded, lost limbs as the girl's parents would not permit their daughters to get married. Some girls who wanted to marry despite the disabilities of their fiancée had to elope. So, there are two sides to everything."
"Vijay's parents were very progressive too. So, eventually we got married in 1967 and recently we celebrated the golden jubilee of our marriage too," she smiles with a twinkle in her eyes.
What were the early days of marriage like? "They were very quiet for me because Vijay was posted to Delhi and was staying in an Army Mess. So, I came to Chandigarh and stayed with my in-laws. I was a free bird. His sister was studying at that time, so I had company. I learnt driving and we used to do lots of things together. So, for me, it was a very relaxed time as I came to know my in-laws also very well. Then Vijay got posted to Pune and then it got very hectic."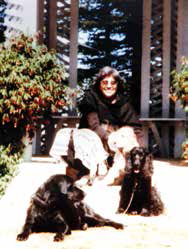 Daulat with her dogs at "The Retreat," residence of GOC-C, Shimla
"It was while in Pune, my elder daughter was born. Fortunately, she was born when my mother was living in a flat next to ours and so she was a great support," she recalls, adding, her second daughter "was born in Delhi and at that time my mother-in-law was with me. But life in the Army was very uncertain. Every three months, you've to shift somewhere. We didn't have a house. So, it was really very difficult because you keep moving and trying to get an accommodation which was very difficult in those days. Yet I moved with Vijay wherever he was posted. We went with him even when he was posted from 1981 to 1984 to Malaysia as a Defence Adviser. It was very nice. Then we also went with him to the USA. It was for a year-long course in the US Army War College. But our government is highly bureaucratic. They said since it's less than a year, we won't pay for the family but we nevertheless went," she laughs, adding that "USA is not all that expensive. Food is very cheap over there."
So how did she bring up her daughters? "We always took them with us, even when we had to shift between an academic session! Sometimes we had to move from Andhra Pradesh to Madhya Pradesh to Delhi, but we managed and they've turned out to be very good human beings. My elder daughter Rashmi writes now. She's writing for Seema Mustafa's The Citizen, a digital newspaper based in Delhi. My younger daughter, Manisha, is married and lives in Bhubaneswar. Her husband has a family business. She's also managing very well. By the grace of God, our grandchildren, two granddaughters (Girisha and Shefali) and our grandson Mayank are doing well. Mayank is also trying to get into the Army and his sister, Shefali, younger to him by three years, is also keen for a career in the services and wants to appear for the CDS Exam. Girisha, is studying in America's Cornell University."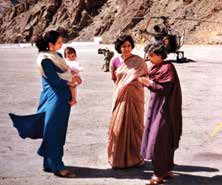 Understanding the underprivileged
What keeps her busy? Laughs Daulat, "I was a sportswoman who loved playing tennis but now I'm left with only walking and that's my only exercise because I'm a homemaker. So, I spend a lot of time at home. I've a dog and a garden to look after and I'm doing a lot of voluntary work. That keeps me busy. I'm heading an NGO which works for underprivileged children. They do go to school but we're helping them with their studies. We've three chapters running—two in Chandigarh and one in Panchkula. We're teaching about 100 children and they're doing well. My members are the teachers. We also run a stitching class.''
What about her love for writing, sending notes and cards? Says she, "Nothing now. I used to love writing letters by snail mail but who looks at snail mail these days? Everybody says, WhatsApp karo, but I don't enjoy that."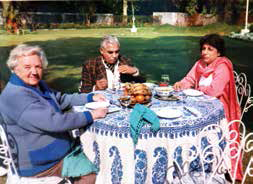 With Daulat's godmother Mrs Joe at their residence GOC1Corps in Mathura
Keeping the fire lit
Though they've a very successful married life, what really keeps it going? "I think through the years we've kept each other interesting and interested. We still crack jokes and laugh together," Vijay says with a mischievous smile.
And what is her take on why today's love marriages are going sour pretty early? "See, problems are everywhere but it doesn't mean love marriages are bad and therefore they should be discouraged. I don't think so. Our younger daughter has married into a Sikh family and there has never been a problem. But in the case of my elder daughter who, married someone from UP, I don't know why but things went wrong."
Quips Vijay, "What she's trying to say is that there is always some give and take in a marriage—some adjustments— you may not like some particular culture or you do something which the other person doesn't like. So, this is fine and you can carry on. The main thing is, if there is a problem in a marriage and problems are always there, it doesn't mean that you start packing your bags to go out of it.''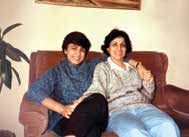 Daulat with younger daughter Manisha (1991)
Giving space
The second aspect, Vijay continues, "In any marriage, both partners need their own space. And giving that space is not bad. You're together for 24 hours. Out of that, it is necessary for you to give an hour or so for yourself. It's required. It helps. Stress levels go down. Another fact for marriage break-ups is that the patience level of this generation is significantly low. A small argument turns into separation very fast. This is just not good."
Corporate calling
Is there anything that the corporate leaders can learn from the Army? "There are many things but the foremost is team work," Vijay points out, explaining, "In the Army, it's a team that produces results. One man can never produce the desired result. If you go to play cricket, one batsman or bowler does not bring victory. It's the whole team that brings results. It's true in every sphere of life and the same thing applies to the corporate world too. The other aspect, especially at the higher levels of the corporate world, is: they should have a vision. How can we improve— whether its profits, retail, HRD or whatever? The leader must constantly think: Whether people are happy working for him? Whether it's time to give bonus to the employees? So, you must have a Vision as to where are you going and you must have an Aim and that Aim must be pursued relentlessly—unless some huge boulder comes in between and you can't climb it. In that case, you try to circumvent it and find a way. That is what Vision is all about," he concludes.
That being so, what really is the philosophy that keeps their marriage going so beautifully? Daulat pauses for a moment and then says with a smile, "My philosophy is not to get worked up about anything. Try to be cheerful. Be accommodative and there are things one has to accept in life and so take them with a pinch of salt and keep smiling," she concludes with a hearty laughter.
In the Army, it's a team that produces results. One man can never produce the desired result. If you go to play cricket, one batsman or bowler does not bring victory. It's the whole team that brings results
—Vijay
Fighter

for

life
Getting wounded while fighting a war for the country is a professional hazard for any soldier. He usually has no control over the physical disability thus caused by a bullet, but what he definitely does get to choose is: How to turn this disability into his strength. Vijay Oberoi, then a captain, did exactly the same by conquering not only his disability but also fought all physical and mental barriers to become the Vice Chief, the second highest appointment in the over one million-strong Indian Army—virtually on a leg and a prayer! Even after retirement, he continues to inspire people by writing on defence-related topics, proving that human spirit cannot be thwarted by an accident, natural or man-made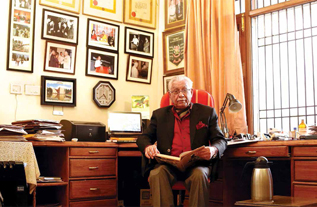 Most of us take our lives for granted. Despite being physically fit and blessed with all material comforts, we keep complaining and finding excuses. And here is the former Vice Chief of the Indian Army, Lt General Vijay Oberoi, who had lost his right leg in the Indo-Pak War of 1965, just short of his 25th birthday. Post-hospitalisation, he had three options for his future. First was to be boarded out. Second was to opt for a change of regiment/corps so that he could serve in a softer job; and the third and the most challenging was to continue with his existing battalion- 1 MARATHA LI of JANGI PALTAN—and carry on soldiering. He chose the third, knowing fully well that he would be competing with his peers and there would be no concessions just because he had lost a leg.
During his over 40 years of distinguished service, the General held highly prestigious appointments. Post-retirement also, Gen Oberoi keeps himself busy with lots of intellectual pursuits, prolific writing for newspapers and social work. Besides being the Founder-President of the War Wounded Foundation set up to work towards meaningful rehabilitation of the war-disabled, he was also the Founder-Director (for five years, till 2007) of the Delhi-based Army think-tank, the Centre for Land Warfare Studies (CLAWS). Corporate Citizen took him on a walk down the memory lane with him reflecting on his on the four-decade long journey. Over to Gen Oberoi…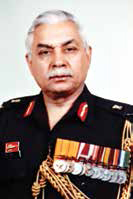 Growing up in turbulent times
I was born on September 29, 1941, in Rawalpindi (now in Pakistan), the then military headquarters of the British Indian Army's Northern Command, when World War II was being fought bitterly in Europe, Africa and Asia. Within India also, the struggle for Independence was continuing with increased vigour. I can't say if these warlike events had anything to do with my joining the army but they subconsciously affected me, though there was none in my family who was in the military.
My father was a banker who began his career from the bottom and rose to the top and retired as the Chairman of the Oriental Bank of Commerce. He was in a transferable job and so we kept moving from one place to another.
My first 'defining moment'
Though I was too young at that time but I vividly remember the madness of partition I witnessed in 1947 when our huge country was arbitrarily cut into two pieces amidst unprecedented, mindless violence. We were in Kasur (a border town in Pakistan) at that time. On account of the large-scale violence including rioting, fires, massacres, rapes and loot, my father asked my mother to quickly take a train to Delhi with the children as he, being the in-charge, cannot leave the bank immediately and would join us soon.
Train to Delhi
While fleeing in the eerie silence of a massacre at Kasur railway station, I distinctly remember six or seven soldiers of the Army who were keeping the marauding mobs at bay. Eventually the train came to take us to Delhi with compartments full of the dead and the dying. Though I never knew the regiment of those soldiers, their images stuck in my mind. On account of their dark skins and wiry but short stature, I thought they were Marathas and 14 years later when I was commissioned, I chose to join that very regiment—the Maratha Light Infantry. Decades later, they honoured me by selecting me as their 'Colonel', a singular honour for an infantry officer, and I was their 'Colonel' for over eight years.
My schooling
Though I didn't go to any elite schools, two schools prepared me for the future challenges. One was the Nazareth Academy in Gaya (Bihar) where I studied for about two years plus (1951- 53). The other was Shri Ram Ashram School in Amritsar where my father was transferred as the Zonal Manager of the Central Bank of India. Both were co-educational but our teachers in Nazareth Academy were Irish nuns from America. So, their focus was on American and European History and Geography, English, Shakespeare (yes, we did the Merchant of Venice in Class VI), the Old and the New Testament, and everything else.
On the other hand, the school of Amritsar was in complete contrast to the Gaya school. It was very traditional where bhajans and songs from Tagore's Gitanjali were sung during Morning Assembly. So, this amalgam of cultures helped me immensely in my later life. Since I was a good student, I passed my Matric in 1955 with flying colours.
Entry into the Army
In those days, there were only three professions for those wanting a job: either you became a doctor or an engineer or join the Army. I decided to join the Army for which my parents had no objection. But when I applied for the NDA, they said, you're too young. So, I had to wait till I became old enough to clear the selections. In the interim, I joined the Khalsa College in Amritsar and cleared my FSc or Intermediate (Science). Thus, in June 1957, I joined NDA at Khadakvasla, near Pune, and passed out in June 1960; then went to IMA in Dehradun, and was finally commissioned in June 1961 in the Maratha Light Infantry Regiment. So, that's how my journey into the Army started.
In those days, there were only three professions for those wanting a job: either you became a doctor or an engineer or join the Army. I decided to join the Army for which my parents had no objection
My war experience
In August/September 1961, we came to Pune but within a few months, Operation Vijay to liberate Goa started. General J.N. Chaudhuri, who later became the Chief, mobilised our Paltan to liberate its Portuguese enclave of Daman, a smaller entity of the troika of Goa, Daman and Diu. While bigger units went for Goa, our battalion liberated Daman after a short and sharp operation. I was the Intelligence Officer in this operation. This was the first War I participated in, and we captured all the Portuguese prisoners, though we had some casualties too. Thereafter the battalion moved back to Pune.
The India-China War of 1962: The action in Daman took place in December 1961 and early next year, the war clouds from China started gathering. So, when the 1962 War with China commenced, our battalion was moved from Pune to Bhuj (Kutch) in September. I moved with the advance party where our battalion assumed operational responsibility of the entire Kutch border with Pakistan. After serving for two years, the Jangi Paltan moved to the high-altitude area of Ladakh in 1964 and by that time, I had become an Adjutant. We did many things that were not attempted earlier on account of a phobia about high altitude, including Malakhamb in snow! We remained in Ladakh till the 1965 War with Pakistan.
Indo-Pak War of 1965: When Pakistan launched its Operation Gibraltar in August 1965, sending Pakistani Army personnel disguised as infiltrators, my Paltan, along with the entire brigade, was moved from the dizzy heights of Ladakh into the Srinagar Valley to counter them. At that time, there were hardly any regular troops in the Valley. So, the brigade was needed. We carried out several highly successful operations at the sub-unit level against the infiltrators. This was the time when the famous Haji Peer was captured and a new headquarter called Sri Sector was setup and we formed part of it.
Pakistan's Operation Gibraltar was a failure. We not only neutralised many and cleared the Valley, but also captured large chunks of territory of Pakistan.
Pakistan then launched a conventional attack in the Chhamb Sector, which was within the Line of Control, thinking that India would also confine its operations within the disputed area of J&K. However, Indian Army launched attacks across the international border.
It was in the first phase of the War that in one of the search-and-destroy operations, I was severely wounded. This was on 23rd August 1965 in the Dachigam Forest area during the first phase of the war.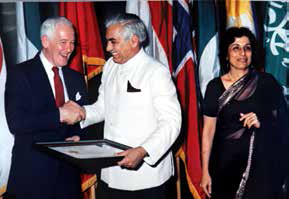 Vijay receiving citation from Deputy Commandant at US Army War College (1989)
The watershed event that changed my life
On August 23, 1965, I moved out with my column with the task of searching two villages and the Dachigam Forest top for infiltrators and neutralise them. We found no infiltrators in the two villages. The column then started climbing a forest trail to the top.
When we were just a little short of the top, infiltrators ambushed our column, and the very first bullets they fired hit me in my right thigh. The rest of the column immediately took positions and a very brave officer, 2nd Lt A.G. Raut, charged on the infiltrators as per the anti-ambush drill we've been trained in. It was a small skirmish. We took counteraction swiftly and within five minutes, the operation was over, as the infiltrators ran away into the jungle with their wounded and the dead.
When the dust settled, we had two casualties, both officers. One was 2nd Lt Raut and the other was me. We had only one stretcher, so our comrades carried Raut and me alternately on-and-off the stretcher and on a makeshift one.
During that charge, Raut got a burst of bullets on the left arm. Though a bandage was tied but we failed to notice that the bullets had gone into his lungs.
When we reached the hospital, the doctor told my Commanding Officer that Lt Raut had died and I was about to die as I had lost a lot of blood. However, quick work by the doctor kept me going till the surgeon arrived and an emergency surgery performed. The lone bullet which had hit me had severed the main femoral artery, which takes the blood down to the foot and toes. It could not be rejoined, so the two ends were sutured and it was hoped that the smaller arteries would take over and feed the blood to the leg and the foot. But it didn't happen and the lower leg soon developed a gangrene, commencing from the toes.
In the meantime, I was evacuated to the military hospital in Delhi. Eventually, 14 days after I was wounded, my right leg was amputated a little below the knee. Two follow-up operations were performed at the military hospital in Pune and six months later, after all the wounds had healed, the process of fitting an artificial limb started at the Artificial Limb Centre (ALC), also at Pune. Another couple of months were spent in getting the first artificial leg and thereafter I flew to Srinagar to meet the battalion. They were moving back to Ladakh. I came back to ALC, got a second leg and finally the year-long hospitalisation in Pune was over. These were also the days of the first slow moves towards a blossoming love story which culminated in my wedding!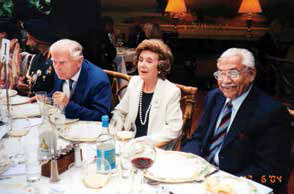 VAttending the last meeting with British Maratha Officers' Association in London
Romance on crutches
People sometimes wonder how I remained cheerful and didn't let my disability hold me back in any way. The foremost factor was the girl with whom I had fallen in love while in hospital at Pune. My elder daughter, Rashmi, who is a journalist in Gurgaon, called it a 'romance on crutches' in a 'middle' she wrote for a newspaper. As for my ladylove, she was the daughter of the first Indian commanding officer of my battalion, the late Maj Gen D.A. Surve, and his wife, Mrs Vimla Devi Surve. They named her Daulat and that is what she has been to me—wealth—in all respects. Along with her mother who was always an esteemed guest of our battalion, Daulat used to visit Pune's hospital to give moral support to all battle casualties. We fell in love and eventually got married in January 1967.
Post-hospitalisation life
At that juncture of my life, I was a 'Barsati Major', with a little over four years commissioned service to my credit. I was posted as Staff Officer in Military Intelligence Directorate at Army Headquarters in Delhi. When my two years were nearing completion, I requested for a posting back to the battalion, so that I could command a company. It took some convincing because the prevailing view was that disabled officers would not be able to function in the field but finally I succeeded and was posted back to my Paltan in Pune where preparations were in full swing to celebrate the bicentenary of the battalion. I became the secretary of the committee and got actively involved in all facets of the celebrations.
This reluctance to post disabled personnel in field units continued till I commanded an infantry battalion about ten years later and for my distinguished command of the battalion, I was awarded the Vishisht Sewa Medal (VSM). During the intervening years, I cleared the examination for Defence Services Staff College at Wellington, near Ooty (Tamil Nadu). I was among the first 20 who sat for the examination. In November 1971, when the military confrontation leading to the Indo-Pak War for the liberation of Bangladesh had begun, I was posted to the Military Operations Directorate (MOD) in Delhi, a very prestigious appointment from Wellington.
Though I was too young at that time but I vividly remember the madness of partition I witnessed in 1947 when our huge country was arbitrarily cut into two pieces amidst unprecedented, mindless violence
Tryst with Sam Bahadur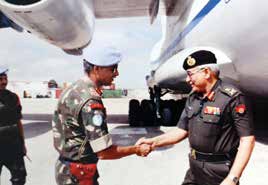 Being received in Somalia by Indian UN Force Commander at Mogadishu airport
During the 1971 War, I was holding the Bangladesh Desk and thus all the action from Army Headquarters was passing through me. That was the time when I interacted with the legendry Army Chief, Gen Sam Manekshaw, as I was handling the East Pakistan operations and was directly connected on the hotline to the Headquarters Eastern Command. Although, meticulous in detail, he was very informal and unconventional and would often sit on my table to interact with officers at the Command Headquarters.
In command at last
I stayed in MO Directorate for two years and then requested for going back to my battalion. Again, after lot of convincing, I was posted to my battalion which had moved to Nahan in Himachal Pradesh. Meanwhile I became the Second-in-Command of the battalion. Later, I moved to the newly-formed 18 Battalion of the Regiment at Belgaum. Our first Commanding Officer was Lt Gen M. A. Zaki (who used to be the Advisor to the Governor of J&K from 1993- 96). On completing my tenure, I was posted as an instructor of the War College at Mhow, a military training station near Indore.
Making it big in Malaysia
Within a year, however, I was selected to represent the Army abroad, as the Defence Advisor (Military, Naval and Air) at our High Commission at Kuala Lumpur (Malaysia). After doing a language course in Bahasa Malaysia in Delhi, I moved to Malaysia in December 1980 with my family. Although during my long tenure (1981-84), Delhi's relations with Kuala Lumpur were not so good on account of India's stance relating to Kampuchea, at the military level, they were excellent as I arranged many visits by the top brass of both countries. I also organised numerous visits by our naval ships and submarines to Malaysia.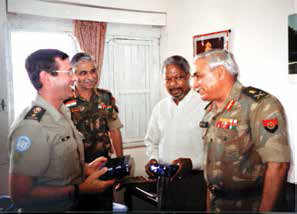 Vijay interacting as DGMO with UN officers in Somalia
Back to MOD
On my return from Malaysia, I was posted back to Military Operations (MO) Directorate that I had left in 1974 but didn't stay too long there as I got promoted successively as a Colonel and then a Brigadier in quick succession and was sidestepped to Military Training Directorate in the Section dealing with army doctrines and concepts.
Conceptualising Brass Tacks
As a Brigadier in 1986, I played a key role in writing, planning and conducting the biggest operational exercise ever conducted by Indian Military—Exercise Brass Tacks I—which was a very big map exercise, though kept top secret. Rajiv Gandhi was the Prime Minister and Gen K. Sundarji the Army Chief at that time. For my contribution, I was awarded the Ati Vishisht Sewa Medal (AVSM) and immediately after the exercise ended in 1987, I moved to command an infantry brigade in Jalandhar. This was the time when the Sikh militancy was at its peak in Punjab. So, I spent most of my time on the border.
Left for America
After two years of an exciting command tenure that included my participation in Exercise Brass Tacks IV, I was selected by the Army Chief, Gen V. N. Sharma, to attend the prestigious US Army College Course in America. I took the family with me for this year-long course where I did well and made many friends with whom we're still in touch. On my return, I was again posted back to Mhow as an instructor. However, I had hardly taken over a house that the then Chief wanted me back in MO Directorate and so in just two months, I was back in Delhi as Deputy Director General Military Operations, busy in house-hunting again!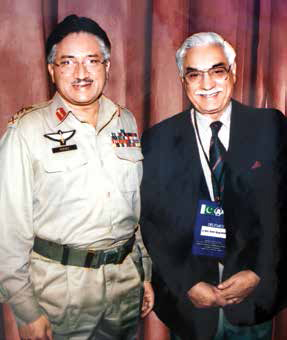 With Gen Pervez Musharraf at Islamabad during the Track-II Diplomacy
How I became Vice Chief
After that I was posted to head the Army Training Command in Shimla where again I did two yearplus and then came to Chandimandir on October 1, 1999 to assume the charge of the Western Command as its head. I had thought that this would be my last posting as I would attain the retirement age of 60 years during this tenure but meanwhile a new Chief, Gen S. Padmanabhan, was appointed and he said, "I want you as my Vice Chief!" My protests were in vain and on October 1, 2000, we took our respective appointments on the same day, he from Gen V. P. Malik and I from Lt Gen Chandra Shekhar, the outgoing incumbents.
On September 30, 2001, I finally retired as the Vice Chief after a service of over 40 years and headed for our newly-constructed home, DAULAT, at Panchkula, near Chandigarh. It was a long way up from the rank of a captain, when I had lost my leg in the 1965 War.
Post-retirement blues
I've always believed that once you reach the rank of an Army Commander or Commander- in-Chief, you've reached the zenith because becoming the Army Chief is a matter of your date of birth. So, once I retired, I didn't want a job. I stayed here in Panchkula and started writing on security-related matters for various publications. In 2003, when Gen N. C. Vij became the Army Chief, he rang me up and said, "I want you to setup a think tank of the Army," and that's how I founded the Centre for Land Warfare Studies. I was its founder director for five years but left it in 2007 on account of serious differences on issues of autonomy!
Since I've always been concerned about the war disabled personnel of the armed forces, 15 years ago, I founded an NGO, War Wounded Foundation, of which I'm the President. We don't get any grants from the government but run it by donations received from corporate houses, trusts and philanthropists. It also keeps me busy.
My philosophy of life
I believe in the theory of Karma because Karma is Dharma. I also believe that you must always have a zest for life and a positive and caring attitude because that's what matters in the end.
By Pradeep Mathur