CII Manufacturing Summit:
Integrating

data-driven

approach to

manufacturing
The world is changing rapidly and now Smart and Innovative are definitions driving the way organisations work. This shift forms an important pillar in driving Manufacturing Excellence (ME) in future. There are organisations, which are actively pursuing this path. The gains are multifold and can bring radical shifts in the way organisations and even routine work is managed.
CII Manufacturing Conclave conducted a riveting session recently at Westin, Pune, where corporate leaders from leading organisations came together to share their experiences and thoughts on Big Data and digitisation. The panellists for the session were Abhay Pendse, (Moderator), Co-convenor, Forum on Operational Excellence & Vice President & Head – Godrej and Boyce Manufacturing Co. Ltd. (Shindewadi works); Mandar Garge, Head – Digital and Analytics, Great Software Laboratory; S. C. Suneja, Chief Executive Officer, JBM MA Auto Pvt. Ltd.; and Satish Kumar, Head-Quality, Adient India. Corporate Citizen brings you the excerpts from the session...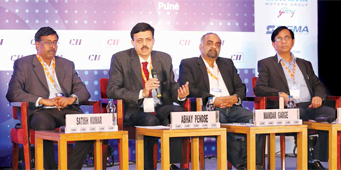 Pannellists (from left to right): Satish Kumar, Abhay Pendse (Moderator), Mandar Garge, S. C. Suneja
Abhay Pendse: Nowadays, we hear a quite a lot about Big Data and we hear a lot about data security. Generally, when we talk about operational excellence, we restrict ourselves to the factory automation and to the quality level. However, without data being digitised, where we are now and how to go about it in the future will depend on how are we able to implement the technological advancements. We never see data as an asset. We do not see data as something which can benefit us, and we do not know how it can help us to transform our business by the proper use of data.
Mandar Garge: I head the digital analytics business at Great Software Laboratory (GSL). The digital journey is in four stages: data digitisation, process digitisation, digital optimisation and digital transformation. In the first two stages, maximum companies are lying today. Which means that you are having data but you are not using it wisely. You are using the data for the convenience but not using it intelligently to make your processes better, which in return will increase your top or bottom-line. You need to jump across the tipping point because that's where you start looking at data across your already digitised processes for more intelligence, more insights and to make your operations better.
There is a term called MIDAS, it stands for Manufacturing Industry Digital Advancement Score. It is a score measuring the digitisation level across five different sectors. The first and the key one is the operational behaviour, which means, how digitally driven you are. How seriously is your organisation implementing digital technology, and are you imposing on the top-down approach? Are you changing the mindset of your organisation at all levels to embrace digitalisation? Second is data digitisation, which is converting your data to application-based data. Third is process digitisation; here, your business processes are converted to applications and software application-driven processes. Fourth is digital optimisation, in which already digitised processes are leveraged for the data to make some important decisions, which will take you little advanced in the journey of digitisation. Fifth is digital transformation; it is nothing but data optimisation, which will help you to make your operations better, faster, and save your operational costs and this transformation will help you create new business models, new customer satisfaction models and new ways to leverage data.
I will give two examples wherein we used digitisation to solve the problems of our clients.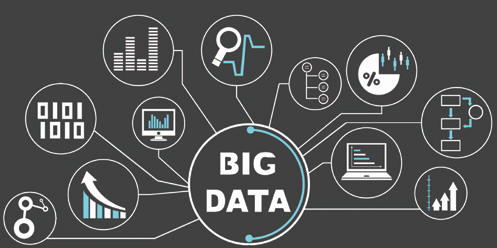 We had a US-based client who was into manufacturing of medical devices and drugs manufacturing. Here, the quality control is much different and stringent as compared to manufacturing industry, consumer products and other types of products. The government imposes hefty fines if you don't take care of the customer complaints. The complaints could range from being life-threatening to the medical device being too costly for a customer. Every complaint registered after the deployment of the product until the end of the product's lifecycle has to be in a specific manner. Now in this scenario, think about the job of quality head—he has to ensure that there are no bottlenecks. He doesn't know exactly where the bottlenecks are, which complaints are to be fixed within 30 days and report to FDA, how many complaints are two days away from the deadline, etc.
Now, every business process is digitised. The data in those systems is not being looked across in a unified manner. What we did for them is, consider complaint decision path, we came in and did a discovery exercise and looked at the business processes and the top parameters and figured out top 20 systems from which we have to extract data. We created a big database data warehouse for them, which had data analysis, data ingestion and data models, which helps them to trace the life of a complaint right from when a complaint comes to the complaint system until it goes to the FDA's report.
Due to all of this, the supervisor's job has become extremely easy. Because he can look at certain dashboards and say, that this certain complaint is stuck here, I need to ask to John. John has four complaints with him, which are two days away from the deadline. Earlier, it took 45 days for the intelligence to tell where the problems were. Now it started happening every single day.
Our client started looking at the cost aspect of the recall, because recall is the a problem in this sector. If a device reports a fatal problem, for its patients, entire lot has to be destroyed. If you don't get cost analysis of that and if you don't have analysis mechanism, which tells what defects are caused by design issues and what lots are gone to which customers. All this information is in SAP system and PNM systems. All that was brought back together and life was simplified.
What were the benefits? Bottlenecks were easily detected and you can trace them and remove them. Getting alerts and notifications in real-time is now possible. The audit tail of the entire defect resolution happened. Therefore, order was brought to chaos. All the systems, which had a data modelling in between, and then you have multiple layers of people looking at dashboards for their own benefit and the top level executives and VPs could actually see in one, unified manner.
We helped them across the tipping point. They had all the digitisation in the place, all the processes were digitised. We stepped in and helped to leverage their own systems to get intelligence to make the system faster. Seventy per cent gain was achieved in the operational efficiency and 200 times faster resolution rate and error free operations were achieved, which was a game changer for this industry. Because they realised that what could happen when you start looking at data integration. It is not only about big data, even if I have small data, if I look across multiple systems it is going to tell me lot of things that I don't know today. I am trying to say is that look at data across servers, look at data integration points and then the real integration will come out.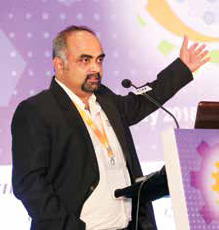 Second example is of Voice over IP (VoIP). A client who is into VoIP manufacturing came to us. VoIP is a device, which you connect to your home broadband; it is not a manufacturing example but how data has helped anything which is in operation. These devices are generating huge amounts of data, which was sent to server farms. Server farms have different servers tracking different kinds of data. You need human intervention even after process is being digitised. As data was on these servers, the costs were high. You needed to look what problems are there, when a customer used to call and say my device went down. Firstly, I would have to encounter that problem and then support engineer used to fix it. Troubleshooting used to happen by looking at 20 different logs from five different servers, putting them in a script then getting some output, using that output in some other scripts to get another output and so on. So defect resolution time took 2-4 days and finding the problem took another four hours. It was realised that many of the problems are recurring. For example, when I find something called A in my device logs and something called as B and C and A, B and C are happening in the sequence within the span of two minutes. But I am spending same amount of time in same problem and I am spending same amount of time finding problems. So we stepped in and we created log analytics.
"We helped our client to cross the tipping point. They had all the digitisation in the place, all the processes were digitised. We stepped in and helped to leverage their own systems to get intelligence to make the system faster"
- Mandar Garge
In those log analytics, every device is being logged, we built in correlations, we built in patterns, and we built easy configurability of defining a problem. What is a problem? For example, a device has spit out an event A, event B happens after event A, event C happens after event B and all of them happen in a two second window. I know that this is the problem definition and is configured in the log management system and as soon as event C occurs in the sequence. We have a notification that a problem has occurred.
Look at the benefits, before the customer picks up the phone and calls us, we are aware of the problem and the engineers have started to fix the problem. The customer success rate was extremely high and human errors were eliminated because everything was automated, machine learning could be brought in, because you know what patterns to be detected, the history of the patterns and so on.
Later two things happened, optimisation and transformation. Optimisation, because, earlier it took four days to find the problem and two days to fix the problem. Now, it took a few minutes to find the problem and a few minutes to an hour to fix the problem. As a result, the customer success rate was high. And about the customer success satisfaction, they got operationally optimised and transformation because customer satisfaction went up.
We helped them cross the tipping point. GS labs are helping companies with log analysis. If devices are spitting out logs, they can be brought to servers. The digitising information and intelligence is what you need to look at.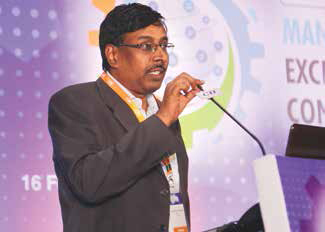 Satish Kumar: I am representing Adient India. I will share my experience with digitisation. From manufacturing standpoint, we need to understand three points: data, information and decision. How do we capture the data, how the data is converted into information and how the information is driving the decision. Whenever we talk about digitisation, it is about converting data into information where digitisation helps to do it. It enables a data point to convert into information.
Most of the times, what we lack in industries is that we have multiple data points but we don't know what information the data point is telling to us. It may be even in excel files, it may in records or it may be in some other applications. Unless we understand information, maybe in Mandar's terminology it is called the intelligence. So the information is used to derive from data points. We need to convert data into information by multiple methods. Digitisation according to me, is one important method; it can help to draw information as quickly as possible. Now, once you have the information, it has to be accurate, which enables the decision making process. It can drive process improvements or optimisation of the processes so you need to make a decision based on the information you derive. What I am saying is after you digitise, you need to optimise the process so data, information and the decisions are all coordinated with digitisation, optimisation and transformation.
"Most of the times, what we lack in industries is that we have multiple data points but we don't know what information the data point is telling to us. We need to convert data into information by several methods"
- Satish Kumar
The decision sometimes leads to a big transformation, sometimes it can change the perspective. For example, which are the products we need to sell more and which are the products we need to sell less. Which areas we need to focus more where we are not leading, etc. There can be multiple decisions based on the information what we derive.
Coming to Aident India, the organisation moved towards in terms of converting data into information and information into decision- making process. This has resulted in significant amount of operational improvements. For example, I would say, I can open my laptop and see what is happening in my Bengaluru plant, at this time. This was not the case two years before. You will try to understand what the problem is and then do the improvements. By digitising, I can communicate the feedback immediately to the team and say, this is the problem we are facing and this is what we need to do. So it helps us significantly, in terms of operational efficiencies and productivity improvements from that standpoint. That is from an operational standpoint or a process standpoint. But once you integrate all this data, from process, from functions, to dashboards, then it would lead to major decision processes. The data can help you to take operational improvements as well as drive strategic decisions also. We need to convert data into information and information to decision-making to become more efficient.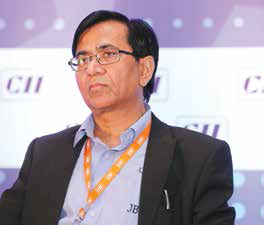 S. C. Suneja: What does data mean? Normally, it looks to be a very simple subject. There is data available, we must try to process it and try to get something positive out of it. When we think of how to get this data, how to use it and take its advantage in manufacturing, it becomes a question, what is to be done and what is not to be done.
We have learnt that as a part of the manufacturing process there is a raw material coming as an input, there is a processing machine, there is some inspection to be done, there is a delivery, which has to go to the customer, and there is logistics involved in this. Putting all together, how do we make it to the digitisation or the basic data integration, how do you work on it? Way to see this is the feasibility for it. Yes, there is automated inspection for metal handling, how the shop floor movement happens, condition and maintenance of equipment and use of RFID for our inventory. Thereby, we are looking at the advantages. What we could harness over here is, in terms of quality, productivity enhancement, depletion of resources, many a times we have a resource lying within the plant, within the group.
"What does data mean? Normally, it looks to be a very simple subject. There is data available, we must try to process it and try to get something positive out of it. We don't know but data enables us to do what we are not able to do"
- S. C. Suneja
We don't know but data enables us to do what we are not able to do and how to use data in a better way.
We are manufacturing parts for the automotive industry. There are many critical parts, where a single defect could lead to hold-up of one particular vehicle and that also costs in terms of customer dissatisfaction and huge rejections could happen. We use more than 2,500 pallets for our distribution of supplies to various customers across different locations within the Pune region. Right from Mahindra to Tata to VW, Fiat and so on. We are sending many pallets and vehicles are going along. So what do we do? Many a time, vehicle is stuck up somewhere, the driver is taking his free time. So taking care of that, what we have done is using RFID in the system, wherein we are assimilating our data. We also use GPS tracking. I will give an example of how GPS tracking works. When customer says that his vehicle has not reached, we check our system and we say that vehicle is at your gate. That is the advantage of the technology, when we look at and practically, we are able to manage the working in a better and faster way. Sometimes drivers switch off their phones, so we can't trace where is the vehicle, but with the help of GPS, we are very sure that the things are in place. So that is the way, the digital technology has helped us. But there are challenges to the availability of the technology at right cost, how can it be really implemented, some of the skills needed to use the technology and the compatibility of the machines also.
By Vineet Kapshikar