CAMPUS PLACEMENT: Paint your life more colourful
She was not only a topper in academics but also outstanding in all activities at school and college. Kumudni Manocha's involvement across activities helped build her confidence, which in turn helped her bag a coveted placement. For she believes in painting her life with the colours of love and involvement...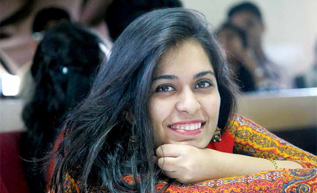 She wanted to be a designer, to design the lives of people and paint them in different colours, but she joined an insurance company, in management. This is the story of Chandigarh girl Kumudni Manocha who wants to make the most of her career, who joined Tata AIG General Insurance Company Limited, a joint venture between the Tata Group and American International Group.
For Kumudni, this is just the beginning, as she heads into the competitive corporate world aiming to overcome all hurdles before she emerges as someone who can give back to the world all the good she has accumulated through years of education. Being a papa's girl, she wanted to deliver to the world what her father believes about her. "My father believed and I believe that the corporate world will be the right platform to take up all the challenges and make the most of them," says Kumudni.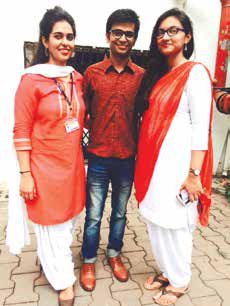 Early life…
Kumudni did her schooling from the Rishi Galav Public School and later graduated in Commerce from the Prestige Institute of Management, Gwalior. A fun-loving girl and a naughty tomboy, she was fond of teasing friends, which nonetheless saw her friends' circle multiply. At college she made the most of it, taking part in all events, no matter what it was—dancing, singing and debates, to name a few. A topper in mathematics, she was overall among the top-three in school. She continued to carry the good work with books and emerged runner-up at graduation. One of her happiest moments was when she handed her father the silver trophy she got after three years in college, and it was not one teacher but quite a few who liked her. She was one of the favourite students of S. N. Dutta, Sanjay Gupta, and Nandan Velankar. "I was a bright student and was also very much involved in cultural activities (painting, calligraphy, dance, sports, coordination) in my schooldays, and I continued the same in college as well, which helped to build my self-confidence," confides Kumudni.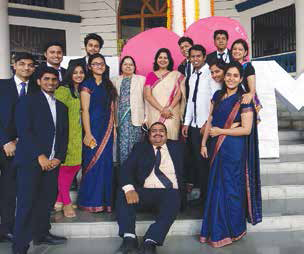 Kumudni with teachers and friends during her college days
Campus placement…
No, placement was not such a tough call, she says. She did her homework before the call, and things went smoothly. Perks were not what she was looking for. "This is my first job, perks do not matter. I just want to get on the field and face the realities of the corporate world. Once I get a strong footing, the rest will fall in place," says the management trainee at TATA AIG. She had to go through the aptitude test, followed by the GD, followed by the personal interview, the last being the best. "My personal interview was totally based on my hobbies and resume and selling skills, which went on fine." The strong belief that she could do it made her stronger, and all the fear of placement took a back seat. "There wasn't any, all because I had belief in myself. Yes, I feel that it was one of the most sought-after placements. But my being a placement coordinator at my graduation college helped me in developing self-confidence, team work and leadership abilities."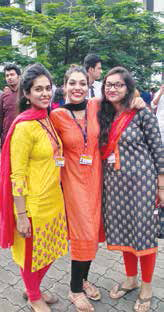 Kumudni with her friends
On the corporate world…
Now, she believes, it is time to make the career more interesting and learn more about what is out there and explore. "This is what every student has been taught—be it at school, at graduation or post-graduation—to march ahead in their new journey. Yes, corporate life will be challenging, and one should always be ready to deal with everything that comes across your way," she confides.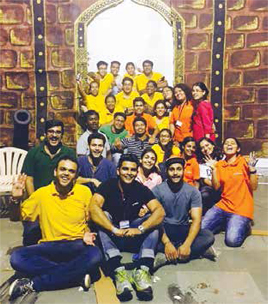 To make her father happy was her singleminded goal. "That was more challenging than academics. I always use to ponder and wonder— if I do this will my father like it or not? That was the test for me. All that our loved ones want us to top our class and walk out of our classrooms and venture into conference rooms and marketplaces making a name for ourselves and our family," she explains.
Credit for the success…
"Of course, my family, my father, Devendra Manocha," who she credits for her success. Her father is the Dispatch Manager at Sterling Agro Industries at Gwalior. "He has been my mentor and guardian. There are others who played their role in shaping me into what I am today—my brother, Jignesh Manocha, who is pursuing his B.Com (H) from Amity University, Gwalior, my roommate Sabiha Sood, Shri Shivam and Anuj Sikarwar, to name a few. Last but not the least, my mother, Seema Manocha, who is a homemaker. My happiest moment was when I handed over my first silver medal I got from my graduation college for being the second topper at college, to my father." For Kumudni, life is about painting it with different colours. "It is all about making life very colourful and this comes with lots of love."
"I was a bright student and was also very much involved in cultural activities in my school days, and I continued the same in college as well, which helped to build my self-confidence"
Kumudni's family
Tricks to succeed...
Don't get nervous.
Don't panic.
Believe in yourself.
Give your best shot, don't worry about the results.
Learn to deal with negative people. They are the best motivation.
Take a stand for yourself and your dreams.
By Joe Williams