Loved & Married too:
'Coz home is where the heart is'
It is not often these days that a college romance fructifies into wedlock. Corporate Citizen unlocks the story of love that has culminated into marriage, for we believe in the stability of a relationship and family unit. We bring to you real-life romances that got sealed in marriage
Hindi feature film and ad film director, Hriday Sheetty and his better half, the talented fashion designer, Priyaa Sheetty, on the triumphs and trials of a life lived under the demanding arc lights of Bollywood. Whatever the highs and lows, they are particular about protecting the sanctity of their home in ensuring their six-yearold son Vir grows up with the values they hold close to their heart, away from both the glamour as well as clamour of a film industry better known as Bollywood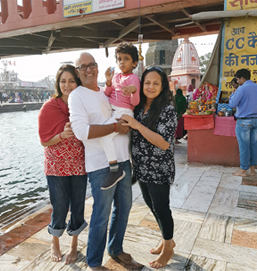 Hriday and Priyaa with their son, Vir, and Vir's aunt, Kiran (extreme left)
Even as popular culture disproportionately celebrates only summery, frothy romance here's to relationships that may not quite be mellow wine yet, but are nevertheless like a fine cup of coffee-strong, sweet, rich and vibrant. Not for them the rough and tumble of the early twenties, or the angst of the thirties, just a sense of camaraderie that comes from years spent with one's best buddy.
Married for close to two decades Hriday and Priyaa enjoy exactly such a fine tuning. Starting off as the archetypal college sweethearts, they have come a long way in both their professional and personal lives, taking the ups and downs of a world as predictable as Bollywood in their stride. "The world of movies is a beautiful and creative one, just as long as you are careful to delineate real life from reel life and not get carried away by either the good or the bad," shares Hriday. "It helps that my wife and I have grown up as part of the industry and are thus, far from star struck." (Hriday's father was the noted stunt director and fight master, the late MB Shetty while Priyaa's late father was the reputed music director and arranger, Gyan Varma.
"It helps even more that we are both spiritually inclined and are completely united on not bringing work pressures home."
Back to the beginning
Their story dates all the way to when they were both 16 and 18 years old respectively. "I had met him a couple of times at my friend's house. We got talking, and he asked for my number," recollects Priyaa. Asking for a girl's number may not seem a big deal today, but those were far more innocent times. "When I told my mother that Hriday had asked for my number, she was very concerned, and replied that one could not give one's number to just about anybody. But guess what? I had already given him my number," she grins.
Around the same time Priyaa's mom had been warned about her daughter's growing friendship with a young man. "So she called him to that same friend's home and literally carried out an inquisition," she reminisces. "We were just kids and marriage was on no one's mind. But mom went right ahead and served him a three course meal of expectations, from starters to dessert," she laughs at the memory. "Pointing out the cultural differences between our Punjabi family and his South Indian moorings, she nevertheless conceded that they would wait for a few years for him to get a job and settle down before they gave him my hand in marriage. It was surreal," she shakes her head at the memory.
However, as things turned out, the relationship did go from strength to strength. He's a man of few words, while she is bubbly and talkative. Their differences complemented each other well. Priyaa successfully worked her way to a degree in textile designing while Hriday started assisting directors on sets. Starting off his innings as an assistant in 1986 on Mukul Anand's Mahasangram, he then went on to be associate director with noted producer-director Sanjay Gupta (best known for films like Kaante and Musafir with actor Sanjay Dutt) before eventually turning director with the Priyanka Chopra starrer Plan in 2003. Gradually, he went on to make other films like Pyaar Mein Twist with Rishi Kapoor and Dimple Kapadia, Godfather: the Legend Continues, Daag and Chaalis Chaurasi. His under-production Punjabi film Mitti: Virasat Babbaran Di produced by Hema Malini and Venky Rao is slated to release in March 2019.
I appreciate her innocence. She is what she is and all her words and actions come from the heart
-Hriday
The mantras of a marriage
Trust
Patience
Belief in a higher spiritual power
Celebrating differences
Keeping professional stresses out of home
Not sharing everything on social media
Caring for each other's parents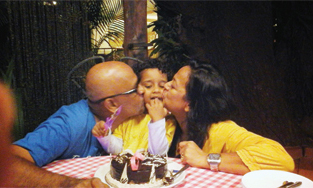 With Vir, their bundle of joy
The building blocks of a marriage
It's a hectic time for the family, with Hriday busy with the post-production and pre-release activities of his film, even as Priyaa who is on an extended break from work is looking after their little boy Vir.
"She was heading the embroidery unit for celebrity couturiers Abu Jani and Sandeep Khosla, and enjoyed a great rapport with her team at work," says Hriday. Despite loving her work, she was firm about taking a complete break from work once Vir was born-at least for the first few years. "Both of us believe that no nanny can ever come close to a mother's love and commitment and in retrospect, it has been completely worth it," he says.
That both spouses are close is evident from their mutual appreciation of each other's finer qualities. "He is patient, loving and warm hearted. I especially love how close he grew to my parents from almost the beginning of our courtship. He was quite their second son, and they really doted on him, respecting his judgment on most things," she shares. "It was always like, let's wait for Hriday to come then we will do this or that. They adored him in every way."
His most special quality, according to her, is the fact that he is a good listener. "He tells me, it is easy to talk, but difficult to hear the other person out; listen, for it teaches you something you don't know," she says.
On his part, Hriday loves her exuberance, attention to detail and commitment to their boy. "Best of all, I appreciate her innocence. She is what she is and all her words and actions come from the heart. There is no pretence, no guile, and it's just amazing how she has been able to retain that core honesty over the years," he expresses.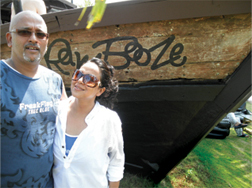 Moods and moments: Hriday and Priyaa Sheetty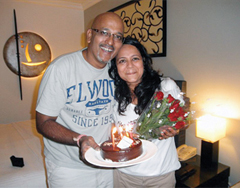 Bringing up baby
Even as Vir turns seven, both Hriday and Priyaa are consistent in their quest for normalcy and balance. "We have admitted him in the Inodai Waldorf School which has a simple but solid motto: You don't have to teach the child. The child learns," shares Priyaa. "We keep this as our guiding principles in all matters concerning him. Let him enjoy his childhood to the fullest, live it up with friends and enjoy a grounded upbringing." Both parents believe in moderation at all times. "For example, despite all the hullaballoo about gadgets being bad for kids, you can't wish technology away. Vir is allowed to send WhatsApp messages to his cousins and aunts but that's all. He knows phones are meant for calling and messaging others, and when that's done, he hands the phone back," explains Hriday.
What is particularly striking about the couple is their utter simplicity and belief in spirituality. "We are a secular home and believe in all faiths equally. At the root of all this is a deep respect for the institution of family and keeping home and hearth sacrosanct at all costs," they say.
Despite growing up in an industry where the spotlight is everything, the Sheettys prefer to stay away from the social media bandwagon. "I really don't understand this current trend of wishing your spouse and praising them on Facebook," says an amused Hriday. "It is a good idea to keep a few moments to yourself. The same holds true for the work space. Movies come and go, but home is where the heart is."
By Kalyani Sardesai