collywood:
People in the news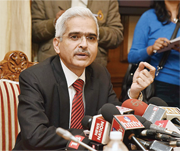 Government appoints bureaucrat Shaktikanta Das as new RBI governor
Former Economic Affairs Secretary Shaktikanta Das was named the 25th Governor of the Reserve Bank of India on December 11, 2018 for a period of three years. Das, 61, replaces Urjit Patel, who quit abruptly on December 10 and shocked the establishment and markets by announcing his exit from the Central Bank. Das was the secretary in the department of economic affairs when Prime Minister Narendra Modi announced the demonetisation drive in November 2016. Das, a veteran Tamil Nadu cadre officer, will first have to work on normalising the relationship between the central bank and the government that had turned frosty in the past few months as the two differed on many issues. Das was schooled at the Demonstration Multipurpose School, Bhubaneswar, and then obtained bachelor's (BA) and master's degrees (MA) in History from St. Stephen's College at the University of Delhi. He did advanced financial management course from IIM Bangalore and development banking and institutional credit from the National Institute of Bank Management.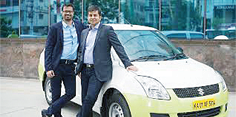 Ola co-founder Ankit Bhati may take over as CEO
In a top management rejig, Ola's co-founder Ankit Bhati is likely to be named CEO and Bhavish Aggarwal as group CEO. Aggarwal is expected to oversee its international expansion while Bhati will lead the Indian ride-hailing unicorn's charge against Uber in the domestic market. Since 2013 when Ola first helped a user book a ride, Aggarwal has been running the show on the frontend, while his partner Bhati has been mostly operational in the backend looking at the technology ground of the company.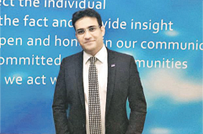 KPMG's Sreedhar Prasad joins Kalaari as partner
KPMG India executive Sreedhar Prasad has joined technology focused venture capital firm Kalaari Capital as partner, according to his LinkedIn profile. Prasad, who earlier headed consumer markets and internet businesses at KPMG, joined Kalaari in early November. Prasad's key areas of expertise include growth strategy, business transformation and scalability, alliance models, operations advisory, mid-market promoter advisory, cost management, organization design, business process re-engineering/ improvement, among others. Prasad's appointment follows the departure of a top executive at Kalaari earlier this year. Sumit Jain, former partner at Kalaari, joined Singapore-based Sistema Asia Capital in October. Late last year, partners Bala Srinivasa and Prashant Aluru had resigned in quick succession. Kalaari is raising its fourth domestic fund, which is expected to be closed by early next year.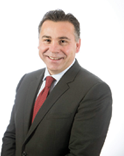 Jet Airways appoints Robin Kamark as nominee director of Etihad Airways
Debt-laden Jet Airways announced that it has appointed Robin Kamark as nominee director of stakeholder Etihad Airways PJSC with effect from December 1. Kamark, who is a veteran of the aviation industry, including 17 years at Scandinavian Airlines System (SAS Group) where he became Chief Commercial Officer in 2010, will replace Harsh Mohan as nominee director, Jet said in a statement. Jet is 24 per cent owned by Etihad Airways. Before joining Etihad as Chief Executive Officer of Airline Equity Partners in October 2017, Kamark served as Executive Vice President and Chief Commercial Officer of Store brand ASA, a leading Nordic financial services group. Kamark holds a Bachelor in Business and a Master in Business Administration from the Norwegian School of Management. He also has an executive business education from Insead, France.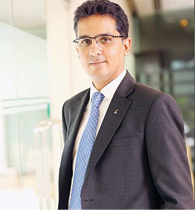 Max Healthcare's Rohit Kapoor checks into OYO as CEO
Hospitality chain OYO Hotels & Homes announced the appointment of Max Healthcare Executive Director Rohit Kapoor as the Chief Executive Officer (CEO) of its new real estate businesses, with effect from 6 December. Kapoor will be entrusted with the responsibility to drive new real estate business opportunities which will include exploring new domains and categories and other strategic initiatives, OYO said in an official statement. Reporting to Ritesh Agarwal, Founder and Group CEO, OYO Hotels & Homes, the statement added that Kapoor will also be responsible for growing OYO's business in India as well as across international markets, through strategic partnerships and investment opportunities. "We recently announced our foray into long-term rentals, with the launch of OYO Living, which marks a key milestone as we embark on our journey towards becoming India's biggest provider of housing, consolidating our position as a category innovator and leader," Agarwal said. While the company continues to grow its hospitality business, new real estate initiatives, such as this, will play a key role in driving the next wave of growth at OYO, he added. "With Rohit (Kapoor) taking on this mantle, we are confident that he will be able to help OYO Hotels & Homes set new benchmarks in the accommodation business and evaluate new opportunities in the real estate industry," Agarwal said. Before this, Kapoor has been the executive director and a member on the board of Max Healthcare, a joint venture between Max India and Life Healthcare, South Africa, stated OYO. "I'm thrilled to join OYO's mission of upgrading different forms of real estate and creating unique accommodations experiences, and partner with Ritesh in driving the next wave of growth at OYO," Rohit Kapoor said.
DocTalk CEO Akshat Goenka quits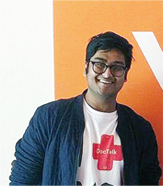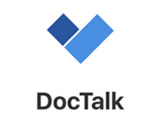 Akshat Goenka, co-founder and chief Executive Officer of DocTalk Solutions Inc, a doctor-patient communication platform, has resigned. Goenka, who quit in August, said, "It was voluntary. It was the right time to take some time off from work given my health and other personal issues." Vamsee Chamakura and Krishna Chaitanya Aluru are the other two co-founders of DocTalk. The Mumbai-based health tech company, which had raised $5 million (Rs32.43 crore) from Matrix Partners India, Khosla Ventures, and others, handed out pink slips to nearly 100 people this year, reducing the remaining workforce to less than 40 employees. DocTalk that started off as an enabler of communication between doctors and patients through its mobile app has now built an electronic medical record (EMR) solution. The EMR solution will help doctors write prescriptions digitally and provide customized prescription templates. "We have been planning for a while, but there is no big business model change per se," Goenka added. In June this year, media reports stated that the company was in talks to raise a $10 million round from a group of investors led by Nexus Venture Partners. However, the discussions did not materialize.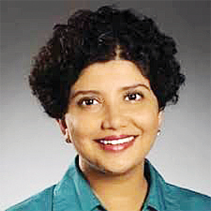 Wipro opens Automotive Innovation center in Detroit
Bengaluru-based software services provider Wipro, announced the opening of an Automotive Engineering center (AEC) in Detroit. The center aims to drive innovation in connected vehicle concepts-design, product engineering, digital customer-vehicle experiences, artificial intelligence, and sensors-driven advanced vehicle data analytics. Wipro's AEC is part of Wipro's vision to build a global network of delivery centers that offer best-in class engineering and IT services, augmented by leading-edge automotive domain and digital solutions. The center serve as a hub to support the automotive engineering and IT requirements of Original Equipment Manufacturers (OEMs) and tier-I suppliers, based in North America. This center leverage local talent for delivering product design and supporting the development and validation of automotive cockpit electronic products. "Wipro is committed to addressing the local and global needs of its engineering customers, and assisting them in gaining both scale and time-to market advantages," said Anita Ganti, Senior Vice President and Global Head, Product Engineering Services, Wipro. "This center enable us to deliver differentiated connected automotive engineering and innovation-led solutions for our customers."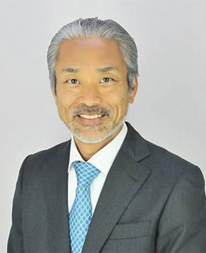 Masakazu Yoshimura to take over as new MD of Toyota Kirloskar Motor
As a part of its management restructuring in India, auto major Toyota Kirloskar Motor announced a top-level management change with its incumbent Managing Director Akito Tachibana being replaced by Masakazu Yoshimura. The formal appointment of the new Managing Director will be made at the company's board meeting scheduled for January 22, 2019, TKM said in a statement. Yoshimura, who comes with over 25 years of experience in automobile industry with diverse areas covering product planning, and pricing, will be responsible for broad leadership and strategic direction of Toyota's business operations in India, the statement added. Commenting on his proposed appointment as Managing Director of TKM, Yoshimura, said: "Customers are at the heart of everything we do and we Toyota Team will enhance our efforts to enrich the society further, thus improve the lives of the people. Taking forward Toyota's core values, I look forward to everyone's continued support and cooperation, to build on the growing momentum of sustainable operations in the region". Toyota Kirloskar Motors was established in 1997, and the first car launched by Toyota in India was the Qualis that garnered a huge fan following right from its inception in 2000. Toyota sells a number of products across various segments, including the Etios Liva, Etios Platinum, Etios Cross, Innova Crysta, Corolla Altis, Fortuner, Camry Hybrid, Land Cruiser and the Land Cruiser Prado.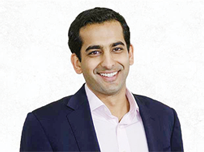 Sumer Juneja of Norwest to head SoftBank's India operations
After a three-year-long search, Japanese investment giant, SoftBank has appointed Sumer Juneja, partner, Norwest Venture Partners (NVP) as its country head for India. Juneja comes with nearly a decade of experience at Norwest and sits on the board of the food tech unicorn, Swiggy. Juneja will take on the role at SoftBank from his previous position as director at the US-headquartered venture capital's India office, which he joined in 2009. Prior to Norwest, Juneja worked with Goldman Sachs in London and in Hong Kong as an investment banking analyst, driving several merger and acquisition processes including financial analysis, due diligence and public and private buy-side and sell-side transactions. His experience at Goldman included that during the acquisition of Paladin Resources by Talisman Energy, acquisition of Domnick Hunter by Parker Hannifin and advising Thames Water, a UK water utility, on the divestiture of its international assets valued at over $2 billion. Juneja completed his Bachelor of Science Degree in Politics and Economics from the London School of Economics.
Hyundai India MD & CEO, Y K Koo steps down, Seon Seob Kim to take over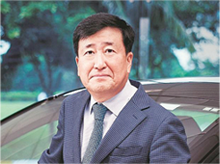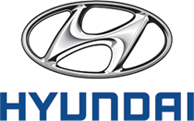 Hyundai Motor India Ltd Managing Director and CEO, Y K Koo stepped down from his position in India and will be joining the company's head office in Korea. The company said in a statement that Senior Vice President, Seon Seob Kim, head of Business Operations Strategy Division, will become Head of Hyundai Motor India Headquarters. YK Koo has played a pivotal role in helping Hyundai India achieve a significant growth ever since he took over as the MD and CEO in 2015. Koo was the MD & CEO of Hyundai Motor India Limited since November 2015. New Elantra, New Tucson, Grand i10, New Elite i20 2017, 'The Next Gen Verna', 'The New 2018 CRETA', 'The All New SANTRO' among others were launched under his watch. He joined Hyundai Motor Company in South Korea in the year 1984. Before joining Hyundai India as the MD and CEO, Y K Koo was the CEO at Hyundai Motor CIS in Russia where he served for a period of three years. Y K Koo has over 34 years of diversified work experience of global markets in different assignments with Hyundai Motor Company.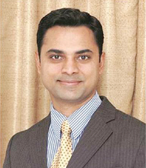 Centre announces Krishnamurthy Subramanian as new Chief Economic Advisor
The government announced the appointment of Krishnamurthy Subramanian, a professor at the Indian School of Business (ISB) Hyderabad, who strongly praised Prime Minister Narendra Modi's 2016 demonetization move as the Chief Economic Advisor for a three-year term. Ever since Arvind Subramanian quit as CEA in June this year, citing family commitments, the post has been lying vacant. A PhD in Financial Economics from the University of Chicago Booth School of Business, Subramanian, 47, serves on the boards of Bandhan Bank, the National Institute of Bank Management and the RBI Academy. Subramanian's immediate task at hand will be to contribute in preparing the interim budget, scheduled for February 01, 2019, before the next general elections in May 2019. The Appointments Committee of the Cabinet approved Subramanian's application to the CEA post, the center said in a notification. Subramanian will take charge with effect from "the date of his assumption of charge of the post or, until further orders, whichever is earlier."
by Archie Banerjee