CII Womenation: Woman power
Realise, Recognise, Reward & Refuse
They came, they saw, they conversed...about women and leadership, how each challenge can be an opportunity and how talented women professionals must not throw in the towel at the first road block. From lessons on life and living, optimizing positivity and minimizing negativity to the need for strong partners and close networks of supporters to self-belief. The recently concluded CII Womenation conference saw a panel of outstanding women share not just their own secrets of success, but also valuable inputs to help young women make a mark in the workplace. Most necessary if you consider the backdrop: As opposed to the rest of Asia that has 49 per cent of working women, India only has 27 per cent. Obviously, a lot needs to be done to rev up circumstances as well as attitudes conducive to more and more women joining the work force. Amidst all this, one had to address the elephant in the room, that is to say, the eternal question: "Can women handle power as well as men?" They were, Renu Basu, Senior VP-Global Sales, India Hotels Company Ltd, Richa Arora, Chief Operating Officer-Consumer Products Business-Tata Chemicals, Pallavi Jha, Dale Carnegie Training India, Ipsita Dasgupta, President -Strategy and Incubation, Star India and Vibha Padalkar, MD & CEO, HDFC Life, in conversation with each other, the audience and moderator Ninad Karpe, Director Aptech India. A fine celebration of woman power and celebrating success if ever there was one. Excerpts...
Ninad Karpe
Director Aptech India, Moderator
My brief as moderator in the presence of these outstanding ladies was simple. Plus it was delivered by my son -"Dad be quiet." So without further ado, over to the speakers on the lessons and experiences they wish to share with the audience.
It is possible to turn challenges into opportunities. Be confident about what you are doing or people will trample upon you
— Renu Basu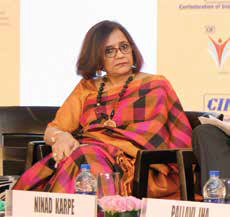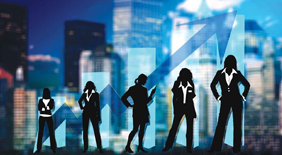 Renu Basu,
Senior VP, Global Sales, India Hotels Company Ltd
Coming as I do from the hospitality industry, it is a given fact that we tend to have more friends than others. It's a familiar enough story: celebrating success does not come easy for women. They are way too modest. But success, to my mind, is measured by the contribution you make to your organization and the achievements of your organization. Women typically feel that once they drop out or take a break for familial reasons they can't come back. That's wrong and untrue. When I got back from my break, my former boss, told me: "Renu, just lead from the front." And I thought, wow! That's some task. "But as I threw myself into the challenge, I realized the inherent wisdom of it. Here I am reminded of the great humanitarian Nelson Mandela and what he said about leading from the front. He said: "It is better to lead from behind and to put others in front, especially when you celebrate victory when nice things occur. You take the front line when there is danger. Then people will appreciate your leadership." And it happens to be brilliant advice.
As women, we are faced with challenges at every stage. Guess what? It is possible to turn challenges into opportunities. Be confident about what you are doing or people will trample upon you. Stay focused on whatever the task on hand, be it mothering or work. It may sound philosophical when I say this, but faith in self and faith in God will take you places.
I have two firebrand daughters who never fail to tell me at different points: "Mummy, you are a diamond and you cannot break." We women tend to be ever doubtful of themselves, don't do that. The time has come for us to stake a claim at the workplace and different spaces around us. Men tend to measure success by numbers and milestones, whereas women, who tend to be collaborative, don't take enough credit. We need to be aware of our strengths and value them accordingly.
Ninad Karpe: A very interesting take on male and female yardsticks of success. Thank you, Renu. Over to Richa.
Women in business tend to define success with the same matrix as men and I think that leads to stress and frustration
— Richa Arora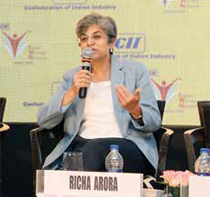 Richa Arora,
Chief Operating Officer, Consumer Products Business, Tata Chemicals
I am going to flip the subject a bit and concentrate on three things that tend to hold women back. First and foremost, here's a closer look at the very definition of success itself. Women in business tend to define success with the same matrix as men and I think that leads to stress and frustration. Women have to let go of guilt and do what makes them happy, do whatever works for them as individuals: be it taking a break from work, pursuing a hobby along with a career or working all through their marriage; people need to define success on their own terms. With millennials, it is happening already. When you aspire, you achieve.
Secondly, it has been noted that the very successful women working at top positions in top corporates are still wondering how they got there in the first place! Even at this stage they are so unsure. Naturally, the point I am making is that women tend to have more confidence. Here we need to take a cue from men who are so confident about all they do.
Last but not the least, be yourself, whoever you are. Don't be pressurized or compelled to be someone else. That is the easiest way to succeed.
Ninad Karpe: Three steps to success. Delightful! Thank you Richa. Over to Pallavi.
For those who think that dynasts have it easy, allow me to state that it is much harder for them to succeed, to win trust and credibility
— Pallavi Jha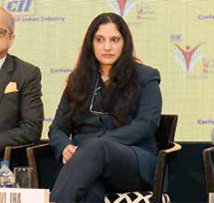 Pallavi Jha,
Chairperson and MD, Dale Carnegie Training India
A lot has happened in the course of my professional career. The single most important thing that I am able to claim is that I have been able to write my story myself. My journey is significant in which, I have come a distance from being a shy, reserved and quiet little girl for whom a birthday party was an overwhelming experience. Of course, my professional life has seen its ups and downs, big and small wins and losses and I think celebrating all of it has helped shaped my career.
I started off as a management trainee for Proctor and Gamble, got married and took a break. No one was surprised. As usual the common refrain was that girls tend to do that, somehow the man's career is important, but I did not happen to see it that way. I had started off with a job in Delhi and it was a learning experience. The defining moment, though, came when I joined the family business. For those who think that dynasts have it easy, allow me to state that it is much harder for them to succeed, to win trust and credibility in the eyes of colleagues, who typically don't take them seriously. So for those of you who think dynasts are terrible people, and incompetent fools, do consider this aspect as well.
After that stint, it was the path of entrepreneurship for me. From dotcoms to sports, I did it all. And then, I got into training and finally started Dale Carnegie Training, India. I am very happy to say that we are pretty much the first corporate face of non-technical training in India and it has been an amazing journey.
Ninad Karpe: Thank you. Here's the quote of the day: "Write your own story." Over to Ipsita.
I meet so many fascinatingly intelligent women who don't take enough risks and that's sad. It's alright to sign up and fail...
— Ipsita Dasgupta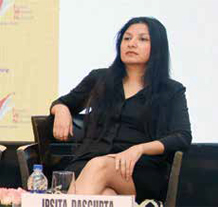 Ipsita Dasgputa,
President-Corporate Strategy and Incubated Business, Star India
Before I begin, I'd like to present a quick overview of my journey so far. While I work at Star now, I was at GE before as Chief Marshall Officer. I am an astrophysics graduate before moving onto pure mathematics and then completed my MBA from Harvard. That's where I met my husband as well. So that was an efficient year, I'd say! I have lived in the US for most of life and been in Asia for 10 years. Currently, I am based in Mumbai with my husband and twin daughters. Before I share the three suggestions I have, I'd like to outline that growing up in the US, I tended to look "different" from those around me, being brown and a woman. But the biggest advantage was that I never thought I was any different once I was in a room. I never stopped being who I was.
When life did change for me and I realized that things were different for women was when I had kids. There is a biological commitment that distinguishes us from men-whether or not there is tremendous equality at home, you are still the person staying up nights and feeding kids, with twins it's twice as tough. So yes, all of us realize that there are different stages in the journey of being a woman. It is important to realize the statistics as we seek. In India, just about 27.5 per cent women work outside their homes, as compared to the rest of Asia that averages 49 per cent. So while we have reasons to celebrate the journey so far, we need to consistently work at creating reasons to keep celebrating. A study conducted in the US revealed that when two people earn the same amount of money, women tend to do thrice the amount of housework and six times the amount of child care. Naturally, this puts a lot of pressure on us in our private spheres which makes the professional and public spheres harder to navigate.
Against this backdrop, I'd like to suggest three things:
First, be nice: As women, we need those strong networks more than anyone else around us. Be it that teacher who is willing to keep those kids 15 minutes longer at school or that pediatrician who takes that call at a late hour, we need them all. So build and nurture those networks; they are extremely important.
Second, always, always deliver at work, come what may. When you have signed on a dotted line for a particular reason be sure to live up to that promise.
When you do these first two things, it is possible to do the third: that is take risks. I meet so many fascinatingly intelligent women who don't take enough risks and that's sad. It's alright to sign up and fail, but it's not alright not to try at all.
Ninad Karpe: Thank you for those insights: be nice, always deliver and take risks. Our to Vibha.
If he (husband) is on your side, everything is on your side. Apart from this, I'd like to stress that it is crucial to have your own identity
— Vibha Padalkar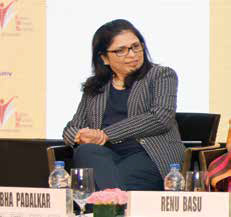 Vibha Padalkar,
MD & CEO, HDFC Life
To begin with, it's critical to choose your partner someone who is proud of you and your dreams, not someone who asks you to throw in the towel at the first instance of a hitch. On the contrary you need someone who says: Alright, let's see how we can do this together, at times, it's my career doing well, so I take the front seat, but if it's your career doing well, I'd give you priority. This is what a partnership is about. Remember ladies, if he is on your side, everything is on your side. Apart from this, I'd like to stress that it is crucial to have your own identity and world which is virtually non-negotiable.
To do that do though, we don't have to ape the west. I am reminded of a sister-in-law from the US who felt she needed to do a liposuction...I mean what for ?
Sure, looks do tend to matter at the joining point, you have to be reasonably well-turned out and pleasant, but that's all. Beyond that, your work is what counts.
Men have created a world that looks and sounds a particular way because they happened to get there first but don't be afraid to be yourself as a woman. For instance, when you enter a boardroom and happen to look at bright chairs, do remark and banter about it. So what? Let the guys get used to you.
What is important though, is to watch out for stretching points in your staff, particularly when you have a young workforce that is keeping long hours at work, despite family issues and despite young children. Acknowledge the fact that you see that they have been keeping those long hours and that you appreciate it, ask them to take a break. Show your humane side, show you care. People leave organizations not just for money but also for lack of timely acknowledgement and appreciation.
Last but not the least, I'd like to say that there will be difficult moments in your professional and personal journey-moments so tough that you believe it's the end. It's not. It's just a stress point and you will emerge from it, enriched and wiser. Believe that always.
Q & A session
What is the thing to remember in entrepreneurship?
Pallavi Jha: That it's a 24x7 job with no offs. If you're one of those who are big on having a work-life balance, this journey is not for you. Entrepreneurship requires you to be flexible, adapt and respond as per the situation. Your business plan may be abandoned midway because it isn't working-and then it's back to the drawing board. But you can't lose heart. People join and leave the boat all the time-you are the only anchor of that boat. Your time, patience and commitment will see you through.
The panellists spoke extensively on self confidence. But what I would like to touch upon is power. Studies show that women are not comfortable with power and the exercising of power. So would they enlighten us on their take of sharing and exercising power, managing it as well as being comfortable with it.
Ipsita Dasgupta: This is the era of authentic leadership. Thanks to twitter and other social media platforms, we see people for exactly who they are. So it's actually a great time for women. About women not being able to handle power, I think that if women do exactly the same thing as men, the interpretation from other people is way more negative. If you are assertive they see you as bossy. If you, like Serena Williams, end up getting emotional, it does not go down as well.
So the important thing is to create your own space, and work around it with every day, every situation. The same thing applies in your personal life as well.
As to the second part of your question, I think women are excellent at sharing power and taking most stakeholders along.
By Vinita Deshmukh