Cover Story: Dynamic Duo: 77 Priscilla & Maj. Gen. Ian Cardozo (retd.)
Where the mind is without

fear
There are soldiers and there are soldiers—and then there is Maj. Gen. Ian Cardozo (retd)—a fauji born every once in a blue moon. A man of monumental courage and rare spirit-in these jaded times, he stands tall as an undisputed hero for generations to come. That he cut off his own injured leg with a khukri is military legend; that he became the first war-disabled officer to command a battalion and then a brigade is common knowledge too. But only a few know that post retirement he served as the Chairman of the Rehabilitation Council of India from 2005 to 2011, and is a keen marathon runner, making sure to regularly take part in the Mumbai Marathon on his prosthetic limbs.
Born in 1937 in Bombay Presidency, British India, he studied at St. Xavier's College, Mumbai before joining the National Defence Academy. Subsequently, he was trained in the Indian Military Academy, from where he was commissioned into the 5th Gorkha Rifles.
In the course of the Indo-Pak War of 1971, his battalion was deployed in the eastern theatre of operations. The battalion's second-in-command was killed in action and Cardozo was ordered to replace him. He arrived at his battalion in time to accompany them on the Indian Army's first heli-borne operation during the Battle of Sylhet.
After the fall of Dhaka, he happened to step on a landmine, leading to severe injury on his leg. Due to non-availability of morphine and the absence of a doctor, he used his own khukri to amputate his own leg.
In spite of his wooden leg, he maintained his physical fitness levels and beat a number of able-bodied officers in physical fitness tests. He then put his case to the then Chief of Army Staff, Gen.Tapishwar Narain Raina, who then asked Cardozo to accompany him to Ladakh. After observing that Cardozo could still walk in the mountains through snow and ice, Gen. Raina allowed him to command a battalion. A similar situation occurred when he was to take command of a brigade. Married to the gracious Priscilla, he now lives in Delhi. An author of no mean repute, he has written several books on war heroes and the achievements of the Indian Army.
Here he speaks in-depth to Corporate Citizen, on Army life and what the corporate world can learn from it
"I am inspired by the book, 'Reach for the Sky' that tells the story of Douglas Bader, a World War II air warrior who had shot down 23 German planes before being shot down himself. With reserved legs, he escaped from hospital. They took away his legs, but again, he escaped and crawled in the snow. So I understood that there is great potential in people who have lost a limb and that potential needs to be exploited
—Maj. Gen. Ian Cardozo"
Corporate Citizen: Reams of newsprint have been devoted to the episode, but please do tell us just one more time as to how you managed to cut your own leg off with a khukri. If ever one had to cite an instance of bravery, this would be a marvellous example.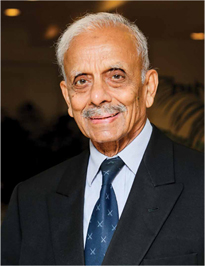 Maj. Gen. Ian Cardozo: I don't think it's a question of really being brave because I have seen so much and can therefore put it in perspective (smiles). People have suffered much more than I. Particularly in the '65 war, I saw a lot of action. My company was literally wiped out; my platoon commander was killed; my best NCOs were killed—I have seen a great deal of loss. So when this happened to me I wasn't overly perturbed in the sense that I am lucky I only lost my leg. I do think people give me more credit than I deserve.
What about the physical pain?
The physical pain was of course there. The problem was a little acute, in the sense that during the Battle of Sylhet my battalion undertook the first heli-borne operation right inside Pakistan. We went about a hundred kilometers behind the enemy defences and captured an airfield. We were told that we would be linked up within 48 hours, but we were not linked up for nine days. So we were without food or water. We had carried more ammunition than food and blankets, so we had a bit of a tough time. The enemy artillery destroyed the MI Room and all the medicines with it. The MI Room is a place where casualties are kept. Thus when I got wounded there were no antibiotics, no pain killers and there was nothing to amputate the leg. So when the doctor took his time finding a suitable instrument, I decided to do something. I belong to the Gurkhas. We carry a knife called the Khukri. It's a 14-inch blade which is curved. Basically it is used to chop off the enemy's head, and we did quite a lot of damage with that in the first two attacks. I first asked my Jawan to cut my leg off but he was hesitant. So I said: "give it to me" and I cut off my own leg.
How old were you then? Were you married ?
I was 34, and married with three children.
Priscilla Cardozo: We had been married for five years when this happened. Actually, we had got engaged a little before the 1965 war. He fought that war, and then we got married in 1966. By 1971 we had three boys... Arun, Sunith and Vikram. When I told the oldest one what had happened, he said all my friends are going to laugh at my dad, saying he has one leg. But that didn't stop him from joining the Army, when he grew up.
What was your reaction, Ma'am, when you heard of his injury?
In those days, the only way you got to know anything was through a telegram from the Army Headquarters that would ominously begin with..."We regret to inform you that..." That itself was enough to make you expect the worst. I was with my parents in Mhow when that happened. The telegram merely said he was wounded.
Maj. Gen. Cardozo: We were doing the staff college course when the war broke out. So the army terminated the course and told us: "Go and drop your families home and join your unit." I was posted on the staff but because there were heavy casualties in my unit they said you better go back, they require a second in command. So I went back to my unit, the 5th Gurkha Rifles, now in Pune. We started the war with 18 officers; only seven remained in the fortnight after that. I don't know if she remembers or whether she received a letter at all: I said not to worry; I lost a leg but I am alive and kicking with one leg.
We started the war with 18 officers; only seven remained in the fortnight after that. I said not to worry; I lost a leg but I am alive and kicking with one leg
—Maj. Gen. Ian Cardozo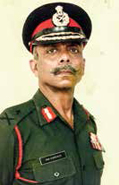 Of accolades and togetherness
That's some spirit...then?
Priscilla: He called me and we spoke. By then he was in Pune in the hospital. This happened on the 16th of December. But then I got to meet him only in mid-January when I came down to Pune.
So you were admitted to the Artificial Limb Centre?
Yes, the Artificial Limb Centre did all the treatment, which included the operation and the fitting of the leg. So we were housed at the Command Hospital. There I found company in a number of young officers on wheelchairs, crutches and so on. But nobody had a long face; everyone was in great spirits; that was and is the best thing about the Army till date. The fauji spirit rarely complains, but people take us for granted, which is wrong.
What do you think of the Army being the first to be called even in case of civil disasters? What of the respecter disrespect that comes your way from the civilians?
This is a very relevant question pertaining to the morale and maintenance of the Army. The ancient Indian scholar Kautilya, in his book, the Artha Shastra, has mentioned that if you destroy the morale of the Army you are destroying it. Today, there is a big standoff between the Armed Forces and the bureaucracy and the latter is doing its best to put us down. For example, the Defence Minister recently mandated that since the Himalayas are littered due to tourists, let the army clean it up—like we have nothing else to do! And her latest order is to open up the Cantonment roads. She needs to understand that the soldier fights because he knows that his family is secure. But thanks to the order, this is no longer the case. They are denuding the morale of the Indian Army and that will happen at a price.
It took me seven years to fight this system. I did my battle field efficiency test, climbed mountains, swam rivers and then I accompanied the vice chief and the chief to mountainous areas like Ladakh and Siachen. And they said yes, he can command a unit
—Maj. Gen. Ian Cardozo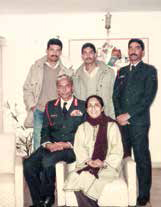 Fabulous family: Maj. Gen. Cardozo, Priscillia with sons (from left) Arun, Vikram and Sunith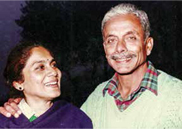 To come back to your story, how did you heal?
It took nine months for me to be able to walk again. I was told that since I had lost a leg, my promotion would be limited; that I would not be able to go beyond the rank of a brigadier. Now that was upsetting, because I felt the loss of a limb wasn't a big issue; that I could be as good as I was before or better than people with two legs but it took me a while. I was posted to army headquarters by General Sam Manekshaw. Sam was from my regiment and he posted me to Delhi despite me asking for Mumbai. So when I asked why have you posted me to Delhi he said the chief wanted someone to work out a policy for battle casualties. So he had that much vision; he cared deeply for his men and there is no other chief who has that kind of standing with everyone.
In Delhi, I tried to work out a policy but I was only a Major and the other members of the board were Colonels and Brigadiers and did not accept my recommendations that we should be allowed to serve in the units, command units and that there should no restrictions on our promotions. But in the hospital I happened to read a book called 'Reach for the Sky' that told the story of Douglas Bader, a World War II air warrior who had shot down 23 German planes before being shot down himself. He was caught and hospitalized; so when his reserved legs were given to him, he escaped from hospital. They took away his legs, but again, he escaped and crawled in the snow. So I understood that there is great potential in people who have lost a limb and that potential needs to be exploited.
It took me seven years to fight this system. I did my battle field efficiency test, climbed mountains, swam rivers and then I accompanied the vice chief and the chief to mountainous areas like Ladakh and Siachen. And they said yes, he is alright. He can walk, he can run, he's done all the tests, there's no reason why he should not be promoted in command of a unit but it should only be applicable to those who are not using their wounds as a shield. Subsequent to that, all promotion bars were removed and I am proud to say that I changed the policy of army headquarters. As many as three officers became Army Commanders and one became the Vice Chief. So today the Army respects battle casualties and I'd like you to know that the chief has stated that this year 2018 is the year of the battle casualties.
What's the role played by the Artificial limb Centre?
The Artificial Limb Centre is the premier institution in this country with regard to fitting of artificial limbs, which means not only legs but also hands. They make a lot of appliances and if you have other problems they sort them out. They even have super specialists today. My first leg was a wooden leg but I did great things with it. I marched 40 kms in the desert; then 150km from Kanyakumari to Trivandrum. But over the years, there has been a quantum improvement in the quality of legs provided by the Artificial Limb Centre.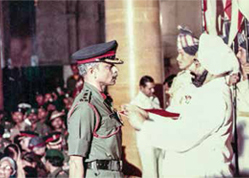 Please tell us more about the spirit that made you achieve what most can't even imagine.
The iconic army officer Brigadier Desmond Hayde once said: "Battles are won or lost in the mind before they are won or lost on the grounds", which means that it is mind over matter. When we went to NDA Khadakwasla we were trained to do things we couldn't have dreamt of; there is a lot of potential in a human being which is not understood and it depends on instructors to bring it out.
Any tips on how to conquer the mind?
You cannot have a blanket rule for everybody, as each one has different disabilities; I have lost a leg below the knee, so I am better off than a person who's lost a leg above the knee. Obviously, there are degrees of difficulty but there are also degrees of mental strength to accept the situation.
I had an advantage in the sense that I had seen a lot in life even before I lost my leg. On the other hand, there are people who have never had experience of war or crisis in their life, and when an accident happens, they are traumatized. I personally felt that I had gotten off lightly, so it didn't really bother me. But whatever the situation, if you believe that there is an Almighty then you are never alone. Spiritual strength boosts both mental and physical strength.
What role has your wife, Priscilla played in your life and outstanding career?
Priscilla and all the other Army wives are the backbone of the Army. We do what we do only because they are there to motivate us. They are very positive because they understand the role the Army has to play as far as the country is concerned, but unfortunately their role is never really recognized. My wife has been my support all through. When I told her about my leg she said, it's all okay as long as you are alive. Then there are ladies who lose their husbands in war but they get their strength together for their children. Of course, the Army does make an effort to look after the wives, so the Army is a family. It will remain like that as long as the seniors in the military and political hierarchy understand that the soldier fights because he knows his family will be looked after. But if they start troubling us like they are doing now they are going to have a problem.
How would you compare the working environment in the Armed forces to that of the Corporate World?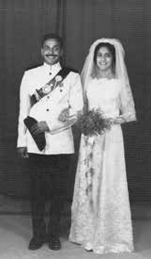 Love that was steady but surely.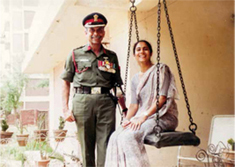 Standing by each other for 52 years.
We learn in NDA and IMA that the security, honour and welfare of your country come first always and every time; the honour and welfare of the Command comes next; your own ease and comfort comes last always and every time. Therefore we put country first, our soldiers next and we come last.
But outside the Army everybody says: me first. Everyone is bothered only about themselves. There is corruption everywhere, so when we get out of the Armed forces, we tend to be hugely disappointed. There is no accountability in civil governance, whereas in the Army, if you fail you are punished straightaway. Look at the terrorist Kasab. He was hung after six years despite killing so many. Why is the system of justice so slow? Look at the Nirbhaya case—the culprits are still not punished.
So there is a great difference between the Armed Forces and the outside world. Discipline means if you do something wrong then you face punishment and you face it immediately. Outside it is very, very slow, so this talk about democratic processes, I am sorry doesn't really work because democracy doesn't say that you delay punishment.
Absolutely right. So how would you describe the corporate world?
The Corporate World can learn a lot from the Army. We have principles of war that are applicable both in war as well as in business and I intend to write a book about that. In fact, I want to do it with my son who is in the corporate sector. So he will write about the corporate sector side and I will write about the Army side and how they can match. Everybody should get some amount of military training but they don't and how many ministers or bureaucrats have got their children in the Armed Forces? This indifference is worrisome but who is listening?
"In the Army, everything works because we work as a happy team. Similarly, in the corporate sector, you need to have a happy team and that can only happen if you know your subordinates, look after them and make sure that productivity is linked with their happiness"
—Maj. Gen. Ian Cardozo
You did mention about some Army principles which should be applied to the corporate world...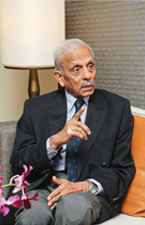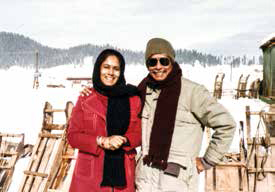 Holidays are a part of their leisurely times.
First and most important is the selection and maintenance of your aim. If you want to do anything you should know what you want to do and by when you want to do it, how you want to do it and within a certain time frame. By selection of aim I mean that supposing you want to get married you should be very clear that you want to get married but then the questions arises: who do you want to get married to? At times selection and maintenance of aim entail flexibility.
The other great principle worth emulating from the Armed Forces is that of mutual co-operation between the Army, the Navy, the Air Force. We were lucky at that time to have a great chief, a great Prime Minister, as well as a great bureaucracy. With our combined strengths, we won a war within 14 days, took 93,000 prisoners and liberated the country. Why did it happen? Because we cooperated. We did it because the Army believes in unity in diversity. We are the only institution to have had a Parsi chief; a Sikh Army Commander; and a Jew chief of staff. Of the eight divisional commanders four were Christians. So there was no differentiation between anyone as far as religion is concerned. In the cantonments, we have what is called as Dharamstan where the Gurudwara, the Mandir and the Masjid are all together. So we respect each other's religions because when we go to battle, our lives are in each other's hands.
I was very impressed by Sri Balaji Society and its founder Col. Balasubramanian. I was taken around by Brig. Manu (Manohar) Bhambhani, who is the Advisor of this educational society and he adheres to the maintenance of momentum which is a key principle of war. So if you start strong you have to end strong but you can only end strong if you keep on at it and I was so impressed with Brig. Bhambhani because his life is focused on this institution and he is always coming up with good ideas as to how to improve the environment.
While profit is not a bad word it should be linked to the legitimate needs of the workers. I am not advocating communism, I'm just saying that you have to run a happy team. In the Army, everything works because we work as a happy team. Similarly, in the corporate sector, you need to have a happy team and that happy team can only happen if you know your subordinates, look after them and you make sure that productivity is linked with their happiness.
The next big requirement is discipline. You have to come on time and go on time and produce what you are supposed to produce in the stipulated time. Then there is quality. Are your products the best? The best in the world? What I'm saying not only should we be very, very functional and very competent, we should also be happy because happiness contributes to productivity.
In the Army the team is given the credit whereas in the corporate world, one man usually the CEO gets the spotlight? What do you think about that?
That's correct! Actually, in the Armed Forces we are not used to blowing our own trumpet but we have come to realize now that the public needs to know what the Army is all about. The reason that they can sleep in peace and carry on with their legitimate functioning is because someone is watching out for them.
Sure we have been vocal about our achievements lately, but still there's a lot that is not known or appreciated. Nobody, for instance, has an idea what is it like at Siachen. There, at -52 degree Celsius, there is no oxygen to breathe people don't eat because if you take an apple there it's as hard as a stone. Soldiers deputed for just six months lose 15-18 kilos; some die due to lack of oxygen. Today a bureaucrat living in Shillong which is a class B city gets an allowance of Rs.56,000 whereas an officer serving in Siachen gets less than half that amount. Why?
Glorious Golden Moments
Dynamic and charismatic Priscilla is a patient wife and a stubborn mother. With their prime married years mostly spent apart, with her stationed in Delhi for their sons' education and Maj. Gen. Cardozo on field postings, it has been a case of absence making the heart grow fonder…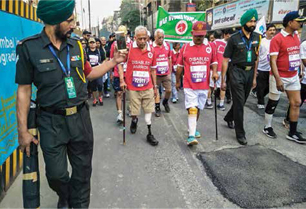 Participating in Marathons is their passion
Married for over half a century, the couple's interaction is laced with all the informality and humour that come from years and years of shared bonhomie. Naturally then, when you ask Priscilla as to what made her marry him in the first place, she will respond with a laconic, "I don't remember."
To which he will quip: "She won't say it in front of anyone or in front of me for that matter."
In a similar vein if you were to ask her what she admires most about him, she will once again tell you, "I don't remember."
"You are asking a very difficult question because she has never said anything good about me ever since we got married 52 years ago," he laughs.
This is the girl for me…
But the fact remains that this is a love marriage from an era when love marriages were rare, to say the least. So how and when did they meet? He reminisces. "I met her at a place now called the military headquarters of war. It was the Infantry School. She studied in the Law College next door. I met her at a party there and I felt that this is the girl for me, but let her come around."
Priscilla remembers how another officer introduced them. "That officer said: 'I must introduce you to a Goan officer.' I said I don't want to meet any Goan officers, but still we were introduced."
"She didn't have much time for me; that made me want to meet her more, but that was in 1962. The next time I met her was in 1964 when I had come on another course. She was in college by then, and a little more approachable. So we fell in love and got married two years later," he says.
Sports the binder
What probably worked in their favor is that they are both outdoorsy folks. "She used to swim and play basketball for Madhya Pradesh. Similarly, I held the underwater record at Khadakwasla. I'm a hockey blue, played football, athletics, boxing, so I think our spirits match," he says. "Yes, that is probably it," she says at long last.
Married life in the Army was hard and rewarding by turns, what with his injury and Priscilla having to bring up their three boys Suneet, Arun and Vikram largely on her own. It helped that she was teaching in the same school as they were studying and unlike most fauji families, had chosen to stay put in Delhi where the children had an excellent alma mater in St. Columbus. "We used to go to school and come back together. But fortunately, being a teacher, there were plenty of holidays. The Army permitted us to spend four months each year in the forward areas. So we used to go to spend time with him."
Single mom or not, she was unerringly tough with the children. "I was quite strict with the boys despite other children getting a more liberal upbringing," she says.
"I'd take them swimming at the army club where I'd sit in the library and wait for them. But there was no staying for movies. We didn't have a TV set till 1986. Our servant used to have one in her quarters—a black and white one. Soon the color TV entered the market, and she told me, you buy my black and white, I'll buy a colored TV. But then the kids never got addicted to the TV. However, I have played every game with them, including basketball. They also used to call me Hard Rock mom because I knew their music. They were into Heavy Metal and I could croon along."
"I was quite strict with the boys despite other children getting a more liberal upbringing... However, I have played every game with them, including basketball. They also used to call me Hard Rock mom because I knew their music, which was Heavy Metal and I could croon along"
—Priscilla Cardozo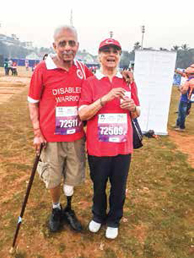 Strict upbringing
Still, she was pretty particular about some things. She was never one of those parents going around looking for the kids in the evening. "In fact, my instructions were simple enough; they had to be home before I switched on the evening lights. All in all, they were good boys (laughs) though now my elder son tells me that when he was in Std. X, he used to get out of the house from the back door and join his friends for parathas in some place unknown to me."
The Cardozo's are parents who believed the children must earn their privileges. "The eldest one, I remember, wanted a scooter because all his friends used to have their fathers' scooters and his was lying there. But I said nothing doing, you earn and buy your own. So eventually he did buy his own motorcycle. We are not saying whatever we did was the right thing, but we tried to do our best with a sound education and good food," she says.
She proudly adds, "And it all worked out well. Today, our eldest son, Sunith, is a Colonel in the Indian Army, our son, Arun, is a Surgeon in the Manchester, the UK. The youngest, Vikram, is working for General Electric (GE), and is based in Singapore presently".
Maj. Gen.'s Determined path
After being in office the whole day he would go on a scooter to Delhi University. Here, he pursued his studies with gusto and earned a diploma in personnel management, B.Com, then MBA, also MSC. It wasn't easy managing work and study, but he was determined to make a go of it. "Besides, the other students would call him uncle as he was so much older than they were", she laughs. Still, he persevered. "When I was told that there were no promotion prospects for no fault of my mine, I decided to take my life in hand. I didn't lose my leg playing marbles, I lost it for the country, so if I had to leave, I needed an education," he says.
Still he managed to get that promotion, changing the course of history in the process. "I continued to prove to the Army that I was as good as anybody with two legs. I was the first battle candidate to get command of a brigade and later I became a divisional commander, then a general. So that opened the doors for many people," he says.
Post retirement, the Cardozo's continue to live a full life, travelling, swimming staying in touch with their battalion, interacting with their grandchildren, and participating in the famous Mumbai marathon too.
"A marathon is actually 42 km, so half Marathon is 21 km; what we do is called the Dream Run which is about 8 km," explains Maj. Gen. Cardozo.
"By 'we', I mean the battle casualties of which there are 15 to 20. I am Vice President of the War Wounded Foundation. These boys are very happy to take part because Mumbai is a very supportive city and they cheer us on."
Still, the last year was not easy, given that he had a problem with his leg and was at the Limb Centre in Pune. "I was four months in hospital and changed legs but the problem has not been resolved; but I did all this because I wanted to participate in the marathon. I said, irrespective of whether it works out, I'm going to take part, and I did," he says, evincing the spirit that makes him the legend he is today.
So how often do they come to Pune where they have an apartment? "Every two-three years for the check-up of my leg at the Artificial Limb Centre," he says. No it isn't completely fine, but he can walk short distances without a problem; it's only on long distances that it hurts. "I actually had a fall in Chandigarh about three years ago, so I think that's how it all started," he says.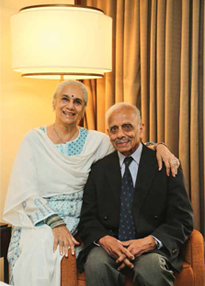 Constant support
Amidst all this, Priscilla is a constant presence— supporting his athletic endeavors with enthusiasm— even as she makes it a point to wakeup at 4 am for her own much loved morning walks. "I go to the JNU campus. It's pretty safe there and quite a few of the locals recognize me," she smiles. Over the years, she has emerged as quite the matriarch of the battalion he served in. "Fifty-two years ago, ever since we got married, I told her that you need to visit the battalion for Dussehra. She's not missed a single Dussehra since and is considered the mother figure in the regiment. She knows the names of officers, their wives, their children, the JCO's and they are so, so appreciative of her efforts. I think she's more regimental than I am," he says with pride.
"I think they ring me more often because they're pretty scared of him," she smiles.
Like any grandparents they are busy enjoying the Gen-Next. What adds to the joy is that after years of wishing for a girl they finally have grand-daughters. "Neither of us had sisters or a daughter. So the wait has been a long one. We finally have two grand-daughters and it's so different having girls," says Priscilla. "Anita is 16 and a half; she's taller than I am and her brother is just 13. My son who's with GE has got one girl, she's ten," shares the fond grandma.
So after all these years what do they believe keeps a marriage? "Stand by each other in whatever you want to do. Accept your partner as he or she is, and by our own personal example, we can change attitudes, but never let a disagreement escalate beyond a point," she says.
Both have a distinct philosophy of life that has served them well. "Live one day at a time," she says.
As for Maj. Gen. Cardozo, he believes that battles are won or lost in the mind before they are won or lost in the grounds. "So everything depends upon the mind and you need to have support. So yes, it is also crucial to marry the right woman." (Smiles)
Sound advice that.
By Vinita Deshmukh and Kalyani Sardesai