Loved & Married too:
The strength of a marriage...
It is not often these days that a college romance fructifies into wedlock. Corporate Citizen unlocks the story of love that has culminated into marriage, for we believe in the stability of a relationship and family unit. We bring to you real-life romances that got sealed in marriage
....is many things. It's the moods and moments you share, it's the home you make. It's the ups, it's the downs. It's like the wind in so many ways, invisible, unseen, yet right there. Above all, it's the strength that allows you to soar. Married for over 17 years, corporate professionals Neetha and Dilip Padki are testimony to that strength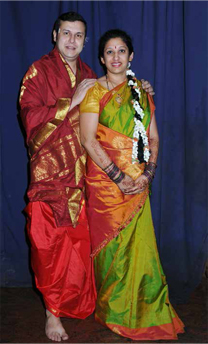 It was one wedding that had its origins in another wedding. Their cousins were getting hitched and that's how Neetha and Dilip first met—and hit it off instantly.
Their shared Kannadiga roots and affinity to laugh at pretty much the same things was a good enough ground for a memorable first meet.
And then just like that, both the festivities and their meeting were over.
But Neetha couldn't get him off her mind. "I had liked him so much. Apart from being this good looking guy with a great persona, he was easy to talk to, well-spoken, intelligent and could really make me laugh," she shares.
It took much prodding from a friend and a year for her to muster up the courage to call him. To her delight, he recognised her voice instantly.
Indication enough that they were on to something solid. Still, in keeping with all due proprieties, Neetha informed him (like a good girl) that being from Bengaluru she was quite confused as to what MBA colleges Mysore (his home town) had on offer. And like a good boy, he politely agreed to show her around.
"Except that we spent more time eating chaat and icecream than college and brochure shopping," she smiles at the memory. After that second date, they kept in touch, but nevertheless it would be sometime before any mutual confessions were made. "I really cared for him but was so wary of being turned down that I kept my feelings to myself," shares Neetha.
Imagine her delight then when two years later, he popped the question on her birthday— no less. "Of course I agreed," she shares. The parents, though, were told in a most unusual way. A little later, when Dilip had to go in for a minor surgery, he told his dad that the first person he'd like to see when he returned from the OT was Neetha. So his dad called up and told Neetha's bewildered parents all about his request. "Naturally, my father asked me what it was all about and I told them about the proposal," she narrates. "They were thrilled. Truth be told, I must be one of the few young-sters whose parents actually applauded her choice despite being so young and inexperienced, only in my final year PG."
In fact, her dad was so pleased that he actually gave her a cheque to signal his approval. After all, Dilip was all that they would have hoped for from a potential sonin- law—highly educated (he's an environmental engineer by training), dignified and well-spoken. The perfect partner for their MCA daughter.
And so, the duo were wed in a traditional ceremony in 2001.
"Communication is the key to marriage, but it's not always words. Sometimes, shared silences also work wonders"-Dilip
Neetha and Dilip on a boat ride
The building blocks of a marriage
However, as they say, the best plans often get overlooked by destiny. "I wanted to do my masters, followed by a doctorate in environmental engineering in the US. I had even been accepted by a University in Texas. So confident was I of the course my life would take that I had my resigned my job," says Dilip. But it was not to be. Since both his brothers were already in the US, he was marked as a potential immigrant and given the pink slip. "It was the biggest shock ever," he shares.
Nevertheless, Neetha stood by him and the wedding took place. "For the first three months of our marriage we lived on the stipend I earned as an intern," she grins. "We were fine with it, for we knew it was a passing phase."
Sure enough, General Electricals came a- calling for potential recruits and both Neetha and Dilip applied. Both made it—and thus came about the first move of their corporate careers that took them from Bengaluru to Hyderabad. "That was when we were able to afford our honeymoon, well over a year after our marriage. We went to Nepal," reminisces Neetha.
Still, that first rung in the ladder took them both higher. As of today, Neetha is Learning and Development partner (HR) with AXA, Pune, while Dilip is Business technologist (finance) with Maersk. Two bubbly kids, Chiraag (13) and Diya (10), complete the picture.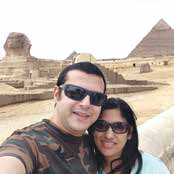 Vacationing in Egypt
The mantras of a marriage
Give each other due space
Keep the communication going at all times
Respect and encourage each other's dreams
Prioritise as to who and what is important when it comes to the bigger picture
Kids are a shared responsibility, not just mama's headache
The balancing factor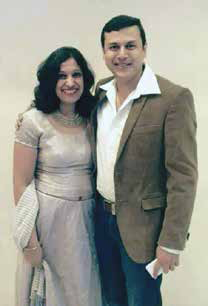 Despite her senior position, Neetha stresses that a work-life balance has always been important to her. "I wanted to be around for my kids, and so I took a break after they were born," she says. "However, Dilip pointed out to me the long-term wisdom of having my life above and beyond the kids. In fact, he is the one who encouraged me to join back after the hiatus, not just through words, but also in deed. He's a hands-on dad, very caring and contributory to ensuring their activities are on track. This helps me work in a relaxed frame of mind."
It isn't always easy doing justice to home and careers but it helps that both are suitably appreciative of the other.
"I really like her never-say-die spirit, her spontaneity and sense of fun," says Dilip.
On her part, she gives a big thumbs-up to his patience and ability to listen. "Besides this, his discipline at work is exemplary and inspiring," she says.
"Communication is the key to marriage," points out Dilip. "But it's not always words. Sometimes, shared silences also work wonders."
Like every couple the duo have their differences, but the trick, says Dilip, is to first calm down, let the fire die out, and then have that talk. "When two different personalities live together, there are bound to be challenges. But everything depends on how you look at them," he says.
Bringing up the kids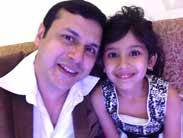 Dilip with Diya
Amidst the rough and tumble of their demanding schedules, both Neetha and Dilip make it a point to give their two young kids all the time they need. "The trick," says Neetha "is not to take work pressures back home, or home troubles to the office."
It helps that Dilip makes it a point to partner her all the way. "Both kids come home from school and chat with me over phone. That gives me a chance to track their activities, and check how their day was," he says. "No matter what I am doing, I make it a point to take those two important calls."
It helps that the couple is united in their comprehensive and relaxed approach to parenting. "It is important for them to develop all facets of their personality, not just do well on academics," says Neetha. "Apart from this, taking responsibility for one's own schedule, homework and test assignments, is mandatory. Since I have always been a working mom, neither of my kids have taken it for granted that I will be picking up after them," she expresses.
Quality time as a family includes movies, extensive travel, exercise and dinners with a select but warm clique of friends.
"At the end of the day, each relationship is about the quality of friendship you share," says Dilip.
"Sure there are ups and downs, but I remember this truism that says, despite the difficulties, challenges and stresses thrown at you by life, if you can find just one reason to keep a relationship going, hold onto that," says Neetha. "If that isn't love, honestly, what is?"
By Kalyani Sardesai