Corporate Stalwart:

Entrepreneurial excellence

&

ethical execution

He came, he saw, he conversed—winning hearts and inspiring many more in the process! Masala King and entrepreneurial giant Dhananjay Datar, CMD of the many-splendoured Al Adil Group, UAE was in India recently to inaugurate the 'Khasa 2018', a three-day business exhibition-cum-sale. At the event, he addressed a packed audience full of aspiring entrepreneurs and assorted youth on the importance of treating the customer as king, maintaining uniform high standards of delivery and performance, and above all, never ceasing to learn. "Always remember," he says, "profit can and should be earned, without robbing the customers or compromising their rights, health and security." Corporate Citizen brings you the journey of a man and a business, who were amongst the first to offer masalas to expat Indians

"The basic guiding principle for any business is that it must be done with the sole objective of profit. Business can't be run for leisure or charity. Wealth of any business is judged and calculated solely by its net profit and not by turnover"
Sir, in the open discussion at Tilak Smarak, you talked about the qualities an entrepreneur needs to possess. Can you give us examples of people you admire?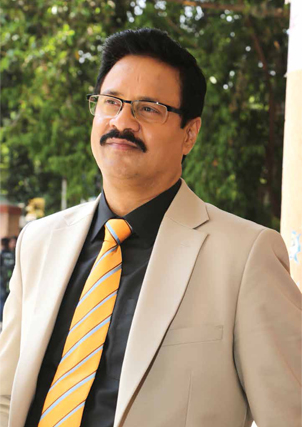 It would be unjust to name a few and neglect others. I respect everyone who runs his business with hard work, determination, honesty, creativity and courtesy. This is the formula for entrepreneurial success and I have always tried to imbibe these virtues in me. I started my business career in Dubai, which has been a prominent marketplace for international trade. Hence I got the opportunity to interact with a number of aspiring individuals and industrious communities across the globe that had migrated here like me. I learned a lot from them, especially from various Indian communities. We call America a melting pot but Dubai is the same. I learnt hard work from Keralite people, politeness from the Sindhi community, business wisdom from Gujarati people, and courage and open-mindedness from Punjabis. They also loved my Marathi spirit and enthusiasm. I learned business etiquettes from Europeans, patience from Bangladeshis, and discipline from Asian communities. I am also grateful to the local Arab community, who trusted me and opened the doors of greater opportunities for me. I admire all these people.
Let me quote an example of a small businessman who motivated me and gave me an opportunity to earn profit. Although small, it was important in waking up my self-confidence. He was a Bangladeshi businessman and we used to call him Mulla Chacha. Our shop and his flour mill were on the same street. We used to grind the grains from his mill and sell the ready-made flours in our shop. Mulla Chacha taught me how to operate the mill. He used to observe my hard work silently and advise, "Son, always remember skill and hard work never go waste in life." Mulla Chacha was an industrious person. Apart from running a mill, he would indulge in wholesale trading in Dera Dubai. We would also buy some spices from him. Those were hard days for us as we had suffered a great loss in business and hence we were compelled to cut all the over-expenditures. One day as usual I went to his shop. He informed me that he had got a bag of best quality chilli powder. He asked me if I wish to purchase it. Unfortunately I didn't have that much money left, so I was about to decline his offer. But he surprisingly allowed me to take that bag on credit. He said, "Dhananjay, never let go of such good quality products. Grab it and pay later." I carried that bag on my shoulder for four km. I made small pouches from it and sold it in retail to our customers. The quality of that chilli powder really was excellent and customers grabbed it. I got my first profit in life. I respect persons like Mulla Chacha for their consideration and good advice.
With regard to yourself can you tell us about your personal work ethic?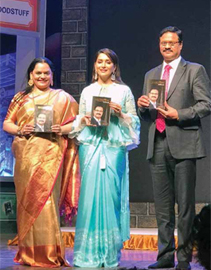 Madhuri Dixit with Dhananjay Datar and his better half at the launch of his biography
The basic guiding principle for any business is that it must be done with the sole objective of profit. Business can't be run for leisure or charity. Wealth of any business is judged and calculated solely by its net profit and not by turnover. At the same time, I don't mean to say that profit should be earned by unethical means. Profit can and should be earned, without robbing the customers or compromising their rights, health and security. I have been running my business for last 33 years with the same ethic and proudly admit that it has always rewarded me.
Let me narrate an experience from the past, how this policy rewarded me. In 1991, when the Iraqi forces attacked Kuwait, a war broke out between Iraq and the rival international alliance. Since Dubai is a major international business hub of UAE, a partner country in the alliance, the fear of possible bomb attacks by Iraq gripped the Dubai citizens. The entire business world in Dubai was under severe pressure and many businessmen thought it better to shift to other countries for shelter. But I was not in a position to leave the city quickly as I had stored a huge consignment in my warehouses for the upcoming festival season. I decided not to leave the city and face the consequences patiently. Just then, the situation took a strange turn. People began buying and storing groceries and foodstuffs hastily. They were ready to pay any price for it. In fact, it was a huge opportunity for any cunning trade to make a huge profit, but my conscience and honesty kept me away from selecting the path of temptation. Even in a war-like situation, I sold all the items for their regular market prices.
I earned not only handsome profit and appreciation, but trust as well.
"I am an accidental entrepreneur. I trader to make spent my childhood in poverty. It taught me frugality, simplicity and awakened within me the spirit of struggling against all odds. Passion for selling culminated in me right from my schooldays"
How do you keep the work-life balance?
Although we have been reading the proverb 'Health is wealth' since our childhood, it is surprising that many of us forget its significance at a later age. I also made the same mistake and neglected my health a decade and a half ago. It became habitual for me to skip the regular mealtimes and eat at any odd hour. This spoiled my health, resulting in severe acidity first and then leading to back pain, anxiety, depression, etc. Finally, a moment came when I stood at the doorstep of death. I realised the importance of fitness when time itself opened my eyes. Even after undergoing various medications and treatments I was not getting any better. At last, I surrendered and appealed to the Almighty to give me another chance to live life happily. Fortunately, my request was granted. Acupuncture therapy relieved me from back pain, Ayurvedic medicines controlled my acidity and counselling by an intelligent psychologist helped me to come out of depression.
Since then I have followed the work-life balance meticulously. I devote equal time to business, family and my personal needs every day. The businessman in me turns swiftly into an affectionate husband and caring father as I return home. I enjoy my family life fully. I do physical workouts, walking and meditation regularly and do not fall prey to tension and competition. I am content with what God has given me and try to help others in my capacity. Thus I have maintained my physical and mental health.
Please elaborate on how your group has progressed. Apart from keeping a customer centric approach, what separates you from the competition?
My father Mahadev Datar, sensing the opportunity in providing quality food products to Indian expatriate communities in UAE, had started a small grocery shop in Dubai in 1984. I joined him within four months but worked hard for the next 12 years to grow it into a profitable business. When my father retired from business and handed it over it me, I initially added a couple of shops with the help of bank loans. But at that time a small hotelier taught me the technique of saving and its multiplying power. He had a habit of drawing two notes of 100 dirham eeach from his daily earnings and saving them in two separate boxes. At the end of the month, he would use the savings from one box to meet the business expenditure and the other part for reinvestment. I followed his example and started saving 500 dirham daily from my income. I continued this practice year after year and kept on opening new stores from the savings alone, which resulted into a chain of 39 stores across the Gulf countries today. In due course of time, I also added two hi-tech spice factories, two modern flour mills and an import-export company. Thus from a tiny grocery shop, we created the company Al Adil Trading, which has turned into an international business group.
We have taken a customer-centric approach right from the beginning. I believe that the customer is really the king and if served with courtesy and hospitality, bestows prosperity and publicity upon the entrepreneur.
Time and again I focused on their needs and expectations and offered them pure, authentic products in secured packaging, abiding by strict international quality norms. I can proudly say that in the last 33 years we haven't received a single complaint from any customer. With such a huge and strong customer support, I never felt the need to compete with anybody in an aggressive manner. We give prime importance to serving and securing the customers, with the best of products at affordable pricing. I think this 'mind our own business' strategy helped us in building a niche position in the market and separating us from competition.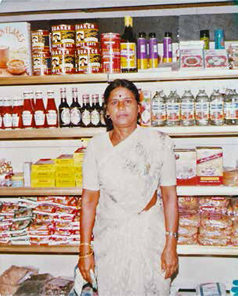 Dhananjay Datar's late mother Shashikala was his inspiration
You are a self-made man. Could you please share with us the early days of your journey? What inspired you to keep going?
I am an accidental entrepreneur. I spent my childhood in poverty. It taught me frugality, simplicity and awakened within me the spirit of struggling against all odds. Passion for selling culminated in me right from my schooldays. I used to sell tamarind to housewives and schoolchildren. Later in college days as well I would sell phenol and instant mixes door to door in Mumbai suburbs. At a tender age, I credulously dreamt of instant fortune and wealth. Hence I wanted to go to Dubai for any job which would offer a handsome salary.
But the wheels of fortune are strange to understand. My father, then working in Dubai, got an opportunity to enter into business field in his near-to-retirement age, and I had to go there to assist him. In the very first year, our business had to suffer a huge loss. We had no reserves to cover it, so we thought of winding up the business. But my mother, Shashikala, a woman of invincible confidence, sold her jewellery, even her gold Mangalsutra, and thus raised the money. She convinced and revived us with a small message, "Time changes. Do not step back once you have stepped forward for business." This incident really transformed me and inspired me to take up entrepreneurship seriously and with determination.
I worked very hard, devoting 16 hours a day for business only and ate whatever was available there. I started my career in business with activities like cleaning the tiles, sweeping the floor, carrying 50-kg bags on my back, etc. I think the powerful and assuring words of my mother inspired me to keep going.
With 'Make in India', our PM's personal credo, how should our educational and cultural system evolve to encourage entrepreneurs?
Entrepreneurship should be cultivated in children from an early age. Let them have the experience of showcasing their creations and selling them. Let them be taught the importance of saving and wise purchases. Encourage them to innovate. This will surely motivate the children to understand the basic principles of entrepreneurship. Children should be taught the importance of good conversation skills, public relations and culture of cooperation in school. I am sure that these ignited minds will transform the business ecosystem and will make the 'Make in India' vision a reality.
Once I was invited by a friend to his house. As we were chatting, my friend's school-going son came there enthusiastically flashing a receipt book in his hand and requested us to give a donation for some social cause. My friend suddenly got angry and began to scold the child. He was of the view that schools should not send their students door to door begging for donations. I convinced my friend to let the child have that experience, as convincing people cleverly is a stepping stone for a good salesman. I strongly feel that if the parents sow the seeds of entrepreneurship in their children from early childhood, our country will produce some great business tycoons in the future.
With free market dynamics and customer centric approach, do you think it is a good time to be an entrepreneur?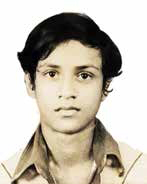 Dhananjay as a young boyy
There is no good time or bad time to become an entrepreneur. You can simply step into the business of your choice anytime. Even the recessionary phase is an opportunity for entrepreneurs since it opens up a different set of innovative ideas as per people's needs. If you have faith in your thoughts and actions, if your products are pure, fulfil the customer's needs, the market is always open for you. Free market offers a chance to producers for a fair competition. My simple advice to every entrepreneur is 'Give the customers what they need, and the time is always good for you.'
Two decades ago, I was running my shops with the old business style and a traditional approach. When a customer demanded an item, we ourselves used to fetch it from the shelf and hand it over to them. But I sensed the changing environment just in time. New Age customers love to handle and get the products from the shelves themselves. While shopping they prefer to hang around in spacious superstores, enjoying a calm and comfortable atmosphere there. It brought a sudden change in my mindset. I emphasised the makeover of my business and gave it a modern outlook. I converted my old shops to large and hi-tech superstores, implementing modern technology and machinery. Even today I give the highest priority to my customers' expectations and needs. Adopting a customer-centric approach is crucial for success in any business.
What are the immediate and long-term goals for your group?
Actually we don't set goals and targets. We believe that work is worship and hence is to be followed for lifetime. We don't even discuss our future plans until they come into reality. I always tell my employees to serve the customers politely and at their best, rather than chasing any sales target. I believe that a mind without any pressure can communicate better with others. I like my employees to be satisfied and tension free, just like my customers. Deep in my mind there is a hope. I may not call it an aim or goal, but a dream. Yes, we have a dream and that too without any deadline. We would like to expand our business in many more countries to attain a truly global reach. Our group is steadily progressing towards that direction.
"Women are gifted with some excellent virtues. They are wise purchasers, skilled managers and their honesty and integrity is really praiseworthy. One should learn from women how to run a safe and secure business with prudent financial management"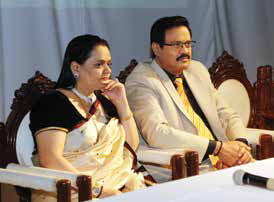 Dhananjay with wife Vandana
Can you tell us your role model/s in life, and why?
My parents are surely my role models in life. My mother created a compassionate philanthropist in me and my father created an honest and shrewd entrepreneur. I succeeded in life and business under their tutelage only. They both gifted me with their best virtues. They imbibed courage, self-confidence, perseverance, humility and commitment in me.
Let me describe two incidents. Although of similar nature, both of my parents reacted differently and gave me wise advice. As a kid, I was once invited by some relatives to a ceremony. As the dinner was about to start, a person came in hurriedly and forced me to vacate my place, citing the reason that the dinner was meant for elite people only. These words humiliated me and I returned home dejectedly. When I narrated this incidence to my mother, she pacified me with the following words, "My son, this is the way the rich treat the poor. You should learn that respect is given not to a person, but to his wealth. You should also strive to earn such a status that no one will dare neglect you." Her inspiring words were carved in my heart forever.
The second incident took place when I was in my twenties. My father used to send me to the wholesale market to purchase the spices for our business. A man there always taunted and insulted me by saying, "Business is not your community's cup of tea. You should better stick to jobs." When I informed my father about these insulting remarks, he calmly advised me, "Don't pay attention to such hollow words. Instead, concentrate on your business. Keep moving ahead." These words motivated me to continue on my business journey.
Please share the role played by your family in your work and business.
My family means everything to me. I will not forget, for a single moment, the fact that they were the only friends who accompanied me in my bad time. My wife and children have always played the most important role in my life and business. Without their precious support, I would not have been able to pull the heavy cart so far.
My wife Vandana is truly a life partner. As it is rightly said that 'Behind a successful man, there is a woman', she has always accompanied me as a great source of inspiration. She stood firmly behind me in my life's ups and downs. When I lost my health and almost stood at the door of death, Vandana was the only person who, with great courage and determination, pulled me out of danger. She is instrumental in turning me to social work. My sons Hrishikesh and Rohit are like my hands. They are wise, obedient and able to carry forward our business legacy. Both have joined my business recently and they are really promising. I am assured of the future.
Any outstanding good or bad moments or turning points in your life/business you would like to share?
There are many but one stands out. When I joined my father in business, I was in my twenties. I was a layman in business hence my father suggested to me to learn the practical experience of running a shop from elsewhere. Therefore I accepted an internship in a superstore. There I did everything to learn the shop management. I was enjoying every work assigned to me, except one. I was feeling nauseated to handle beef and pork and simply used to reject the packaging of it. One day the shop owner called me and asked me the reason. I candidly admitted that being a vegetarian, I felt touching the meat was a disgusting activity. The owner laughed at me and gave me an important piece of advice by saying, "Young man, I am a staunch Jain vegetarian who abstains from tasting garlic and onions in everyday meals also. But this is my business. Here customer's needs are important; hence I don't bring my personal likes and dislikes to my store. Always remember that work is work only and should not be treated as superior and inferior. Don't feel ashamed to do any work."
Even as the banks are ready to fund new businesses, there also seems to be a corresponding defaulting on loans. How can entrepreneurs avoid that?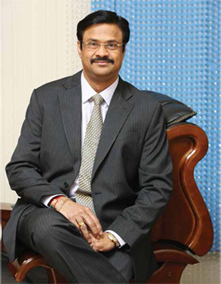 Entrepreneurs should always cherish their prestige. There is a proverb, 'If wealth is lost, nothing is lost, if health is lost, something is lost, but if character is lost, everything is lost.' Wilful defaulting on loans is an unfair practice and also an unlawful activity. You must make adequate provisions to repay the loans. Banks also respect such entrepreneurs with an excellent repayment track record. I think entrepreneurs should refrain from avarice and only take loans within the limit of their repayment capacity. In simple words, if you require a certain amount of loan, ensure keeping that much amount in your reserves prior to purchasing the loan. Another safe way is to take loan against deposit. But in any case follow the repayment schedule strictly. Always protect your image.
Any specific advice for women entrepreneurs?
Women are gifted with some excellent virtues. They are wise purchasers, skilled managers and their honesty and integrity is really praiseworthy. One should learn from women how to run a safe and secure business with prudent financial management. Women entrepreneurs are an asset to the business ecosystem. I encourage more and more women to aspire for innovative business.
I myself encouraged my wife to assist me in my business. Until then she preferred to play a role of an ideal housewife. When I noticed her practical home management, I asked her helping hand in our group's financial management. To my surprise, she not only sorted the financial system of our group, but kept wasteful expenditure under check with such a strict discipline that at a time when the entire business world was passing through a recessionary phase, our group progressed with stunning 400 per cent. My wife, as the director of finance, is leading our group with exceptional calibre. Hence I firmly believe that women when given a chance to demonstrate their managerial skills succeed for sure.
By Kalyani Sardesai