collywood:
PeoPle in the news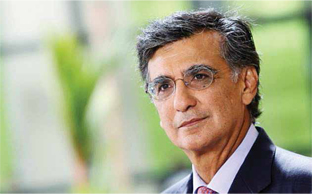 Manwani joins Tata Sons
Chairman of Hindustan Unilever, Harish Manwani is now Independent Director of Tata Sons Limited. Manwani who is the former Global COO for Unilever will retire as Non-Executive Chairman of HUL in June. He is also the Global Executive Advisor to Blackstone Private Equity group. It has been a long journey for Manwani as he held several senior management positions in Unilever which included heading businesses in North America, Latin America, Asia and Africa. Prior to his retirement, he was the Chief Operating Officer with worldwide responsibility for all of Unilever's operating firms. Besides the above, he also served on the Board of Directors of Qualcomm Incorporated, Gilead Sciences Inc., Nielsen Holdings plc, Whirlpool Corporation, Economic Development Board of Singapore and is chairman of the Executive Board of the Indian School of Business. Welcoming the person with a bagful of experience, Tata Sons Chairman N Chandrasekaran stated, "We welcome Harish to the Board of Directors. Harish brings substantial experience of managing and leading businesses on a global scale. His contribution and counsel will be of great value to Tata Sons in its governance as well as in its strategic development."

Gen. Shergill quits Fortis board
Fortis Healthcare Ltd has stated in a release that its independent director, Lt Gen Tejinder Singh Shergill has resigned from the board for personal reasons. In his email to Fortis, Gen. Shergill said: "Having previous knowledge of the company and despite my various commitments, I had agreed to join the board of Fortis Healthcare Ltd to complete the quorum, as several members had left the board. Now that there are sufficient members on the board, my many commitments preclude my sparing any further time. Kindly accept my resignation from the board of Fortis Healthcare Ltd."
Maheshwary is Zomato CFO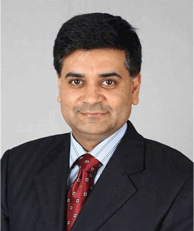 Zomato has hired long-time General Electric executive Sameer Maheshwary as its new chief financial officer (CFO). Maheshwary, currently the CFO at GE South Asia will be a member of the Zomato family in the month of July. He fills the role left vacant by Umesh Hora, who left in late 2015 to join as CFO of GirnarSoft Pvt Ltd, the company behind CarDekho.com. Commenting on the move, Zomato chief ex-ecutive Deepinder Goyal said, "As we expand the canvas of our offerings, it is time for us to bring on stronger leaders at the helm of things. Sameer is an industry veteran, and has core finance background supplemented with business leadership roles. We're excited to leverage his knowledge and depth of experience and are excited to build further with him." Maheshwary has been with GE since 1999 and has held various finance and business roles in US, Japan and India. Maheshwary, an alumnus of Manchester Business School, UK and Delhi College of Engineering, was earlier the co-chief executive officer at SBI Card, a joint venture between State Bank of India and GE Capital. This comes amid a phase of senior management rejig at Zomato. The firm has promoted Mukund Kulashekaran to the role of chief business officer and advertising head Gaurav Gupta to chief operating officer.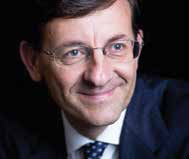 Vodafone CEO Colao to step down
After a decade's tenure with the Vodafone as the Chief Executive Vittorio Colao will step down in October. He has been responsible to bring changes in the world's second largest mobile operator into a digital communications powerhouse with a string of major deals. Colao will be replaced by Nick Read, finance director since 2014 and long seen as the likely successor due to his role in running Vodafone's operations in Britain and the Africa, Middle East and Asia-Pacific region. Read will take charge of a group that, under Colao, pulled back from its once brazen expansionist drive to be able to build up its European operations from a pure mobile player to a broader communications provider that offers eve-rything from cable TV to broadband and enterprise services. Just last week Colao, 56, struck a long-expected $21.8 billion deal to buy Liberty Global's cable TV and broadband networks in Germany and Eastern Europe. Talking about the change, Chairman Gerard Kleisterlee said, "(Colao) has been an exemplary leader and strategic visionary who has overseen a dramatic transformation of Vodafone into a global pacesetter in converged communications, ready for the Gigabit future."

IIM Trichy 2018 batch gets highest package
Indian Institute of Management Tiruchirappalli has completed the final placements for its postgraduate programme (PGP) in management on a high with the highest package offered this year at Rs.54.50 lakh by an international company, and the highest package offered by an Indian company at Rs.31.7 lakh. The average compensation offered was Rs.14.28 lakh, while the median was Rs.13 lakh. This year, around 113 companies, which included JP Morgan & Chase, L&T, Cognizant, Dell, ICICI Bank, Microsoft, Avalon Consulting, Deloitte, HCL, Royal Bank of Scotland, RBL Bank, Saint Gobain, GMR Group, UltraTech Cement, DHL, Tolaram Group, ValueLabs, Trafigura, VLCC and Kotak Life Insurance—offered 177 jobs to the students. The participating companies were from across sectors, and jobs were offered across functions—finance, sales & marketing, consulting & analytics, strategy & general management, operations, and OB & HR. There were 176 students in the batch, among which 172 registered for placement, while four students had opted out. There has been an increase in the average annual compensation by 7.4 per cent compared to last year. The average annual compensation of the top 25 percentile increased by 24 per cent. Also, there has been a four-fold increase in domestic offers this year, with an annual compensation above Rs.30 lakh, and a six-fold increase in the annual compensation above Rs.20 lakh in the overall offers to the students. These feats were achieved with a batch size increase of 63 per cent. Abhishek Totawar, chairperson, placement and external relations said, "Even with the 63 per cent increase in the batch size (compared to the previous year), growth in the placement statistics is proof of the brand image, which IIM Trichy has built in the past few years."
Jaypee Group Founder joins JAL
Jaiprakash Gaur, the founder of crisis-hit Jaypee Group, has joined the board of Jaiprakash Associates Ltd (JAL) as an additional director. In a regulatory filing, Jaypee Group's flagship company JAL said the board has co-opted Jaiprakash Gaur on the board of the company as an additional director. The 87-year-old Gaur holds a diploma in civil engineering from the University of Roorkee (now IIT, Roorkee). He has a vast experience of over 64 years in the fields of civil engineering, construction, cement, real estate, expressways, hospitality, and power. Gaur a well-known Indian entrepreneur. In 2012, he was ranked by Forbes magazine as the 70th-richest person in India, with an estimated net worth of US$855 million. Gaur has been associated with the construction industry for more than five decades. After graduation, Gaur joined the state government's irrigation department as a junior engineer. Subsequently he started his own venture as a civil contractor. Twenty years later, he laid the foundation for the Jaypee Group by setting up Jaiprakash Associates, a civil engineering and construction company.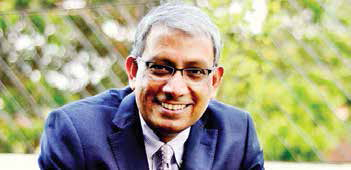 Venkatesan steps down at Infosys
Ravi Venkatesan calls it quits as an independent director from Infosys, the first top gun departure since Nandan Nilekani took over the chairmanship, citing 'exciting new opportunity' as stated by the Bengaluru-based company. Venkatesan was made co-chairman of the company in April 2017 at a time when co-founder N R Narayana Murthy was gunning for the then company management led by Chairman R Seshasayee and CEO Vishal Sikka over corporate governance issues. When Infosys named co-founder and former CEO Nilekani as its new chairman in August last year, Venkatesan stepped down as co-chairman but continued to be an independent director. "I joined the board at a time when Infosys was beginning the complex journey of transitioning from founder-led to professional management. This was also a time of tectonic industry shifts. I am pleased that this mission has been accomplished. Infosys is strong, in good hands, and is gaining momentum," Venkatesan said in the statement. "I thank Ravi for his pivotal contributions to Infosys in a period of important transitions and towards a digital-first future. This passage is one that every entrepreneurial company faces eventually and I thank Ravi for his leadership in ensuring a successful transition," said Nandan Nilekani and went on to add that the board would miss his passion, strategic insights and personal warmth but he would always remain a friend. Calling Ravi as a champion of driving social impact, Nilekani said, "I am delighted that he will be pursuing an exciting opportunity in this area".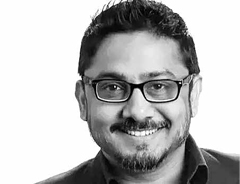 Pawar joins KPMG, Shalini eleva ted
Keeping ahead for a better growth, Klynveld Peat Marwick Goerdeler (KPMG) has roped in Unmesh Pawar, as the partner and head of people, performance and culture (PPC). He will also spearhead the HR function in India, which comprises talent management and strategy, driving the people culture and professional development to further KPMG's operations and growth in India. Pawar takes the place of Shalini Pillay, who has now been elevated as office managing partner. Shalini will be responsible for the Bangalore market, representing KPMG, overseeing key client accounts and working with the wider ecosystem. She is also part of the India Leadership team and the KPMG India Board. As a management consultant, Shalini headed the post-merger integration solution and has worked with many large- and medium- sized organisations, helping them define and realise their strategic objectives and growth targets. She has also worked with several global, domestic and large family-run Indian business houses in evaluating their business operating models and assisting them in their strategic cost-management initiatives. An engineering graduate from Bombay University, and also as a chartered accountant, Shalini has been with KPMG for 15 years. She has also been with Arthur Andersen (now Accenture). "The knowledge, expertise and experience that Pawar brings to the firm will further strengthen our human resources function, building on our acknowledged position as a coveted place for professionals to work. He will build on the strong foundation established by Shalini Pillay, who moves into a new role of office managing partner for Bengaluru, leading one of our largest offices," said Arun M Kumar, chairman and CEO, KPMG India.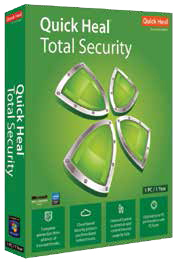 Quick Heal gets Kulkarni as CFO
Quick Heal Technologies Limited, the leading provider of IT Security products and solutions, has appointed Nitin Kulkarni as Chief Financial Officer of the company. Kulkarni's appointment has been approved by the Board of Directors. Kulkarni is a qualified chartered accountant with more than 25 years of experience managing different aspects of the finance function in information technology and manufacturing industries. In his new role, he will oversee all the financial aspects of the company including financial planning and analysis, accounting and financial reporting, mergers & acquisitions as well as managing transactional processing systems, legal, tax and investor relations functions. His past assignments include Financial Planning and Analysis, Corporate Finance, Accounting, Auditing, Treasury, International and Domestic Taxation, Shared Services, Corporate Restructuring, M&A, Compliance, etc., at various listed corporate entities like Tech Mahindra, KPIT and Persistent Systems. Commenting on his selection as Chief Financial Officer, Kulkarni said, "I am delighted to join Quick Heal during this exciting phase in the company's life cycle and look forward to help the company continue its growth momentum. Being a pioneer in IT security solutions, Quick Heal will play an important role in digitizing India. As the company stands, the Finance function will have a strategic role in delivering value to stakeholders. I look forward to work with Kailash Katkar and his team." Kailash Katkar, Managing Director & Chief Executive Officer, Quick Heal Technologies Limited said, "Nitin Kulkarni's rich experience and advanced skill sets like eye for detail, entrepreneurial approach and business enabler mindset will be an ideal fit for the company. Together, we will work towards the objective of enhancing stakeholder value. At the strategic level, he will have a pivotal role in executing our future initiatives through his cognitive skills. We welcome Kulkarni to the Quick Heal family."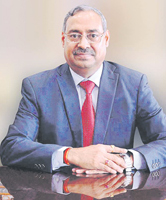 Anil Kumar Jha appointed CMD of CIL
Coal India is all set to get a new full-time chairman, as Anil Kumar Jha, chairman and managing director of subsidiary Mahanadi Coalfields, is likely to take over as the chairman of its holding company, Coal India. Jha will replace acting chairman Suresh Kumar, an IAS officer, who has been holding the post of additional secretary at the ministry of Coal. Jha will remain the chairman till his retirement, due on January 31, 2020. Following the retirement of Sutirtha Bhattacharya, the full-time chairman of Coal India in August, the ministry of Coal appointed Gopal Singh, the chairman and managing director of Coal India subsidiary, Central Coalfields, as Coal India's acting chairman for three months. His tenure as acting chairman got extended twice and was prematurely terminated in May this year. In June last year the Public Enterprises Selection Board (PESB) which was entrusted with the task of finding a candidate for the chairman's post at Coal India after interviewing half a dozen candidates could not find any one suitable for the post. Jha is an MTech in Mine Planning & Design from the Indian School of Mines, Dhanbad, Jharkhand. He comes with a rich work experience spanning 32 years in the field of mine planning, production, management supervision, direction and control of underground as well as opencast coal mines. He has worked with the Central Mine Planning & Design Institute, the exploration arm of Coal India for 14 years, planning both opencast and underground mines.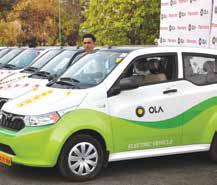 Vishal Kaul opts out of Ola ride
Ola's chief operating officer Vishal Kaul ends his tenure with the ride-hailing company and senior vice president Pallav Singh takes additional charge in the interim of this Bengaluru- based company. Kaul took charge after founding team member Pranay Jivrajka stepped down from the position in the year 2017. Kaul, who has been associated with PepsiCo, was roped in by Ola to strengthen its position in the Indian market, where the company competes head-on with US-based Uber. "I have immensely enjoyed my stay at Ola. The company has been like a family to me. I take great satisfaction and pride that I have been part of the journey where Ola has exhibited strong growth, improved profitability and gained significant market share," said Kaul about the development, but did not disclose any details.
by Joe Williams